IBA, Zambales (August 8, 2023) —The recent flooding in several coastal communities caused by torrential rains only provided compelling reason for the provincial government of Zambales to intensify dredging of heavily-silted rivers and restore their capacity to carry water into the sea.
This was stressed on Monday by Governor Hermogenes Ebdane Jr. as he assessed damages caused by typhoons "Egay" and "Falcon" which triggered floods that affected a total of 26,799 residents and caused damages worth P545.1 million in infrastructure and P24.3 million in agriculture.
Ebdane pointed out that most floodings occurred in barangays when tributary rivers emanating from the Mt. Pinatubo area and bringing lahar sand overflowed or punched holes into dikes and protective embankments.
"Flooding was also observed to be worse in barangays near river mouths because sediments get deposited there naturally when the current slows down at the point where the river meets the sea," he explained.
"Thus, it is crucial that these areas which are natural catch-basins for sediments should be dredged immediately as more rains are expected, so that we can create bigger drainage areas that will convey river water to the sea more efficiently," Ebdane added.
In San Marcelino town where the municipal council declared a state of calamity after most barangays suffered heavy damages, the swollen river caused the breach and collapse of embankments protecting Barangay Sta. Fe, thus destroying various public infrastructure worth P515 million.
The Zambales Provincial Disaster Risk-Reduction and Management Council (PDRRMC) reported that 8,421 families comprised of 26,799 individuals were adversely affected by the torrential rains last week.
Most of these came from San Antonio town, with a total of 6,749 affected families and 20,602 affected individuals.
In San Antonio's village of San Miguel, which is located where the Pamatawan River empties into the sea, 42 families comprised of 357 persons had to evacuate to safety on July 28, as floodwaters rose to waist-deep and chest-deep in some areas, the PDRRMC said.
Residents said it was the first time they experienced serious flooding there.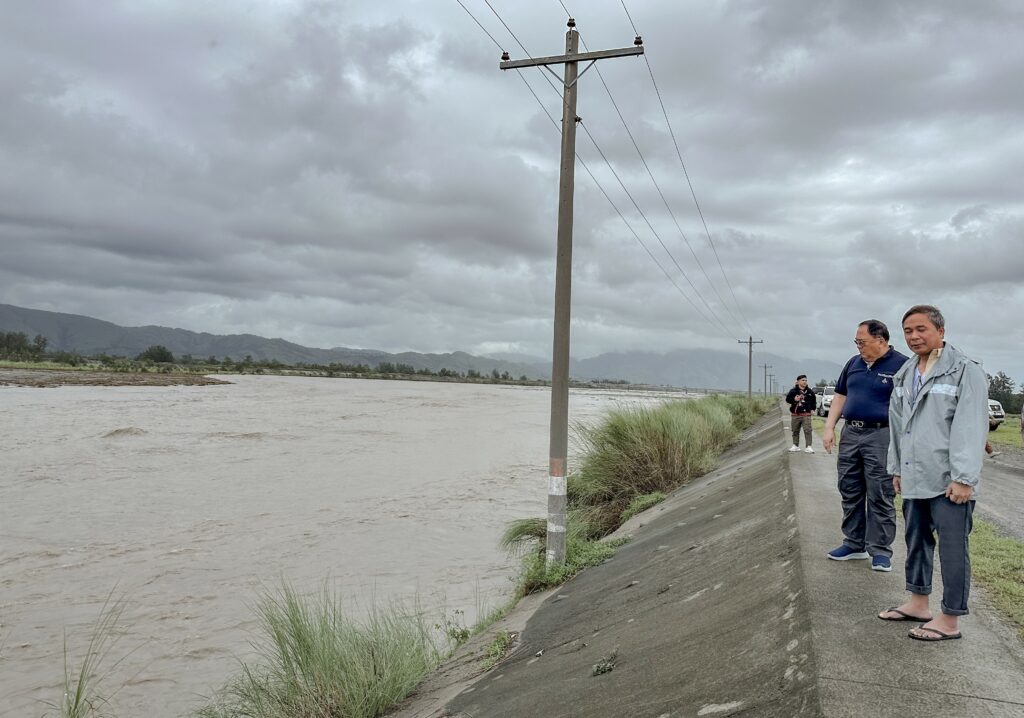 They said that strong current damaged the river embankment about a hundred meters from the river mouth, thus creating a gap where the swollen Pamatawan River spilled into the barangay. 
Incidentally, opposition by San Miguel residents to the government's proposal to dredge Pamatawan for fear that the project would harm local fishing, prompted Ebdane to suspend dredging activities there.
Still, residents elsewhere affirmed that heavily silted waterways perennially brought floods in their area. "Nasasakal kasi ang takbo ng tubig, kaya may baha (The river is choked by debris, that's why there is flood)," observed Marites, a tourism personnel manning a checkpoint to a seaside resort area in San Felipe town.
"OK lang naman ang dredging, basta hindi masyadong maingay sa gabi (Dredging project is just okay, as long as there's not much noise at night)," said John Esmelo, a 45-year old fisherman who lives near the mouth of the Bucao River in Botolan town.
Ebdane said the river dredging program has been endorsed by local government units and national government agencies that consulted in 2014 to formulate solutions following flooding and landslides in the province during Typhoon "Odette" in September 2013.
Added to this, he said the Department of Environment and Natural Resources issued in October 2019 Department Order No. 13-2019, which rationalized dredging in heavily-silted river channels of Bucao, Maloma, and Sto. Tomas rivers in order to arrest the degradation of river systems due to the continuous flow of sediment from upland areas and restore their natural state and water flow.
"Our river rehabilitation program is validated by local observation and experience, and more important, it is based on science. We have to do this for everyone's sake," Ebdane added.