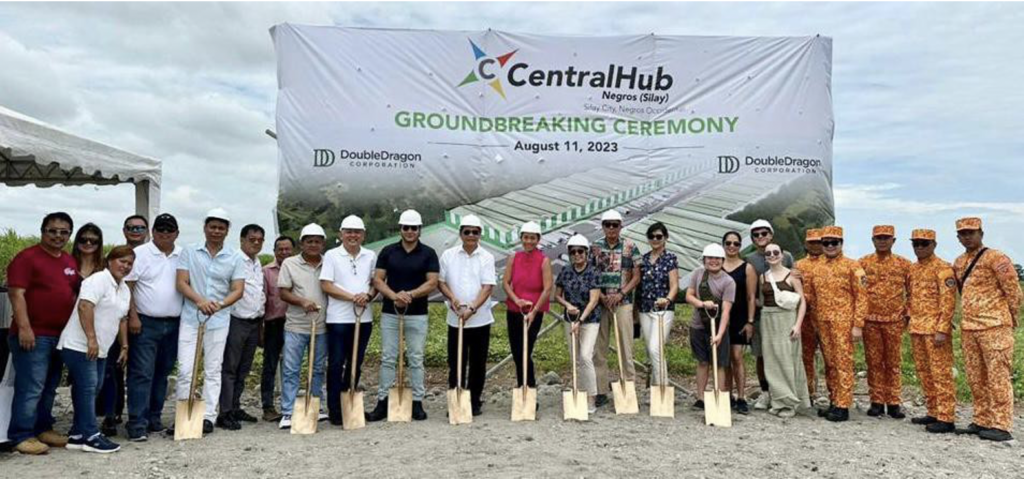 Today, August 11, 2023, DoubleDragon's  CentralHub conducted the groundbreaking ceremony on its 10.06-hectare prime CentralHub-Negros industrial warehouse complex project in the province of Negros Occidental.
Phase 1 of CentralHub-Negros is expected to be completed in 2024 and Phase 2 in 2025.
The 10.06-hectare land of CentralHub is located in J.Apitong Ledesma Street, Silay, Negros Occidental, and is about a 5-minute drive to the Silay Negros International Airport and about a 25-minute drive to Bacolod City proper and Bradco Bacolod Port.
CentralHub-Negros will add about 74,000 square meters of industrial warehouse leasable space to DoubleDragon's total leasable portfolio.
DoubleDragon's CentralHub has also recently fully leased out its  CentralHub-Cebu Danao project covering a  44,601sqm  of industrial warehouse complex in its property located in Danao,Cebu translating to a recurring rental income of ₱15.98 billion pesos for CentralHub over the lease term of CentralHub-Cebu.
CentralHub currently has already built 6 industrial warehouse complexes and is simultaneously in various stages of development in various provinces in the country.
CentralHub-Capiz recently commenced construction of its Phase 3 due to fully leased out Phase 1 and Phase 2.
Current tenants of CentralHub are Logistics companies, FMCG (fast-moving consumer goods) companies, trading companies, distribution companies as well as the Jollibee Group.
The largest commissary and distribution center of Jollibee, located in Laguna, where the majority of the burger patties and other supplies come from, now forms part of the CentralHub portfolio.
CentralHub has currently grown its portfolio to 605,732 square meters of industrial assets and continues to build out its ₱24.8 Billion industrial leasing portfolio as it prepares to become the first Philippine Industrial  REIT IPO and aims to file as soon as the REIT capitalization rates go back to 5% to 6% levels.
DoubleDragon aims to soon make CentralHub one of the largest landlords of industrial warehouse complexes in  Luzon,  Visayas, and  Mindanao. 
CentralHub's network of industrial warehouse complexes is suited for use as a warehouse, commissary, cold storage facility, and logistics distribution center.
DoubleDragon's long-term vision for the footprint of CentralHub warehouse complexes is to operate one complex in each of the 82 provinces in Luzon, Visayas, and Mindanao, as DoubleDragon sees the industrial warehouse network to play a vital role in the forward development of the Philippines through improved logistical efficiency and DoubleDragon sees  this  countryside expansion  to  make a lasting  positive  contribution in their collective efforts to Nation-Building