Unveiling Oticon Jet
Manila Hearing Aid (MHA) is launching an Essentials Campaign to put the spotlight on essential-level hearing aids, an entry-level category of hearing aids with advanced quality and performance in terms of technology, sound quality, speech, and adaptability in any listening environment.
At the heart of the campaign is the Oticon Jet, a hearing aid that offers progressive quality and performance minus the hefty price tag.
The Oticon Jet is available in all 16 MHA clinics nationwide starting August 1, 2023.
What are essential level hearing aids?
If a hearing aid is classified into the family of essential level hearing aids, it simply means that it is a basic or entry-level hearing aid that has standard, modern technology to amplify a user's hearing.
These options are ideally suited for budget-conscious hearing aid users who prioritize quality while its primary focus remains on enhancing a patient's hearing and overall quality of life.
With the launch of Oticon Jet, it becomes Oticon's first essential-level hearing aid with upgraded technology features.
This feature is capable of reducing noise that helps the patient focus on the people they are speaking with.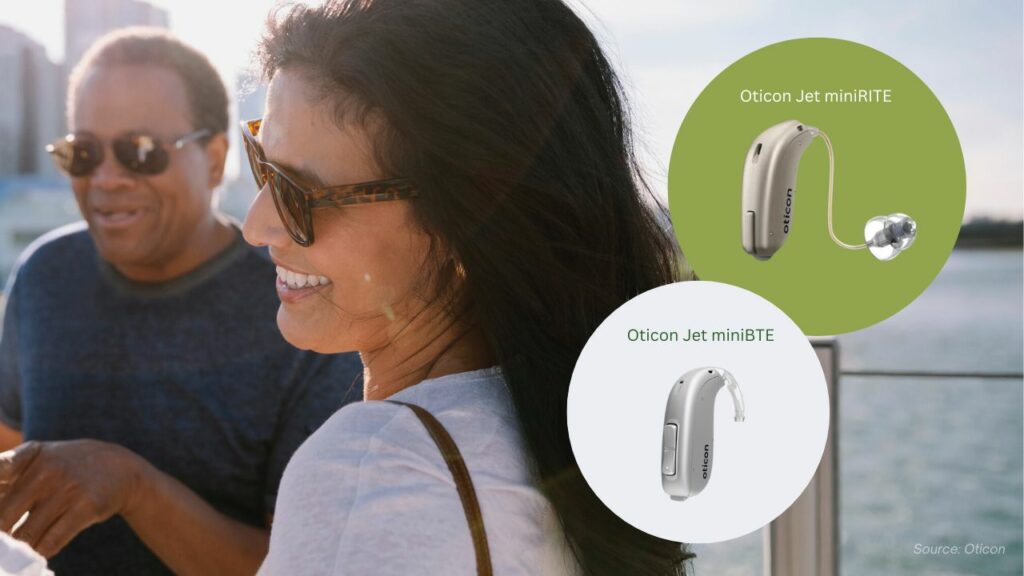 Essential level hearing aid with tech boost
Oticon Jet hearing aid is designed to provide quality sound through the super-fast Velox™ platform, which delivers Oticon's brain-first approach to hearing care.
This unique brain-first approach, or called the BrainHearing™ philosophy, is developed by Oticon in 2003, making hearing aids support the brain to process and makes sense of sounds the device picks up — turning it into a brain-friendly hearing aid.

BrainHearing™ was exclusive to Oticon's premium hearing aids until it became widely accessible with the launch of Jet.
Furthermore, the Velox™ platform provides exceptional features that can process sounds in an extreme speed, which includes quick noise reduction even in between words.
This helps the user focus on sounds that matter, making it easier to follow conversations even in noisy environments such as in the workplace, shopping malls, or restaurants.
To illustrate these features in a real-life scenario, imagine when a hearing aid user is talking to a colleague in the office with full spectrum of sounds from ringing phones to the combined soft noise of people's discussions.
Oticon Jet helps the wearer focus on the conversation as the hearing aid quickly reduces the unwanted noise while emphasizing the speech and other relevant sounds, offering balance and comfortable experience.
How and where to purchase Oticon Jet
Oticon Jet hearing aids are available at all 16 Manila Hearing Aid clinics nationwide, offering miniBTE and miniRITE styles fit for users with mild to severe hearing loss.
To ensure that Oticon Jet is for you, best to undergo a series of recommended hearing tests and consultations at any MHA clinic near you.
In addition to providing hearing care services, MHA offers an exclusive benefit to its customers.
With every purchase of hearing care services at MHA, patients will receive a complimentary KonsultaMD group health plan voucher. 
This voucher grants users access to a range of convenient and essential healthcare services via the KonsultaMD app, including 24/7 doctor consultations, video consultations, e-prescriptions, and more.
For more information about Oticon Jet™ and to book an appointment at a Manila Hearing Aid clinic near you, visit www.manilahearingaid.com.ph/appointment.