Q&A with Agriculture Secretary William Dar
William Dollente Dar was only seven months in office as Agriculture Secretary when the COVID-19 pandemic hit the country in earnest and plunged the entire Luzon into Emergency Community Quarantine (ECQ) during the first month of the pandemic. With a 51-year track record in agriculture that spans decades of involvement and participation in the academe, government, international institutions, and civil society, Dar unfurls a vision and program of recovery and growth for Philippine Agriculture in this exclusive interview with the Philippines Graphic.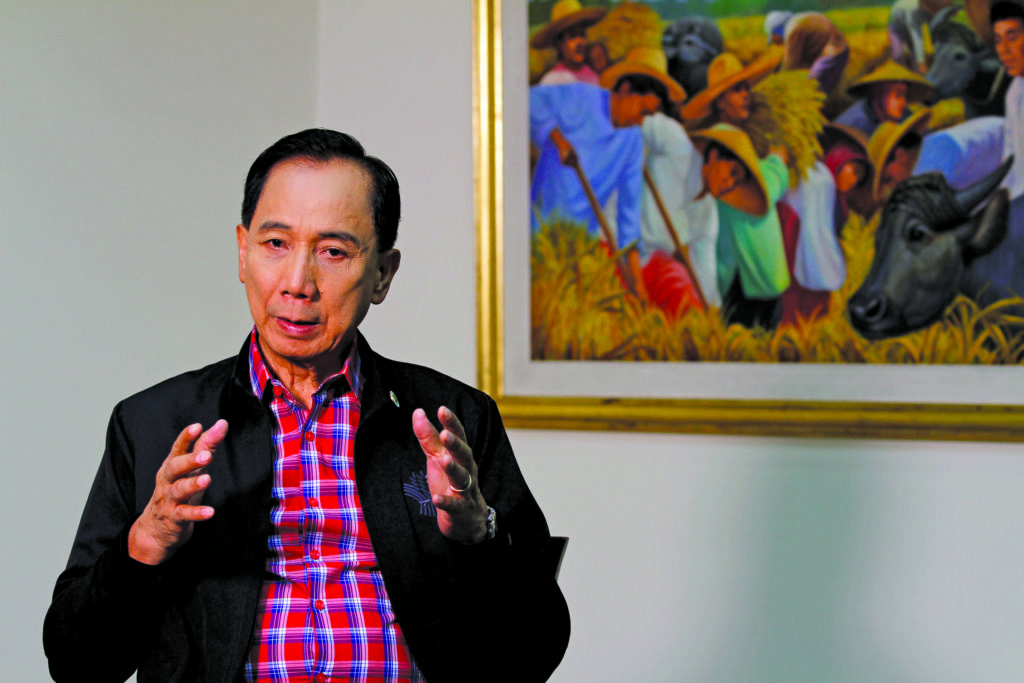 Even before COVID-19, Finance Secretary Carlos Dominguez III has said that the "agriculture sector needs to sustain its growth to at least 2% every year to keep pace with the needs of the population that grows annually at 1.7 percent. But to do this, Dominguez said that reforms have to be made and suggested that stakeholders of the agriculture sector should "think out of the box." What are your specific "thinking out of the box" reforms for the Agriculture sector?
That is what we are doing. "Out of the box" means millennials going to farming, professionals going back to farming, partnering between big business and small farmers, linking them to markets, having more Kadiwa centers so that farmers can have higher income, programming of production by thinking out of the box.
What is the status of relations between the government agricultural sector and non-corporate as well as corporate private sector? What are some of the more beneficial DA-corporate private sector partnerships over the last five years?
I, as Secretary of Agriculture, you know that the agriculture budget is lower compared to the agriculture sector's contribution of 9% to the country's Gross Domestic Product. One formula that can be used is that the GDP contribution should be equaled by monetary support. So, if the total budget of the Philippines is P4 trillion, the monetary support for Agriculture should amount to P360 billion. We are only getting, all total including NFA, about P119 billion. So, the Agriculture sector is really under-funded and under-invested. It's a good thing President, Mayor Rodrigo Roa Duterte said, "bubuhusan po n'ya ng budget [will pour a budget] for the Agriculture sector in 2021. It augurs well for DA that we have already started programs this year that we will elevate next year. We hope to request for almost P300 billion in budgetary support next year.
Now, the question about the private sector, you know, they should invest in agriculture. Because, at the end of the day, government cannot do that job alone. It has to be the private sector that should invest and partner with farmer cooperatives and associations. We are really gungho in terms of partnering big business with farmer cooperatives and associations. Because, you know, the private sector has management knowhow, technology, capital, and market. That is why we want that to happen. We have good relations with the private sector.
You are the founder and current president of InangLupa Movement Inc., (InangLupa), a social movement that advocates for a science-based, climate smart, and competitive Philippine agriculture for the social and economic empowerment of smallholder farmers. In your view, how would the government and NGOs best work or partner to achieve this?
Before I became secretary, I was president of the InangLupa Movement. When I became secretary, what I advocated when I was with InangLupa will be institutionally mainstreamed. We call this "the new thinking for Philippine agriculture." The advocates that we have with InangLupa are with us at the DA. They serve as consultants and advisers, helping the bureaucracy within the department so that this new thinking for Philippine agriculture will be institutionalized.
What is this "new thinking for Philippine agriculture"?
This is the way forward. It's a vision of having food security in our country, at the same time, rich farmers and fisherfolks. With this vision, we want the private sector to partner with farmers' cooperatives and fishers' associations all over the country. Together with the private sector, we will be able to increase the productivity of the agriculture sector. And with the objective as well of bringing down the cost of production, at the end of the day, farmers will be more competitive in general and will enjoy higher incomes. Our battle cry here in agriculture: "Masaganang ani at mataas na kita [Bountiful harvest and high income]"—all done sustainably, with resiliency as support objective.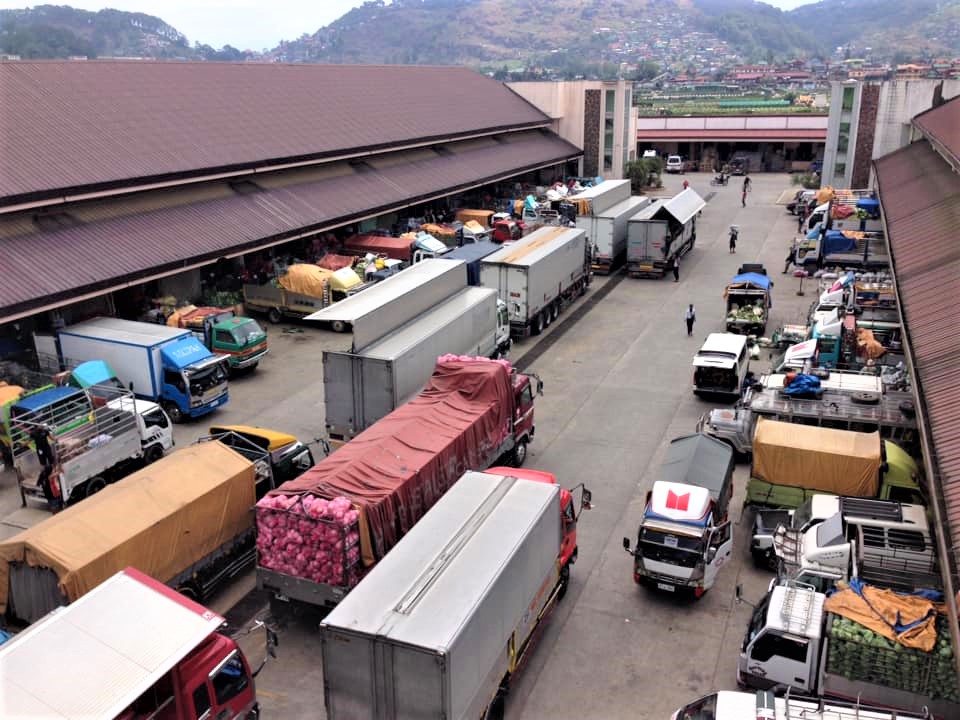 Now, we included eight paradigms or strategies: No. 1 is Modernization. This takes the form of mechanization, more automation, more physical technology, more high yielding varieties, more resilient varieties. Innovation is key in modernization.
No. 2 is the Industrialization of the agriculture sector. We will not only look at production, we will also look at processing, all the way to marketing. We want a broader approach, addressing the value-chain system.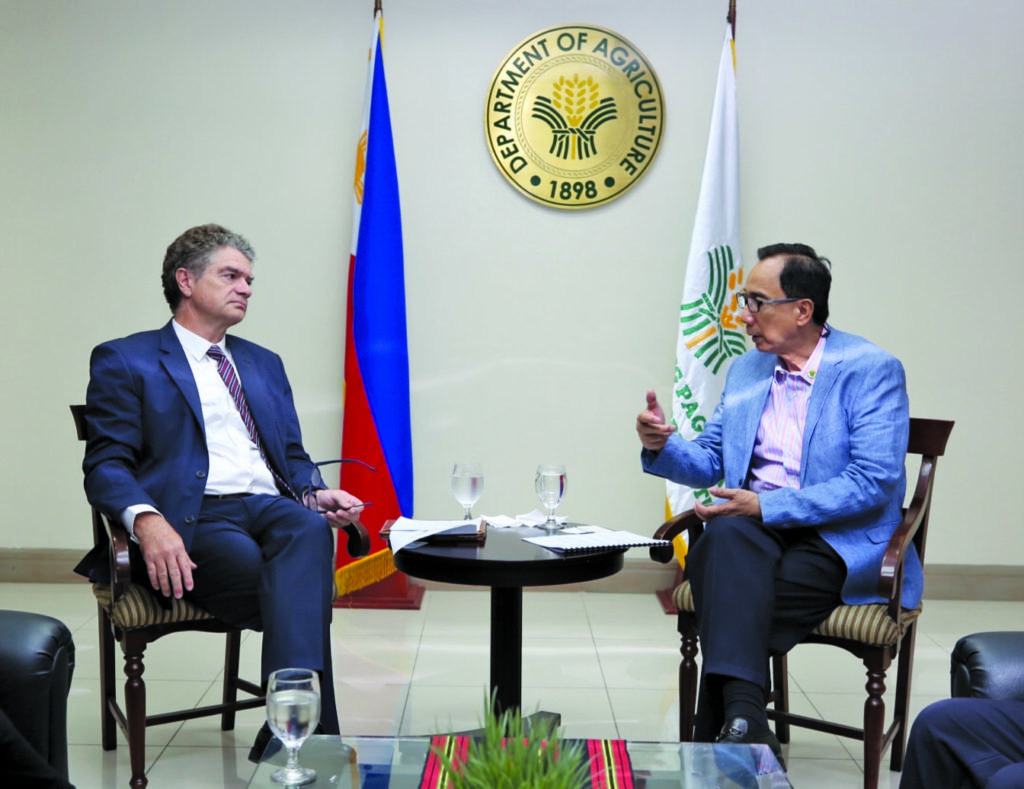 No. 3 is Export development. We want to increase the incomes of farmers. When marketed abroad, the revenue is three to four times higher than local markets.
No. 4 is Farm consolidation. We all know that landholdings of farmers in the Philippines are small. We are opting for a softer approach. We would want the farmers to engage in cluster or block farming through farmers' cooperatives and associations. And for these farmer cooperatives to partner with private business. In this way, we introduce business, manufacturing, and marketing into farm production.
No. 5 is Infrastructure development of the whole country, with regard to enhancing agriculture. So, if transportation has build-build-build projects, agriculture should also have build-build-build projects.
No.6 is Higher budget from government and investment from private sector for Philippine agriculture.
No.7 is Legislative support. We have to work with lawmakers to craft laws that sustain and institutionalize our programs.
No. 8 is Strategic planning and road-mapping. With all the seven strategies, we need a blueprint. So, it's a holistic point of view: eight strategies taken as one approach to developing the agricultural sector.
One of the key components of this approach would be the farmer's cooperative. How healthy are cooperatives in the Philippines? It has been reported that many farmer cooperatives are dummies of traders
That is the problem. Some of the farmers cooperatives' allow themselves to be used by traders, like in this recent importation of rice. "Nagpapabayad sila [They get paid (to serve as dummies) by these traders]." Having said this, we want to strengthen cooperatives by introducing the concept of marketing, aside from production. We hope farmers will partner with big business as a group (cooperatives or associations) and not as individuals. Hence, contract growing can be done or pursued. The cooperative or association will serve as protection of the farmer. They will have leaders that can leverage with big business. This is our view.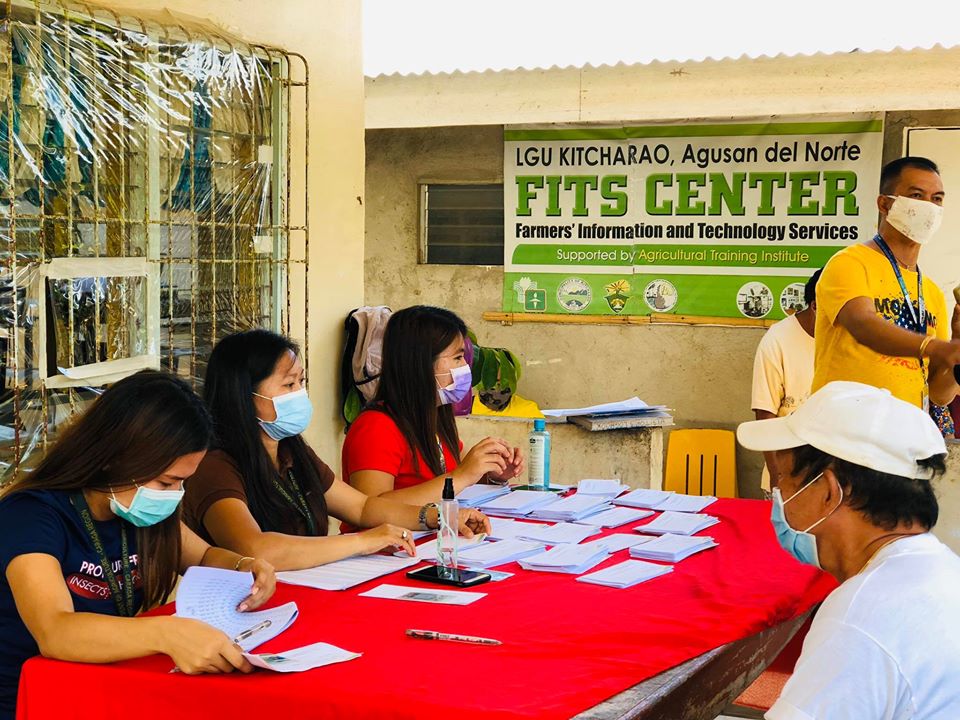 But before you can reach that point, wouldn't it be neccessary for the DA to do a cooperatives' audit?
Yes, we will see to it that we know where we are in terms of their capacities. We will have to have a good inventory of the existing farmers' cooperatives all over the regions.
Is this already being done?
Yes, it is already being done and we have already identified the unit here in the Department. It is the Philippine Council for Agriculture and Fisheries that will take the lead in terms of institutionally building up these farmers' cooperatives and associations.
With regards to rice traders, it has been pointed out that on the matter of rice tariffication, traders play a role in exploiting the farmers?
Yes. This happens because farmers are heavily indebted to traders. Thus, traders exploit the price they set for farmers. Now, we will see to it that rice farmers have subsidy and credit facilities so that they will not be at the mercy of traders.
Some farmers' groups claim that they suffered a lot from the Rice Tarriffication Law. What can you say to this?
This is how we view it. The law has gainers and losers. But we have to accept that it is time to liberalize. We have acceded with the Word Trade Organization (WTO) these last 25 years. And we have been getting extensions. How many times? Three times. Let's bite the bullet, even if the pill is bitter.
Now, let us review the first year of implementation of the Rice Tarrification Law (RTL). Let me go to specifics. Based on the data of the Philippine Institute for Development Studies (PIDS), there are really losses for farmers, about P38 billion. But there are gains for the consuming public, about P24 billion because the price of rice has gone down. So, there is a net loss of about P14 billion. But if you include the financial assistance given by government, starting last year—P10 billion a year for the Rice Competitiveness Enhancement Fund (RCEF). There is also the P2.5 billion Expanded Survival and Recovery Assistance Program for Rice Farmers or SURE Aid Loan Program. And also, the P3 billion Rice Farmers Financial Assistance. Total assistance amounts to P15.5 billion, against a net loss of P15.3 billion. Hence, the agriculture sector was not very affected.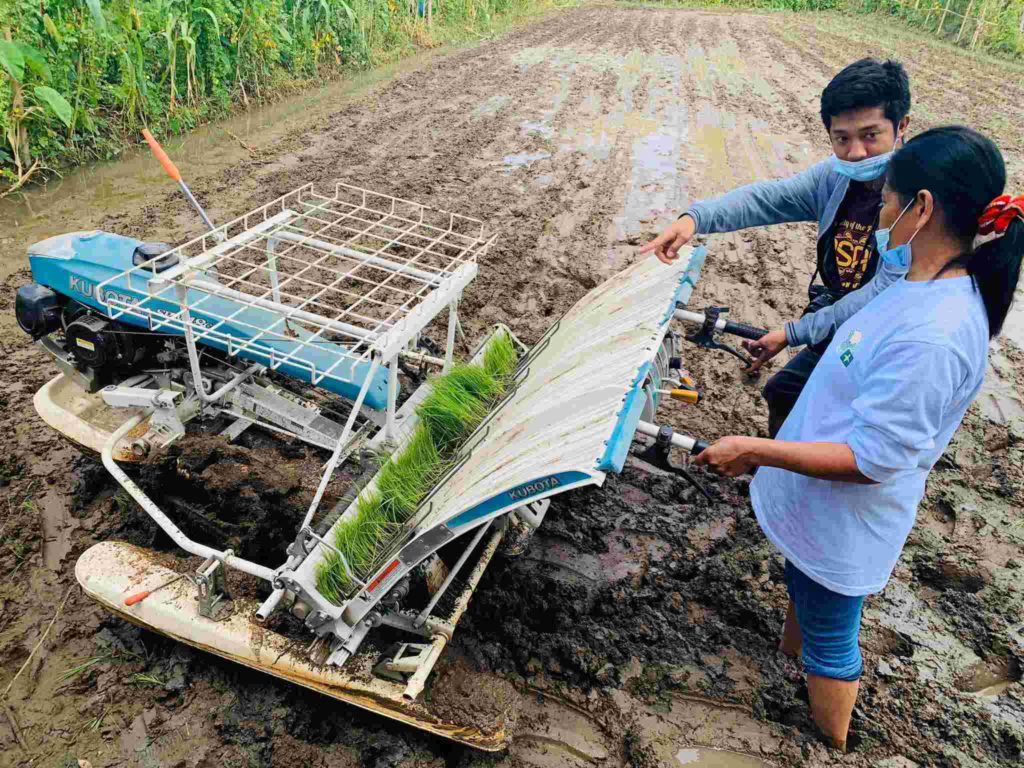 How many farmers have benefitted in the first year of implementation of the RCEF?
Almost one million rice farmers in the first year. We will increase that over time to all the rice farmers in the Philippines.
They say farming is so difficult and unrewarding that many choose to leave it. What can you say about this?
That's why part of the new thinking for Philippine agriculture is to entice the youth to go back to farming and agribusiness, especially since farmers are aged 65 years and above and in another five to eight years, they will retire.
We have many new programs. One program is to have the cum laude, magna cum laude, and summa cum laude graduates to do work as interns in the DA for one year. Every month, we will give them P25,000. This is to infuse new human capital to the Department of Agriculture, its attached agencies and bureaus. After one year, since there are many vacant positions, these interns will be given first priority to enter the DA.
We have the "Agribusiness Incubation" or "Agricultural Technology Business Incubation" program. Like the Silicon Valley in California, we offer grants, amounting to half a million pesos sa kahit sino man na may ideya ng gusto nilang maging produkto [any one with an idea of a product they want to produce]. We will give a grant of P500,000. It's free because this is a grant.
There is also the Kapital Access for Young Agripreneurs (KAYA). This is a loan program for the youth, from 18 to 30 years old, with a business plan to engage in farming as a business. We will give them P500,000 at zero interest, payable in five years. It's like study now-pay later. This is farm now-pay later.
We are also offering Agri-Negosyo for Filipino farmers and agribusiness practitioners. We offer loans from P300,000 to as high as P15 million at zero interest, payable in five years.
So these are all programs that will entice the younger generation to show them that farming is profitable.
When did you start these programs?
We started just this March. We were able to do it because we got the new budget for this. We hope to institutionalize these programs and entice the younger generation. We want them to be happy, with the higher income.
How many beneficiaries are targeted for all these programs?
For Agribusiness Incubation, we are allocating P500 million or about 100,000 beneficiaries at P500,000 per beneficiary. For Kapital Access for Young Agripreneurs (KAYA), there is P1 billion allotted or 200,000 beneficiaries at P500,000 per beneficiary. Agri-Negosyo has a P P1 billion funding.
What is the incubation period for these programs?
Two years. Within two years, we will already see the results of the program.
There is a lot of money that will be getting into the system and there is a need for monitoring, how will you address the problem of corruption?
I told them, corruption is prohibited. The President made repeated warnings about this and I hold the same view. We have a dedicated anti-corruption group. They do the investigations. There is also a group that monitors. We will bring in the private sector in a big way; a civil society group to help us monitor. May internal audit kami.
What are your plans and programs as DA Secretary for the remaining years of the Duterte administration?
Rice Competitiveness Enhancement Program sa rice is a game changer. We will see to it that the coconut industry will become a game changer. We will see to it that the fishery industry will become a game changer. The same with the livestock industry and the poultry industry. We intend to infuse significant budgets to these five sub-sectors of agriculture to properly implement all these programs, thus increasing the contribution of agriculture to the GDP.