Text and photos by Bernard Testa
Percy Duclayan is a long-time welder at the Balili Stainless Steel and Allied Works in Ligtasan, Antipolo, Rizal. But the 16 years he spent raising a family on the rolling hills of Rizal province have not made him forget his native La Union and his love for pakbet, a typical Ilocano vegetable dish.
It isn't hard to grow vegetables in Antipolo. Here, informal settlers would take over idle land and make their living by farming and selling their produce.
Percy was luckier than most. Instead of squatting on unclaimed land, he and his family of five children and three grandchildren were given permission to live on the land owned by Ermarie Teodoro Alcanzare on Emerald Hills in Barangay Sta. Cruz, Antipolo City.
Ermarie, a widow and a BA Philosophy graduate from the University of the Philippines, lived with her family on land just across the lot she let to the Duclayans for free, back in 2004.
"My wife Marjorie and I have been planting and selling sitao (string beans), year in and year out, for the last 15 years to augment our income. And selling vegetables really helped when our factory closed down because of the pandemic," Percy said.
He called Ermarie a "good Samaritan" for encouraging them to plant in the face of COVID-19.
BAHAY KUBO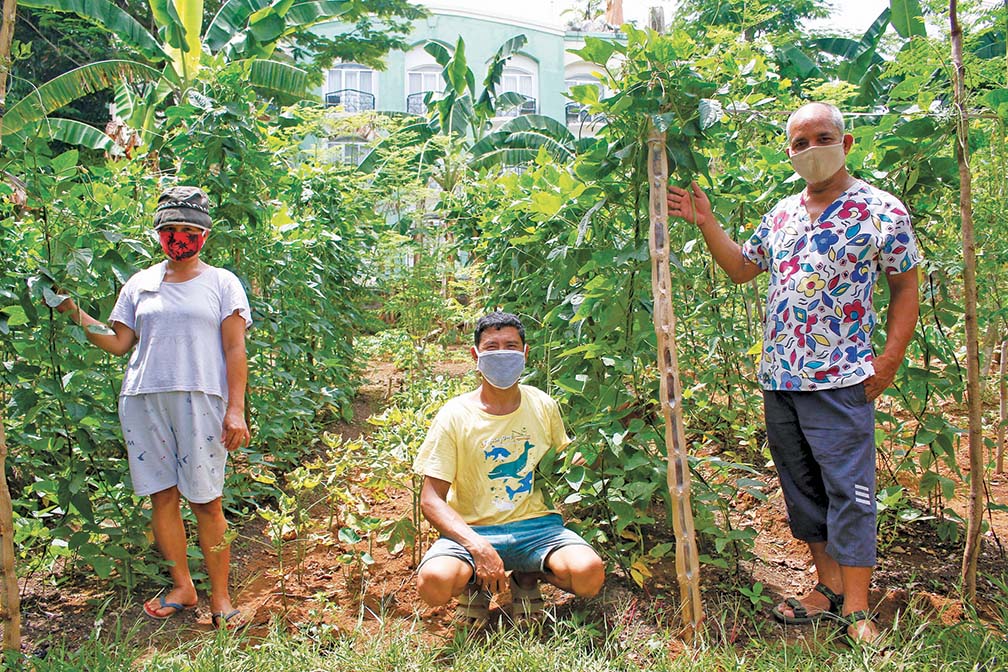 Ermarie's brother-in-law Eugene Alcanzare is the other good Samaritan in the lives of the Duclayans.
Called "Nine" by his colleagues and friends, the widow's brother-in-law is an agriculturist and a 2001 graduate of Veterinary Medicine at the Central Luzon State University (CLSU) in Nueva Ecija.
A freelance artist, musician, veterinarian assistant, and pandemic volunteer, Nine is also a member of veterinarian front liners known as the Vet Ng Bayan. He gives free services to dog and cat rescuers and indigent pet owners and pet lovers because most of the vet clinics are closed.
Biking his way to Antipolo from his place in Gagalangin, Tondo, Manila to visit family and friends, he saw the lockdown as an opportunity to propagate the concept of seed dispersal.
It was Nine who introduced Percy and Marjorie Duclayan into planting more seeds in their home lot.
"The couple used to quarrel a lot at the start of the lockdown. But planting brought them together. Lagi sila magkasama, nagdidilig, binubungkal ang lupa, alagang-alaga ang mga tinanim. [They are always together, watering their plants, tilling the soil, nurturing the plants]. It has become an urban garden, a bahay kubo," said Ermarie.
The Duclayans mentioned that Nine gave them vegetable seeds for squash, eggplant, okra, and amargoso (bitter melon) in April.
"We have harvested thrice, since then. Now, we are sharing the seeds with our neighbors and friends. You just need bagoong or shrimp paste to enjoy the pakbet vegetables handpicked in our backyard," Percy said.
SEED GIVING, SEED SWAPPING
Nine is proud to say that he is one of the pioneers of free seed dispersal to communities and cooperatives in this part of Antipolo. He started giving seeds in 2017. His fraternity brother Atty. Joven Alegre of Pi Sigma Fraternity in the University of the Philippines (UP) helped him buy seeds from the CLSU for dispersal to communities in need of seeds.
Early this year, Nine thought of a sustainable seed-giving scheme. He started a Facebook page called PURE Agri-Edu(cation), which has 80 members, spread all over the Philippines.
Through Facebook, they accessed a Community Seed Library (CSL) that allowed for the dispersal of seeds. Nine's friend Sixto Berbere of Marikina Greenheights Subdivision started the CSL.
At the beginning of the COVID-19 pandemic, Nine borrowed seeds from the Marikina CSL and dispersed around P14,000-worth of seeds. He sent seed parcels as far north as the Babuyan Islands to as far south as Davao.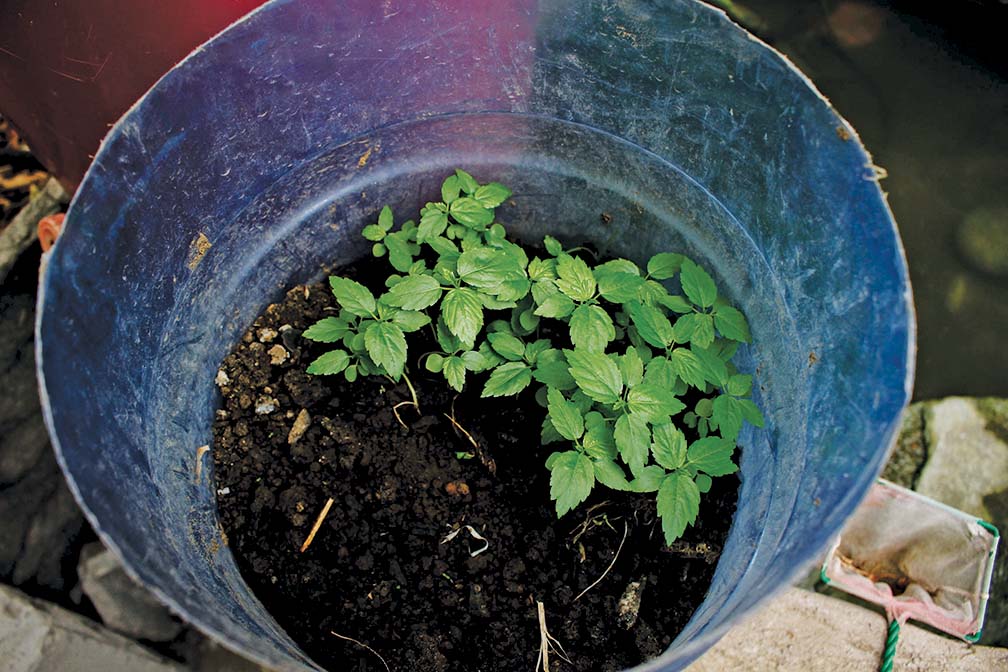 "This is not a dole out. Seeds are better, more sustainable and healthy. You not only teach people how to eat vegetables, you also teach them how to plant and culture them. This is where agriculture comes in," Nine said.
The veterinarian-agriculturist said he hopes to propagate the culture of seed giving and seed swapping by way of the CSL and though his song, Pitong Libo Anim Na Raan Apatnapu't Isa (7,641), referring to the total number of islands in the Philippines.
HEIRLOOM SEEDS
Sixto Berbere sat quietly on his patio overlooking an urban garden setting in the parking area of his apartment.
A permaculture consultant, he advises people on how to engage in self-sufficient and sustainable agriculture.
As he sipped his organic coffee, he explained the mechanics of the Community Seed Library (CSL), where anyone interested can borrow seeds and replace them later after harvest.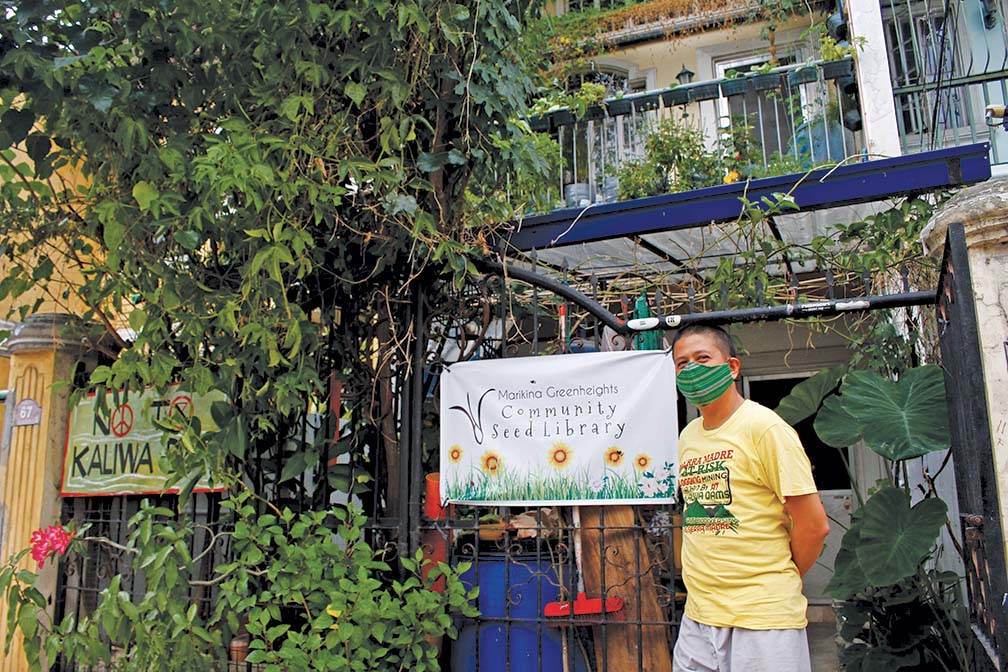 "Maraming gustong magtanim pero walang access sa seeds [Many would like to plant but they don't have access to seeds]. During the pandemic, we cannot control production and distribution. There is no purchase, no work, no pay. The government 'ayuda' (financial assistance) cannot reach far-flung areas," he said.
Faced with these limitations, Sixto thought of the "Do-It-Yourself" garden propelled by making seeds accessible to those who want to grow their own urban garden.
CSL variety seeds, according to Sixto, are heirloom seeds. An heirloom variety is a seed that has a history of being handed down through multiple generations. It is an old-time variety, not a hybrid, created through open-pollination or natural means.
Unlike hybrid plants, heirloom seeds adapt easily to climate and soil variations. These seeds can also be planted countless times over with nearly the same result.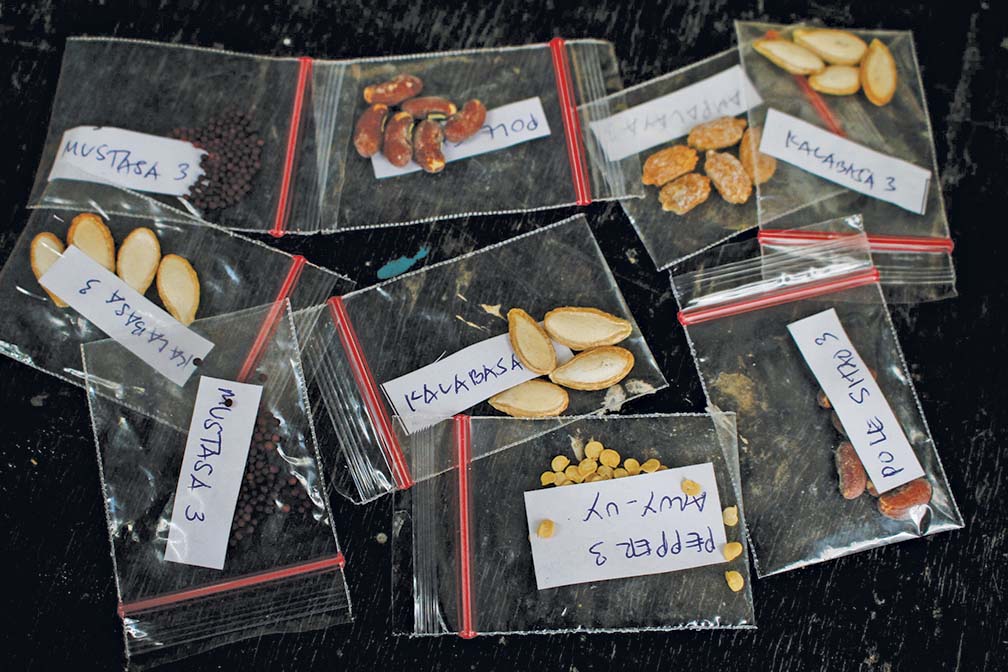 Sixto concluded: "With the proper seeds, the entire agriculture eco-system can be duplicated in your parking area, backyard, empty rooftops, and unused spaces. We should all start planting what we eat. And in this pandemic, we have the time to do it."