From a paper delivered during the Dec. 10 webinar, "Health and Economic Outlook for 2021—Sparking Hope: Will a Vaccine see an end to the Pandemic?" conducted by the Philippines Graphic-BusinessMirror, in partnership with the Pharmaceutical & Healthcare Association of the Philippines (PHAP).
This morning, I will discuss the Philippine COVID–19 roadmap. We will also discuss some of the highlights of the government's vaccine development program and present the Philippine COVID–19 National vaccine roadmap. We will also discuss the ongoing public and private partnership that we have undergone lately.
First and foremost, the pandemic obviously caught everybody off guard. But these are really trying times and of course the immediate response must be to protect ourselves, protect our healthcare workers.
The very first response of the local industry was to see what we could do to help protect our healthcare workers. So immediately, we were able to raise funds, source materials and actually donate P120 million worth of PPEs and other support materials as a part of our COVID–19 response.
Coupled with our PHAP Cares which is our CSR arm, and if you look at the history of what we have been doing for PHAP Cares, we have actually been donating over P1 billion, to date, for all the situations that the Philippines has been going through and our response to these particular scenarios that have been productive.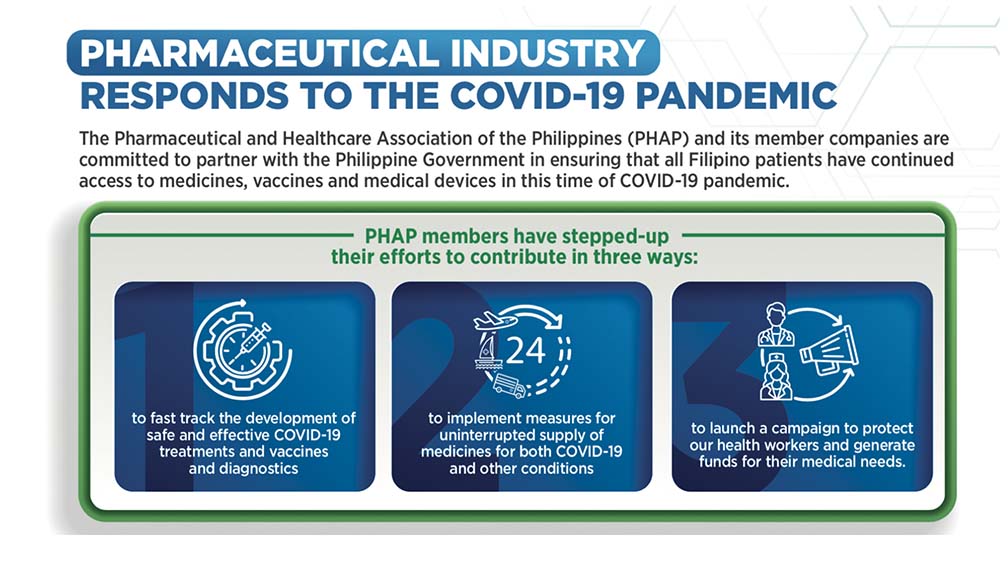 But we are also here to talk about the global response. On the right hand side of the slide (SLIDE 1), you will see that it is talking about our healthcare workers, protecting ourselves, protecting our employees. That is of course the initial response.
Between the lockdown conditions, there were threats to the continuous supply of life saving medications throughout the country. Airports were being locked down, flights were being cancelled. We had to find ways to be able to distribute products and make sure that our supply chain was totally uninterrupted. It's been difficult.
Let us not sugarcoat this. It has been very difficult but we managed through the help of various chartered flights, our distributors—which Janette Jakosalem can talk about a little later—have managed to maintain a steady supply of life–saving medications throughout the country despite the limitations to travel, transport, etc.
Finally we will talk about the global pandemic response particularly to fast track the development of safe and effective COVID–19 treatments and vaccines. I emphasized treatments because it is not just vaccines that will save the day for us. Even with vaccines, we will need effective treatment strategies, treatment options, different drugs to be able to manage actual cases that will continue to come up in the coming years.
I was asked recently in another medical symposium will the vaccines end it all? It will reduce the transmission for sure but as a clinician, I will always think about COVID–19 with a patient who will come into the Emergency Room. Am I dealing with a COVID case? I mean, we still see flu. We still see measles. That is just an example of what vaccines can and cannot do. So, it is important that we have new treatments always available.
So, we are very well suited and positioned to be able to address this because of the decades of expertise in infectious diseases. Just recently, major companies have come up with life saving vaccines. My company has the Ebola vaccine and it has been just approved last year for treatment of course and prevention of Ebola and the outbreaks that are happening in Africa. We've had experience in working with global health institutions and governments, infrastructure and technology to quickly advance potential vaccines and treatment candidates of clinical trials and manufacturing capabilities for quick scale up. And clinical trials were also very difficult and problematic during the start of the lockdowns. How do you also distribute the supplies necessary to run these trials?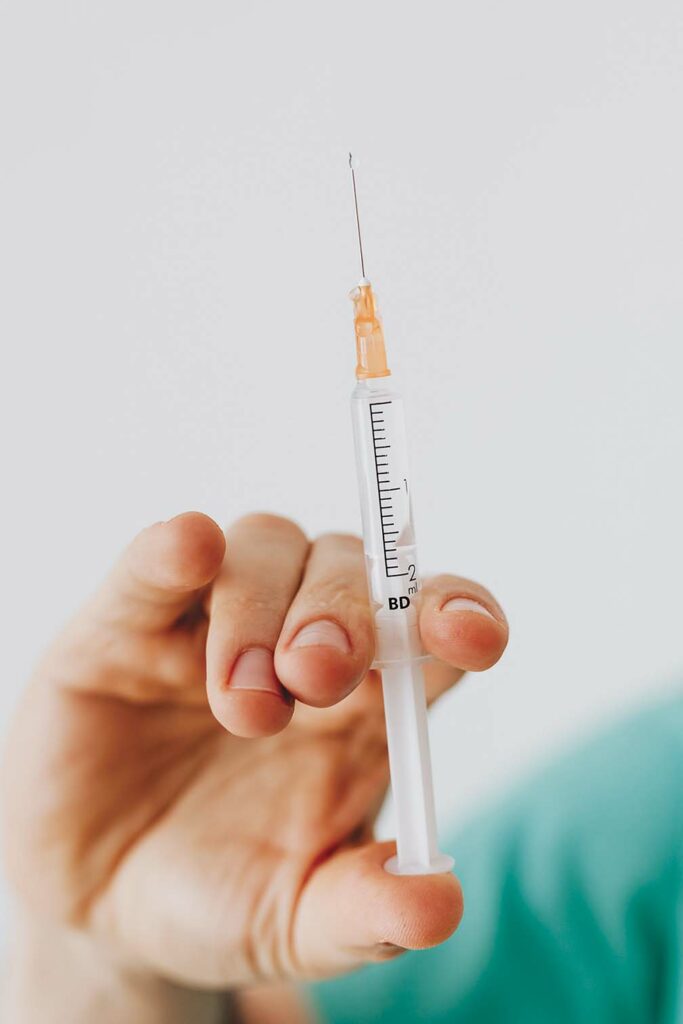 To date, we have about 1,300 plus trials ongoing throughout the world. It is not just my company but this is a summary of what has been published among all the different companies, with over 455 unique different therapeutics, not just duplications of the same particular molecule but different trials of trying different molecules throughout the world.
Over 20 unique vaccines are being studied. This is what the global effort has really engendered and pulled together. This pandemic has really underscored the need for our companies and our industry to keep investing in research to combat the greatest health threat. And mind you, COVID–19 is not going to be the last pandemic. This is probably just the first. There will probably be more pandemics in the future. And the only reason that we are now able to respond to this particular pandemic is because we continually invest in research every day. That is what our industry really brings into the game.
But it is complex, right? It's complex, it's risky and really costs a lot of money. To deal with diseases like Alzheimer's, we still don't have a solution. But to get a final molecule to actually treat Alzheimer's will cost us over US$2.6 billion and that is over 10 to 15 years of continuous research.
For this particular pandemic, obviously everybody got their acts together. They started pooling together resources, sharing information across so to date, everybody was really coming together to try to address and find effective treatments this early in the game. So can you imagine? A year ago, nobody had heard about the Wuhan virus. Suddenly, we are living with it. Yet, nine months ago, we had no vaccine in sight. Today, my colleagues in the next series of talks will be rolling out numerous information regarding the vaccines that are already available.
This is what we have been doing— repurposing existing and testing new treatments. We looked into our libraries to find out which particular molecule may be responsive. We will be talking about one of them in a moment. We shared information as I mentioned, secured essential supplies to make sure that these medicines were actually manufactured and available, protected our workers who were going to make these particular brands and all the other necessary support mechanisms to grow all of these vaccines and all of these products out the door.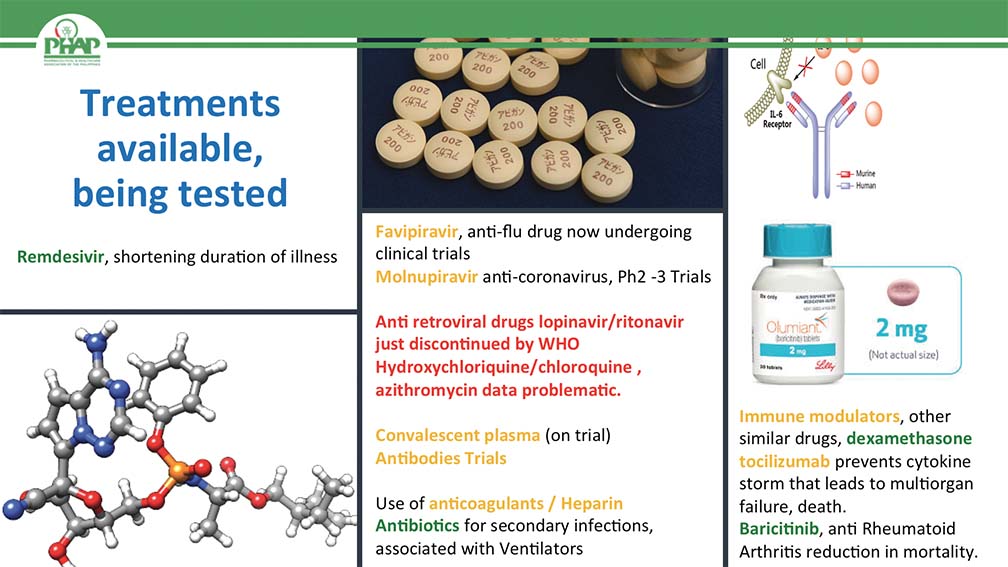 So, this (SLIDE 2) is just an example of some of the treatments that are currently available or being tested. There is a little bit of color coding. Those highlighted in green are already approved or have some form of regulatory approval. Those highlighted in yellow are still undergoing clinical trials and are potentially very, very promising. In red, forget it. Remdesivir. Let's talk about that briefly. Remdesivir is actually a product that was initially developed for Ebola. It didn't work but the company was able to repurpose it so now we actually have it in randomized controlled trials proving that it can actually reduce the course of the illness or the duration of illness for patients who actually have COVID–19. We know there are different results from the WHO but I am a believer in the typical evidence–based pyramids and I can tell you that clinical trials that got Remdesivir's indication are really solid and clean.
In the middle panel, we have Favipiravir, a Japanese anti–flu drug now undergoing clinical trials and I know the Philippines is part of these trials. Next week, we will actually be rolling out clinical trials of Molnupiravir here in the Philippines, both at the Lung Center and at the Philippine General Hospital and this is a particularly interesting molecule because it is not just anti SARS COVID 2, it is anti–coronavirus. All coronaviruses seem to be impacted by this molecule, preventing and destroying the replication or multiplication of that particular virus.
Already, it is in the Phase 2 or 3 trial so keep our fingers crossed that this actually works. I already mentioned in red that drugs like lopinavir is an anti–HIV product, hydroxychloroquine, all of these turned out to be nothing. Sayang lang ang [wasted] effort. Let us not waste too much time on this any more. Convalescent plasma with the antibodies of recovering patients seem to still be on trial. Keep our fingers crossed that they will actually work.
Antibodies have been used in the US for some of the very prominent people there and they seem to work. Anticoagulants Heparin, of course, antibiotics particularly when the patients have developed bacterial pneumonia from the use of ventilators and all of that stuff. So, these are some of the treatments that are already available. The immune modulators, this is a particularly interesting field right now.
COVID–19 it appears, seem to be a different type of illness. It begins with a bad virus, activating something of the body to have a hyper immune response and it is the hyper immune response that seems to kill patients. So it really is very critical. We find ways to modulate that hyper immune response that develops, which is why it is really outstanding that we have dexamethasone, a very old and reliable steroid, very, very inexpensive. It can actually reduce mortality by over 30%. Tocilizumab, an immune modulator, so far, the trials are neither here nor there. They are not getting the best results yet but the clinical experience locally seems to be very in favor for this particular molecule.
Another new drug that has just been started in Phase 2, the pre–trials have just started is this drug called CD24Fc which seems to reduce mortality in patients who are intubated and are requiring oxygen, reduce the mortality rate by over 60% one dose.
So, these are very interesting molecules that we must continue to study, continue to invest in to make sure that we actually get new treatments that are available in the future when they will still be COVID–19 patients despite vaccine availability. And finally this other new molecule, actually it is an old molecule, again repurposed, Baricitinib which actually seems to also reduce mortality in patients in this particular phase of hyper immune response.
Just to summarize, treatment options will always be required. It is not just the vaccine. Vaccines are fantastic. We will always need the vaccine but you will also still need treatments to actuallty manage active patients who come down with the illness. There will always be this COVID–19. It will always be part of the thinking process now of clinicians out there when they see patients. It will change the way we run our hospitals if it has not already have. So, this is the way our industry has been working, has been thinking through the process and we do commit to ensuring that we have the best options for all our patients here in the country.