Philippines Graphic: The year 2021 is turning out to be the year for the COVID–19 vaccine. Where are you now with reference to preparing your constituents for COVID–19 vaccinations?
Mayor Arman Dimaguila: With authorization from the Sangguniang Panglungsod, we were able to set aside P150 million for vaccines. We are already talking with Astra Zeneca, Pfizer, and Novovax (of India). We have already prepared our hospitals. But when we consulted with our Biñan constituents, less are willing to get themselves vaccinated. More are not willing. And among those who are willing to avail of our vaccines, they stipulated that they do not want vaccines from China. Now, we cannot force those who have expressed reservations about getting vaccinations. And I tell you, these reservations come from doctors, nurses, medical technologists, in short, our frontliners. I asked my own doctor if I should have myself vaccinated and he said, 'Hayaan na muna natin. Tutal naman, malakas naman kayo, e. Mag-ingat na lang. Hayaan na muna natin kung anong side effect. [Let's leave it be, for the meantime. You are strong, anyway. Let's see the side effect].' And so we do our best. We have a list for medical care providers, doctors, nurses, all the employees of Ospital ng Biñan, and those who work in hospitals that are in Biñan. If it so happens that you work in a private hospital located in Biñan, you are qualified to avail of our vaccine. If you are a resident of Biñan but work in a hospital that is in Mandaluyong. Let's say, it so happens that there is still no vaccine available in Mandaluyong, you can avail of the vaccine in Biñan. Kasi uuwi ka e, frontliner ka [Because you will go home (to Biñan) and you are a frontliner]. You can avail of the vaccine we offer.
The rush for getting in line to acquire vaccines has put business groups in focus as they try to haggle for vaccines for their workers. What is your relationship with the business groups in Biñan?
Hindi namin pinapakialaman ang mga negosyante dito [We don't meddle with business groups here in Biñan]. We don't solicit from them. I guess that's why in the course of the pandemic, many of them were ready to donate. Even without our asking, they came to donate. So we make it a point to let them know where their donations are going. And we discourage them from giving cash. We don't want that.
How did the LGU and the business community help each other to address COVID–19?
There was a period when the number of COVID–19 cases spiked in Biñan. This was the time when the factories reopened after a long lockdown. But instead of closing the factories again, we decided to talk and to look for a solution. 'Let's sit down,' I told them, and we discussed our options. What did we need? We decided, let's limit the manpower to 50%. If it goes down, we'll raise it to 60% and if it goes down some more, we'll raise it to 70% until it gets back to a hundred percent. This was the best solution because it attended to the needs of the government in the form of taxes; the workers who were in need of jobs or livelihood; and the companies that had commitments for orders to be delivered abroad. Biñan has always been a finalist in being business–friendly. In fact, even when we opened our online business registration, people still preferred face–to–face communication. Biñanenses preferred to come and settle their businesses here. But of course, we practice the wearing of masks, face shields; we observe social distancing.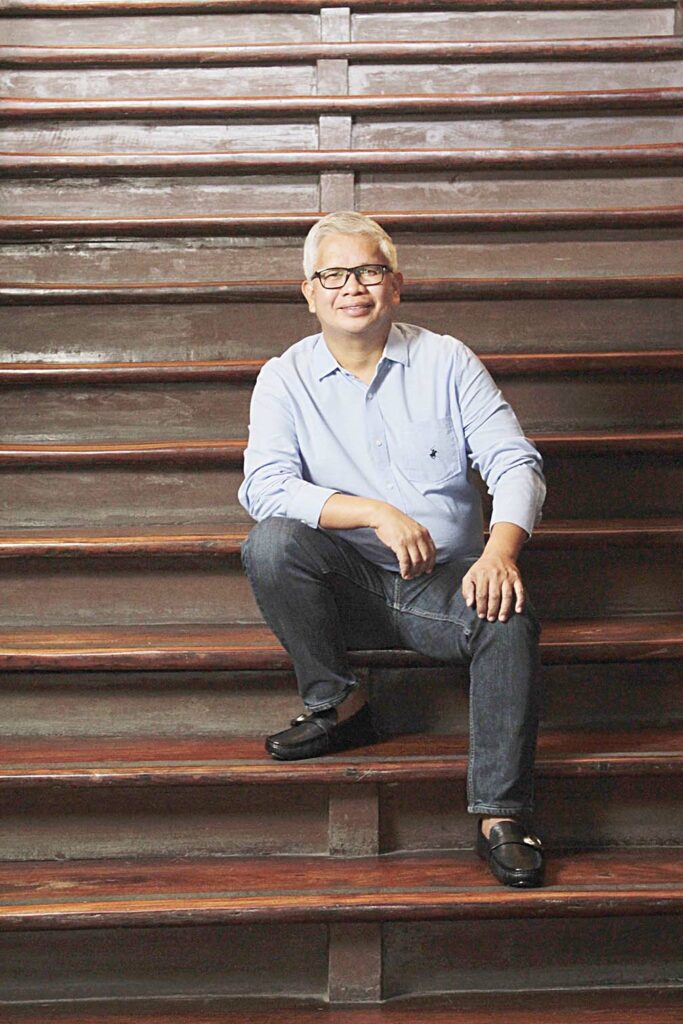 Congress is once again pushing for amendments to the constitution. What is your view about instituting constitutional amendments this late in the day, with elections already slated for next year?
The sad part is their pushing for amending the economic provisions of the Constitution, one of which is definitely, allowing foreign companies and/or foreigners to own land. In other countries, much wealthier than ours, I see no problem in having foreign ownership of lands. You see, in these countries, very few citizens would sell their land. But here in the Philippines, especially among impoverished Filipinos eking out an existence in the rural areas, the situation is not the same. Pag inalok mo ng doble ng presyo, bibigay na sila [If you offer them double the price of their land, they would give in]. The problem is some foreigners, like the Chinese, have so much money. They can offer five times, even ten times the price of a piece of land if they see its potential. And if you put that within the context of how the Chinese government has been treating our lands in the West Philippine Sea, baka maubos ang lupa natin [We might lose all our lands]. Maybe, we would be better off if we concentrate our efforts toward rebuilding our country. We've missed out on a lot of opportunities.
Come 2022, do you have any plans for higher office?
I will be running for re–election. I feel that 2021 would be devoted to rebuilding. The next election after 2022, my last three years in office, will be dedicated to continuing and finishing what has been started. The COVID–19 pandemic delayed our progress. Umatras tayo ng mga dalawa o tatlong taon. Paganda na e, bago nagka-pandemya [We lost about two to three years. Things were looking up before the pandemic]. We have our work cut out for us. At the very end of every year, Rep. Len Alonte–Naguiat, Vice Mayor Gel Alonte and I would meet and plan to ensure that all our plans and programs are aligned. We would discuss our plans for Biñan beyond 2025 or beyond 2030. What projects would Biñan need? What needs to be upgraded? What would Biñan's role be in the national scene? And so, we rebuild and reclaim what we lost, and then move ahead toward progress.