Text and photos by Bernard Testa
His mother stood uncertain and forlorn before the gathered crowd. Many of their relatives and friends were there to wish well the bride and groom. As godmother, Mrs. Dimaguila was to sign on the couple's marriage contract. But she did not know how. She could barely read what was in the document.
"My heart went out to my mother that day. I was stunned finding out just that moment that she could barely read or write. I had to show her where she needed to sign," said Walfredo "Arman" Dimaguila, Jr.—future mayor of Biñan, who was just another poor youth from Brgy. Malaban during those early years.
His father was a lowly–paid municipal electrician while his mother washed clothes for other people to make ends meet. They were 10 children in the family and it was normal for them to make do with what little food their parents could afford to give them.
"In my young mind, I knew I had to do something to change the course of our lives. My mother would tell me to study well and that it would lead me to better things if I did. I knew she was right. I did not want to inherit the impoverished existence they reluctantly bequeathed to us, their children. I knew my parents tried so hard. And so, I studied hard. I finished elementary at the top of the class. I was valedictorian," he recalled.
Still, the way out of poverty was a tough climb for Dimaguila. It meant long years of patient waiting and persistence, not to mention many hours of lost sleep before things would get better.
Forced by dire circumstances, his father had to leave for Saudi to find work. Still, the money was not enough. "My elder brothers got into college and I had to wait for them to finish before I could take a college course. I did not have long to wait since they dropped out of college one after the other. But when it was my turn to take a course after graduating from high school, there was no more money to finance my studies. I had to stop for a year," he said.
A year later, he was determined to go to school, even if he had to find work to support his chosen course. Dimaguila wanted to become a lawyer. And the first step he took to being one was to enroll as a political science student at the Lyceum University in Manila.
His next step: Working as a security guard at the St. Benedict's Security Agency in Sta. Rosa, Laguna. "Those were very difficult years. I studied in the morning and worked as security guard overnight till the wee hours of the next morning. It was that way until my final years in college when I ran and won as Sangguniang Kabataan chairman in our community in Brgy. Malaban."
Despite the tiring schedule, Dimaguila graduated cum laude with a degree in Political Science from the Lyceum University in 1993.
The next four years saw Dimaguila chalking up a law degree also at the Lyceum University.
POLITICS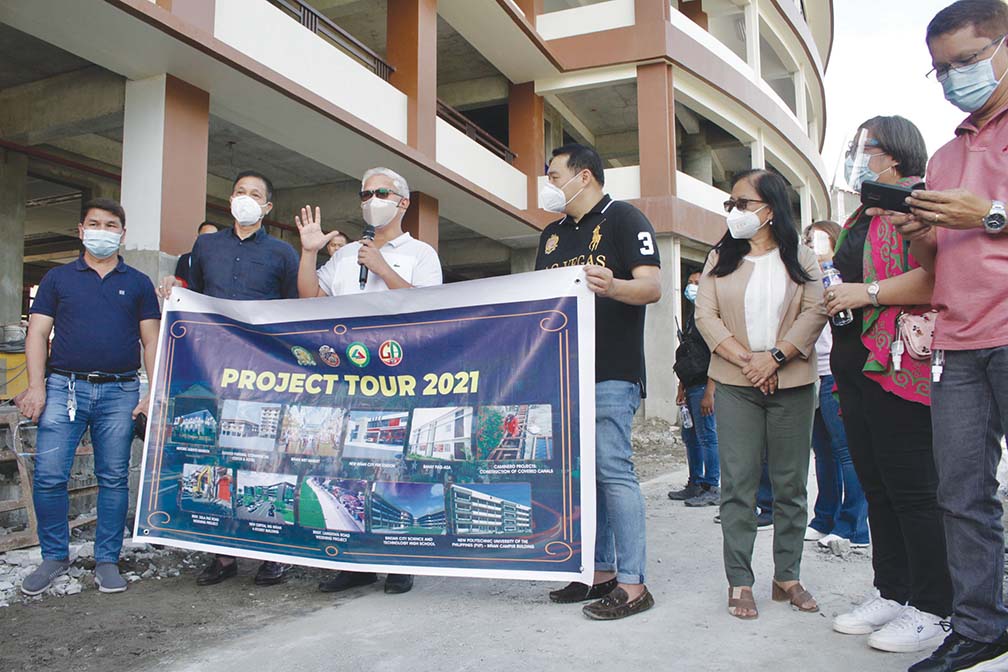 The year 2001 saw Dimaguila running and winning for councilor under the ticket of former Biñan Mayor Arthur Alonte, succeeding as winning councilor for three terms.
Being a full–fledged lawyer, he extended free legal advice, free notary services, and even went out of his way to represent legally distressed Biñan residents in court.
He likewise started a scholarship program that later led to the establishment of the Polytechnic University of the Philippines (PUP)–Biñan.
In 2010, Dimaguila won as vicemayor of Biñan and spent the first few years of his term strengthening the legislative procedures of the Biñan City Council.
It was during this year that he started championing the protection and promotion of Biñan's rich culture and history as reflected in governance.
Six years later, Dimaguila, at the age of 45, became the 16th mayor of Biñan as a municipality and its second as a city on May 9, 2016.
RADYO BIÑAN
They say the mettle of a local chief executive is measured by the beneficial programs and projects he has envisioned and implemented for his constituents.
For Iskolar ng Biñan student Joanna Marie H. Bermas, Dimaguila stands for attainable dreams.
"I am truly grateful to have a leader who prioritizes and invests more on the Education sector. Mayor Dimaguila makes the impossible, possible," Bermas said.
She reasoned that Dimaguila's scholarship programs have made possible the attainment of a college degree for deserving but economically–challenged students like her.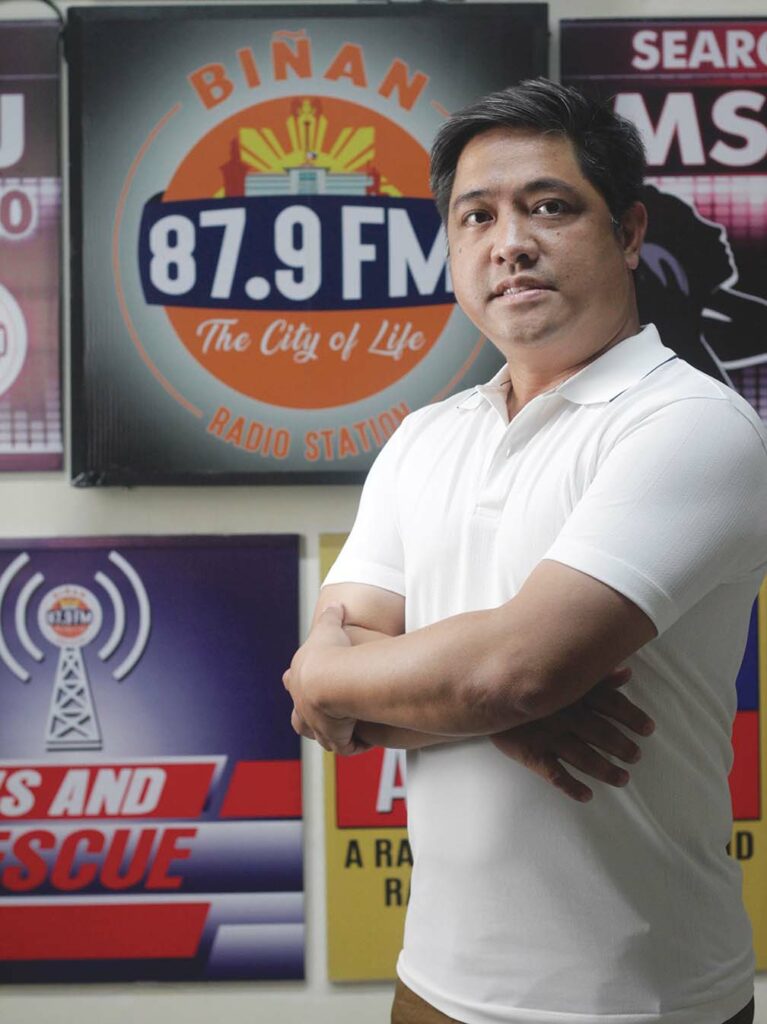 For his part, Christopher Alba, 45, station manager of Radyo Biñan, said that Dimaguila's legacy as an exemplary mayor has been enhanced by the mayor's active involvement in "Biñan Laban sa COVID–19" program aired over Radyo Biñan.
Broadcasting at 87.9 MHz at the Biñan City Hall, the community radio station is owned and operated by the Biñan City Government.
Alba said that the program has allowed Biñanenses to openly express their thoughts and seek assistance over the airwaves.
"Dahil sa programa sa radio, madaling naipaparating ang mga tulong lalo na sa mga [Because of the radio program, immediate aid and assistance are given to] volunteers, frontliners, and medical workers. Communication between the LGU and the people are dispatched with speed, in real time," he further stated.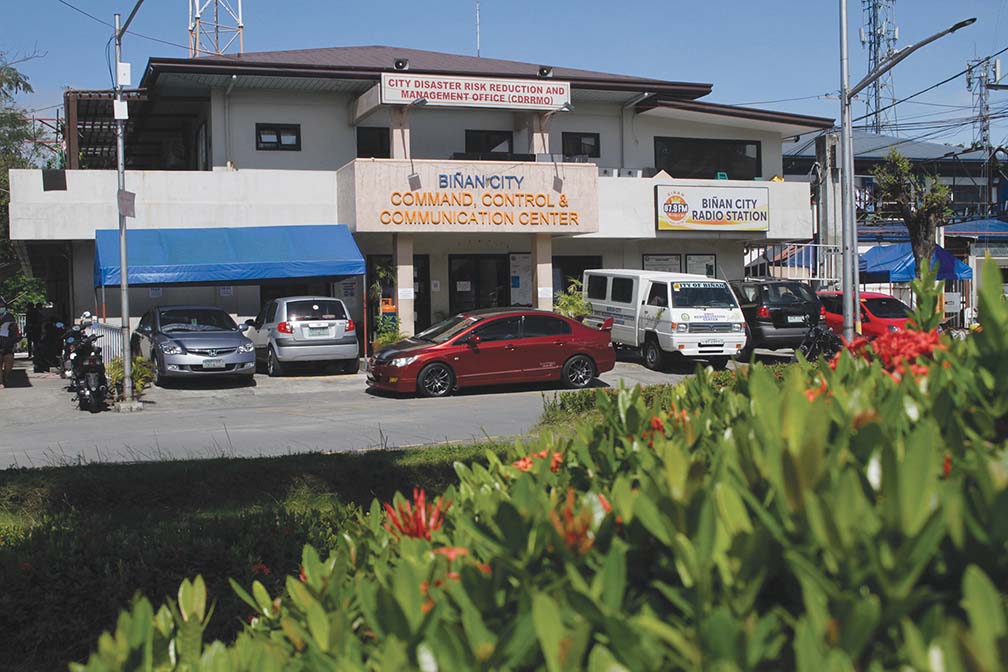 Radyo Biñan likewise has its Balitambayan program, which features the tandem of Alba with City Information Officer (CIO) Roman Carencia.
"Balitambayan is heard by Biñanenses both here and abroad, and so we go out of our way to broadcast local news," Alba said.
He also mentioned that the Biñan City Government plans to finish the radio studio and to give students hands–on experience on news reporting.
These days, it is normal for Biñanenses to hear the official pronouncements on COVID–19 from Mayor Dimaguila himself, especially on matters as they relate to the city and its citizens.
"The mayor's program, which enjoys high ratings, delivers useful and accurate information on the basic protocols, as well as advice that helps assuage the doubts and fears of Biñanenses with regard to COVID–19," Alba said.