Biñan's road to recovery
Less than three years ago, when the Graphic first interviewed Biñan City Mayor Walfredo "Arman" Dimaguila, Jr., we came to know a self–made lawyer–turned–politician with a definite development blue–print for Biñan City.
Elected mayor in 2016, Dimaguila propelled his first three–year term of office with solid projects designed to shed much of Biñan's provincial, agricultural past to make way for a rapidly industrializing, modern city.
It was a unique development plan for it sought to combine the new with the old—a plan that embraced economic progress, even as it consciously sought to preserve and promote much of Biñan City's rich cultural and historical heritage.
A case in point: Dimaguila sought to renovate and modernize the facilities of the public market in Brgy. Poblacion, intent on adopting the Spanish colonial theme of old Biñan.
In his first term of office, Dimaguila started Bahay Pag-asa, a 24-hour child caring institution and intensive juvenile support center. Headed by Adora Casbadillo of the Department of Social Welfare and Development Office, the center was composed of four buildings and served women, children, and Children in Conflict with the Law (CICL).
Dimaguila augmented the city-owned Ospital ng Biñan with two city health offices and began the construction of the Biñan Science and Technology High School at Silmer Village in Brgy. San Francisco. He likewise erected an Organic Farm and a Materials Recovery Facility (MRF)—a waste and recycling site.
He also pushed for the full implementation of Iskolar ng Biñan (INB), a program that provided college scholarships for poor but deserving Biñan students.
The INB had its roots in a scholarship program implemented by Dimaguila while still a vicemayor of Biñan.
"We spend about P120 million yearly for our scholarship. We are now on our 15th year. Napakadaming bata ang nakatapos ng pag-aaral. May mga teachers na, may mga CPA na, may mga doctor na, may mga nurse na. Nasa gobyerno na rin yung iba. Nakakatuwa. At yung mga batang yun, hindi makakatapos ng pag-aaral kung hindi sila naging scholar [Many children were able to finish college. Some are now teachers, CPAs, doctors, and nurses. Some are in government. It's such a joy. And these young people, would not have finished schooling, had they not been scholars]," he said.
Things were looking up for Mayor Dimaguila Jr. and Biñan City as he successfully got elected into a second term. Between 2016 and 2019, the city and its mayor chalked up many awards which included: No. 1 most improved city in the province of Laguna; No. 1 in infrastructure; No. 5 in Economic dynamism; No. 7 most improved LGU and in overall competitiveness; No. 13 in government efficiency; and no. 17 in resiliency. Add to this, the city offers a Business One-Stop-Shop to business locators.
Biñan City became the recipient of the Environmental Compliance Audit Awards under the Department of the Interior and Local Government for two consecutive years (2018-2019).
It also won the Seal of Good Local Governance (SGLG) from 2017–2019 and was awarded the Best Tourism Event Festival (city level) for its Puto Latik Festival during the 2019 Association of Tourism Officers of the Philippines–Department of Tourism (ATOP–DOT) Pearl Awards.
PERSISTENCE
The Biñan City government once had as its rallying motto: "Sa Lungsod ng Biñan, mamamayan ay maaasahan [You can rely on the citizens of Biñan City]!"
It is a motto that once again sprung to life in early 2020, when the city encountered a major natural catastrophe: the eruption of the Taal Volcano.
On Jan. 12, 2020, the small but very active Taal Volcano in Tagaytay, Cavite spewed huge plumes of volcanic ash throughout Metro Manila and the Calabarzon area, including Biñan. Ash fell all the way to parts of Central Luzon, and even as far as the Ilocos Region.
The extent and degree of the ash fall caused a suspension of classes, work schedules, and flights in the area. Some 2,722 hectares of land were affected. Damage to crops due to the eruption reached P3.06 billion. Taal Lake incurred fish losses totaling P1.6 billion
With Biñan City blanketed in ash fall, Dimaguila came up with a plan to use the ashes from Taal's volcanic eruption to produce eco–bricks. Biñan's MRF had previously used recycled plastic to produce eco–bricks at 5,000 bricks a day.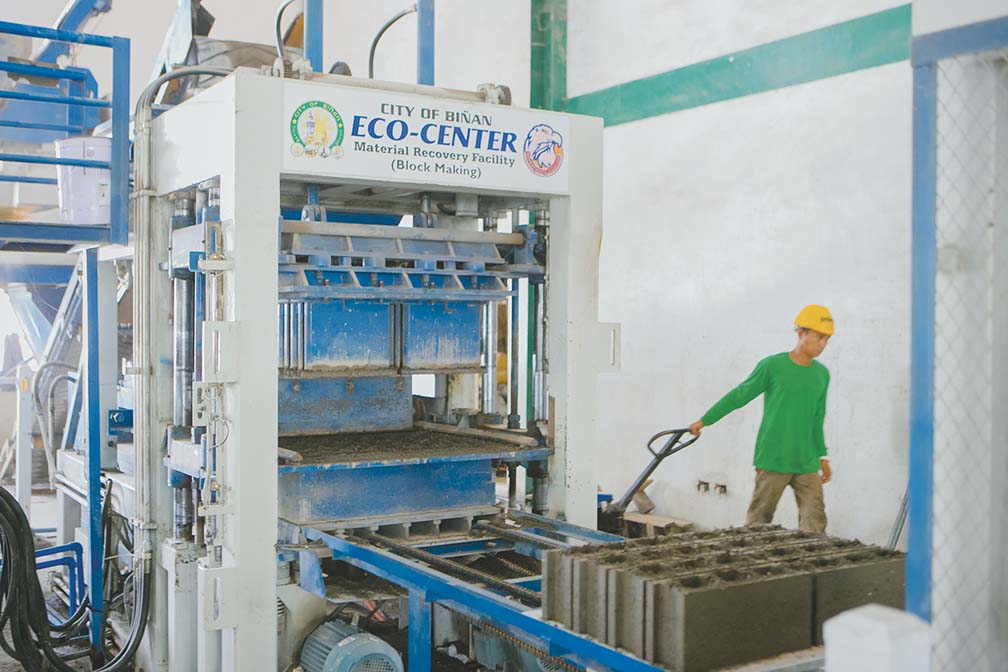 It was only a matter of replacing the recycled plastic material with ash, Dimaguila said.
Looking back, Dimaguila recounted, "We were able to give eco–bricks to four Batangas municipalities—Agoncillo, San Nicolas, Talisay, and Taal. We also gave each municipality P100,000.
Later, Dimaguila said, they changed the mold used from bricks to hollow blocks. And when hollow blocks were required in the erection of the new Ospital ng Biñan, the city used hollow blocks with ash as raw material.
Rallying his constituents, Dimaguila and the entire city government began collecting dry ashes to produce Taal bricks. The move also served as a clean-up drive for ash fall-affected areas in the city.
RESILIENCE, RELIABLE GOVERNANCE
Before Biñanenses could heave a sigh of relief for positively adjusting to the aftermath of the Taal Volcano eruption in their city, the COVID–19 pandemic plunged Biñan and the world into months and months of lockdowns, quarantines, and deaths.
Caught in the pandemic, the Biñan City Government implemented plans and programs to proactively meet the needs of COVID–19 infected and affected constituents.
Dovetailing with national government aid efforts, the Biñan City Government extended cash incentives given as financial assistance to all personnel under the City Schools Division of Biñan City and Jacobo Z. Gonzales School of Arts and Trade (TESDA–Biñan).
Dimaguila ordered the fund release on March 25, 2020, within nine days after Pres. Rodrigo Duterte placed the entire Luzon under Enhanced Community Quarantine (ECQ). The President's directive effectively placed Luzon under a total lockdown, restricting movement, except for necessity, work, and health reasons.
Under the PANTAWID COVID–19, each of the teaching and non–teaching personnel of City Schools Division of Biñan City and Jacobo Z. Gonzales School of Arts and Trade (TESDA–Biñan) received P10,000 cash incentives through the City Education Office.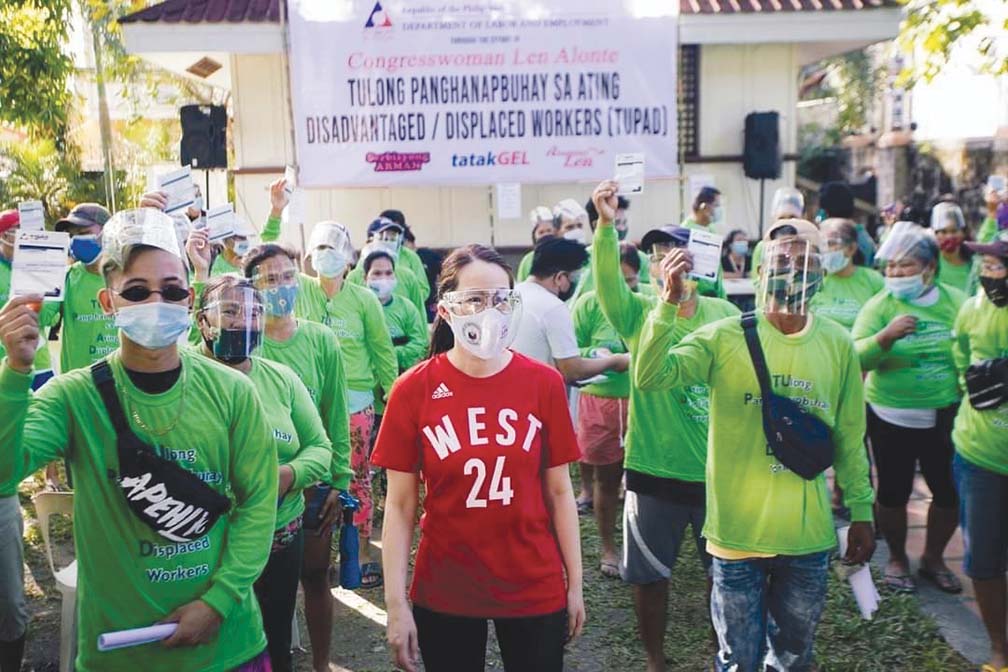 Biñan Rep. Len Alonte–Naguiat spearheaded the giving of jobs and livelihood to ECQ–affected employees and workers via the Tulong Panghanapbuhay sa Ating Disadvantaged/Displaced Workers (TUPAD) scheme under the Department of Labor and Employment (DOLE).
According to Alonte–Naguiat, about 700 Biñanenses who had been laid off from their jobs in the course of the lockdown received P6,400 aid in exchange for community work.
Under the TUPAD program, displaced or underemployed workers were given emergency work from 10 to 16 days, mostly for clearing operations and infrastructure projects in the city.
Led Sobrepeña, 40, a resident of Brgy. San Antonio, lost his job as performing artist, host, and comedian. "Bago mag-pandemic, ang laki ng kinikita namin. Tapos, bigla, sarado na lahat. Ngayon, biglang, wala talaga. As in wala. Kaya sobrang nakatulong si Cong. Len [Before the pandemic, we performers earned a lot. Suddenly, everything closed. Now we have no income, totally without income. Cong. Len helped us a lot]."
Sobrepeña added: "During the first few months of the lockdown, Cong. Len gave us groceries, on top of the assistance we got from Mayor Dimaguila and Vice Mayor Gel Alonte. We were so thankful because we felt that we were not forgotten. Totoo palang may tulong. Hindi pala natatapos sa eleksyon ang pagpapakita ng magandang gawa. [There is really help. Good deeds do not only come during elections]."
For Rosana De Mesa, a resident of Brgy. Malaban, the TUPAD program opened her eyes to the heavy burden carried by fellow residents, especially those in their senior years.
As barangay volunteer, De Mesa said she is grateful that Rep. Alonte–Naguiat and their LGU—spearheaded by Mayor Dimaguila and ViceMayor Alonte—did not abandon them. "Naramdaman po namin na mas maaasahan sila ngayon sa pandemic. Nandun po yung taos-puso nilang pagtulong [We felt that they were there for us. We can really depend on their help]."
De Mesa was part of the barangay volunteers that facilitated assistance to senior citizens, PersonsWithDisabilities (PWDs), displaced workers, and solo parents like her. "There were senior citizens who were not able to avail of their pensions. Cong. Len gave them financial assistance for their medicine needs."
Biñanenses refer to Mayor Dimaguila, Rep. Alonte–Naguiat, and Vice Mayor Alonte as the "Big Three" or the three elected government officials that attended to their needs during the pandemic.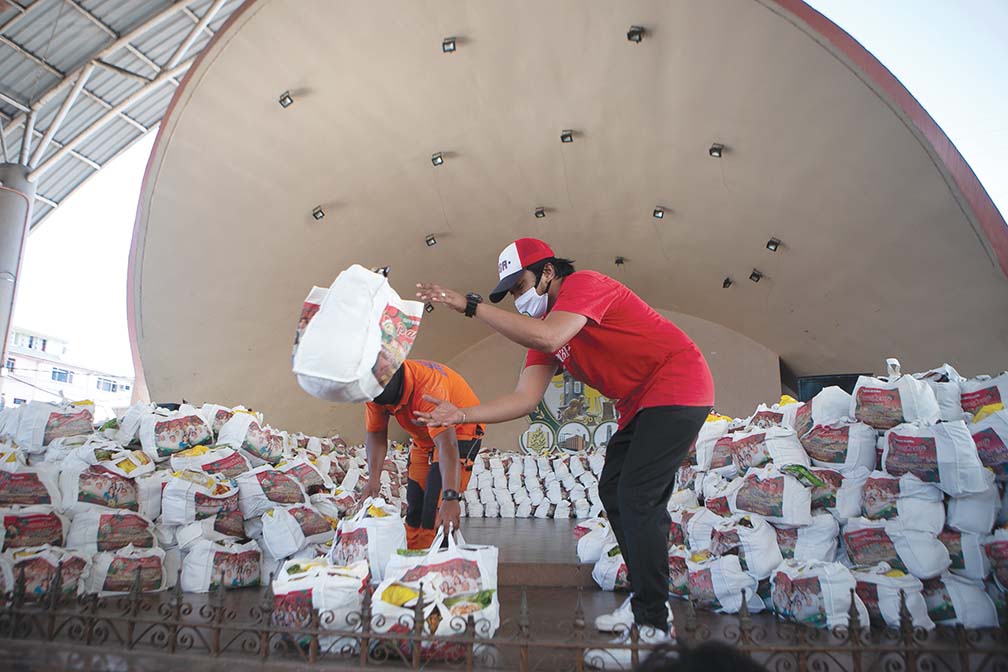 Last Christmas, Dimaguila and Alonte—through the City Social Welfare and Development Office (CSWDO)—distributed 33,000 Christmas gift food packs for Biñan's senior citizens and Persons With Disability (PWDs).
Many of the Christmas beneficiaries came from Malaban and Dela Paz, two of the barangays heavily affected by Typhoons Rolly and Ulysees that hit Laguna province in November 2020.
She added: "One of the things I learned from this pandemic is that we should value what we have, because we do not know what will happen in the future; what will happen to our jobs. We need to save and to learn how to adjust. Nothing is permanent. What we have now, we may lose tomorrow. We just have to put our faith in the Lord.".
BinD360, FREE WiFi
In August, Biñan launched its COVID–19 contact tracing app called BinD360.
The app works by assigning a personal QR code to every registrant, which can be scanned by other BinD360 users they interact with. The app can also be used to scan QR codes of business establishments they visit.
In no time at all, Establishment QR codes could be seen displayed at the entrance of participating Biñan–situated establishments—from restaurants and drug stores to groceries and even churches.
The Biñan City Government has made the app available for Android and Huawei users, and even for Apple devices.
Dimaguila said BinD360 has helped in tracing those infected with COVID–19 in Biñan.
Explained the Mayor: "Let's say BinD360 is in the cellphone of one who tested positive for COVID–19. The App will inform all those he or she has been in contact with. BinD360 will inform them of the infected person's exact whereabouts and exact time when the person tested positive for COVID–19, thus advicing them that if they had direct contact with the infected person, they should stay home and go into quarantine."
Dimaguila added that "if they also feel that they are also manifesting symptoms of the disease, they should distance themselves from their housemates or better still, proceed to the hospital. BinD360 will inform the hospital and all the patient has to do is show his BinD360 and he or she will be admitted."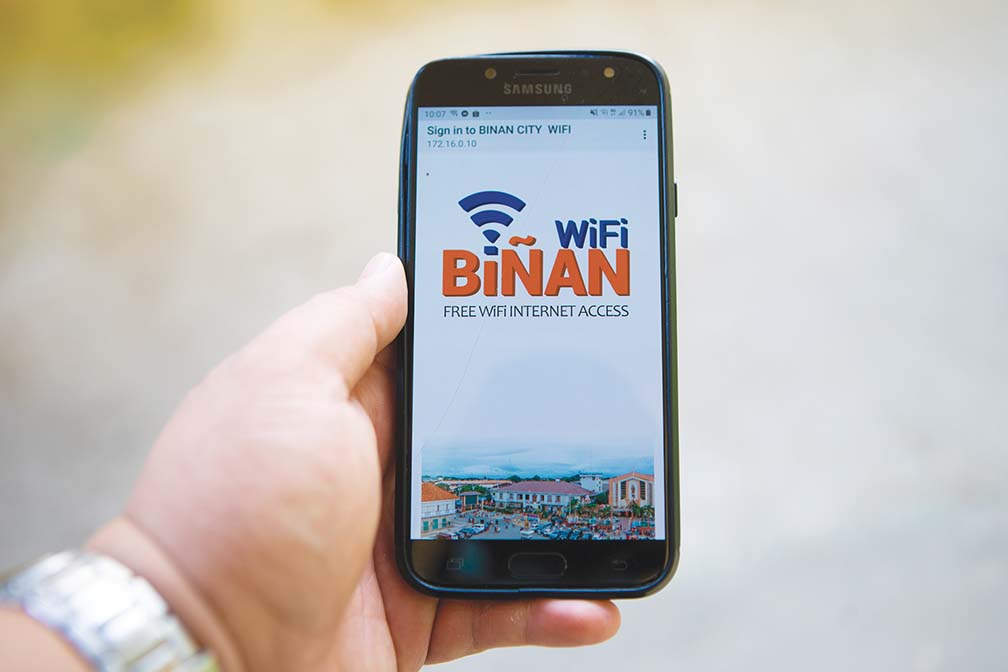 BinD360 is currently being used to survey Biñanenses who wish to have themselves vaccinated with COVID–19 vaccines, Dimaguila added.
The continuing pandemic has made the opening of schools impossible because of the chance of spreading the disease. To cope, the Department of Education (DepEd) has adopted blended learning, with use of online teaching. Classes opened in October 2020.
On Oct. 9, the City Government of Biñan launched its free Wi–Fi system for all its 24 barangays by way of a tie–up with the Philippine Long Distance Telephone (PLDT) company and Converge ICT Solutions, Inc.
The project also provides free Wi–Fi connectivity to all Biñan City National High Schools and Senior High Schools. It aims to support the implementation of the DepEd's blended learning program.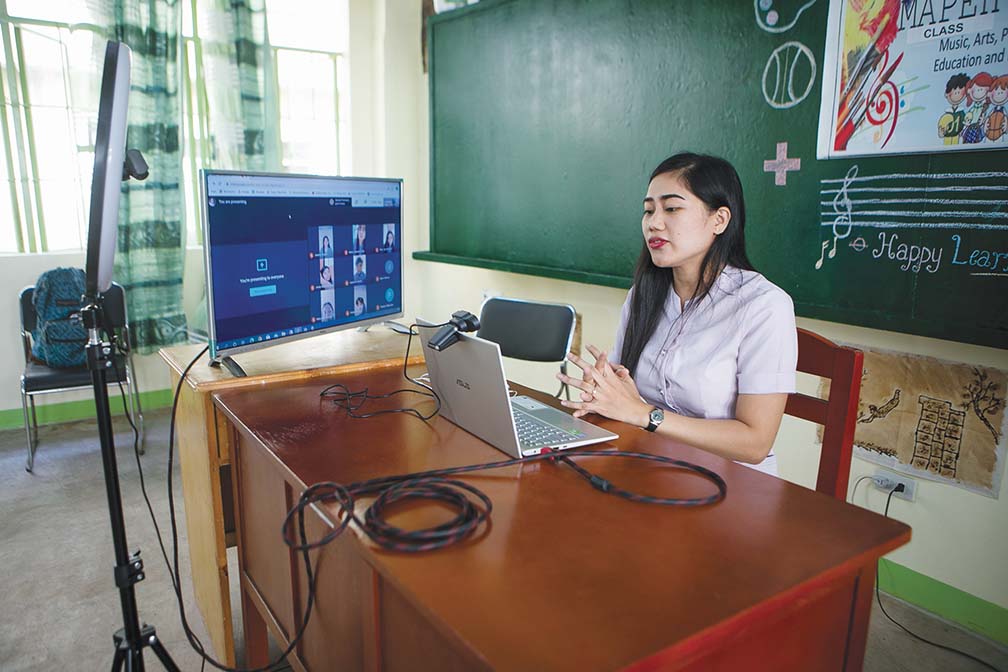 "We have reached 70% of our target areas. We have already installed 300 Access Points (APs)," Dimaguila said, adding that "each AP can accommodate 300 users from a radius of 300meters. And we will continue to add to this. We took our Internet bandwidth from PLDT and Converge. So, this is what the students are using to study online."
PANDEMIC OF INFRA PROJECTS
Even as COVID–19 remained a living, deadly virus in Biñan and other parts of the country and the world, it did not take Dimaguila's mind off his long–term development blueprint for Biñan City.
Top of the tier was the continuation of his infrastructure development projects, most of which were planned as early as 2018.
Beginning Feb. 2020, the Biñan City government broke the ground for six infrastructure projects worth P280 million that it aimed to complete over the next 18 months.
The projects were unveiled during the city's three–day festivity that commemorated both Biñan's liberation from the Japanese forces in 1945, toward the end of World War II, and its becoming a city a decade ago.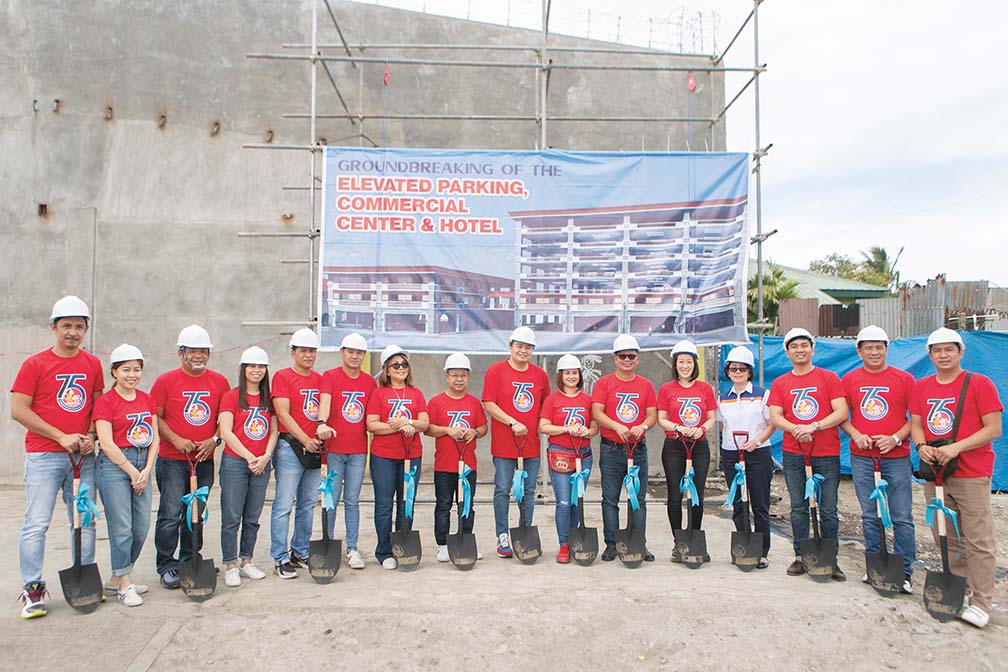 Elevated Parking, Commercial Center, and Hotel
In 2018, Biñan's public market, situated at Brgy. Poblacion was renovated with a conceptual design of Biñan's throwback to Spanish colonial days. Less than three years and a pandemic later, the vision has expanded to include a new elevated parking, commercial center and hotel in Brgy. Poblacion.
"This is Biñan's first–ever Public Private Partnership Program amounting to P170 million," said a beaming Dimaguila.
The 1,552–square–meter commercial complex combines an elevated parking building and a hotel behind the Alberto Mansion.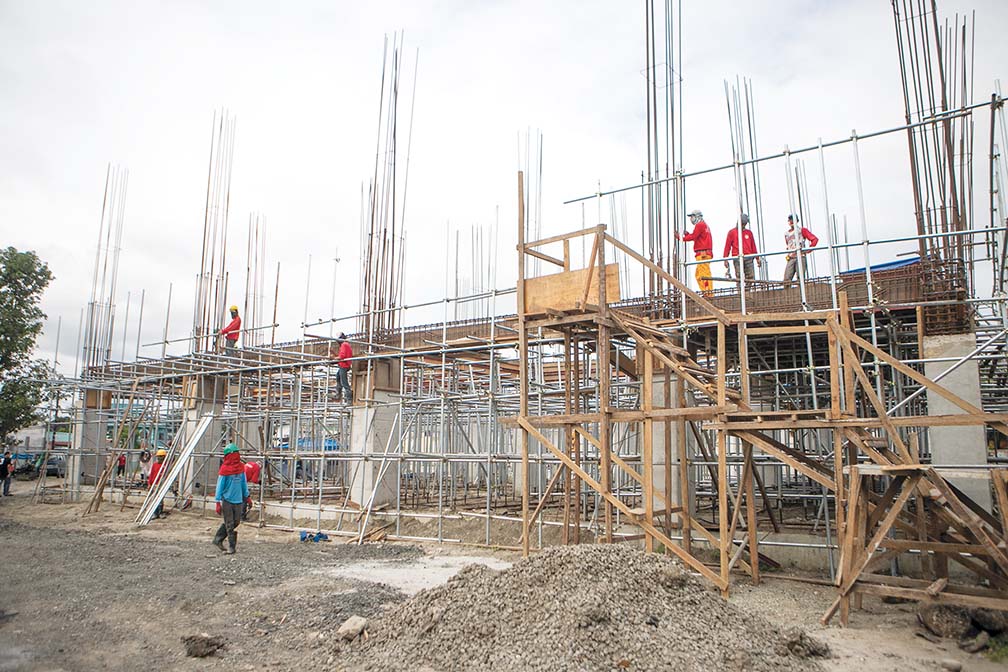 Ospital ng Biñan (OsBin) extension
When Dimaguila first trained his eyes at improving the Ospital ng Biñan's facilities, he started by augmenting the hospital with two city health offices in 2018.
Today, the hospital is having a full extension of its 200–bed capacity, four–storey building, which will also house a modern Intensive Care Unit (ICU).
New Polytechnic University of the Philippines-Biñan (PUP-Biñan) Campus Building
Dimaguila warmly recounted Biñan City's first involvement with PUP.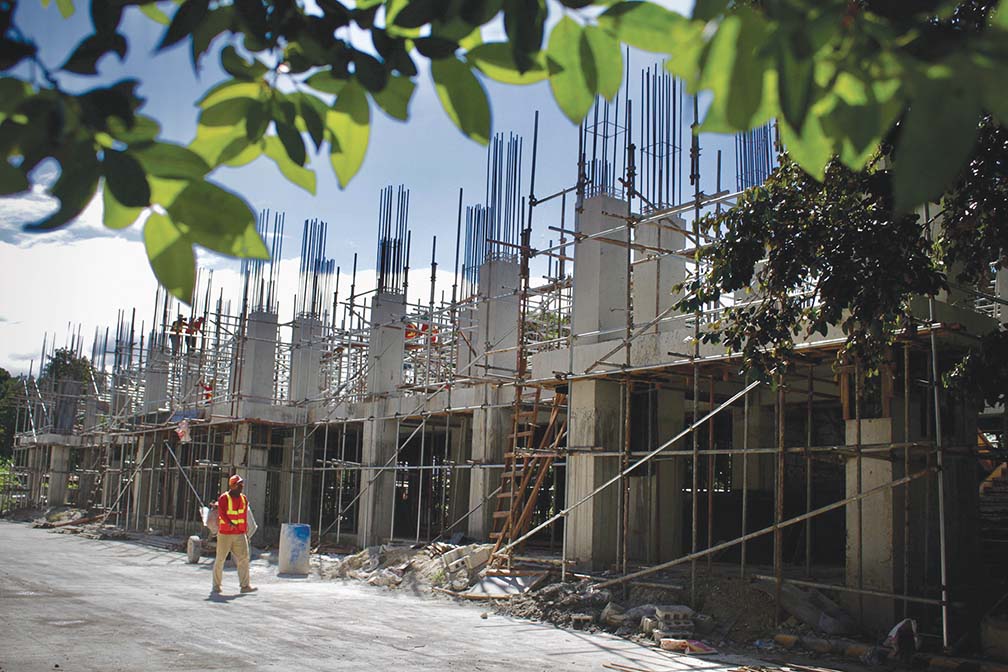 "PUP–Biñan is local government–funded. Make no mistake. Although PUP is a state university, PUP–Biñan is funded by the Biñan City Government. In spite of this, the mayor has no hand in selecting its Dean or its faculty. It's because I strongly believe that politics and education don't mix. So, we give the right to hire and fire to PUP main. I don't even endorse students who will qualify as scholars. When our students from Biñan are about to graduate from high school, we ask the class advisers and principal of the school interested in sending their students to PUP–Biñan to select the top 20% of the graduating class. Now we ask: Who among this upper 20% will not study in Biñan? We also ask: Who among this higher 20% are not from Biñan? For as long as qualified students can maintain a grade point average of 85, they can be scholars. The Biñan City Government shoulders their tuition expenses and miscellaneous fees. A grade point average of 85 already makes a student a cum laude," Dimaguila said.
The Biñan City local chief executive admitted that it saves Biñan City a lot of money to let their scholars study in PUP–Biñan.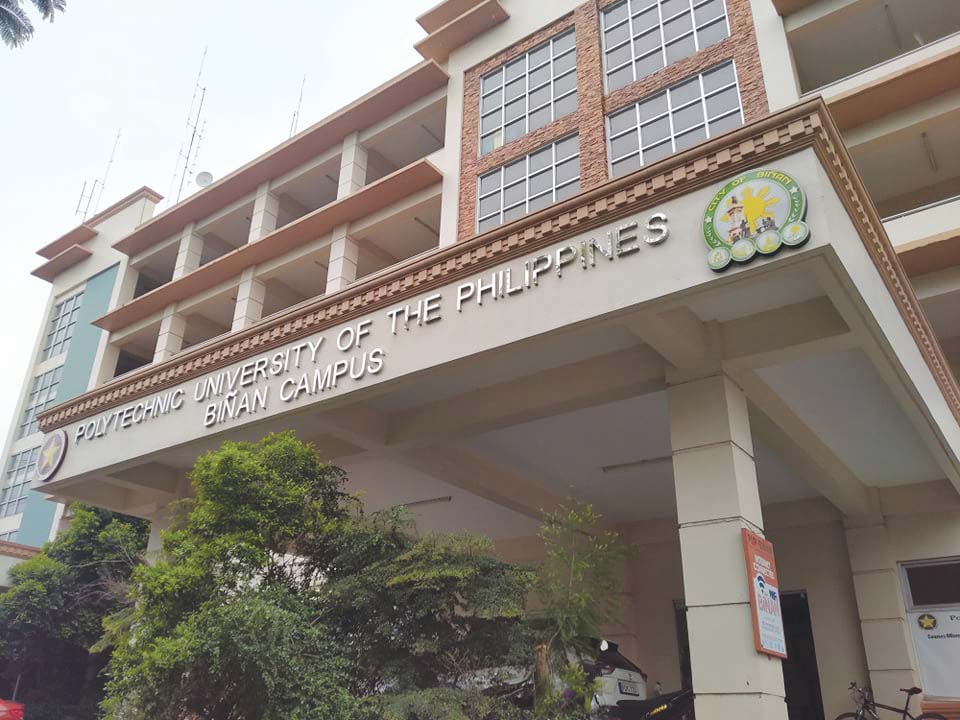 Explained Dimaguila: "Instead of spending P50,000 per semester per student if you send one to a private school, here at PUP–Biñan, tuition costs about P10,000 per sem. We give them allowance on top of the tuition. For those who take the board, we shoulder the review expenses three months before the board. This serves as incentive for students aspiring to be on the Top 10 and for the school to go for a 100% passing rate."
In Feb. 2020, Mayor Dimaguila, together with Vice Mayor Alonte and Steve Naguiat, representing Cong. Alonte–Naguiat, launched the soon–to–rise new PUP–Biñan campus building.
Balay Silangan Drug Reformation and Rehabilitation Center
Also, in February last year, the Biñan City government inaugurated and blessed the Balay Silangan Drug Reformation Center on the side of the organic farm in Brgy. Dela Paz.
Balay Silangan can accommodate at least 120 drug dependents.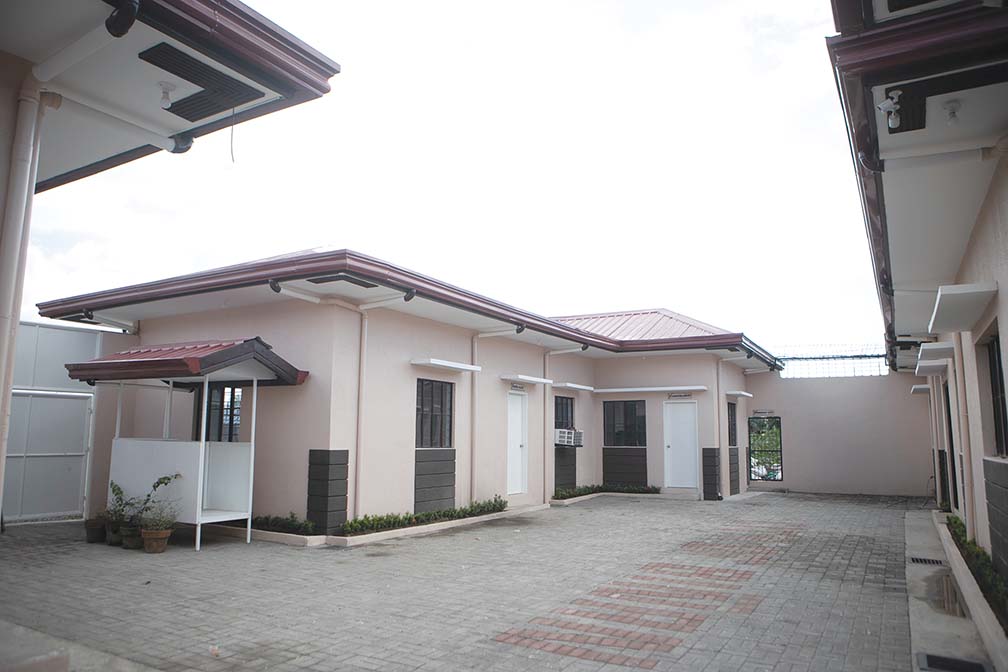 Funding for the P10 million facility was sourced from the incentive the Biñan City government received from the Department of the Interior and Local Government (DILG) after being awarded the Seal of Good Local Governance (SGLG) in 2019.
Performance Challenge Fund (PCF), is a grant or cash award given to eligible LGUs to support the high–impact local development projects identified as a priority by the local government.
Biñan City Jail and Custodial Facility
The project involves a one–hectare lot in Brgy. Dela Paz that can hold 300 inmates. A total of P100 million was allocated by the Biñan City Government for the new detention facility.
New Fire Station
Construction of a new Fire Station near the Lambingan Bridge in Brgy. San Antonio. This new location allows for faster response to fire calls. Fire trucks will have an easier time navigating since they don't have to contend with the narrow streets of Brgy. Poblacion where the old Fire Station is located.
FLOOD-FREE BIÑAN
More than the six infrastructure projects, the City Government of Biñan—with support from Biñan Rep. Len Alonte–Naguiat— has an on–going Biñan Dredging Project that is envisioned to ultimately resolve Biñan's flooding problems.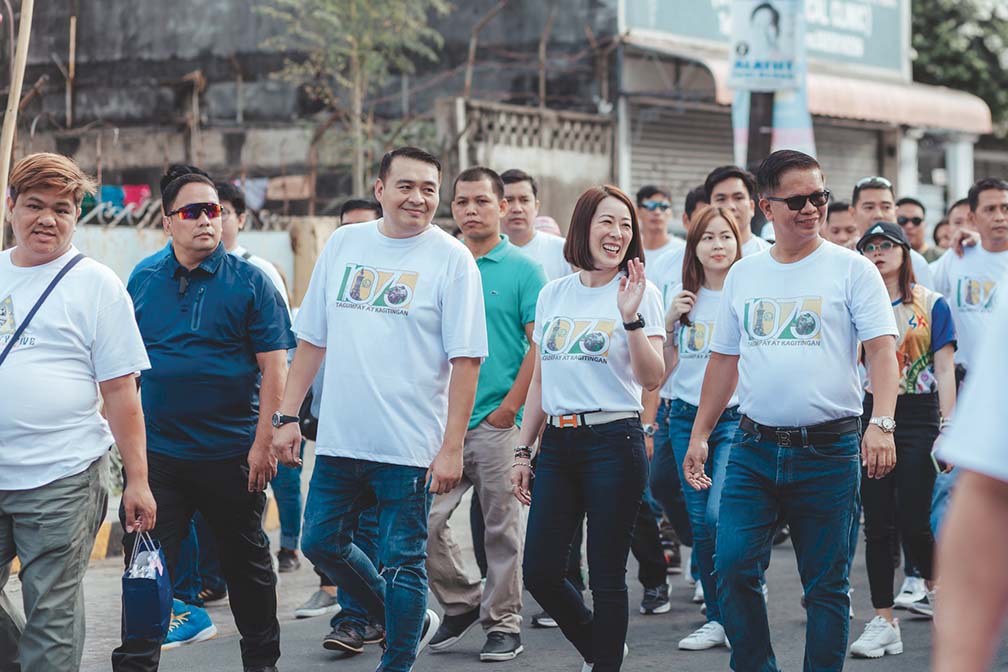 The dredging component of the project will make the most of a bigger project of the national government—the Japan International Cooperation Agency (JICA)–funded Laguna Lakeshore Road Network (LLRN).
Basically, it will raise the shoreline of the waterfront barangays of Malaban and Dela Paz, using the silt from Laguna Lake. "We are aiming to cover with silt almost seven hectares, although our target is 10 hectares. At this level, flooding will no longer occur on this side of Laguna Lake," Dimaguila said.
He added that the city government hopes the national government will see and appreciate their efforts and provide assistance for dredging.
VISION FOR BIÑAN
Atty. Walfredo "Arman" Dimaguila has been mayor of Biñan for two terms. Throughout his six years as local chief executive, he has envisioned a Biñan City that confidently forges ahead toward a progressive future, while nurturing and promoting the city's rich history and culture.
"Dito'y buhay ang nakaraan na sumasalubong sa magandang bukas, hindi pwedeng iwanan [Here in Biñan City, the past lives and meets a bright future. We cannot let go of the past]." Dimaguila said in a press conference.
He added that Biñan City can advance in terms of citizens with jobs; citizens who can afford to send their children to school. All these we can do while preserving the old structures, the old buildings that give identity to our city, our soul," Dimaguila said.