The British Broadcasting Company (BBC) reported it as "the most powerful non-nuclear explosion of the 21st century." It even had its own "mushroom cloud," as 2,750 metric tons of badly stored ammonium nitrate accidentally exploded on the port of Beirut in Lebanon, a Middle Eastern country roughly the size of Bukidnon province.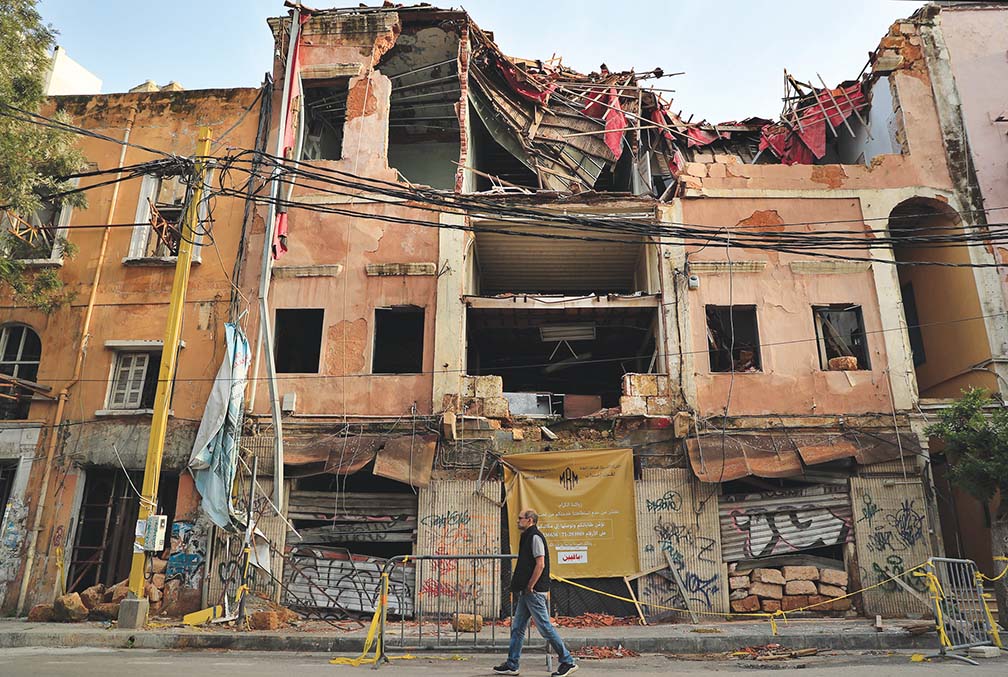 Samia K. Khatib, Sport for Development & Peace consultant based in Beirut, remembered well the explosion that ripped through her city on Aug. 4, 2020.
"I don't want to say 'zombies,' but we were in denial. We were completely in disarray over what happened. The glass of our house shattered. The building moved. People we know were there. People died. A lot of friends and family succumbed to the wounds. The blast of the port wiped-out half of Beirut. It was a horrible time. It was a horrible, horrible time," she said in a Zoom interview, exclusive to the Philippines Graphic.
With the force of hundreds of tons of TNT, the blast killed 200 people, injured 6,000 more, and left 300,000 homeless, according to media reports.
Beirut is no stranger to explosions. In 2005, former Prime Minister of Lebanon Rafic Hariri was killed after a bomb was lobbed at his motorcade, also killing his bodyguards. Over the years, the international press and social media have been replete with news accounts of continuing political conflict in Lebanon— ranging from civil war, invasion, assassinations, air strikes, kidnappings, hijackings, and suicide attacks.
But surf Google and ask the question: Is Lebanon safe to visit? And the reply would be: "Lebanon, including Beirut, is one of the safest countries in the Middle East. The only reasons why it's not considered as such are the media and inaccurate Government travel advice and warnings."
It is a view echoed by Samia, who was born in 1994, four years after the 1975-1990 civil war in Lebanon. "I would start off by saying it's not the most dangerous city in the world or one of the most dangerous cities in the world. But always the reality is very different from the way media portrays it. It's true that we have our problems. It's true that we have many crises that we're going through right now. And I'm sure everyone heard about the Aug. 4 blast at the port, about the civil war that happened before, in the 1970s. Lebanon's never been like a war-infested country until 2006 when there was a war with Israel. It wasn't a very politically-controlled country. As you know, no one could really understand what was going on. Everyone knows what has been happening. But no one really knows how it is on the field unless people come and see. I am not saying it is also the safest country in the world because again, we're going through a lot."
LINKED -IN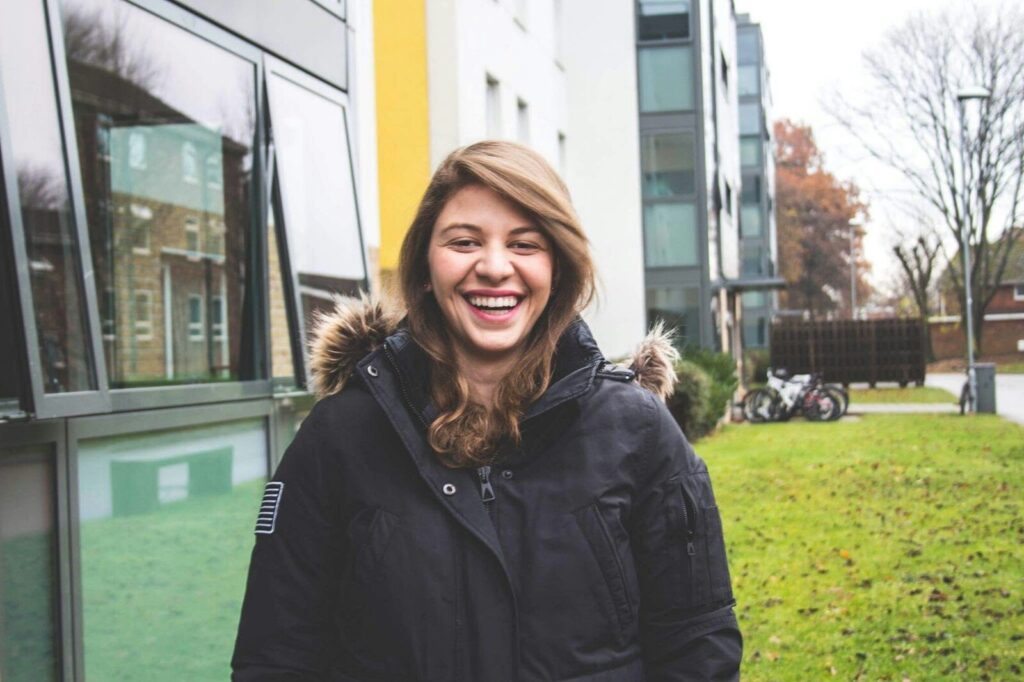 The eldest of two children born to a doctor and a teacher, Samia, which in Arabic means "exalted, noble, and much praised," graduated with a degree in Psychology, minor in Business Administration from the American University of Beirut. She holds a Master of Science degree in Sport and Exercise Psychology from Loughborough University, touted as one of the best universities for sports development in England.
"Getting introduced to the field of Psychology was a big eye-opener. Seeing what others feel, how they behaved, how they go on. It really created a sense of interest in what other people do or think. And why not be a part of that process when they heal or when they talk about things? There was always a need [in me] to be there for others. I think it comes from character and personality, first. And then, it kind of develops throughout the years. To work with others, to work with international people, and getting to know what is a youth-led movement as well, a youth-led organization," she said.
Samia has never been to the Philippines but got to know about the country through British national Chris Thomas and Filipina Belle Tiongco, both founders of Football for Humanity (FFH), a Manila-based independent charity foundation registered in the United Kingdom (UK) and the Philippines.
Belle, who facilitated Samia's exclusive interview with the Graphic—in time for the Women's Month—said FFH harnesses the power of football to transform the lives of children affected by armed conflict, natural disasters and extreme poverty.
Active in Linked-in, an online networking site for professionals, Samia said: "Sport for Development is still a very small field. I was able to connect with Chris Thomas, maybe a year ago or maybe more. And seeing his posts, seeing what he does, and him seeing probably what I post and what I do, kind of created this virtual link between us even though we have not yet talked. But we kind of knew what we were up to. And Chris happened to post something about needing online capacity building for coaches in the Philippines, I didn't hesitate one bit. I offered my services right away. We had a few chats. Belle, Chris, and I. We talked about Sports. We talked about football. And we just happen to work really well together. You know with the Zoom and with everything going on. We got on quite well."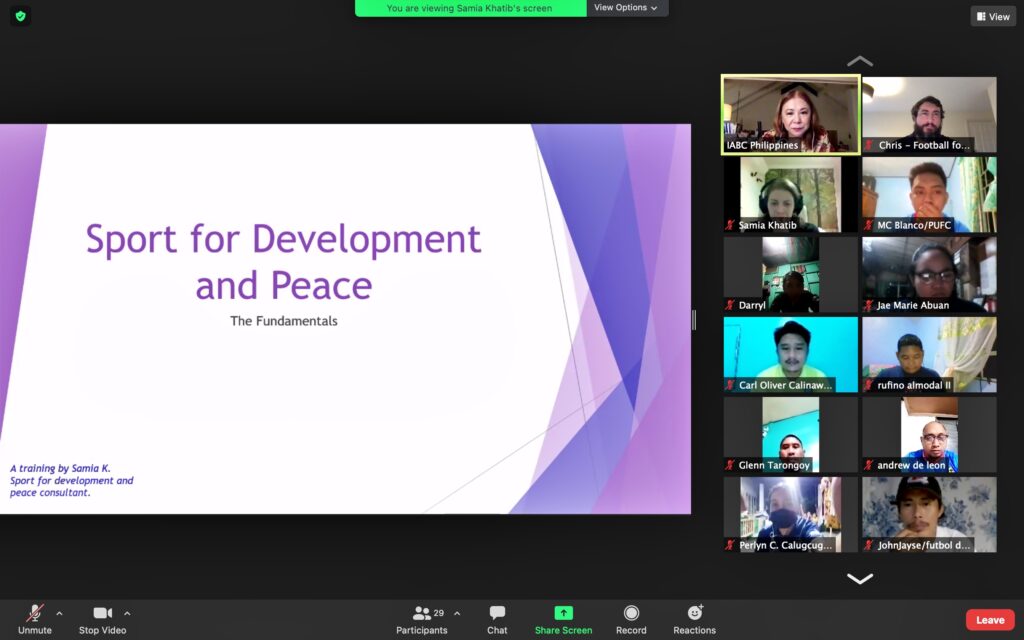 Last January, Samia gave some 30 football coaches working with FFH in the Philippines a four-hour online training on Sport for Development fundamentals and on coaches' well-being.
"We decided on doing Fundamentals of Sport for Development—definition, how it is related to the sustainable development goals for 2030 agenda, and looking at how sport for development can be used to drive social change," she said.
Chris said the coaches trained were diverse in gender, age group, and in regions they work in. "The training included an introduction to child protection and Do No Harm principles. The other half of the training was dedicated to coaches' well-being. It delved into the definition of stress and how it manifested. It was important to talk about stress, as these coaches work in areas with a lack of safe fields; where there was the presence of gang violence and adverse socioeconomic situations. The coaches had a lot to share and all agreed that the pandemic prevented them from carrying out their sporting activities with the youth and how this situation negatively affected the youth. Nevertheless, they pointed out that they are still in contact with their participants and that brings them joy as coaches."
Of her FFH experience, Samia said that most of the NGOs she worked with are big. "Football for Humanity is quite small as an NGO. Being small is sometimes a good aspect. There's this personal relationship between the trainers and their founder and the co-founder. And there is a direct connection. I saw Chris and Belle communicate very personally and very closely with their coaches. In big NGOs, it's very hard to see that. It's divided between the people who are in management and the people who are in the field. FFH has the same people in the field and in management. And I think that's great. This is how it differs because it is working not only in disseminating projects about water or social inclusion, it also distributes a lot of football balls around the country. It's very familiar with the context. FFH really knows who their working with and how they work it. And it's great to see that."
MENTORING
From 2017 to the present time, Samia has worked with International humanitarian NGO s like Secours Islamique France (August 2018-December 2018), Deutsche Gesellschaft für Internationale Zusammenarbeit or GIZ (March-April 2019), and Mentor Arabia (May-November 2020).
All these international institutions had programs that focused on sport for development and peace, as well as programs that recognized the right of people affected by crises resulting from natural disasters, wars and outbreaks of violence, and other extraordinary circumstances to receive international humanitarian assistance.
"When I graduated, I came back to Lebanon," Samia said. "I started looking at how sports is used in society— as athletes or in the Olympics or high-profile sports. I started looking at the potential of sports in disadvantaged communities. I took some knowledge from my course. I started knocking on doors of the NGOs, the international NGOs. So, I knocked on many, many doors. By chance, I looked at a posting of Sport for Development Officer. I applied, not really knowing what was waiting for me. But I already had the skills, for example, project management. I had already the skills for psycho-social support from my background in Psychology, and the sports aspect, because I graduated from Sport and exercised Psychology. I applied and surprisingly, they took me in. I didn't expect that. And from then on, it was really, I mean, until now, I knock on many doors trying to offer my services whether it was a volunteer process or a paid kind of project. As long as I am moving, that is what is important to me."
With its headquarters in Beirut, Mentor Arabia counts among its board Saudi Arabia's Prince Turki Bin Talal Bin Abdul Aziz Al Saud and Queen Silvia of Sweden. It is said to be the leading NGO working in the Arab region that promotes healthy lifestyles among the youth. Its other issues of concern include poverty, unemployment, school drop-out, migration, war, disintegration, domestic violence, poor prospects for youth participation in decision-making, among others.
On its website, it is stated that Mentor Arabia was "established in response to the recommendations of an Arab and international scientific forum which took place in Dubai in 2004. The forum hosted a significant number of government and civil institutions, international and regional financial institutions, representatives from the United Nations, along with other representatives of youth, parents, educators, media and academics, all of whom called for the establishment of an Arab institution which would contribute to supporting and strengthening efforts aimed at repelling the spread of the drug phenomenon, which is affecting the well-being of Arab youth."
Mentor Arabia added that studies have shown that there are more than 500,000 drug addicts in the Arab world. Drug use among people aged between 15 and 24 is growing in 13 Arab countries. Its study findings likewise indicated an evident spread of the drug phenomenon among children aged 11 to 14, and among young girls in a number of Arab countries.
"It (Mentor Arabia) was supposed to be like a small, free-lance thing. I just applied and knowing how to build curricula, knowing sport for development, I think they found that I was a good fit for them. I worked for them for about seven months, give or take a few weeks because of the COVID -19 pandemic," she said.
LIVE DAY BY DAY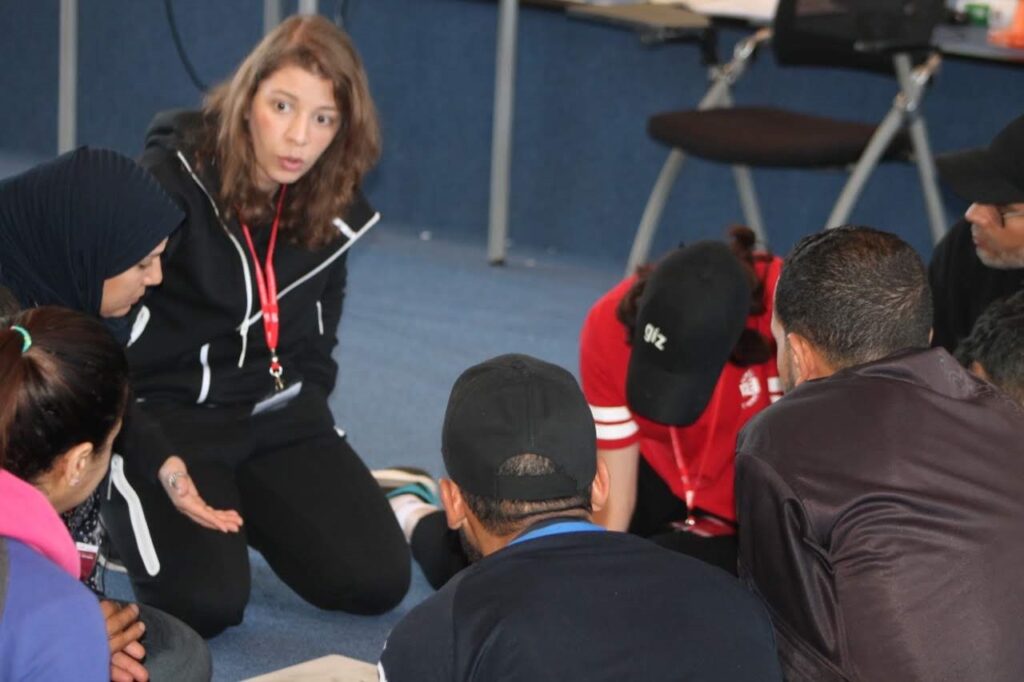 Of the violence and conflagrations of conflict that color her Lebanon, Samia said she cannot remember much because she was so young when these all happened, adding that "it was a pretty stable time for Lebanon while she was growing up from the late 90s to 2004."
A Reuters report said that in 1990, billions of dollars poured in from Western and Gulf Arab countries and from a far-flung Lebanese diaspora estimated to be at least three times the size of the country's population.
"The result was impressive: Beirut was reincarnated as a glamorous city featured in travel magazines as an exciting destination for culture and partying. Tourists came for the city's nightlife, to international festivals in Graeco-Roman and Ottoman settings, to museums and archaeological sites from Phoenician times," the report said, adding that many highly educated expatriates such as academics, doctors, engineers and artists returned to take part in the rebirth of their nation.
But in 2005, Prime Minister Rafiq al-Hariri was assassinated. A year later, Lebanon's war with Israel began.
"The 2006 war (with Israel) was really bad because we stayed in Beirut and all of Lebanon was affected. But again, I was really young at that time. I could not understand the dangerous aspects of it and for now, we always live under stress of the next thing big thing happening, whether it's war or another blast or whether it's another crime. But we live day by day," she said.
Samia surmised: "There's this thing with Lebanon. We kind of bounce back really quick. We mourn, we take our time, but then we bounce back really quick. We live day by day because we don't know what's coming and when the next thing will happen. But we have been through a lot and we know how to go through things. And hopefully we will get through all these things."
These days, she said, life has become quite difficult in Lebanon. "Up until 2019, most Lebanese students or youths had university degrees. So really, education was not a problem. Everyone had degrees, many from Lebanese international universities or from universities abroad because Lebanese parents work so they can educate their children so they can be independent and so forth. So, growing up there was really no obstacles for anyone to be educated. We have public schools. We have private schools. People could go abroad. People had savings as well. But, after the 2019 crisis, we all lost our access to education. If I were now to go and pursue another degree, same degree that I took, I cannot do it anymore, because banks have my money, and the crisis has devalued the local currency. So, the obstacles have now come along."
Citing figures supplied by the government of Lebanon, a Reuters report spoke of a trend that underscored the erosion of the middle class in the country in 2019, as more the 50,000 children left private schooling and enrolled in state education that year. Lebanon, like countries all over the world, also had to contend with the devastating effects of COVID-19 which preceded the massive Aug. 4 blast.
Samia recounted: "I was really scared. We all went into lockdown. Lebanon was one of the countries that went into lockdown straightaway. But after a while, I think, we lost the fear of the virus and it started spreading again. And I actually contracted COVID-19 in October (last year). It was a mild case, thank God. I lost my sense of smell, my sense of taste. I had a fever, I had difficulty breathing, I was quite tired. I still experience fatigue until now."
The COVID -19 pandemic hit Lebanon hard. At one time, deaths averaged a hundred per day. "The government does its own thing. We don't know if there is aid coming in or how it's being processed. But we're struggling with COVID-19, definitely, what with the blast, the lack of hospitals, and the lack of personnel. We don't have hospitals anymore. And Lebanon is quite small. With a population of four million, a hundred deaths mean a lot," she said.
The Philippines is 29 times bigger than Lebanon. But between the two countries, conflicts and political tension seem to be a matter of everyday occurrence, on top of a debilitating viral pandemic. Aug. 7, the day a devastating non-nuclear blast tore up almost half of Beirut was the same day Manila and the rest of the Philippines was bombarded with the latest controversy involving state-run Philippine Health Insurance Corporation (PhilHealth).
Like Lebanon, the Philippines is facing an unresolved insurgency, which some prefer to call an "armed struggle" that has lasted for a little more than half a century.
And while the events in Lebanon seem to dwarf those that have occurred in the Philippines in terms of extent and degree of violence, the perspective for the former is surprisingly hopeful, at least for this one sport for development and peace activist.
Said Samia: "I just really want some stability for, not only the country (Lebanon), I mean it's a bit ambitious, but, for the whole world. There's a lot of potential everywhere for us to all live in that sense of global citizen kind of way, where we can minimize conflicts and wars, and work toward the sustainable development goals together, rather than individually. I really hope that Lebanon will find the time of stability again and prosperity, because a lot of people are suffering. For my family, friends, and myself, how I see life right now is one has to take life a lot simpler than it really is. We don't know what's going to happen tomorrow or the day after that. So, it's really important to stay in the present. The future or the past doesn't bring any joy anymore, I guess. There's always worry. So, living in the present, and solving things in the present can be the only things that could keep us going."