They were never part of the trade union movement. In the labor–management schism that afflicted workers in their millions, the likes of Manuel E. Arguilla and Edgardo M. Reyes sifted through this amalgam of discord and carried with them faces, voices, and stories—always, stories.
Online reading of Manuel E. Arguilla tells that he was born in Barrio Nagrebcan in Bauang, La Union on June 17, 1911.
The son of a farmer–father and a potter–mother, his interest in writing started in his high school years in San Fernando, where he became editor–in–chief of the La Union Tab, the first regularly issued printed high school paper, published in 1923.
From his home in La Union, he would travel to Manila to graduate with a degree in Education at the University of the Philippines in 1933. In the four years it took him to earn his degree, he became a member and later president of the UP Writer's Club and editor of the Literary Apprentice.
It was also during this time that Arguilla married writer and painter Lydia Villanueva who had taken up Journalism at the UP.
He taught creative writing at the University of Manila and worked as managing editor of the Bureau of Public Welfare's Welfare Advocate.
Arguilla would write stories about the men and women that peopled his childhood in Barrio Nagrebcan, Bauang, La Union. And by 1940, he won first prize in the Commonwealth Literary Contest with his widely anthologized short story, "How my brother Leon Brought Home a Wife."
He also wrote stories about the working man and the man of the soil. In "Caps and Lower case," Arguilla writes about the sad plight of an overworked, underpaid proofreader.
"Rice" is story about the exploitation of rice tenants in Hacienda Consuelo and the conflict that unravels when hunger forces its tenants to take extreme measures.
Still, it is in "The Socialists" that Arguilla creatively presents the ideological differences between city–bred, bourgeoise activists and politicized peasant leaders. It is a satire of ideology and commitment set against armchair revolutionaries and the farmer–tenants of Hacienda Consuelo.
The story, published in 1937, was written at a time when trade unionism was at its height in the Philippines.
HARD KNOCKS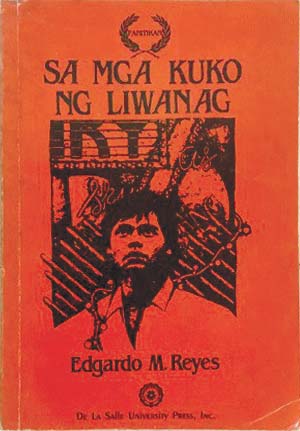 Edgardo M. Reyes was only six years old when the Second World War started in 1942.
During this time, Manuel Arguilla had taken a step further from being a writer to being a patriot and later, a martyr.
He and his wife had secretly established a guerilla intelligence unit against the Japanese.
In 1944, Arguilla was captured and beheaded by Japanese authorities. But his stories continue to enamor writers and students of literature over the years.
For Reyes, writing was not something he learned in school—at least, in the beginning.
A 2008 interview with Reyes by poet–essayist Romulo P. Baquiran, Jr. said that Reyes had become a breadwinner in his family at age 14. He was the youngest of seven children.
He earned for his keep and supported his family by making artesian wells. In later years, Reyes took on various jobs to make ends meet.
He worked as short story writer, novelist, magazine and newspaper editor, screen writer, cartoonist, radio commentator, film director, university professor, graduate school lecturer at the Ateneo de Manila University and the University of the Philippines, Palanca awardee, Famas awardee, UP writer in residence.
Reyes finished high school in 1956 at the Bohol Central College, a Manila–based school located at Recto. He took up Commerce at the University of the East but stopped after about two months.
According to Baquiran, Edgardo M. Reyes is one of the leading lights of the 1970s group of writers, known as Agos sa Disyerto. This group included Efren Abueg, Dominador Mirasol, Rogelio Ordoñez, Edgardo Reyes at Rogelio Sikat, who wrote about realism.
Writers from this milieu said: young writers do not write only to entertain, but also to educate and mobilize society.
Edgardo M. Reyes' defining work on the working class and impoverished Filipinos is in his almost autobiographical novel, "Sa mga Kuko ng Liwanag (In the Claws of Light)."
The story revolves around Julio Madiaga, a poor fisherman who comes to Manila in search of his childhood sweetheart Ligaya Paraiso, who was taken to the Manila by a Mrs. Cruz to work and study in the city. In his search, Julio experienced the cruelty of the city—the hunger that befell the jobless, the hardship of working in a construction site, until one day, he unwittingly kills someone. In time, he finds Ligaya and learns that the girl has been a victim of white slavery and that Mrs. Cruz had sold her to a Chinese trader. Julio and Ligaya plan to escape but is unsuccessful in their attempt. Julio dies in the hands of a mob.
It is in the poignantly nuanced stories of the worker, the poor, and the oppressed that Arguilla and Reyes show to us a harsh, unfeeling world that breeds fighting men and women, moving to make themselves free.