Conglomerates in the country have been helping in the government's COVID-19 response big-time. And with the decline in the transmissibility of the virus, there is hope for merriment this Christmas.
There is a glitter of hope as Filipinos await what has been long regarded as "the longest festivities" in the Philippines, as big business and small and medium enterprises move to revive the economy.
Among the businessmen who have responded to the government's initiatives in battling the virus is tycoon Dr. Andrew L. Tan.
Tan of Alliance Global Inc. and Megaworld Corporation has come up with what it dubbed as its "Mega Malasakit" response. This ranged from providing PPEs to frontliners to giving relief aids to the Aeta communities.
Mega Malasakit helped communities near Megaworld townships and brought joy from a distance to children beneficiaries. It took the extra mile for students who have to swim to get to their schools to sponsoring an E-learning facility for children coming from economically-challenged families.
Tan, who is chairman of the conglomerate's CSR focus, Megaworld Foundation, is particularly keen on the education aspect of the foundation's advocacy.
Started in 1999, Megaworld Foundation initially sent scholars to two pilot schools. It later sponsored the schooling of poor but talented students in 75 schools. Now, they have 1,000 scholars taking up various courses from engineering to accountancy.
Some of the Megaworld scholars were later absorbed in various companies of the conglomerate such as Megaworld, Empire East Landholdings, Alliance Global, Suntrust Properties, and Emperador, Inc.
3 PROGRAMS
According to Megaworld Foundation president Dr. Francis C. Canuto, the Mega Malasakit initiatives for this year are centered on three programs: "If there's a wheel, there's a way" campaign, the "rice together" campaign, and the "stitches to riches" mega livelihood project.
Megaworld Foundation's Wheel Campaign provides bicycles to frontliners such as nurses, health workers and security guards who are employed in five hospitals in Metro Manila, namely Philippine General Hospital, Philippine Heart Center, Philippine Lung Center, Dr. Jose Rodriguez Memorial Hospital, and San Lazaro Hospital.
In its "rice together" campaign, Canuto said Megaworld Foundation's Mega Malasakit initiative helps 4,000 Filipino families with the donation of uncooked rice to 10 barangays that are near the Megaworld townships. This concept was first introduced in its Eastwood enclave where home buyers can have all that they need within these communities.
The 4,000 Filipino families who are currently being provided uncooked rice are located in Barangay West Rembo, Barangay East Rembo, SOS Village-Alabang, Barangay Pembo, Barangay Almanza Uno, Central Signal Village, Barangay San Miguel, Barangay Sta. Ana, Barangay 292 Binondo, and Barangay 293, also in Binondo.
Employees of Megaworld are also encouraged to share non-perishable food items in the community's Community Pantry drop-off.
For its "stitches to riches "program, Megaworld's Mega Malasakit advocacy involves training unemployed mothers located in the Megaworld-GK Village in Mandaluyong City so that they will be able to produce bed sheets, pillow cases, among others.
Megaworld Foundation provides the sewing machines, materials and utility expenses as a way for the unemployed mothers to be able to earn for their families. For the families whose breadwinners' jobs were affected by the pandemic, the program allows them to move on with their self-worth intact, according to Canuto. MEALS, PPEs,
MOTORIZED BOATS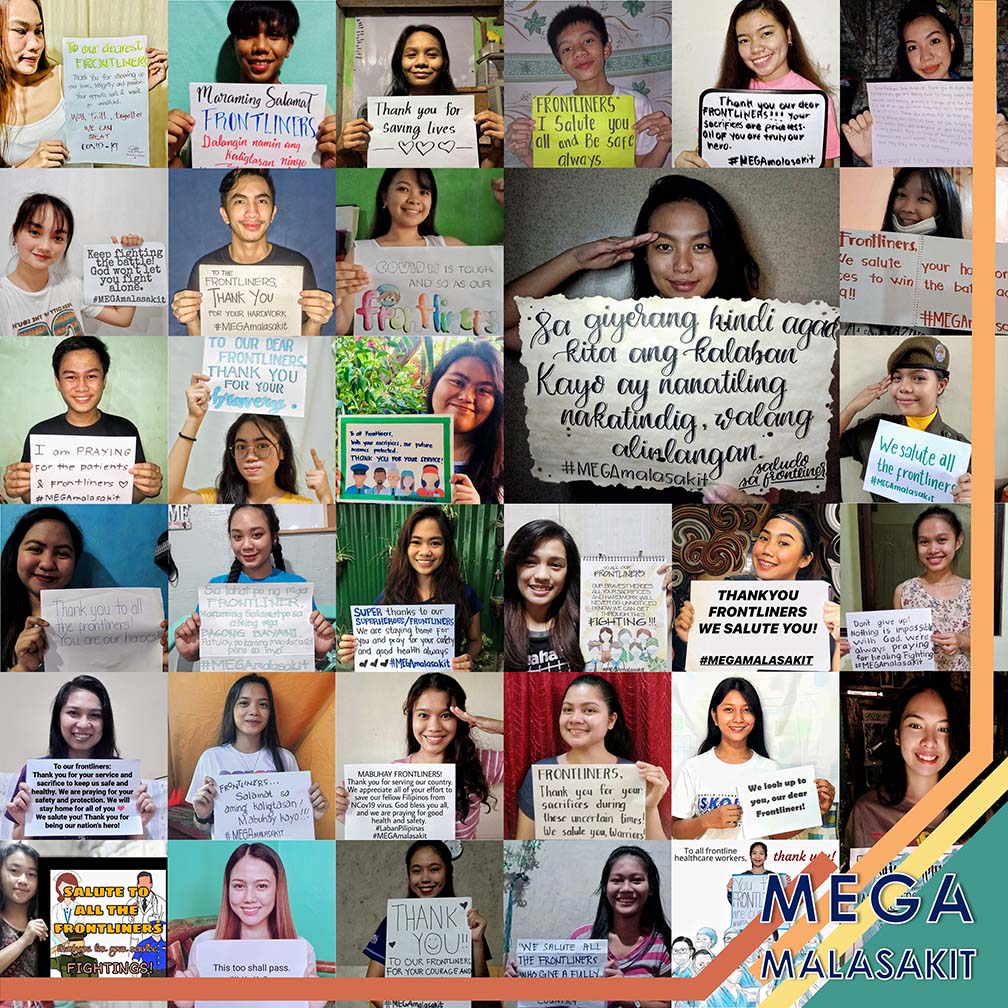 Last year, Mega Malasakit initiatives included providing meals for the frontliners in hospitals, LGUs, and military checkpoints. It likewise donated disinfectant supplies to hospitals, as well as PPEs.
Face masks and vitamins were provided to the elderly and children, together with relief goods to an Aeta community in Tarlac.
Relief goods were likewise sent to residents of Barangay Calawis, including the Dumagat tribe in Antipolo, Rizal.
Another Mega Malasakit initiative is the donation of motorized boats for students to use. In partnership with the Yellowboat of Hope Foundation, students of the Luuk Tungkul Elementary School in Benguigui, Sulu were spared from almost six kilometers of swimming back and forth to their houses in remote areas.
Pamarawan Elementary School in Malolos, Bulacan was also a beneficiary of a motorized school boat benefiting students who live along coastal areas.
E-LEARNING
Another education thrust of the Mega Malasakit involved the sponsorship of an E-learning facility in Alabang for the benefit of the children from the poorest of the poor families residing in SOS Village.
Among the many donations were laptops equipped with MS Office, Smart TV, and USB for the storage of their modules and online activities.
The Megaworld Foundation has likewise donated the needed educational modules for students— printers and other materials for the production of printed modules for public schools in the provinces and charitable institutions such as Meyto Elementary School in Calumpit, Bulacan and Enrique Jose Elementary School in Kibumatan, Benguet.—Lito U. Gagni