On December 13, health advocates organized a webinar to build up momentum on the country's journey towards Universal Healthcare, as well as showcase best practices to expedite the aspiration of leaving no Filipino behind when it comes to quality healthcare.
Titled "Walang Maiiwan sa Pagsusulong ng Kalusugang pangkalahatan (Leave No One's Health Behind: Investing in Health Systems for All) was held also in time for the international celebration of Universal Coverage Day.
The webinar had as partners: the Department of Health (DOH), Bataan General Hospital and Medical Center (BGHMC)-Multi-Sector Governance Council, the Pharmaceutical and Healthcare Association of the Philippines (PHAP), UHC Watch, Thinkwell, League of Corporate Foundations, Philippines Graphic and BusinessMirror.
Giving the welcome remarks were Philippines Graphic and BusinessMirror Publisher T. Anthony C. Cabangon and PHAP Executive Director Teodoro Padilla. They were followed by keynote addresses from Bataan Governor Albert Garcia and Dr. Corazon Flores, OIC, Director IV of the Department of Health in Region 3.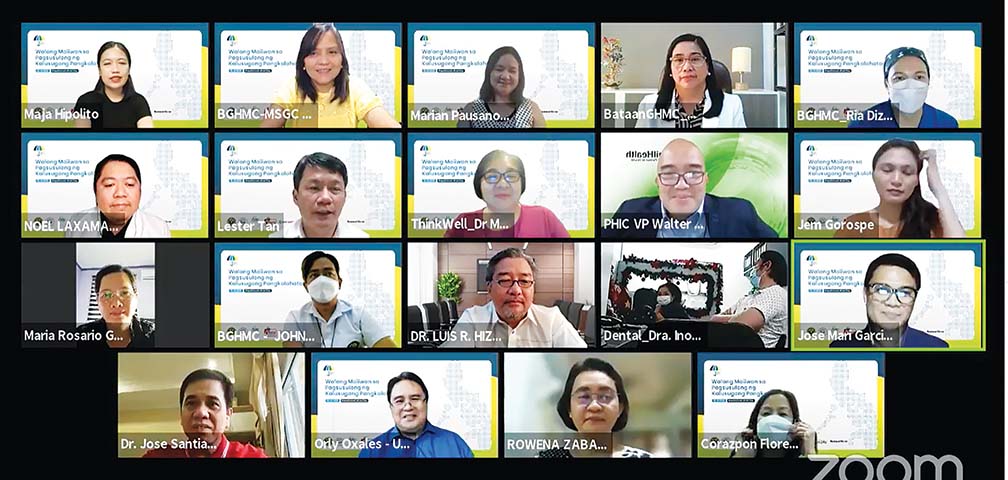 Webinar speakers included: Dr. Lester Tan, Chief of Health System Development Division of DOH's Bureau of Local Health Systems Department; Dr. Charines Reyes and Dr. Noel Laxamana, Bataan General Hospital and Medical Center; Dr. Maria Eufemia Yap, Senior Policy Advisor, ThinkWell; Walter R. Bacareza, Area Vice President for Luzon and the National Capital Region of the Philippine Health Insurance Corporation or PhilHealth; Dr. Glory Baltazar, Medical Center Chief of Bataan General Hospital and Medical Center- Service Delivery Network (BGHMC-SDN); and Dr. Rosanna M. Buccahan, Provincial Health Officer, Bataan Provincial Health Office. Orlando Oxales, Co-convenor, UHC Watch delivered the closing remarks.
NEED FOR REFORMS
The webinar was in line with the celebration of International Universal Health Coverage Day, which marked the United Nation's history and unanimous affirmation of Universal Health Coverage that provides equitable access to quality and affordable essential health care services to everyone, everywhere.
In the Philippines, Health Secretary Francisco Duque said in a prior webinar that the DOH is pushing for Universal Health Care (UHC) as the new normal. He added that the pandemic did not derail the promise of UHC in the country and instead became an opportunity to fast-track the implementation of the UHC Act.
"This pandemic has become the new arena within which we continue to implement reforms needed to fulfill the UHC promise," he said.
In order to fully realize the UHC promise, Duque identified three key areas in which reforms have to be strengthened in order to achieve the goal of UHC—primary health care, province and city-wide integration of health systems and predictable and precise medical fees.
Duque added that although some aspects of UHC reforms had to be prioritized due to the pandemic, the advent of COVID-19 had shown the importance of these reforms and further strengthened the health agency's implementation of UHC.
"We are just beginning to reach UHC. That is why the DOH, your DOH, needs all the help it can get. There are many more reforms that need to be carried out at this time and in the coming years. With the fusion of efforts, we hope to establish a health system that can readily meet the evolving needs of a society whose behaviors have changed from passive acceptance of health services to appropriate health-seeking behavior cognizant of their right to health," he concluded.
10 YEAR TIMELINE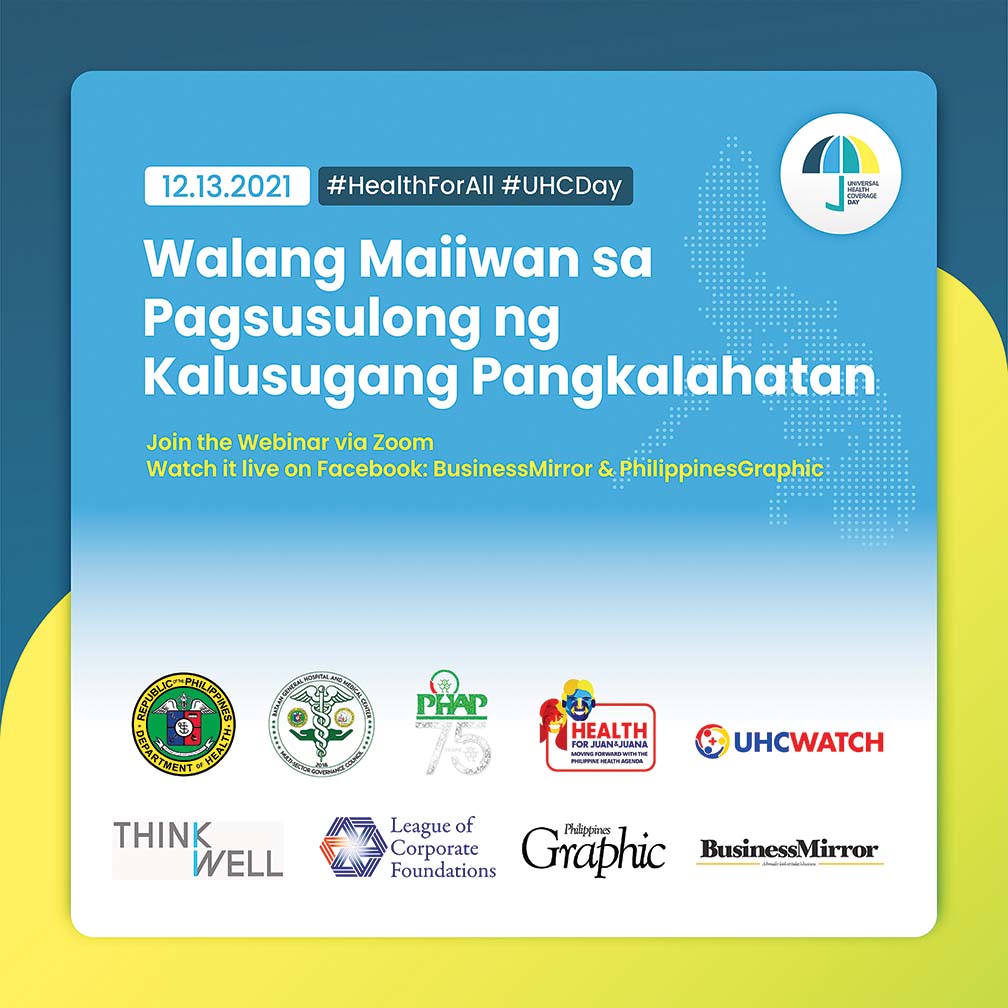 Dr. Lester Tan, Chief of Health System Development Division of DOH's Bureau of Local Health Systems Department, said the UHC Act specifies a 10-year timeline for the attainment of a UHC that will see local health units play a more important role in the delivery of health services.
Rural and district hospitals will provide primary health care. Patients will only be referred to provincial or private hospitals if the primary care facility cannot handle the patient's case, Tan said.
Another presentation of interest was that of Walter R. Bacareza, PhilHealth Area Vice President for Luzon and the National Capital Region, who discussed "Financing the Service." One of the main points that Bacareza raised was that their institution was in the pink of health financially and that they have adopted strategies to ensure that hospitals are paid on time.
BATAAN AS SHOWCASE
The webinar showcased Bataan as one of the first provinces in Region 3 to signify an intention to become a pilot site for the UHC Act. The other provinces are Pampanga and Bulacan.
Dr. Charines Reyes and Dr. Noel Laxamana—with help from ThinkWell Senior Policy Advisor Dr. Maria Eufemia Yap—discussed how Bataan has been able to come up with an online service delivery network to deliver healthcare services to their residents.
Dr. Glory Baltazar spoke about charting Bataan's future in healthcare while Dr. Rosanna M. Buccahan responded with a discussion on enabling the Healthcare Provider Network.
The webinar likewise presented a video on PhilHealth's "Konsulta Package," where members can avail of check-ups, consultations, health screening and assessment, diagnostic and laboratory tests, including medicines.
A detailed question and answer between the viewers and all the speakers followed. It was moderated by Dr. Yap.
In sum, the webinar organizers and speakers were united in stressing the importance of investing in the health system now in order to end the global health crisis. In so doing, the world can have a safer and healthier future.