For us at the forefront of Universal Health Care—together with the local government units (LGUs) and the Department of Health (DOH)—UHC day is every day.
UHC is not easy but as they say, if you do something great and important, it is never easy. As mentioned earlier, all our healthcare workers are sometimes ostracized and criticized in media. Some of us were frustrated and hurt, but my message to them is please move on. Our mission is very noble and our mission is for everybody's healthcare so move on and don't be discouraged.
UHC is not instant. It is not instant noodles and it is not like chilies that when you take a bite, the spiciness hits instantly. As some say, overnight success is actually a 10-year thing, as what was explained by Director Lester Tan of the DOH and their 10-year plan for the UHC. Let me present to you now PhilHealth's strategy map. Under Philheath's strategy map, I would like to give emphasis on our desired outcomes.
We want to have an increase in the accreditation of primary care facilities, including Konsulta facilities, community isolation units (CIUs), molecular laboratories, Maternity Care Package (MCP), TB-DOTS facilities, animal bites centers, and everything. Those that can be accredited must be accredited.
SUSTAINABLE FINANCING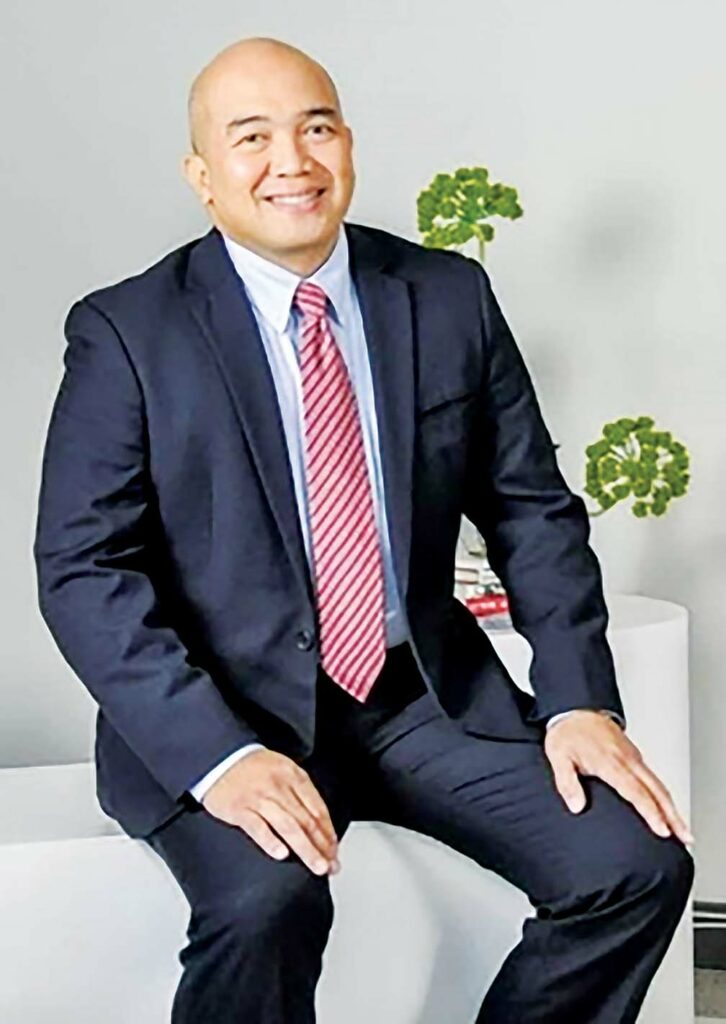 In terms of sustainable financing, we want to see a stable revenue and later on we want to show you and assure you that your PhilHealth is in the pink of health financially. We want to see efficient collection systems. I have been informed this morning that our colleagues in the central office are working double time to make this happen. What is also important is the innovation and growth, which is the improvement of the IT system and reorganization of PhilHealth.
PhilHealth was designed for universal coverage in 2007 and under the universal healthcare regime, we also need to adjust our organization to answer the clarion call of universal healthcare. I am very, very happy when I heard that both Houses of Congress have already approved the necessary budgetary space for us to be able to reorganize the organization.
What we need to say is that under UHC, all Filipinos are automatically included in the National Health Insurance Program. The challenge here is that we want people to know that they indeed, are covered. They don't need to go to the hospital or get sick to realize that they are actually covered by PhilHealth.
The difference between UHC and past theories is that this time, we want to focus on service coverage. We want to see immediate eligibility and access for all Filipinos when they go to the hospital. We want to see comprehensive in-patient and most importantly out-patient benefits.
For outpatient benefits this is the most important because UHC is about investment in primary care wherein, you don't have to get sick in order to experience UHC. Even if you're not sick, people should already go for check-up at Konsulta Centers because all the CIUs, molecular laboratories, Maternity Care Package (MCP), TB-DOTS facilities should be and will be made available for everybody.
Did you know that there are over one million claims processed at PhilHealth every month? That makes it 12 million a year. Twelve million a year is a small percentage or only 10% of our projected population of 120 million. What I'm saying is that Konsulta is very important because we want everybody to experience the National Health Insurance Program wherein primary care will be implemented. And we want everybody to seek and see an increase in the utilization of primary care facilities. We want not only the sick people who will have themselves checked by the hospital and a doctor. We want everyone to have themselves checked, for us to know their ailment before it gets worse. As they say, an ounce of
prevention is worth a pound of cure.
PROSPECTIVE PAYMENTS
We will also talk about financial coverage, which is very controversial, and we have heard complaints from hospitals. That is why we will embark on "Prospective Payments," a revolutionary concept in Philippine healthcare because we will be paying the facilities at the start of the year so they can better manage their resources. They can buy medicines, and program their purchases in order to better respond to the needs of the population.
We also want to see a higher increase in no co-payment for basic ward accommodation. I am very excited about this Prospective Payment because there will be no more complaints about slow turnaround time of payment.
I want to show you that your PhilHealth is in the pink of health. We still have P329.7 billion as of September 30, 2021. This means that we can finance the problems in healthcare.
Money is not an issue but the allocation of this money is the concern. I would also like to report that interest income is increasing in spite of the pandemic and we are happy to report that the premiums collection is increasing.
There is truism in the saying that in every bad thing, there is also a good thing and in the time of the pandemic, we were surprised to see that our fellow Filipinos are actually contributing more and more to the national health insurance fund.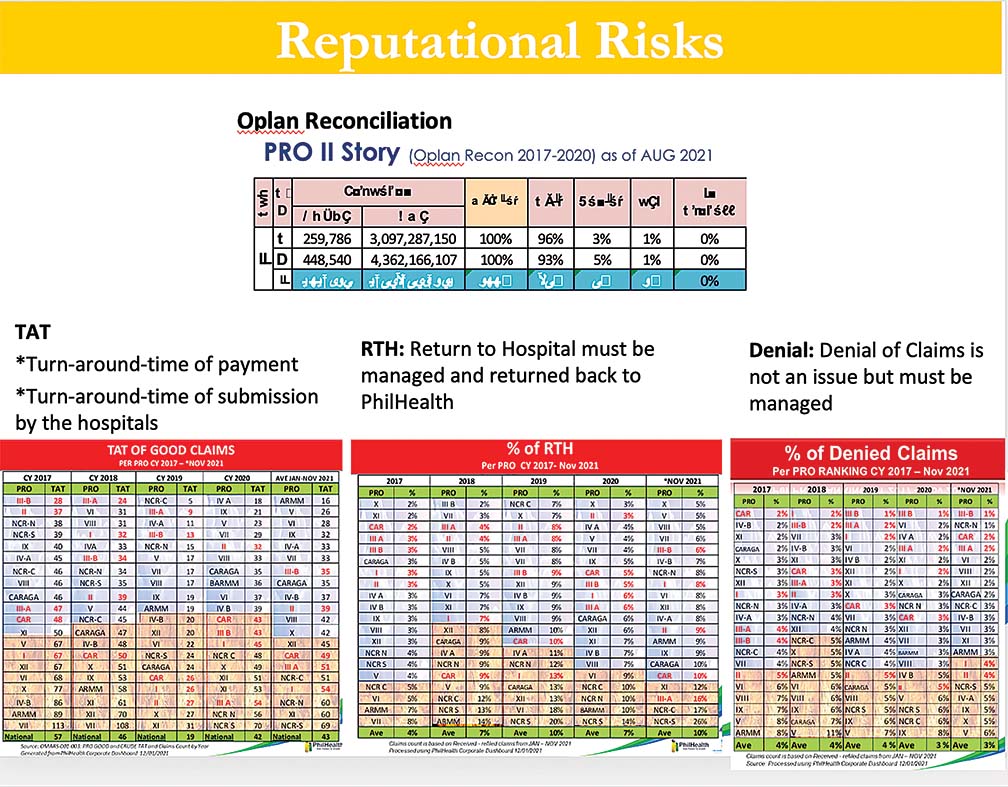 Let us now talk about reputational risks of PhilHealth (Refer to Figure 1). They say that PhilHealth is not paying but in our reconciliation, and this is an extreme example, in Region 2, the private hospitals told us that they have about 259,000 claims that were unpaid, and the government hospitals told us that there were almost half a million of claims that were unpaid from 2017-2020, amounting to P7.5 billion. Upon matching, we matched all the claims, which is a good thing.
All the claims they said were unpaid, we saw in our database and we are happy to report that 96% for private hospitals and 93% for government hospitals were actually paid. About 4% were already denied and 1% was returned to the facility and we are not processing anything anymore.
We monitor turnaround time of payment. This is an example of turnaround time of payment per region, and we will also monitor turnaround time of submission of hospitals. We also monitor Return to Hospitals (RTH). This must be managed and these hospitals must be coached about a particular problem and why we returned it to them.
Sometimes, these are just caused by lack of signature, lack of laboratory exams, which can be easily complied with by the hospitals. And we also monitor Denial of Claims. This should not be an issue because this has been stable at around 4%. In fact, in 2021, the start of the new normal, we are seeing a decrease in denial of claims.
STRATEGIES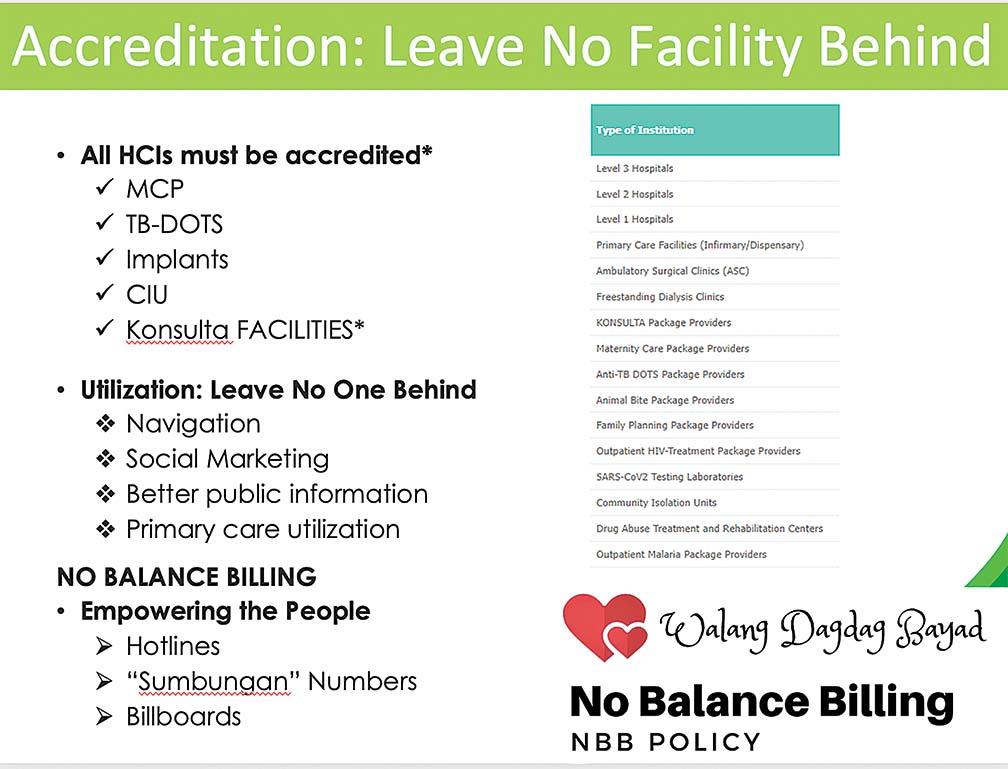 These are the strategies that we are going to adopt in the short run (Refer to Figures 2 and 3):
Accreditation: Leave no Facility Behind. All facilities must be accredited: Levels 1-3 hospitals, primary care facilities like infirmaries and dispensaries, ambulatory surgical clinics, freestanding dialysis clinics, more importantly the Konsulta Package providers.
We are happy for the province of Bataan for having had their hospitals accredited as such, MCPs or birthing homes, TB-DOTS package providers, animal bites, family planning package providers, outpatient HIV treatment package providers, COVID package providers, CIUs, Drug Abuse Treatment and Rehabilitation Centers, Outpatient Malaria package providers. These must be accredited.
We will be improving our engagement with our partner-facilities in order to ensure that all facilities in the Philippines, as mentioned, will be accredited.
Utilization: Leave no man behind. We have to see navigation, wherein everyone that needs to be seen by a doctor could visit a healthcare professional. We will also use social marketing, better public information because we want to see primary care utilization.
No balance billing: This has been a challenge but I am very happy to report that it has been improving through the years. I think we can solve this by empowering the people. There is a hotline number they can call, "sumbungan" numbers, and billboards that will tell them that they don't need to pay in these facilities; that certain services in these facilities, they can expect no balance billing. As what we've been saying, leave no one behind, leave no facility behind.
PhilHealth is not perfect but let me assure you that we are better today than our yesterdays, and we assure everyone today that we will be better tomorrow. It's all about leadership, and good relationships between LGUs, DOH, PhilHealth and other stakeholders.
I would like to make special mention of Gov. Abet Garcia who has shown us a platform of governance centered on health, with longevity as a key indicator. It is very inspirational for us who are sometimes hurt and frustrated. But every time we see examples like these, islands of UHC, we get a boost of energy for us to be able to prod on and to do this very noble but not easy mission.
We also thank Rep. Joet Garcia who was with us during the formulation of the UHC bill, and our friends, especially the public health workers, the frontliners, our colleagues in hospitals, the DOH, the DSWD, barangay officials, our healthcare workers in the frontline, in the primary care, and in the curative care. This mission is not easy but this is a great mission and a great mission is never easy.