Some 400 students and teachers from the city of Biñan have registered in the April 30 Masterclass on Literature Webinar headlined by multi-awarded fiction writers Dr. Butch Dalisay and Charlson Ong.
Initiated by the Philippines Graphic, together with the Philippines Graphic Reader and BusinessMirror, the total number of Facebook account users who have registered for the webinar reached 1,203 as of yesterday, April 29.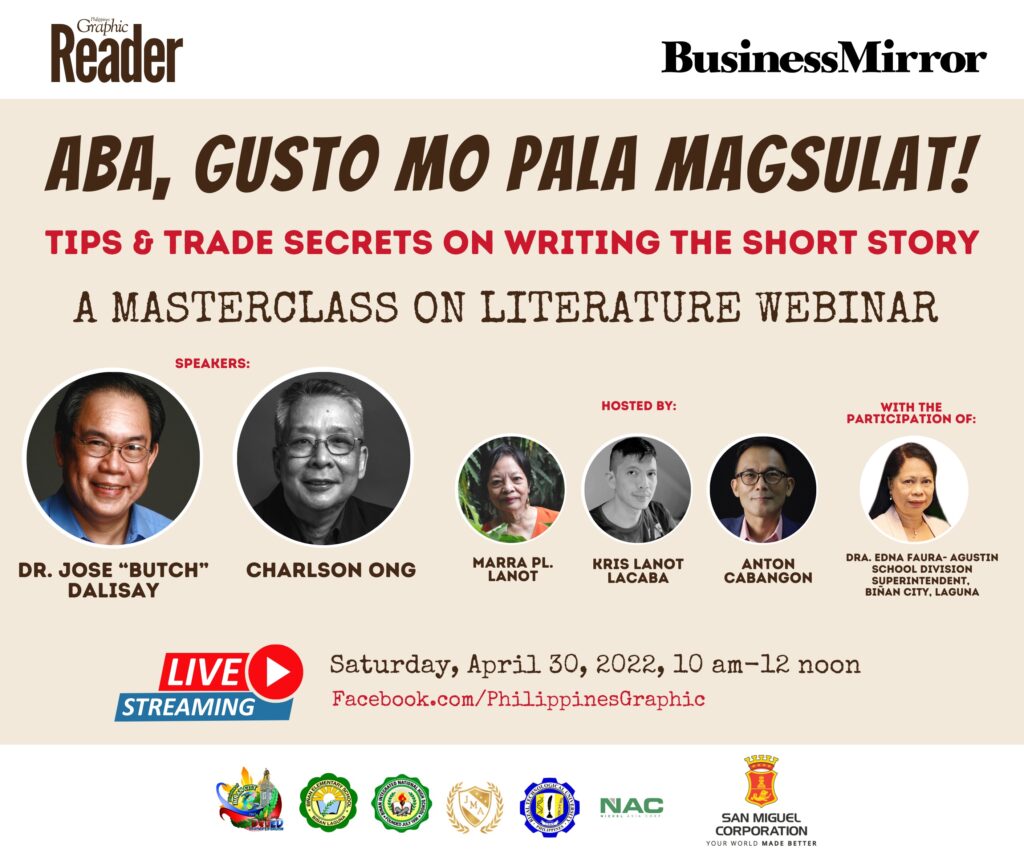 According to T. Anthony C. Cabangon—publisher of the Philippines Graphic, the Philippines Graphic Reader, and the BusinessMirror—the free masterclass webinar on literature manifests a conscious effort on their part to partner with schools in the promotion of Philippine literature in English.
"We wish to thank Biñan School Division Superintendent Dr. Edna Faura-Agustin, Dr. Mildred Dina of Southville High School, Nanette Lacuarin of Southville Elementary School, and Education Program Supervisor Raquel L. Azur for encouraging their students to watch and learn from the webinar," Cabangon said.
Recently, the Schools Division Office of Biñan, Biñan Elementary School, and Biñan Integrated High School have been recommended for ISO Certification for Quality Management Systems by TÜV Nord Philippines, Inc, one of the world's largest Inspection, Certification & Testing organizations.
Dr. Edna Faura-Agustin, School Division Superintendent of Binan City, said the masterclass webinar on literature is a good vehicle for learning about the English language. "At its very basic, we see this webinar as a way of teaching our students good English."
Agustin added: "As for our teachers, the webinar will give them motivation to come up with topics that open the minds of students to literature appreciation and to writing fiction."
Among the Biñan schools participating are Biñan City Science and Technology High School, Binan Secondary School of Applied Academics, Jacobo Z. Gonzales Memorial School, Southville Langkiwa National High School, Dela Paz National High School, Malaban Elementary School, Loma Elementary School, and Mamplasan School.