For three hours in the morning of Oct. 25, Chinese Ambassador to the Philippines Huang Xilian eloquently spoke and held a fruitful dialogue with media and intellectuals at the "Pandesal Forum."
The forum was held at the 83-year-old Kamuning Bakery Café in Barangay Kamuning, Quezon City and were joined by three reactors— former Presidential Adviser on Political Affairs Ronald Llamas, Center for People Empowerment in Governance (CenPEG) analyst and University of the Philippines (U.P.) Professor Bobby Tuazon, and Asia-Pacific Pathways to Progress Foundation research fellow Lucio Pitlo III.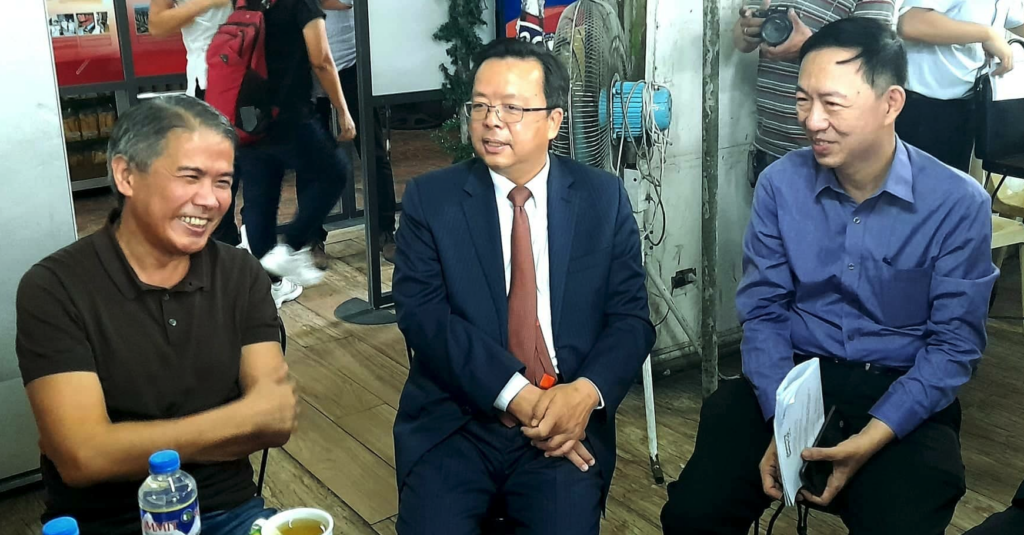 Numerous guests included the Federation of Filipino Chinese Chambers of Commerce & Industry, Inc. (FFCCCII) President Dr. Henry Lim Bon Liong, and FFCCCII VP Cecilio Pedro.
Among the media guests were D. Edgard A. Cabangon, chairman of the ALC Media Group, which includes Philippines Graphic, BusinessMirror, CNN Philippines, Pilipino Mirror, and DWIZ radio; Sharon Tan, Philippine Daily Inquirer associate publisher and columnist Juliet Labog-Javellana, and many others.
Former Cabinet secretary Ricardo Saludo, Manila Times columnist and now president of the Center for Strategy, Enterprise & Intelligence (CenSEI), joined the forum via Zoom and Facebook Livestream.
Saludo said the Philippines must no longer renew its EDCA with the US, which is due to end in April 2024, since American military presence in the country could be a magnet for attacks by enemies or rivals of USA.
He proposed that the Philippines should improve national defense capabilities, lessen tensions with other countries and consolidate solidarity with ASEAN neighbors.
Ronald Llamas urged Filipinos to learn from the unique Chinese dialectic way of thinking: fusing, integrating or transcending thesis and anti-thesis to come out with better ideas instead of the Western binary mindset of conflicts. He also urged Filipinos to better understand the rising economic superpower that is China and the CPC.
Prof. Bobby Tuazon said that China's amazing achievement of liberating 850 million people from poverty in just 30-40 years is a great contribution to world progress, poverty alleviation and peace. "A strong and stable China is good for the world."
For his part, Lucio Pitlo III analyzed the peaceful rise of China and its far-reaching positive impact on Asia and world affairs.
U.P. Professor Randy David later analyzed in his Philippine Daily Inquirer column: "With Western democracies showing signs of worsening political and economic decay beneath uncertain leadership, one cannot help but marvel at the sight of China confidently going through the rituals of political affirmation rather than of brutal contestation… The name of the game is projection of strength and stability under a unified leadership."