I grew up calling her Tita Patch. To me, she was like my real aunt and not just my mother's best friend. We would frequent her large house on Kamuning Street where she grew up. My mother was among her childhood besties who lived on the same street. They went to the same school and spent a lot of time together, playing street games like patintero and moro- moro and giggling uncontrollably when the neighborhood "crush ng bayan" would walk by.
Now in her mid-50s, Tita Patch would throw despedida and bienvenida parties for her friends leaving for or coming home from abroad. Her house which was the family's ancestral mansion, was the usual venue because of its accessible location and sprawling yard.
Oh, how she loved parties! She would serve trays of home-made pasta and pastries that she had baked herself. She would cook carbonara, lasagna, mac and cheese, and my favorite sweet-style spaghetti. She would bake cupcakes, cinnamon rolls, brownies, and croissants. But my favorite is her soft and buttery empanaditas. My mouth would water at the sight of them, brown and crispy on the outside and savory on the inside with a filling usually made from a mixture of chicken, carrots, potatoes, and peas.
Her generous spirit was hard to contain. She would open the heavy iron gates of their ancestral house like welcoming arms and lead guests to her magnificent patch of green—a garden unlike any other filled with a wide variety of flowering trees, vines hanging on trellises, and never-before-seen plants which I think were secretly imported from the rainforests of South America or maybe the jungles of Africa.
A large water fountain with three cherub figures serves as the garden's focal point. It also attracts local birds like the common maya, the noisy tarat, and the flamboyant maria kapra —all of which make use of it as a place to drink or bathe.
As a child, after eating platefuls of sweet spaghetti and empanaditas, I would run around the garden along with other children my age and play under a canopy of blossoms, most of which were queer-shaped. Some looked like birds or monkeys. There were also others that looked like ducks, bees, and white egrets. Later I learned that they were actually orchid flowers of exotic varieties. I sometimes felt that her garden is magical, transporting me to different places.
I would look in wonderment at the Kamuning plants (Orange Jasmine) that lined the entire perimeter wall of their large house as towering hedges. During the day, the plants appeared harmless and friendly. But at night, they seemed to create strange shapes and shadows that sometimes scared me. I would look over my shoulder twice, thinking there might be dwarves, elves or fairies lurking behind them. (Myth has it that the Kamuning street got its name from the ancient Kamuning blossoms in their yard planted by her great-great-grandfather which filled the entire area with its fragrance.)
After spending many happy hours playing in Tita Patch's garden and admiring her plants and flowers, I developed a love for gardening as I reached my teenage years. I had a wide collection of garden tools ranging from shovels, hoes, spades, forks, shears, hand pruners, trowels, saws, watering cans, rakes, and sprinklers. I did a lot of pruning, digging, planting and replanting in her garden, experimenting with various landscape techniques. I would show Tita Patch my creations and she would smile approvingly, saying, "Oh, they are beautiful! You have a magical green thumb!"
I could see she was delighted to see her plants arranged in a different way, some grouped together while others placed alternately, the colors of their foliage blending or contrasting.
But one day, I noticed that Tita Patch wasn't her usual, bubbly, and talkative self. Instead, she was quiet, sitting on her favorite reclining chair, looking out the garden as if lost in her thoughts.
When I asked how she was feeling, she would say, "I'm okay. Just feeling more tired than usual. It must be the summer heat."
Summer was indeed approaching at that time. Her gardener would water the plants once in the morning and again at dusk, when the sun was setting, turning the sky into a beautiful haze of orange and purple. The plants looked happier as the sun's rays touched their leaves. The flowers wore their best colors like they were out to party.
Whenever we visited in summer, Tita Patch would serve us fresh lemonade with honey served in a pitcher filled with ice cubes. I remember finishing two glasses because my throat felt drier than usual because of the heat. If the plants got watered twice a day, I surmised I should also get a double serving to keep me hydrated.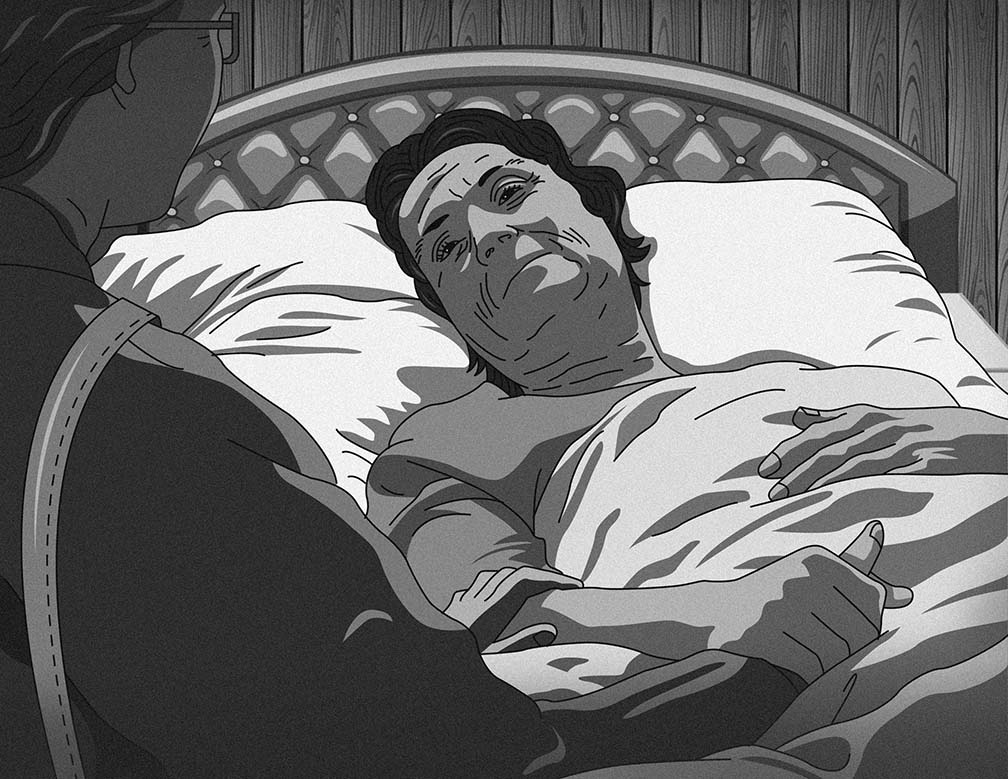 After the summer months had passed, the rains became more frequent, especially in the afternoons. The frog grass on Tita Patch's garden was always soaking wet and the stone steps were slippery. But I didn't mind the mud on my shoes. My school shoes had thick rubber soles which, despite the mud, prevented me from losing my footing.
The mischievous wet branches and vines hanging overhead would sometimes sprinkle raindrops on my hair. Again, I didn't mind. Perhaps it was their way of spreading the love, to keep me cool against the heat.
I love the way the garden smelled after the rain, sweet and citrusy with a hint of freshness like mint. I myself would feel refreshed just by walking in the garden.
Later on, Mama and I stopped going to Tita Patch's house. We stopped going to her parties. Mama said there were no more parties because Tita Patch needed to rest. At first, I didn't mind. I kept myself occupied with school work. There were tons of reading assignments and performance tasks to finish. But as the weeks turned into months, I couldn't deny that my heart was missing someone and something.
I missed Tita Patch. I missed her pastas and pastries. Most of all, I missed her garden. Living in the city, I wished to spend my weekends away from the dirt and noise of the concrete jungle. I yearned to visit the patch of green, which I believe has a magical way of soothing my tired eyes, healing my body, and rejuvenating my spirits.
Weeks later, Mama said that Tita Patch was sick. Right after fetching me from school, Mama had to rush to their house to see her, taking me in tow, still dressed in my school uniform.
While Mama and Tita Patch talked in hushed voices and held back the tears in their eyes, I went to the garden to play. In the garden, I felt awkward in my school uniform. I couldn't run around in my school shoes. I couldn't move comfortably in my uniform. I just wasn't dressed for play.
Looking around, I also noticed that the garden appeared different from what I remembered it to be, like there was a filter of sorts. Something seemed off. For one, the sky was overcast, making the plants look weary and the flowers not in their usual bright colors but with pale undertones. Even the Kamuning blossoms seemed to have forgotten how to bloom, their fragrance muted.
That night, Mama told me the sad news that Tita Patch had passed away. The garden was mourning the loss of its owner.
Days after, a startling news was broadcast during the evening news program—A new strain of bacteria was found in the soil, causing trees and plants to be deprived of oxygen and later wilt and die. Experts theorized that the bacteria originated from landfills and, after being dormant for many years, were activated by environmental degradation and uncontrolled warming of the planet.
In the months that followed, scientists released their findings saying that based from the soil samples they had collected, 80% of the top soil has become toxic. It couldn't support any kind of plant or vegetation. At first people refused to believe the findings. Later, they were horrified to see their plants wilt and die and hectares of farmlands, vineyards, and forests reduced to wastelands. Aside from agriculture, other industries involving the soil like mining, logging, and tourism also suffered. There was nothing they could do.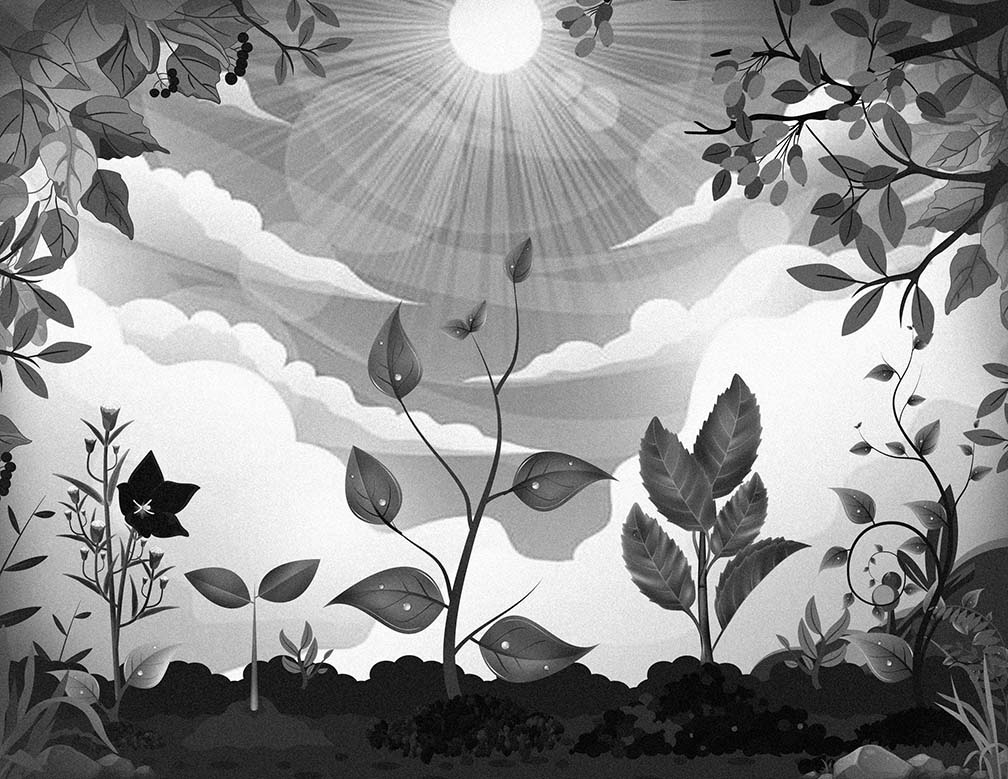 Farmers turned to alternative farming in greenhouses, using hydroponics to grow plants without using soil to meet the demand for vegetables, herbs, crops, and cut flowers.
With the destruction of trees and plants because of the toxicity of the soil, I wasn't sure if it was a good thing or not that Tita Patch did not live long enough to see it. With her passing, her garden also died. The Kamuning trees shed their flowers in grief before falling into decay. Her other plants soon dried up. Her hanging plants which were spared since the bacteria was confined only in the soil somewhat thrived but refused to be coaxed to bloom. I felt their grief.
After the funeral, Tita Patch's mother decided to give away the orchids and other hanging plants to her closest friends. Since my mother was among her closest friends, we received most of them, which I carefully hanged in the balcony of our condominium.
The orchids offered a refreshing sight for my tired eyes after school, a comforting patch of green amid the concrete jungle of the metro. I took care of the orchids and other hanging plants as if they were the last of their kind. I was thankful that they were hanging, thus the bacteria couldn't infect them.
Seven and a half years later, the good news finally came: The bacteria in the soil were finally gone. Experts confirmed that the toxicity levels had decreased, making the land safe again for plants and trees to thrive in.
Alas, the Agriculture Department reported that they weren't able to preserve enough seeds or seedlings to restore and cultivate whatever plant varieties that were lost. A public announcement was issued:
"We are calling on anyone who may have any plants or seeds in their possession to donate them to the government so they can be cultured for reproduction and pollination. We offer a modest monetary compensation for your kindness and generosity. Thank you."
I read the announcement again and again, thinking if I should act on it. The wind was blowing from the open door of the balcony. I could see the hanging plants swinging to and from as if waving at me.
"Ma, should we donate the plants of Tita Patch?" I hesitantly asked my mother.
"What do you think?" she threw back the question to me.
I was torn between giving away the plants that had survived the "apocalypse" and keeping them as a remembrance of our beloved Tita Patch.
After much thought, I relented and reached for my mobile phone to call the Agriculture Department. Knowing the generosity of her spirit, I think Tita Patch would like her plants to pollinate the earth and spread her patch of green as her legacy to the world.