"Someone's sitting in the shade today because someone planted a tree a long time ago."—Warren Buffet
Forty years ago, in 1983, the late visionary business leader and philanthropist Henry Sy, Sr. lovingly called "Tatang" by his family and those he employed, established the SM Foundation, Inc.
Its goal was simple at the beginning: Uplift the lives of the families in communities where SM serves. But with each succeeding year, the goal of SMFI multiplied and broadened, until its charity work evolved into whole programs of service.
"When the Foundation was formed, its first project was to support charitable and civic institutions. Ten years later, Tatang established the first social good pillar of SM Foundation, which is education," said Carmen Linda Atayde, executive director, SMFI Education Program.
Atayde, who has worked with SM for 21 years, said that Tatang saw education as one way of helping to eradicate poverty. "He had always been a believer in education. For him, sending a member of a deprived family through college can already help that family. That SM scholar alone, upon being employed, can contribute to his or her family and even help others. In the process, that family is lifted out of poverty. And the Program has proven Tatang right. We have a lot of stories of scholars that improved their status in life."
SMFI's College Scholarship Program has produced more than 8,000 scholar graduates since it started in 1993. Students who qualified for scholarships all came from low-income families. SM scholars graduated from public high schools, with their parents' combined income totaling only at P250,000 a year or about P20,833 a month. Once accepted, an SM scholar enjoys free tuition, monthly allowances, enrichment activities, and part-time job opportunities during school breaks.
SMFI SAVP for Scholarship Program Eleanor Lansang revealed that in 2003, they opened the Technical-Vocational branch of the program to include out-of-school youths. "Since then, our Tech-Voc Branch has produced more than 4,000 skilled TechVoc graduates."
For school year 2022-2023, there are 1,200 scholars of the SMFI College Scholarship Program, with graduates averaging at 300 per year, with new scholars coming from both NCR and the provinces.
Atayde noted that many SM scholars (both in college and in voc-tech) are students that have become the first to reach higher education in their respective families. "When we started, we found out that 9 out of 10 are the first to graduate from college in their immediate family. That is why it is really easy to measure their value to their family once they successfully join the mainstream."
JOB OPPORTUNITIES
Atayde further mentioned that the Education Program does not end in providing college or tech-voc education. It goes to the extent of actively seeking potential jobs for its graduates.
"While still students, the scholars engaged in a lot of activities that expose them to the SM experience. We have general assemblies and they meet various business groups within the SM group. Here, they receive information on employment opportunities," she said.
Lansang stressed that except for the pandemic period, all SM scholars were involved in sales. "During the summer and Christmas breaks, the scholars have an option to work part-time at the SM malls and department stores."
"Upon graduation, their resumes are submitted to the various business groups at SM. By the time they graduate, they are offered jobs. If they want to work with the SM group, all of them are welcome," she added.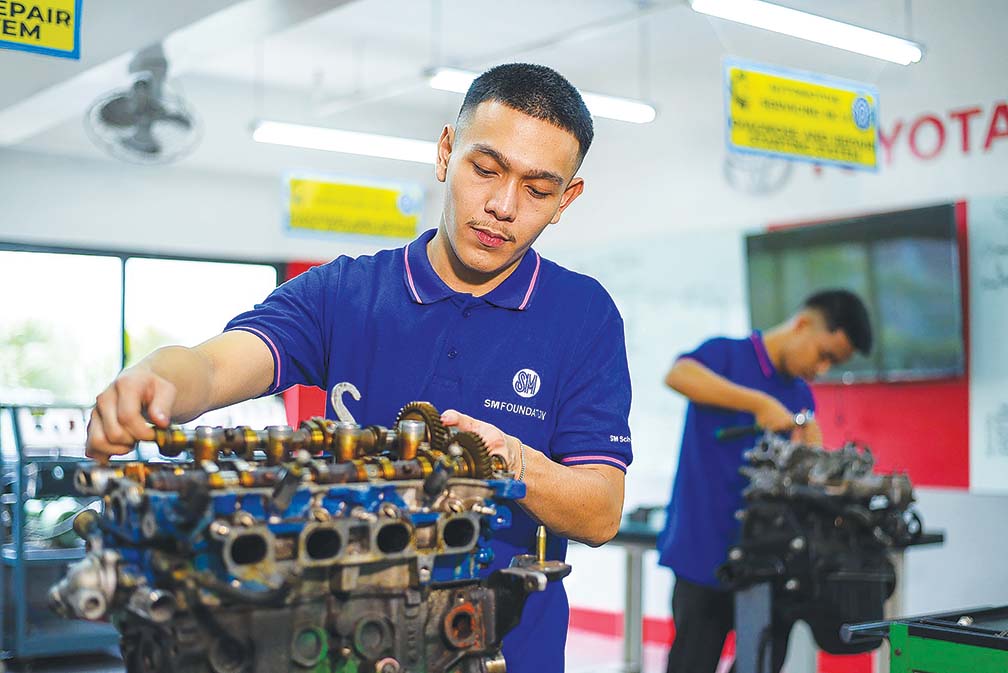 SMFI scholar-graduates come from some 15 courses offered by the Foundation's Education Program. These courses include: Computer Science, Computer Engineering, Mechanical Engineering, Accounting Information Systems, Management Accounting, Information Technology, Civil Engineering, Accountancy, Internal Auditing, Elementary Education, Electronics and Communications Engineering, Electrical Engineering, Accounting Technology, Financial Management, and Secondary Education, major in Biology, Chemistry, General Sciences, Physics, Mathematics, and English.
Some of the graduates pursue their professional careers within the SM group. Others prepare for their respective board examinations while others pursue overseas opportunities or take a second degree like law or medicine (See related story).
DIGITALIZATION
Long before the COVID-19 pandemic struck, the SMFI Education Program already ventured into the digitalization of all the phases of their operations. It was a move that reaped benefits for its many scholars and partner schools.
"The pandemic did not paralyze us. Even during the three years of the pandemic, we were still able to open the program to freshmen. Hindi kami nag-stop na mag-recruit ng [We did not stop recruiting] scholars," Atayde said.
Digitalization, she clarified, was not a reaction to the pandemic. It was brought about by the increasing trend in the number of applications they received with each succeeding school year. "Since 2018, we had thousands of applications. There was really a need to go online to accommodate all the applicants."
Atayde added: "Before the pandemic, we already had a digitalized system. In fact, our system was put to the test by the lockdowns that came with COVID-19. We were half-way done with the screening of all applicants in 2020 when the lockdown was enforced in mid-March. But because we had digitalization in effect, we were able to continue our operations—interviewing online those who passed the exams, doing virtual house visits, implementing online exams, monitoring of grades, even transmitting payment of tuition fees to schools and giving allowances to our scholars."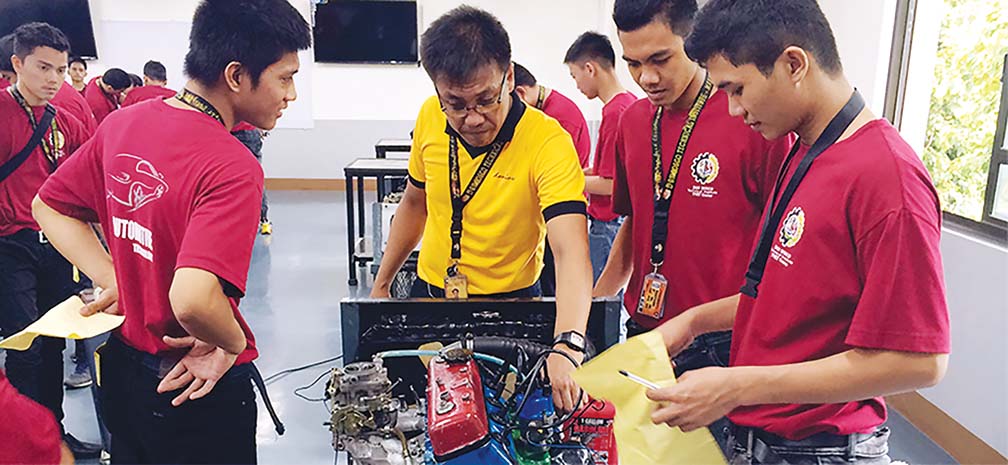 Lansang said that the Scholarship Program has gone a step further by including SM alumni scholars in their database. "We have data on scholar-graduates who are in Malaysia, Australia, Europe or any other part of the world. Dati manual lang [Before, everything was manual], now we have a roster for alumni. We make a list of those scholar-alumni who work abroad, those who joined government, and those who pursued second careers. Of course, when our alumni choose to take a second course, sila na ang gumagastos [they pay for their expenses], because by this time, they can already afford further education."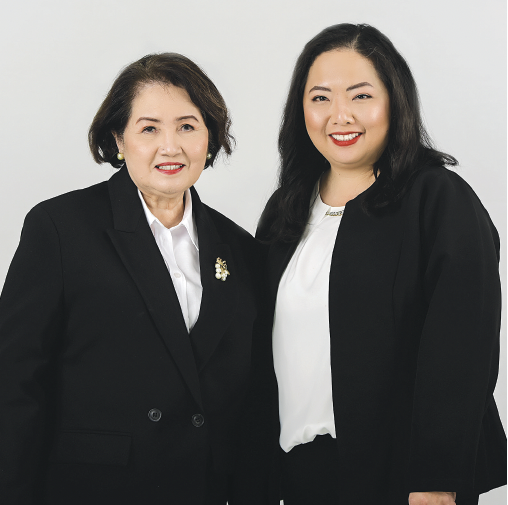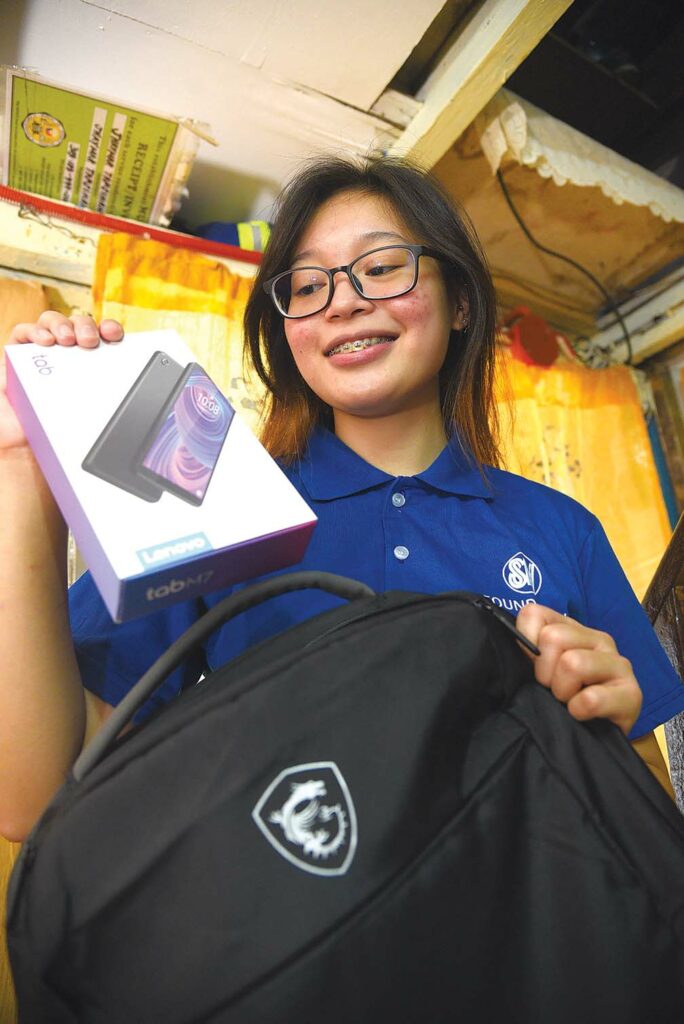 Atayde likewise said that there are chat groups where alumni can communicate with SM regarding their whereabouts or discuss other matters. "We also meet with them every five years for homecomings."
PURSUING GOOD RESULTS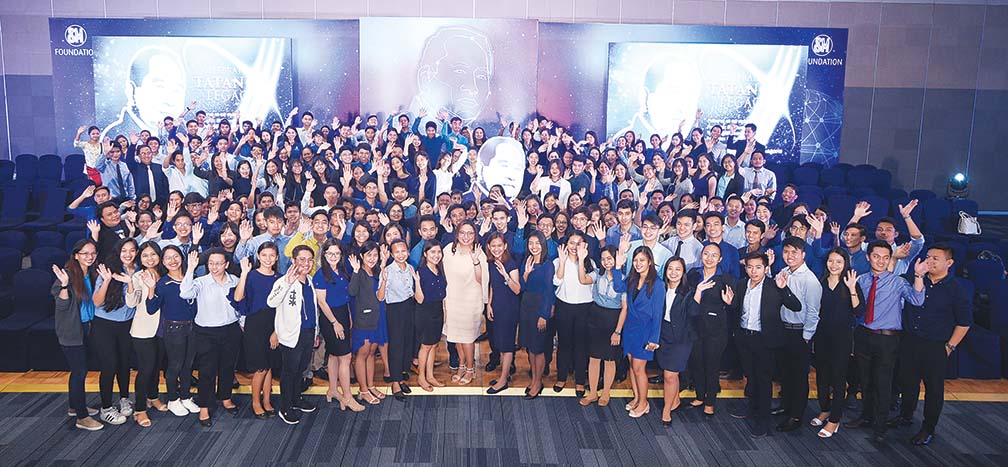 Atayde said that ironically, one good offshoot of the pandemic was the increase in number of scholar-graduates with Latin honor degrees.
"In all the years we had the Education Program, our batting average for producing honor graduates was at 30%. But, during the pandemic, the incidence of our Latin honor graduates jumped to 49%," she said, adding: "We were surprised by the sudden and palpable increase. Maybe because the lockdown made our scholars more focused."
The pandemic likewise encouraged program donors to join SMFI's cause.
"There were those who donated tablets for our scholars. For instance, Mastercard donated more than 1,200 tablets, the equivalent of one tablet per student. The students were very pleased, on top of receiving their allowances regularly all throughout the pandemic," Atayde disclosed.
All said, there is much optimism among SMFI officers regarding the future of the Education Program.
Before Covid-19, SM Foundation scholars gather at the SM Mall of Asia for the Presentation of Graduates.