For Padmapani Perez
I have often imagined meeting Alicia again, the woman Angelico swore would love him for the rest of his life. As if that meant anything. It has been years—all that past coalescing in my head into a kind of gelatinous thought, something thick and forbidding—and I can't exactly remember the circumstances of the last time I'd seen her or talked to her. When I force myself to have a bit of recollection, my mind plays tricks on me, shifting details around like sand. I allow it.
Sometimes I recall a scene at a restaurant, the one down the block from where the university's main portals stand, after a particularly uneventful school day, the lights dim to approximate intimacy, the food forgotten. Sometimes I recall the interiors of a car, littered with student papers and misplaced ballpens, something speeding along a highway at nighttime, the destination a blur. Often I recall Angelico's apartment—spare in its decoration but stacked with ubiquitous shelves heavy with books—and Alicia sitting still in my favorite spot of Angelico's small sofa, looking at me with so much desperation and so much want, I remember how impossible it was to say no to her.
Alicia and her dark, abundant hair.
Alicia and her dark, luminous eyes.
Alicia and her lips, and the way she makes such a subtle ceremony in biting them.
It is easy to believe that there is a grammar known only to her, with which she deploys the power of body language to get what she wants. She makes small gestures fraught with meaning, and you find yourself drawn to her.
Alicia and her brilliant eyes that see through you.
I cringe at the sudden fix of memory. For a moment, I forget where I am exactly, were it not for the book my hands are gripping, its title burning against my skin; and were it not for the sight of so many other books around me. When I take a deep breath, I find myself drowning in the smell of breaking down lignin, old glue and old pulp and a dash of vanilla in the mix. One can only wish for a better death, I think. I am in a secondhand bookstore, and outside, along Access Road, a hint of a cold spell delaying what passes for the ravages of summer in Baguio.
"That book is good." Someone is talking to me, in a voice that is meant to sound helpful.
I look up—and the girl in the pixie cut, behind the cashier, smiles. She looks at me with some bemusement, perhaps sensing that I was a perfect stranger in the city, my face registering the bewilderment of visitors. She is standing up, carrying a hefty number of books, and on her black sweatshirt, peeking at the top of the volumes in her arms, is a glimpse of a screaming Kurt Cobain printed in a silvery sheen.
"Excuse me?" I say.
"That book you have in your hand. I read that in college," she says.
"This one?" I hastily return the book to the cluttered pile in the Sale—50% Off bin near the cashier.
"Yes, that one," the girl with the pixie cut says. "Everything Taken Together Has the Weight of Heaven and Other Stories. A mouthful, no? But a good one, and a sentimental read, too—but I liked it. Too bad the author didn't write more after that collection got published."
I hear myself laugh. "Maybe the author found he had nothing more to say," I tell her.
"Well, that's too bad if that's true," she says. "Are you planning to buy it? It's on sale. That copy has been with us for four years now."
"Is that so," I smile. "But I have a copy back home."
She looks at me, and gives me a small nod.
"The thing is, I wrote it," I finally tell her.
"You are Adrian Gomez?" The girl stands back. She gently puts down the books she is carrying on the counter, then leans forward, and looks at me with an intense sort of amusement. I feel like a specimen, and she the microscope. I wither in her gaze, and I can do nothing more except playfully shrug away the confession I've made.
"I am Adrian Gomez."
I smile as sheepishly as I can, more for her benefit.
"I have a mind to get hold of that copy myself right now and have you sign it," she smiles back.
"I'll buy it for you."
"You will?"
"It's not every day somebody tells me they liked my writing."
She laughs, and tells me her name was Padma.
"But what have you done lately?" Padma asks, while I scribble some dedication on the bare page that says, 'To A., with love and affection.' I cross that and write the girl's name instead. I scribble some empty phrase about the magic of reading. And I find that there is a flourish to the way I am signing my name—ghosts of what I once was, perhaps. So I give a short and muted laugh to keep the phantom at bay.
"I don't really write fiction anymore. I write textbooks. It pays better. Science stuff. Physics, for the most part, for high school kids. Gravity, stars, black holes."
"You're kidding me," she says.
"I have a whole book series on scientists, chapbooks really. Galileo, Edison, Rizal, Einstein, Curie…"
It is the truth. But I look at her—and I see that she is someone, like so many others, who needs comfortable lies. I look around the bookstore, and I can see that she believes in all these, this temple of literature, this worship of writers, this malignancy of beautiful words.
"What have I done lately…" I start slowly. Then I go for the enigmatic, brandishing my answer with a little smile: "I have done nothing, except live."
She considers that. "I don't know what that means," she shakes her head, smiling. "But thank you." She looks sincere.
I hand her the book with the exact amount it required, and she receives it in a gesture equal to supplication—and my heart breaks all over again.
"I don't know what I mean either," I tell her.
But I do know what I meant.
In my scattered, unreliable memories, that kind of gesture—and the look of want, combined with desperation, that accompanies it—has been a constant in my occasional conjuring up of my memories of Alicia. That is the only abiding truth about her I have gained from those years I have chosen to forget. For the most part, anyway. In my truest moments, I have surrendered to the realization that nobody really forgets anything. There is only the sheen of denial, smooth as the lies we tell ourselves in order to survive.
That is what I mean when I say I lived.
But we have always lived, and lived on, despite everything. Despite abandonment even. Resilience is a scar.
I am a crying child—four or three years old—in my earliest memory. For some reason only my mind knows, I have a hazy recall of a summer evening from a long time ago, and my parents have left for some other place in Butuan, where we once lived. Their absence is temporary; there is a party to attend. But I feel like a lost child and I am crying for my mother to return, my tantrum resonating throughout the house like an accusation, and there are other people around me cooing in vain to comfort me.
"Mama will be back, don't cry now…," one of them says, perhaps my yaya, perhaps my mother's harried spinster aunt. I remember somehow the tender desperation in that attempt at soothing. And so I don't believe any of them, but I soon fall asleep, exhausted from all those tears I've shed. Leave him be, I hear somebody say. Children cry rivers, and rivers dry up.
I am a dried-up river.
Years later, I believe there's still a part of me that agonizes from an inexplicable sense of abandonment, constant and haunting. Life threatens with it. Friends come and go. Love arrives, and love dies. Circumstances are right, until they are wrong. I don't cry much these days when someone else says goodbye. I have cried enough that one night in Butuan, and it is enough that I feel—and keep hidden—the pangs of all these farewells. There is no such thing as becoming inured. I wear abandonment like a silent badge of living.
Its unforeseen residue, of course, is longing—a deep, secretly held one that feels like a mad prayer. I tell no one, and I permit myself the steadiness of denial.
It has been five years since I last saw Angelico, and Alicia. Does absence really make the heart grow fonder? I find that hard to believe, even as an embracing cliché, knowing what I already know about this life. There are always reasons for leaving. I think about that as I walk down Session Road in the gathering dusk, Baguio's air invigorating a little bit my middle-aged bones. I think about the conference tomorrow, and the butterflies stir in my stomach. I haven't done conferences in a while. It has been so long.
I sniff the crisp nippiness of the city's summer air to calm me down, but the air itself is tinged with a hint of exhaust. I see the entrance to my hotel—the Mountain Cloud Inn—its sign glowing in the early evening, competing haphazardly with the scattered neon and assorted bright lights all around this mountain city on the verge. I think about how Baguio has changed since I've been here last. Everything has the feel of abandonment, even cities.
I dress for dinner in my hotel room, and the telephone rings.
It is the conference secretariat reminding me about the changes in tomorrow's schedule. "You have signed up for Prof. Geonzon's lecture, right?" she asks.
"Among other things," I reply.
"We need to confirm reservations."
"Is that so."
"The van will pick up all the attendees at your hotel at exactly 8 a.m., so please be outside by that time."
"I will be ready."
"Goodnight, Prof. Gomez. And welcome to Baguio."
"It's good to be back."
I replace the phone on the receiver, and stare at it for some time, willing it to ring back, to tell me there is no such thing as tomorrow. I close my eyes, and I convince myself about this—that it's good to be back, it's good to be back. It's good to be back. In my head, I echo those words again and again—and I wonder if any of that is true. 
I cross the washed-out lobby of the convention center on the outskirts of Baguio, a wide space with expansive glass walls that give a generous view, overlooking much of the sprawling city—a concentration of concrete against the diminishing mountain green. Because it is summer, the sky above Baguio is a perfect shade of blue that reminds me, for the moment, of the sea, a shimmer of lapis lazuli, back home down south.
There is no missing home, I tell myself. Not now.
It is a quarter past nine, and although attendance to the conference has been considerable—"The highest number of participants so far," the secretariat informs me at the desk when I registered, "and we really thought last year's number was the peak we could ever expect of this conference"—the registration has been accomplished with a diligence and speed everyone found admirable, considering how these things usually go.
The simple opening ceremony had taken up a little more than half an hour—a minor miracle. The president of the organization, a novelist whose claim to fame is a Marlon Brando movie based on a book he had written in the 1960s, welcomed everyone with a speech punctured with strange off-color jokes about the necessity of literature in changing times. His performance segued almost immediately to the speech of the keynote speaker, an American poet of some international renown, whose current volume of verse had made it to the shortlist of the Pulitzer Prize, won, however, by a much younger, and perhaps more photogenic, poet whose poems, according to the reviews by newspapers who still paid attention to these things, "cracked with the immediacy of the social media age, bringing new epiphanies to the way we live in the now."
"I don't even Facebook, which explains my loss," the poet quipped.
And everyone laughed.
The brief lull afterwards allows me a chance to go around the various conference rooms, all of them teeming with people waiting for the panels to start. One of them—strategically located near both the café and the exit—is filled with tables burdened by an abundance of books for sale, manned by staff from the various publishing houses, all ready to foist on anybody a title—several titles—one never sees displayed in bookstores everywhere anymore.
Then I see Alicia. Her with the same dark eyes I remember, and with the same lustrous dark hair styled to approximate the finish of a certain American celebrity. She walks with a purposeful stride towards one of the conference rooms, stopping once in a while to receive a greeting, to do small talk, to sign a book. The sign at the door reads: "Romance in the Literary Novel, with Prof. Alicia Geonzon and Ms. Xi Xu Lim."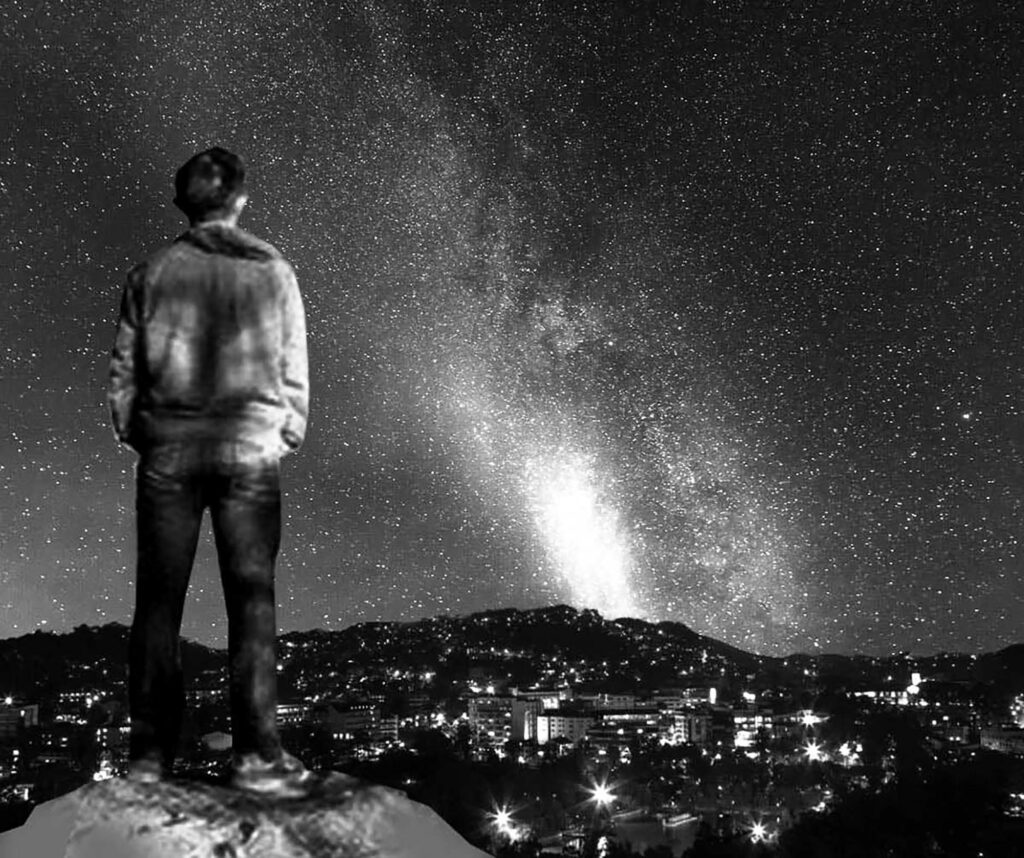 I hurry to the men's room, and find the place almost deserted except for a pair of feet signaling occupancy in one of the cubicles. The tap water feels cold in my hands, and I proceed to wash my face, taking care to let the coolness stay on my skin for a minute longer. I stare into my reflection in the mirror, my wet face an exaggeration of the conflict I feel. Haven't I always imagined what this would be like? But nothing, it seems, prepares anyone for the crude suddenness of things we think we are ready to face. My face is a curious study in anger.
Alicia Geonzon, from Los Angeles via Talisay in Cebu, where she had distant relatives she barely talked to. I would not have met Alicia, truth to tell, had I not asked Angelico to meet me instead at Chong's, the restaurant not too far away from the university we were doing our MFA in—Angelico in Literature, and I in Creative Writing. She was doing her MFA, too, in the same field I was in—but I had never seen her in any of the classes or workshops I took, and I had no idea whether she was a poet, a fictionist or a playwright. I had seen her face occasionally around school, in the English Department for the most part, and I have heard other people call her by her first name—but she had made herself the extreme example of being scarce, ostensibly to have the necessary social distance to finish the creative thesis she had long delayed from completing—and this was her last year. Not finishing, she would later tell me, meant banishment back to Los Angeles—which bothered her immensely, like it was a punishment she could not imagine enduring. It was also my last year, and I was wavering between submitting a short story collection I had already finished—and which a publisher had already considered for its publication pipeline, the title due out in half a year after my prospective graduation—and a novella.
I had always meant that novella to be a short story—but the pages grew, and the characters rebelled against being confined to a narrative that restricted the telling of their complete story. I find that characters in fiction—often to my annoyance—can be quite insistent in marking the progression of their fates. They demand to be heard, the writer merely the transcriber of the story they bring.
But there was something else about the story I was crafting that compelled me from keeping it short. It demanded contemplation. In it, I surrendered to my obsession over abandonment, the entire feeling of it, the organic pain emanating from it. And when the story crossed the number of words to become a long novella, it also became an unlikely treatise on abandoned places.
I've always had a penchant for abandoned places. There's a wistful, ghostly beauty to them, their ruins a mark of the unremembered, and everything about them is soon taken over by nature in a kind of ravaging that is both a picture of destruction and renewal. I have always found that final complexity to be utterly fascinating—and so from here sprung a story that begins in heartbreak, from which the protagonist reels and propels him to take to the road, collecting the sight of abandoned places everywhere. He encounters a veritable parade of cities, malls, theme parks, train stations, power plants, mansions that were once grand but are now reduced to shadows by abandonment.
There's Gulliver's Travels Park in Kawaguchi, Japan, constructed in the shadow of Mount Fuji, opened in 1997, and then closed ten years later—the only traces of it the unmistakable figure of the literary giant sleeping still like a small mountain in a field. There's the distinguished-looking Canfranc Rail Station in Spain with its blue domes, which was part of an international railway route barreling towards France, closed in 1970 after an accident destroyed the nearby bridge and halted permanently the railway links between the two countries. There's Shicheng in China, an ancient city—some say it is more than a thousand years old—which has long since been under water for the past fifty-five years, ever since the hydropower plant working off Xin'an River necessitated the flooding of the vast tract of land the city was built on. There's the Michigan Central Station in Detroit, built between 1912 and 1913, and once touted as the tallest train station in the world—eventually closed in 1988 in reflection of the city's more widespread collapse as a metropolis, falling into rugged disuse despite its ornate design, all restoration plans having failed spectacularly since then.
Then there's Pripyat in the Ukraine, easily the best example of an abandoned city. Pripyat, a thriving industrial city of nearly 50,000, was totally deserted after the nearby nuclear power in Chernobyl imploded into disaster in 1986. Now a city bathed in deadly radiation, it has been left untouched ever since—and prospectively for many more years, thousands perhaps. It is a city of apocalyptic images—houses left bare and now rotting, playgrounds ghostly from disuse, empty streets crawling with ominous silence, and buildings shadowed in the grimness of quick, hurried abandon. But there's a gentleness to its silence, to its ominousness—and everywhere, nature itself has taken over in wild and beautiful abandon, because untouched.
The truth is that, in the final address housing desolation, at the end of abandonment, there is redemption. This is the story I wanted to tell.
"This is your best book yet," Angelico tells me after I give him the manuscript to read.
I catch my breath, but I remain unconvinced, and I abandon the manuscript to the shadows of my desk drawer.
I remember how easy that friendship had been, given how opposite we were. I was more the gregarious sort, and loved the ironic wit of David Foster Wallace and the somber postmodern anger of Jonathan Franzen—and yet when I wrote, I often employed the romantic nihilism of Bret Easton Ellis, transporting borrowed youthful ennui to tropical shores, lambanog nights fueling existential despair. Angelico had no patience for contemporary literature, finding it easier to swim in the poetry of John Donne and Andrew Marvell—and in his thesis, he tried to trace the influences of the metaphysical poets on the romantic writing that flourished in the Philippines at the turn of the 20th century, seeing strong instances of the metaphysical, no matter how belated, from Fernando Maramag to Jose Garcia Villa. It had been a consuming quest for proof for him—and it was all I could do not to be swayed and taken in by the lovely and weary seriousness of his eyes. The pervading quiet he kept about him, even when he was with me, was a gentle addition to his profile.
I breathed a little more easily in Angelico's presence.
"Chong's closes too early," I said when I told him we were meeting at Pepe's instead—because the restaurant was open for 24 hours, and it was easy to lose track of time when you were writing and eating. Angelico said yes. We found Alicia there, her laptop open on the table close to ours, my copy of The Corrections, the bait that drew her in. She said she was trying to write the Filipino equivalent to the book, which would also serve as a corrective to Franzen's excesses—and I was intrigued.
Kindred spirits kindle organic conversation—and I found Alicia fascinating. Her beauty was sharp and beguiling, even dangerous—but she carried it with an easy nonchalance that pared down the threat. The fascination proved equal—more so that we had circled each other in this small city for much too long without having once exchanged a single word. Angelico remained quiet.
And in the months that followed, theirs was the company I kept with a fervor I found equal to a small religion. When Angelico found a long lost poem by Abelardo Subido that was the very shadow of Donne's "The Good Morrow," this became the lynchpin and the basis for the final chapter of his thesis, and we celebrated with wine and steak with the sight of stars in Angelico's patio. When I published a short story in Esquire Philippines, we took to Alicia's car in an impromptu road trip that saw us looking for a sumptuous lunch in a quiet restaurant somewhere in Kabankalan, a town two hours away by bus. When Alicia proclaimed she had finally written the first story for her thesis, we binged on red velvet cake and ice cream and potato chips in Angelico's living room, his sofa, too intimate to contain three bodies slippery with laughter and jubilation.
We never read Alicia's story.
I am not sure it even existed.
And I had no idea he had fallen for her—an accidental discovery I made when I went home to Angelico's, after class dismissed too early, and I discovered Alicia walking around with regal ownership of her naked body, traipsing with such purpose in the living room, casually slurping ice cream from a spoon. When she saw me, she stopped, her nakedness a brazen revelation, and she stared at me. And then she smiled. I did not volunteer a word, even as Angelico walked in on us from the bedroom, also completely naked. "Jesus Christ, Adrian," he said, "you could have texted me you were coming home early."
There was no understanding what I felt then. The feeling seemed alien, and I had no vocabulary to account for its viciousness. It has been four years.
I slip into an empty chair near the back just as the hall begins to fill up.
I pretend to rummage through my bag, my head bent down, hoping no one will take notice of me. There is a shifting around as the audience slowly begin to settle down into their seats. It is a full house, which necessitated the reservation from the night before. Romance in the literary novel—sounding both pedestrian and fascinating at the same time.
Why am I here.
The panelists, says the moderator—a magazine editor known for having jumpstarted chick lit in the country—are well known and need no introduction. "Xi Xu Lim is a novelist from Taiwan," the moderator says, "and has written a series of well-regarded YA novels, all of them New York Times bestsellers, that has made her the Asian equivalent of John Greene." She mentions several titles, and the audience claps with sustained enthusiasm that signals how real that popularity is. "Alicia Geonzon, on the other hand, is the Philippines' own answer to Jonathan Safran Foer," the moderator continues, and I feel my own sharp uptake of breathing. "Her debut novel, The Love Parade, has won the Palanca, has been shortlisted for the Man Asian Literary Prize—and has been published by Penguin Books, and today it remains a classic of the literature of lost love."
The panel is generous and smart, edifying romance as a literary trope as much as they can—given, they say, the intellectual indifference to melodrama. "Perhaps the best way—the most acceptable way—to write romance is with an ironic tone," Alicia says.
The moderator asks her why.
Alicia laughs. "Or else, there is a danger to it being dismissed. The literary world will never forgive sincere sentimentality in fiction."
"I never meant to write love stories," Xi Xu Lim answers a question thrown to her. "I just wanted to relate the intricate dramas of the people I know and encounter in Taipei—and often, the root of their stories is something else. Adoption, for instance. Or a cultural and social divide. But they always seem to come around to this dynamics—two people in love, or finding themselves in love, often against all odds. I can't help it. Maybe I just like love stories." The audience laughs politely, she trails off, and the moderator thanks her.
"I have a question for Prof. Geonzon," I find myself speaking up. I surprise myself with how loud my voice is.
"That's all right, sir. You may ask your question from the microphone in the center of the hall."
I have no plans on going to the center of the hall.
"If you don't mind, I'd rather stay here," I say, my voice even louder.
I sense the audience tittering a bit, and I relax.
The moderator smiles, nods.
Alicia shifts in her seat, and squints her eyes to get a clearer picture of me. She strains to look, and I hope my distance proves insurmountable. But I see no hint of recognition on her face.
"The Love Parade has always fascinated me," I began. "It is the story of loss, of abandonment. And it has proven very popular."
"Yes, it is, and yes, it has," Alicia nods.
Alicia and her dark, abundant hair.
Alicia and her dark, luminous eyes.
Alicia and her lips, and the way she makes such a subtle ceremony in biting them.
I clear my throat.
"How come you've never written anything since then?"
I do not notice Alicia slipping into the chair opposite mine while I try to while away the late hours at Starbucks at Camp John Hay, essentially an easy escape from everything. I have made a mistake in thinking nobody will find me here, too far away from the downtown hotel we were all cooped in. But I wanted to see the evening fog roll in, with a cup of cappuccino in my hand—the way I remembered everything when I was here once, during those days when travel was all I did with Angelico.
She must have been sitting there for some time, staring at me, because she gave a little laugh when I find myself startling at the realization of her presence.
"You're here."
This is all I can say, and I quickly take a sip of the cappuccino.
"You didn't have to ask that question, Adrian."
"I wasn't planning to," I say. "It just happened."
I lie.
"What are you doing here? In this conference? I thought you gave up on fiction a long time ago?" Her questions are quick, and I startle for answers. "What do you do now, anyway?" she asks.
I can feel Alicia's eyes scanning everything about me—the way I comb my hair perhaps or the way I've tucked my shirt into my jeans or the way there are scruffs on the toes of my well-worn shoes.
"I teach," I tell her.
"Still?"
"It's a small private school in Siquijor."
"And you haven't done any writing since?"
I look sharply at her. "Just like you."
She does not expect that, and she turns away.
My breathing by then is deep, slow, and subtle—I do not want Alicia to notice that my heart is fluttering from all these. How the sight of her—so near now—makes the suddenly resurging pain almost unbearable. I feel my bearings abandon me.
There are ways to placate this, I think to myself. 
"I write textbooks," I begin. It is my usual litany—my answer when people wonder about how I've abandoned creative writing. "It pays better. Science stuff…Physics, for the most part, for highschool kids…Electricity, gravity, stars, black holes…I have a whole book series on scientists…Galileo, Edison, Tesla, Rizal, Einstein, Watson, Curie…"
When Alicia looks at me again, I see the old fierceness in her eyes. It brings back the full reckoning of the last time I did see her—not in a restaurant, not in a car, not on the sofa in Angelico's apartment—but the back patio where we had spent too many nights talking about books, talking about writing, talking about love, while we got baked and laughed away the munchies, when we could. The three of us, tight as a peapod—before everything else happened. I play at pretend the longest, but I can mark the day I finally fell apart. It is the easiest thing to do, when all that you want has fallen away from you and nothing else seems to matter anymore.
"I did write The Love Parade, Alicia."
"You gave it to me. You know I needed it."
I smirk. Or she would have kissed her all too important MFA goodbye, I remember only too well.
I remember her imploring eyes, I remember her biting her lips. I remember the small gestures she made to indicate want, desperation. The hearts of lesser men would have been easily captured.
"And you gave it to me, willingly," she said.
Not willingly, I recall sharply. Then everything I see becomes dull and flat, and I find that words have abandoned me. I choose not to say anything, and it takes some moments for me to recollect my thoughts as we bear the silence between us. Around us, the café buzzes on with a constant stream of customers, and outside I can finally see the fog rolling in, wisps of fleeting whiteness that casts a haunting magic to nightfall.
"Can I tell you a story, Alicia?"
This is the only thing I can do.
Alicia looks at me and remains silent. So I begin to tell her the story of Marie Curie. 
It has always been my favorite story about a scientist—but one I've never been able to put in any of the textbooks I have written. Because what is the place of love and longing in science? The heart does not speak in equations. It is a story I keep to myself.
I tell Alicia about how the young Marie Sklodowska met the boy who would love her forever. "This was before she met and married Pierre, and before they galvanized the world with their pioneering research into radioactivity. Before all of that, Marie was once in love with a boy named Kazimierz Żorawski."
Alicia listens.
I continue, trying hard to remember the details of the story. Żorawski was the son of a family Marie was a governess for. They were her distant relatives—but Marie was penniless, and even though they've fallen in love, Żorawski's family firmly opposed their union. And so the boy had no choice but to break off their relationship, in a letter. "This was in 1891, the year Marie finally decided to go to France—and the rest, as we say, is history."
"Why are you telling me this story?"
I lean forward, keeping Alicia in my sight.
"You see, Kazimierz Żorawski went on to become a famous Polish mathematician himself." I pause. "And Marie Curie won the Nobel Prize, two in fact. They soon built a statue of her at the Radium Institute, which she founded—and it is still there today, I think."
I go on. "But what interests me about this story is the fact that, even after Marie had died from the effects of the very radiation she discovered, Żorawski, in his old age, found time over many, many years to sit in front of this statue of Marie, looking at it with deep contemplation. Year after year, he would come and sit and look at it. Imagine that."
I pause again. "I've always found this story memorable. Like a beautiful story about regret, but not really—you know what I mean?" I breathe deep. "And I have always wondered, why did Żorawski do that? Why sit in front of that statue, again and again, to contemplate lost love?"
"Penance, I think," Alicia says slowly.
"Perhaps," I say. "But I think the very heart of what he was doing is just longing."
Alicia looks at me—but I know she does not see.
She has never seen.
And in the last whirlwind of recollection that washes over me, I remember most of all Angelico's face near mine one quiet night, a long time ago, his own request beguiling and heartbreaking, his voice low—and for an instance I thought I could hear his heart beating, and I thought it beat in rhythm with mine. "Please do this," I remember him saying—and so I did. He said other things, too—that he loved her, that she loved him, that her block was too strong, that Los Angeles was too much of an exile, that he could not afford to lose her. She needed this help, he swore—and I was the only one who could help them.
"If anything, do this for me," Angelico said.
I don't remember much else, frankly speaking. But I found it was easy to give up the manuscript I had just finished writing, the one I worked on after publishing my first book. The Love Parade—it seemed like the perfect choice of a title. Soon, Alicia carried its authorship like it had always belonged to her. Alicia Geonzon, MFA. She won accolades for it, too, and eventually literary prestige—and her deception was complete, with my own complicity becoming a battleground deep within me that seethed with so much sense of loss. I have won nothing, and I have given up everything. I've given up other things before. But I have not anticipated the repercussions of this particular surrender—because I soon learned to give up fiction as well. What is the use? Later on, I learned to stay away from everything else. And finally I learned to disappear altogether—away from her, and finally away from him.
Abandonment is easy.
I have not spoken to Angelico since.
I tell Alicia I had to go. That I had to do some research in the privacy of my hotel room before tomorrow's panel on the intricacies of science writing, where I was scheduled to give a paper. She quickly stands, and offers her hand in goodbye. I take it. I don't look back as I exit the café—but I feel her eyes following my progress out the door, and into the cold evening air, the fog gone.
And while I walk under Baguio's night sky, clear as a grudging forgiveness, I think about the vagaries of the things we surrender in the name of love—especially when it is the kind that does not get returned. The stakes, I find, are always high, they scale mountains, they reach into the stars.
What is, after all, the weight of love that is unrequited? I look up and I swear it has the mass of all the stars in the heavens—bright, heavy, pungent with longing. All that longing without a chance for breathing is the black hole of the gravity of our own making. It is a dive into the unknown, into a singularity that demands that these questions be asked without hope for answers—
Where is he now, and does he still think of me?