Seven weeks into the lockdown of Luzon with a bit less than two more weeks of Enhanced Community Quarantine (ECQ) to go and the world looked like it had come uncomfortably close to the fictive realm of several dystopian stories—yet the apocalypse in those novels and short stories is brought about either by alien invasion, a zombie pandemic, nuclear annihilation, global upheavals in the environment, or the gods going crazy.
But nobody could have predicted that one tiny virus invisible to the naked eye, with a relatively low kill rate as microbes go, would shutter the world and change the landscape of it so drastically on a global level.
The Philippines Graphic reached out to five writers for their lockdown stories: Author, politician, radio personality and Malaysia-based teacher Danton Remoto; businessman, speculative fiction editor and writer Dean Francis Alfar; 2017 Nick Joaquin Literary Awards Poet of the Year and jewelry designer Anne Carly Abad; spoken word artist, radio show host and poet Kooky Tuason and; 2016 NJLA Poet of the Year and teacher Mookie Katigbak-Lacuesta.
LOCKDOWN EFFECT
The isolation, anxiety and fear a pandemic brings, along with the sense of isolation from quarantine, can be harder on the mind than the body.
For Danton Remoto, "the emotional effect is that I have to learn how to discipline myself. Like I see some posts saying, 'I do not know how to cook.' I am like, 'hello, so what will you do now, wail?' There are recipes in the internet and YouTube and if you are literate, you can just follow them, right?"
"My father was a military man and he instilled discipline in us, taught us to have spines of steel," he added, quoting his father: "'You will never know when an emergency will come.' This is an emergency situation we have right now. So yes, I am at home, but life never stopped. I have to teach two online classes, supervise the theses of 15 students, manage a school and write my three books."
Remoto takes extra care to stay healthy, and help where he can: "Physically, I have to walk around the hall every day for 15 minutes at least, to stretch my body. Economically, we get paid our usual salary from the university." He said he also sold copies of the Philippine edition of Riverrun "so I can send money home for groups and individuals asking me for donations. I have sold P50,000 worth of my novel and have sent the money home for distribution to the needy (both in cash or rice, plus canned goods). I also sent money to Rock Ed Philippines, run by the indefatigable Gang Badoy-Capati, to make PPE (personal protective equipment) for our medical front-liners."
Most of the effects of this lockdown on Anne Carly Abad, "are emotional in nature," she said. "We had house help before the ECQ. As privileged as this sounds, having our house help with us helped me produce my art. I grew up in a family where the men never did housework. That made me fear for my future as a woman, because I could never work on my art back then without being seen as lazy (read: 'Shouldn't you be mopping the floor, or something?')."
The day dawned that Abad's kasambahays also had to be with their families, and "when our helpers could no longer come in, I have to be honest, that did happen in my family. We degenerated into that same status quo that I so feared when I was young. But we're working on it."
Mookie Katigbak-Lacuesta said that "emotionally, I'm fearful and paranoid (which are useful in emergency situations). It's also easy to eat one's feelings—fear and paranoia lend themselves wonderfully to carbs and tinned meat."
Dean Francis Alfar, meanwhile said "we are a family unit with our share of anxiety, ADHD (attention deficit hyperactivity disorder), and depression. Apart from making sure that the prescription medicines are sourced, we help each other cope with a balance of conversation and silences, activity and rest."
He also said that "we all miss our other family members and friends. We are lucky to have each other here and now, and we electronically bridge the distance between us and our faraway loves. I exercise regularly to harvest the happy chemicals and stay as fit as I can. Economically, we are living on savings as income has become strained."
"I lost weight," Kooky Tuason said, laughing in her email reply with a "haha" when asked how the ECQ affected her.
REAL DIFFICULTIES
Wrestling with unwanted changes and a lack of control over the environment one is in can be mentally taxing, so working on what one can control is key.
"Dealing with grief is the most challenging aspect of the ECQ for me. Grief over the loss of what I knew. Grief over the loss of financial stability. Grief over the lost world," Alfar said. "Coming to terms with this, and finding my way towards acceptance of a whole new level of uncertainty has been hard. Moving past grief is impossible right now; I am in the thick of it. My mind is slower and the world outside is threatening. But I will get to that point. I have to. We all do. The world has changed."
For Abad, "the difficulties are mostly domestic in nature, as we're trying to navigate a better way to do things at home. I want to raise my son without these assumptions that women are in charge of the home. That's proving to be harder than I thought during lockdown."
"The worst," Remoto chimed in, "is that you have no one to talk to. That is why I love talking to my students once a week, my sister, and my partner. They save me from talking to myself 24/7."
"Really, for now, the inability to imagine a world where this is all over and the kids are all alright," poses difficulties for Katigbak-Lacuesta. "It's not that I'm not hopeful, I just can't guess at what the future holds."
"Running out of food and having to risk going out," are Tuason's main concerns. "Also other possible sources of cash flow." So she takes these "one day at a time."
HEADSPACE
One of the challenges in this ECQ is dealing with one's mental and physical health given the surrealism of this very real situation humanity finds itself in.
Katigbak-Lacuesta said that her headspace, "varies from day to day. There are hopeful days, and days when I know I should be trying harder. I feel like locals from post-lockdown countries—parks and streets and old haunts brightly call to you, but you know COVID cases are likely to spike after lockdowns are over. Knowing this, what do you do? Every day is full of precarious choices."
"I've been chronically anxious since this thing began," Abad said—she used to suffer from asthma. "I couldn't sleep for the most part, and then I read somewhere that a lot of people were experiencing the same thing, being unable to sleep 'til witching hour strikes. It started getting better. I've been able to fall asleep because I got used to being unable to go out. And that scared me even more."
For Alfar, "the realities of the ECQ have hit all of us hard, necessitating tremendous adjustments to the new reality." He added that "the days feel like they have blurred into each other, and my sense of time has become affected. Pushing toward 50 days of our common situation, it continues to be a negotiation between hoping that things will end soon and accepting the fact that this will last longer than we think. For me, it is matter of maintaining the physical, mental, and emotional health of my family and myself."
Remoto said he is "all right because I am used to working from home. I just had to learn Microsoft Teams which is the preferred mode of online teaching in my school, the University of Nottingham in Malaysia."
He teaches two subjects, and supervises "undergraduate and postgraduate theses as well. I also have to attend administrative meetings twice a week and do consultation with students Microsoft Teams three times a week."
Tuason said she is an introvert, so "I'm in my natural habitat. I keep myself preoccupied with creative work."
IN THEIR HEADS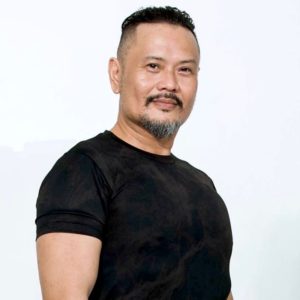 For Alfar, the simple act of going out for replenishing supplies is already something that requires mental preparation. "My primary concern is the health of my small family," he said. "My wife and daughters are consistently exposed to me after I return from sourcing food, medicines, and other supplies."
"I am constantly worried that I will bring back the virus to them," Alfar said. "I do my best to minimize outside contact, but it is impossible to completely do so. We order what we can online, but I gather the rest of what we need from the outside." What he does to ease his anxiety over this is to "follow quarantine protocols for safety."
Alfar added that "work is my other big concern. Adjusting to 100% work from home for all of my employees and managing the projects and accounts of my design agency has presented its own set of challenges. We do what we can to ensure the survival of the business."
Remoto's focus shifts outside his person: "My main concern is what mode of teaching we will be using. As Head of School, if we are going to use online or blended teaching, we have to be prepared in terms of technology."
"My other concern is that the publication of my book, Riverrun, A Novel, has been postponed by Penguin Random House because of supply-chain issues. My original launching dates in the Philippines, Singapore, Malaysia and the United Kingdom have been postponed," Remoto said. "We do not know yet if we can launch, but we already booked a booth at the Manila International Book Fair on the 3rd week of September 2020."
On a more personal note, Remoto said he "got accepted at a major writing residency in the USA, one of the two toughest in that country, and they are giving me free airfare, but it has been postponed as well."
Katigbak-Lacuesta set out her points of focus: "I have three main ones: How to stay alive, how to make sure my family and I are still able to sustain the families of the people whose livelihoods we are responsible for, and how to keep things 'normal' for my nine-year-old son, whose questions about mortality, and whose heightened fears keep both of us up at night."
"I'm dealing with the first two concerns deliberately and straightforwardly," she added. "With the third concern, I have to be a little more creative and keep things light. I feel like a magician who has to misdirect my son's attention, or a politician who answers big questions glancingly. Processing [the experiences under lockdown] is something we can do together at a later time."
"A part of me wanted to believe that I could trust the government to plan something out despite being reactive. But the days dragged by and we never heard anything beyond the prohibition to get out of the house," Abad said. "I waited and waited, and there was nothing more ever heard from [my] barangay nor the Quezon City Government. The nothingness is my main concern because now I know we are being governed by a system that knows only to prohibit and inhibit. It has no creativity, no problem solving capability, and no intention to change."
So Abad has taken to addressing the matters she can: "I've been working with industry partners in using our 3D printing capabilities to make face shields for the front-liners. We used those machines for making fine jewelry, which is my small business as a sole proprietor. Now we're using them to help instead of waiting for something to happen."
LITERARY LIFELINE
Literature is a comfort to people who love reading and serves as tool for catharsis among writers. It is an anchor in uncertain times.
"I read poetry to bring me back to myself," Katigbak-Lacuesta said. "I write poetry to keep me sane." This oft-repeated writer's mantra takes on a new dimension amid the social isolation of COVID-19's global spread, and in the toll of lives the pandemic has taken. Sanity is a precious thing, even more so now.
For Remoto, the lockdown has not slowed down his work as a writer, teacher, and columnist.
"I write a lot. I am writing my second novel. Penguin Books has commissioned me to translate Banaag at Sikat, a novel by Lope K. Santos, and Far Eastern University Publishing House has commissioned me to translate the ambahan poems of Quintin Pastrana into Filipino," Remoto said. "I also have a daily podcast called 'Remoto Control' that I post on www.dantonremoto.com, and I write a weekly column for the Philippine STAR."
"Poetry and fiction have been my friends in finding meaning in all this," Abad said. "Despite how people laugh at the idea that the earth is healing, it's an idea I've been avidly exploring since the pandemic. In what ways can something as massive as a planet 'heal', anyway? It's got all the potential for a fantasy or science fiction piece, if you ask me. Imagining a sci-fi future during the current apocalypse helps me cope with all the doomsday gloom."
Tuason uses literature to cope "by writing. I'm also catching up on my reading." She is also "organizing my bookshelves, setting a date to read and re-read titles that speak to me."
"Literature offers us multiple comforts," Alfar noted. "During the ECQ, we read for entertainment to keep our hopes up and escape for a brief span of time. We read to keep abreast of the developing health situation nationally and around the world. We tell each other stories, recovering memories of better days. I keep a sporadic journal to help maintain my sanity. I am nowhere as productive as I usually am, creative-wise, but I accept that I am dealing with these unexpected circumstances at my own pace."
A shared load is a burden made lighter, and literature is one way for people to share the load of COVID-19's immense global burden.
PENS DOWN
"I've been creating jewelry designs to produce when things do normalize," Abad said. She also explained her strategy: "Ever since the lockdown, I've been swamped with child care, cooking, cleaning, and laundry work, that I barely had time to make any art. So now I make it a point to have at least one or two hours for me to maintain the sharpness of my mind and my pencils."
"To cope, we've poured ourselves into our household chores, taking pleasure in cooking all sorts of dishes with what we have in our pantry. Laundry has become a family affair. We maintain the cleanliness of our home," Alfar said.
"We all agree on the importance of routine in these trying times, so we put up a schedule for regular housekeeping and maintenance," his explanation comes with a practicality many people don't often credit writers with. "We also have a lot of individual space—we give each other room to breathe or zone out or sleep, before we gather together to play games or watch anime. We sing and dance. We pray."
Katigbak-Lacuesta deals with the realities of the ECQ head on: "I throw myself headlong into my work and try new things with my son, and watch movies and have drinks with my husband."
For Remoto, the mundane and the escapist mix very well: "I read fiction, since fiction transports me to other places and makes me inhabit other people's minds. I also cook since I do not have a housekeeper in Malaysia. I do my weekly grocery in the supermarket at the ground floor of my condominium unit in Kuala Lumpur. And on weekends, I clean the house. I also call up my sister with Down's Syndrome; she is based in Bulacan. Lastly, I talk to my partner, James, who lives in Cebu."
WRITERLY INSIGHTS
One other thing that the world gains from its writers are insights into things the rest of the world is too busy to examine closely.
"We can survive anything," Remoto said. "William Faulkner, in his Nobel Prize acceptance speech, was right."
"We are stronger than we think we are," Alfar mused. "Family truly is everything. There is a lot of material things that we really don't need. And love and longing are powerful forces."
"The very first insight I've drawn is that we are not beyond Earth," Abad said. "Despite space travel and trans-humanism, the elements that make up our bodies are deeply tied to the Mother."
Katigbak-Lacuesta, meanwhile, feels "the project isn't over, so it isn't time for a post-mortem yet. Maybe, for now, there's no such thing as being too safe, or too careful, or too extra."
Tuason's insights inform her decisions: "To make the most out of life, to make every second count. Also to take a break. It's good for the soul, the psyche and the body. It is also important to share what you can even with the little that you have."
PREPARING TO EMERGE
As surely as COVID-19 has changed the landscape, the pandemic has also changed how people think and feel—and possibly how the social fabric of humanity is woven.
"We are just living by the day," Abad said. "We're more focused now on surviving and helping others survive this thing. I can't quite see life after ECQ."
Katigbak-Lacuesta said she is making preparations "by taking things one day at a time, and making a deliberate effort to live each day as fully as I can, even if we're constantly derailed by news, political gas-lighting, fear, and inhumanity."
"Businesswise, we have to find ways to pivot and adapt to the new reality," Alfar said. "Otherwise, we will close shop, which is an unacceptable scenario for me."
He also expects that "school will be different as well, requiring adjustments. How we will push on not just to survive but to live happy lives—all of that is a work in progress."
Zooming into his home, Alfar added: "Here, within our isolated cell, we already have the seeds. We will make through to the other side, and once there, we will find ways to thrive."
Remoto takes a more systematic and pragmatic approach: "I have listed down the needs of the school for online or blended teaching. I have emailed the airlines whose tickets I had to rebook [I already have tickets for the Philippines, the UK and the USA]. I have prepared a schedule of walking and going to the gym since I gained pounds from being locked in."
He also said "I am definitely preparing for the multi-country book launching of Riverrun, A Novel. Advance reviews have been good. Bookriot.com, the largest independent platform for the book publishing industry in the USA, has called my novel 'one of the 5 most anticipated books by an Asian author for 2020.' For that, I am grateful."
Tuason's preparation is short and sweet: "To adapt and improvise along the way."