I'm assured that the provisions you are sending will have a hard time getting through, even in a crate," wrote the journalist Colette to her friend, the writer Renée Hamon. It was November 16, 1940, mere months into the Nazi occupation of Paris. "Risk one anyway," wrote the author. "And declare its contents on the outside of the package."
It's not a stretch to recall the context.
Decades from now, future historians will study the COVID-19 pandemic inside the parenthesis of 21st century outbreaks. An epidemic of indifference and bad leadership across nations, a plague of conceit that took over the world, until it could no longer support the illusion that we could live so large in perpetuity without any consequences. Here at home, as the Philippine government slides into half a year of pandemic-induced lockdown, businesses scramble to stay afloat, households worry over lost jobs and income, and communities struggle to pick away at the claustrophobia of isolation.
But we cope. Because some of us can, and because most of us must.
Somehow, in the middle of everything, scrolling through your social media feed you will likely see a cornucopia of treats for sale: cookies, pastries, cronuts. There are different kinds of bread to choose from, alongside a variety of home-cooked meals: crispy adobo flakes, atsara, kaldereta, corned beef sinigang, Roman carbonara.
Who makes them? Restaurants and cafes, yes, that have migrated online with the decline of dine-in, but also home cooks and amateur bakers. For the curious, it raises a question: why are there so many different kinds of food, by so many different online shops and pages, being sold in the middle of a worldwide pandemic?
In the Filipino household, oftentimes mum's word is often the word, the opening balm and prelude to the world of herbs and spices.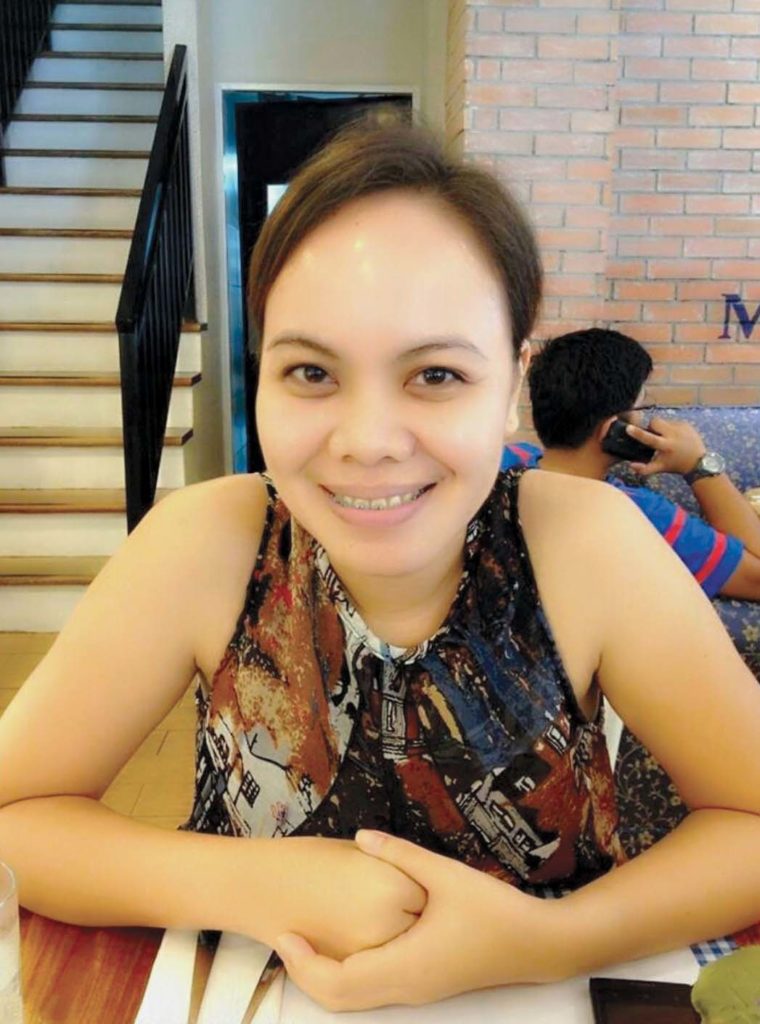 She Sells Desserts sells just that: desserts. On its Facebook page, the menu includes ube cheese pandesal, cheese rolls, and gorgeous cheesecakes. Shelley Francisco, a mother of two teenagers and an avid baker who works with local and international development NGOs, runs the page.
Why does Shelley love baking? Well, she said, to begin with she didn't have much choice. "Women often learn how to cook from their mothers," said Shelley, whose mom had a Betty Crocker cookbook inherited from an aunt. Little Shelley would help out in the kitchen, doing simple tasks at first. She began with "preparing ingredients, cutting the flour." Eventually she came to like baking. "You want to play with your sisters. It feels good when you create something."
Like Shelley, Nida Muella learned how to cook from her mother, though in her case it was less active instruction and more curious observation. "I've always liked cooking. I'd learn by watching someone else cook." During a visit to her in-laws in Guinobotan, Albay, Nida learned how to make laing by watching her husband's siblings prepare the dish for sale in the local market. When she went back home to her family in Quezon City, where her husband found work as a driver, she tried to make some herself.
The results were a hit. Even her son's friends loved it. "Whenever my son Julius invites visitors over," said Nida, "they always look for my laing."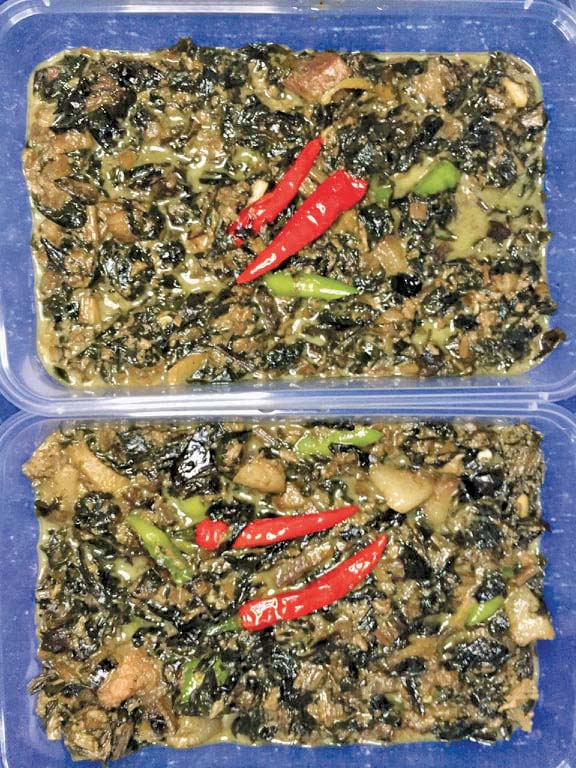 Shelley and her family have been fortunate enough to remain largely unscathed by the pandemic, but quarantine hasn't been a picnic for them either. They disinfect everything brought in from the outside; groceries have to be washed thoroughly. That's how she started baking during the pandemic. Instead of buying pandesal from the outside, she thought, why not bake some of their own? The idea for She Sells Desserts came soon after.
Sometimes Shelley gets a lot of orders at once. One time, she had to spend 12 hours in the kitchen. "Ganache especially is hard to do." Still, baking remains a stress-reliever, a welcome distraction from the fears and anxieties of the pandemic.
Data from the Philippine Statistics Authority shows unemployment in the Filipino labor force rose to a record high of 17.7% in April 2020, as a result of COVID-19—up from 5.3% in January of the same year. A national Social Weather Station poll held in August revealed 45.5% of Filipinos describe themselves as jobless. It's a grim statistic, one that includes several of Nida's family members.
"We no longer had enough for our daily needs," said Nida. To make up for lost income, Nida got the family together to think of possible businesses, ones that wouldn't require face-to-face interaction with customers. It was her son, Julius, who came up with The Weekend Kusina by Nanay Nida brand.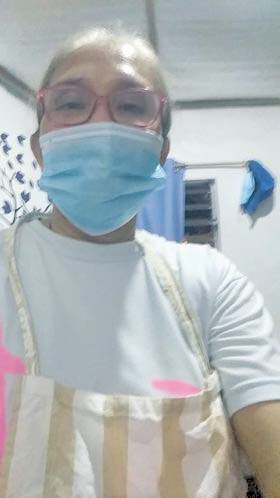 The business sells laing and biko. Nida's mother loved biko, particularly during holidays and fiestas, a fondness she passed on to her daughter. It's a family enterprise: Nida does the cooking and her son takes care of everything online. The first orders came from Julius' church friends, then his officemates, then their neighbors. Today, they get requests from people they barely know. If the orders come from nearby, the customers can pick up the food themselves. Otherwise, the order arrives via courier.
They get orders for birthdays. They sell up to 30 tubs each of laing and biko a week, enough to tide the family over. "Just having the extra money to buy more rice is a big help," said Nida.
If the pandemic never happened, would she have ever started her business? Probably not, said Nida. Her son would be back in the office, too far away to help his mother out with online transactions.
Food takes more importance in times of crisis. It's a lesson the novelist Kurt Vonnegut learned from his experience as a soldier fighting in Germany during World War II. Telling the story of three American P.O.W.s sharing recipes as they combed the ruins of firebombed Dresden, Vonnegut, once a prisoner of war himself, wrote: "Food was the only thing on the P.O.W's pale level of existence that could have any effect on their spirits."
For an establishment that's been around for more than 30 years, Baguio's Café by the Ruins has long been familiar with disruption and calamity. There was the 1990 quake, Typhoons Pepeng and Ondoy in 2009, and, more recently, a fire.
Feliz Perez's mother founded the Café with her friends in the late 80's. Today it is Feliz who manages the place. Though she learned how to cook at a later age, she absorbed tons of insights from her mother and extended friends and family, just by hanging out and being a part of the Cafe.
One of Feliz's earliest memories consists of running around evacuation centers, cans of milk in hand, looking for families rendered homeless by the 1990 Luzon earthquake. The Café had become a soup kitchen in the quake's aftermath. "Being in Baguio," she said, "there's a lot of uncertainty involved."
In 2017, the Café's old cogon roof caught fire. Flames burned through the entire top half of the building. The blaze left behind a burnt-out husk, with sagging walls, blackened wood, and sunlight peeking through a collapsed ceiling. That the ground floor escaped mostly unharmed was a painful consolation. Still, no one was hurt, and nothing was destroyed that couldn't be rebuilt.
Residents from a nearby village came by with sacks of rice and vegetables for her family. The neighbors remembered receiving meals from the Café when their homes were struck down by Pepeng and Ondoy years ago. It was now their turn to return the love. "Just the fact that they came," said Feliz, "really showed us we were part of the community."
Café by the Ruins reopened a year after the fire. The revamped restaurant hosted a modern new look, with arching windows and graceful walkways while keeping much of what survived from the old ruins intact. It was a fresh start.
Then COVID-19 arrived.
According to the Department of Trade and Industry (DTI), in 2018 there were 998,342 Micro, Small, and Medium Enterprises (MSMEs) operating in the country, comprising 99.52% of all business enterprises in the Philippines. MSMEs employ 5.7 million people, comprising around 63% of the country's employment. Of the jobs generated by MSMEs, nearly a million fall under the category of accommodation and food service activities.
How have MSMEs been doing? According to DTI Secretary Ramon Lopez, over half, or 52.66%, have stopped operations as of April 29. How many will recover? It's too early to tell, but right now the answer looks grim.
Two years after the fire, Café by the Ruins felt like it had caught up with its restoration expenses. But the pandemic dealt the business a body blow. Even with dine-in services operating at 50% capacity, the Cafe's second branch still had to be shut down. They've had to let go of employees, including some who had been working with them over 20 years.
Have they turned into a soup kitchen again because of COVID-19? Feliz shakes her head. No. After Typhoon Pepeng in 2009, even the horrific 1990 earthquake, their situation remained stable enough to devote time and resources to help out others. Now, she says, it's a mighty struggle just to keep Café by the Ruins afloat—a feeling many other restaurants identify with.
Near the corner of Tomas Morato and Sct. De Guia in Quezon City is another gorgeous café adorned with tiles and wooden beams, serving sumptuous crepes and coffee. The place is just one of Café Breton's ten branches, its sister restaurants scattered around Metro Manila.
How has Café Breton fared in the age of COVID-19? Trying to stay alive, according to co-owner Mariela Luna. It's been tough, and in particular, she said, the recent two-week reimposition of MECQ set them back by a lot. They had managed to slowly recover, but the new lockdown was just too much. "We tried to stay open during MECQ, but after three days we had to give up."
Customers are even more afraid to go out now compared to before. And Café Breton relies a lot on dine-in service.
Some restaurants have had a smoother transition from dine-in to delivery and take-out. Others? Not so much. Ambience and conversation are as much a part of the Café Breton experience as the food, and one reason they couldn't last through the second MECQ, said Mariela, "is because there was no one going out to take home crepes in a box."
Café Breton is responsible for 400 or so employees, all regular. So far none have been laid off. It's one reason why Café Breton is trying its best to avoid completely shutting down any branch, because once one closes down, people will have to be let go. But unless things start to change, and soon, said Mariela, "we're going to have to start calculating for separation pay."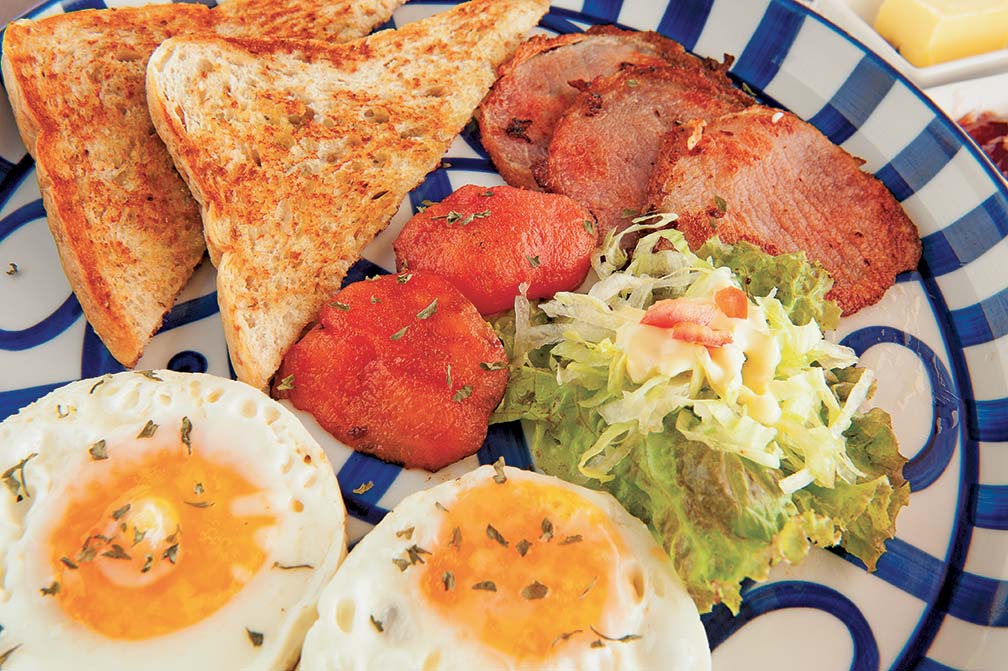 Something that has helped Café Breton out, despite their long resistance to take-out, is neater packaging. They don't print any fancy designs, or plastic bags, but they make sure to wrap the order in foil, to make it easier for customers to reheat the food at home.
In Baguio, Café by the Ruins is trying a different approach. Apart from cooked meals, they plan to sell pre-packed ingredients with guidance attached, so customers can try preparing the order themselves. "Kinda helping people cook at home, but making it simpler," said Feliz.
What has been giving Café Breton more of a problem is the lack of public transport. For a while, they hesitated to reopen simply because they didn't know if people could get to work; neither could they generate enough sales to sustain a shuttle system. Ultimately, in the absence of sufficient government intervention, it was the staff who took the initiative. Some organized carpools, others rode motorcycles. Many had bicycles. Though it's hard to give an exact number, according to Mariela, "I'd say half our staff get to work via bike."
Surprisingly, neither Cafe Breton nor Cafe by the Ruins had much trouble sourcing ingredients. It's a light bulb moment: most of what the two restaurants need come from local markets. And there's more.
"Even during the lockdown, cargo planes didn't stop," said Mariela. In fact, looking for suppliers now is easier than before. Café Breton is part of Resto PH, a group of restaurants that have banded together to weather the pandemic. Everybody shares contacts. It's a pleasant surprise, and a profound lesson to be considered when competitors help each other out during a crisis.
What happens during disasters? If you watch movies, it's the riot, the mob, and venal acts that define human conduct. But the writer Rebecca Solnit disagrees.
Years of study have shown her that disasters, more often than not, produce hope, generosity, and solidarity—responses otherwise suppressed by normal selfish society, as people try to help their neighbors withstand whatever storm they find themselves in.
"Disasters provide an extraordinary window into social desire and possibility," Solnit wrote, "and what manifests there matters elsewhere, in ordinary times and other extraordinary times… the door to this era's potential paradise is in hell."
People who sell food online form a diverse lot. They may be completely new to business. They may have had an entrepreneurial streak all their lives. They range in age from teenagers to senior citizens, from single adults to dads and moms. There are trained chefs, family cooks, and complete kitchen novices.
What is it that people like about running a food business? Additional income is always welcome, of course, whether it's just a little extra on the side, or when it helps pay for all the bills by the end of month. But there is also something more that binds everyone interviewed for this article, a feeling they hold in common.
The celebrated food scholar Michael Pollan reminds us that in ancient Greece, the word for cook, butcher, and priest was the same: mageiros, which shares etymological roots with the word magic. Cooking is an act of awesome creation, whose outcome fills the belly, while at the same time soothing the mind when what is offered is received with joy. It is what keeps people going, enough to break through the long nights of this crisis and re-emerge with hearts ready for more.