His mother remembers with fondness where she got the name for her only son.
"It's a favorite name of mine. Sa lahat ng tula ko noon na sinusulat, nandoon ang karakter ni Julian [in all the poems I used to write before, there was always the character of Julian] from the movie Julian Makabayan. And his father, Mike, wanted his son to carry his name, too," said award-winning Philippine Daily Inquirer photographer Joan Bondoc.
And so on the day of his birth, on the 1st of December 1998, the healthy baby boy of Joan and photojournalist Mike Alquinto was named Julian Miguel Bondoc Alquinto.
PATRIOTIC
Julian Makabayan is a 1979 movie directed by the late Celso Ad. Castillo. It dealt with peasant unrest, centering on a man who led his fellow peasants to fight against their exploitative landlord. The movie's theme song was a favorite in the Bondoc-Alquinto household.
This sense of sacrifice and commitment to serve the people was bred early in the mind of Julian. It is a sentiment continuously reflected in his poems, that he started crafting at age nine.
His mother recalled a time in 2011 when then 13-year-old Julian was asked by Inquirer editor Chelo Banal to write a poem for Teachers' Day.
"Nasa photo room noon si Julian, kasama ako. Nakita siya ni Ma'm Chelo at tinanong siya kung kaya nya gumawa ng tula para sa teacher. Nagsulat siya kaagad at sinubmit kay Ma'm Chelo [He was in the photo room. Ms. Chelo Banal asked him if he knew how to make a poem. He did at once and submitted it to Ms. Chelo]."
The poem got published in the Inquirer's Learning page on Oct. 3, 2011: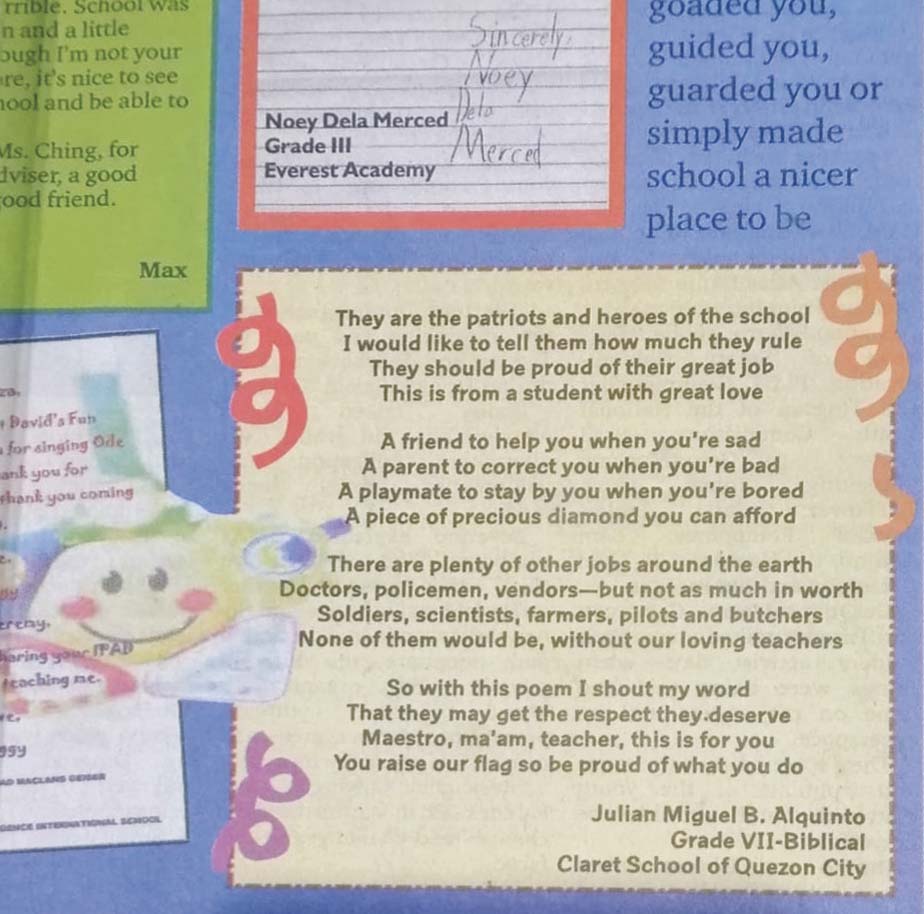 The following year, on March 11, 2012, at age 14, one of Julian's essays was published in the Junior Inquirer: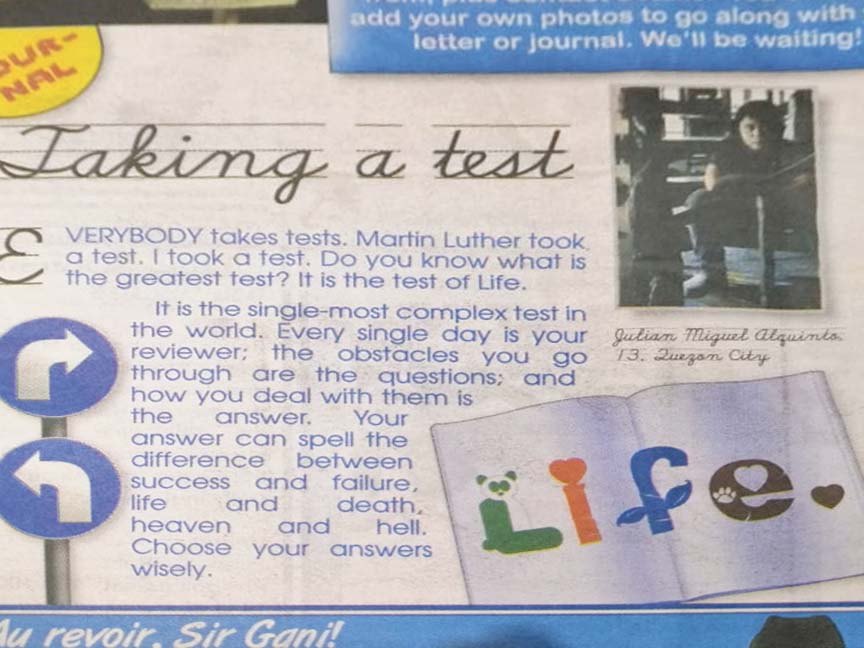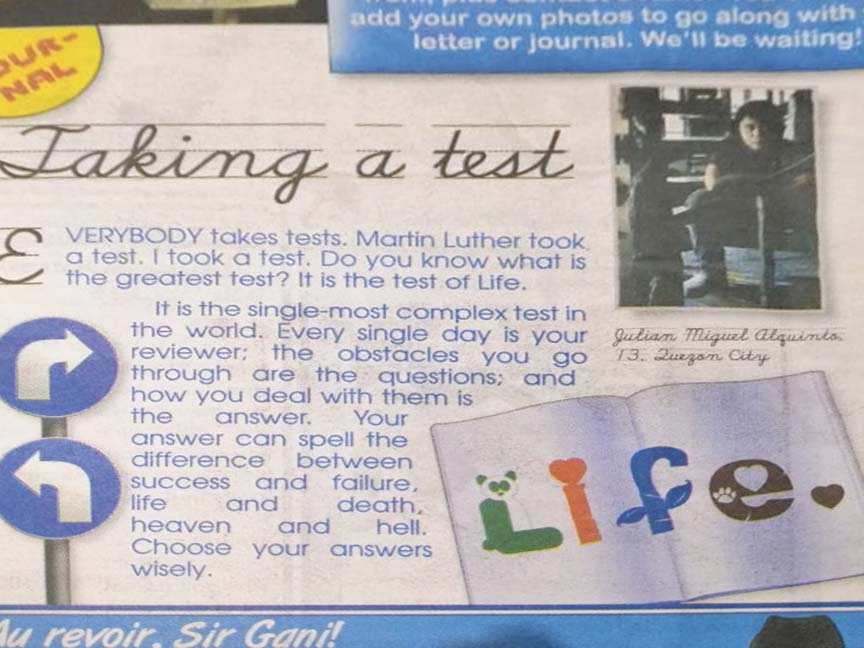 By age 21, Julian had become a consistent champion at the on-the-spot poetry writing contests of the Children's Museum Library, Inc. (CMLI)
He was declared CMLI Champion in its Poetry Writing in English Division in 2014, 2015, and 2016.
Writing poetry would remain a dominant facet of his life in his elementary years at the Claret Schoool in Quezon City and during high school at the School of St. Anthony, also in Q.C., where he became writer and associate editor of their school paper, Sapientia Et Virtus.
NOCTURNAL JUNGLE
Julian regularly contributes as a columnist to the young blood section of the Philippine Daily Inquirer's INQ.net.
One of his essays, Nocturnal Jungle, got included in the seventh edition of the "Young Blood" book that came out on June 27, 2017. Below is an excerpt of the essay:
"Have you ever wanted something so much you were willing to shed blood just for a chance? Have you ever loved something so much you were willing to sacrifice your heart just for a shred of hope? Have you ever shouted to the heavens, tears flowing down your face, begging for a strand of light to comfort you through the night?"
I have. The city noise, each clangorous vibration, is oh so familiar. Surrounded by all these sounds, I hear the sweet melody of the world. I find the rhythm of the universe. I find my inner peace."
HIP-HOP, RAP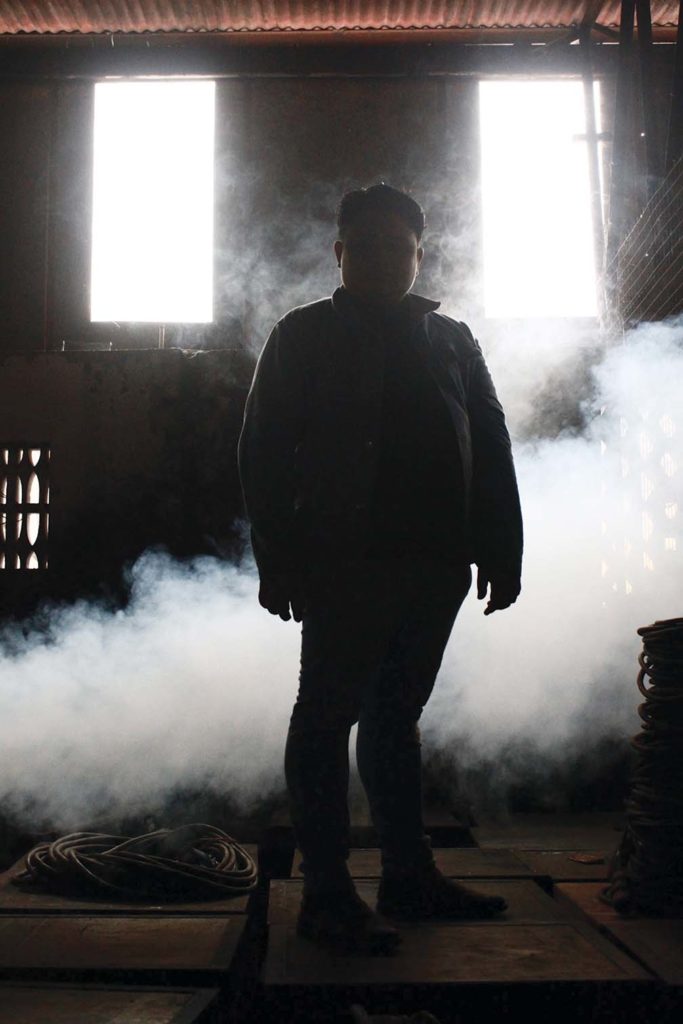 These days, Julian has opened another dimension to his writing. He earns the respect of peers and artists for his adept use of metaphors and verses by way of hip-hop and rap.
He said his exposure to rapper Eminem when he turned 9, started him on his musical journey, listening to Shanti Dope, Gloc 9, Al James, Because, and Waiian.
Julian uses technology to his advantage, experimenting with his poetry and with free beats on the Internet, creating his original compositions.
He has three songs released on Youtube from 20 original recorded songs that he has written through the years. Most of his songs deal with the feelings of his generation, a reflection of anxieties and unanswered questions of the young.
Going by the name of "Kid Andromeda," Julian spent his time during the lockdown by composing, producing, and releasing the "Out of Place" lyric-video with the help of some friends from The Factory Records.
"Blues of the Night," written just three weeks ago, deals with how youths cope with the present pandemic.
Collaborating with him on his first music video is Direk Melvin Dave Jordan, a school mate from UST.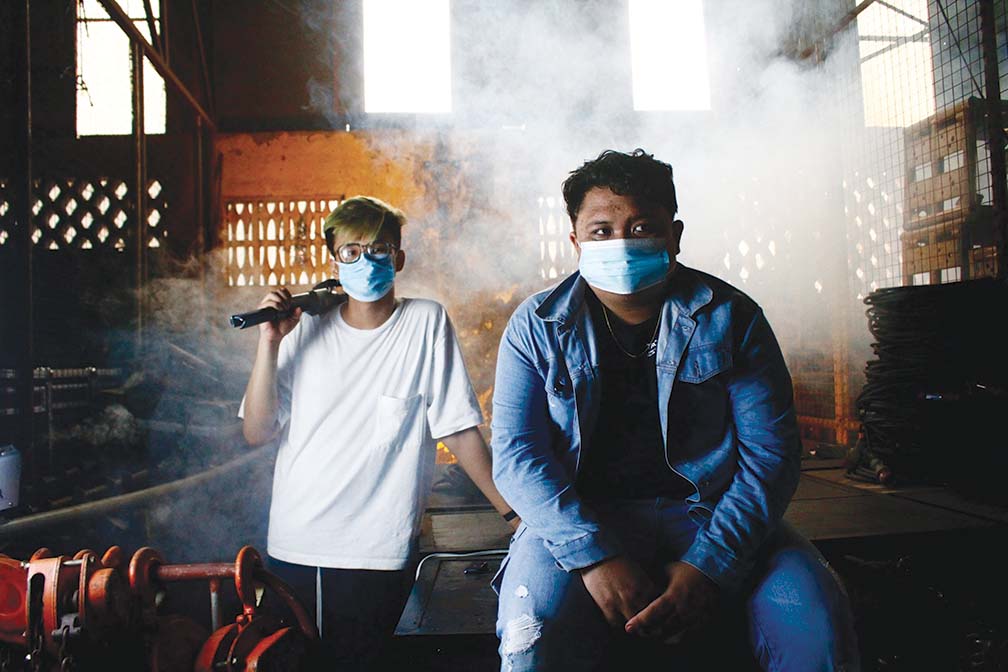 Julian said that with the easing of the lockdown to GCQ he hopes there will be more online gigs to promote his music.
"Pagka po medyo nagluwag na lahat, para ho ma-promote yung album kahit sa mga online gigs [When things ease up a bit, maybe I can promote the album even by way of online gigs]," he said during a break in the shooting of his MTV in one of the warehouses along FEMA Road in Caloocan City.
With smoke billowing in the background Julian stood up for the final scene, on a stage of lights and sound equipment, he is silhouetted like a hero in a movie that will save the world.