At 6-foot-2, Ernest John "EJ" Obiena could have been hitting hoops like any other Filipino his height.
But thanks to his parents, track and field athletes Emerson and Jaenette, EJ is out there in the field brandishing a 5.2-meter fiberglass pole and clearing heights close to two stories high.
EJ grew up seeing his father excel as a pole vaulter. In 1995, the elder Obiena took home the silver medal for pole vaulting at the Southeast Asian Games. He won a bronze in the 2005 SEAG.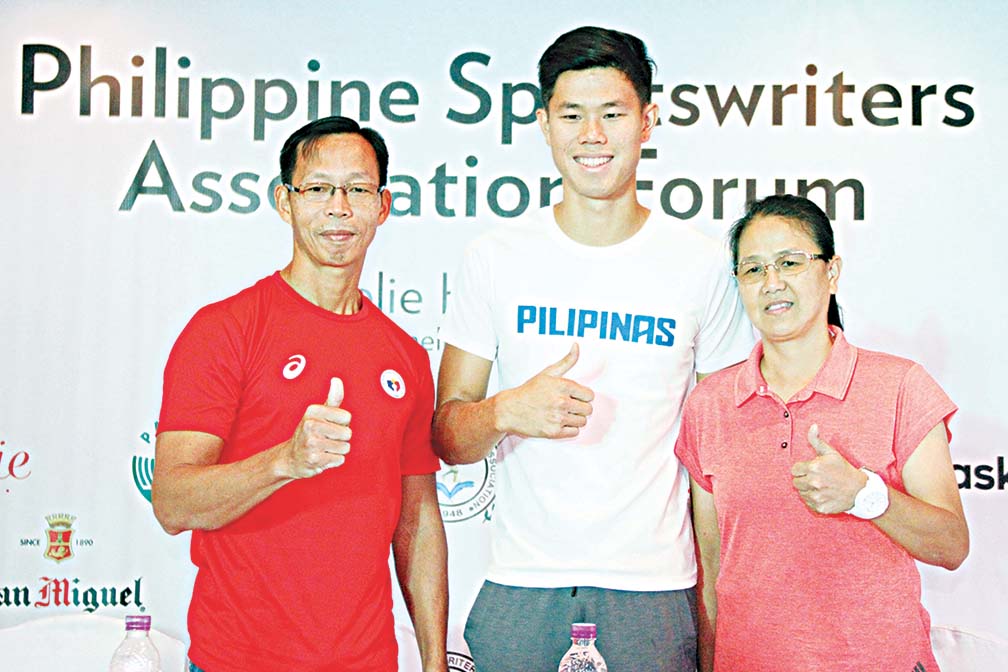 A long-time member of the national athletics team, Emerson first bagged silver medals at the Singapore 1993 SEAG and Brunei 1999 SEAG.
"My son has really sacrificed a lot ever since he started his Olympic qualifying quest and that's even before the 2019 SEA Games," said Emerson.
NEED TO BE BETTER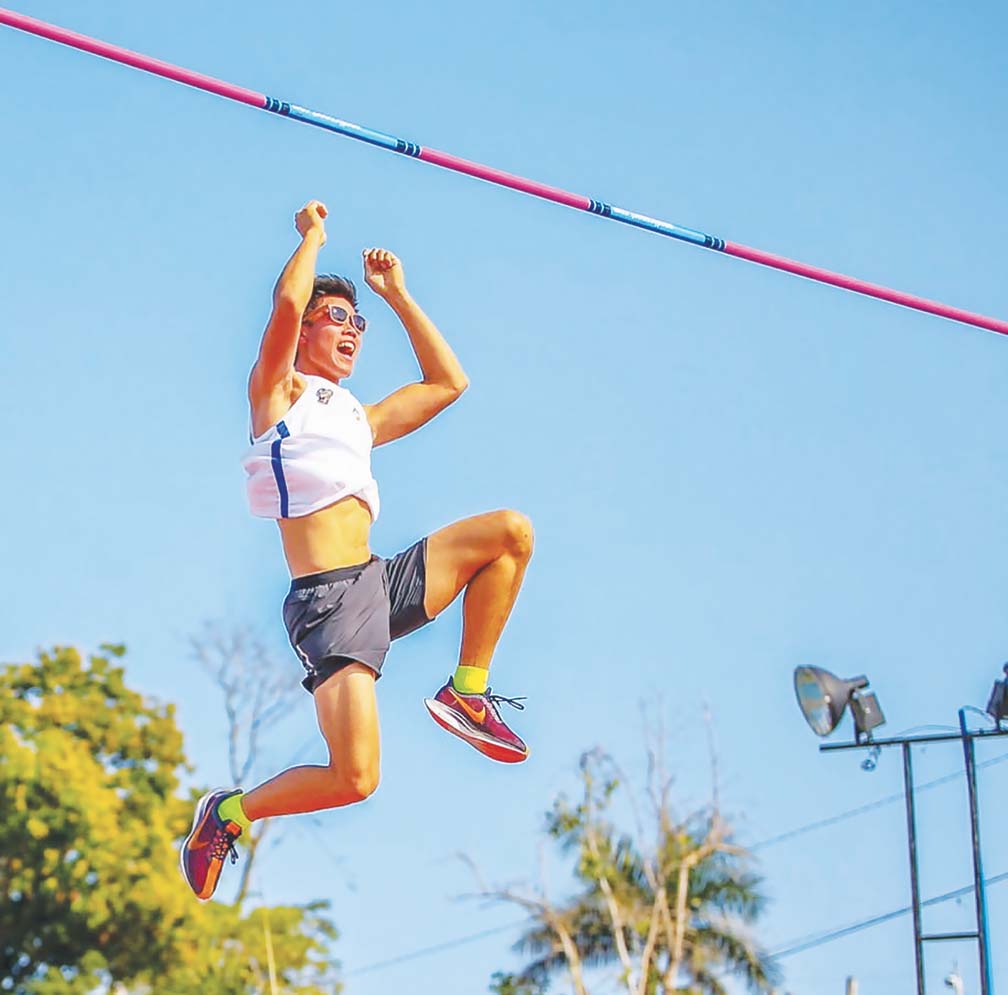 Come July 31, EJ would be bringing his pole vaulting act to the National Stadium in Tokyo where the athletics competitions of the XXXII Olympiad are set.
For this 25-year-old, Summit brand ambassador pole vaulter, the Tokyo Olympics will be the grandest stage he will be on. And his mind and heart are locked in.
As a brand ambassador of Summit, EJ is one in a long line of Olympic athletes whose training and hydration was supported by Summit Natural Drinking Water.
"I need to be better at the Olympics," EJ told the Philippines Graphic. "That's what I am aiming for, that's what I have trained for—and that's what I want to do."
EJ is one of 19 Filipino athletes who qualified for the Tokyo Olympics—the most unique edition of the quadrennial games, engulfing even the Berlin 1936 edition that was sandwiched by two World Wars and the boycott-marred Moscow 1980 and Los Angeles 1994 Olympics.
The COVID-19 pandemic made lives difficult for the entire world and the Tokyo Olympics is not exempt with the hosts digging deep and expanding wide on how to go on with the postponed games from 2020 without turning the Olympics into a virus super spreader event.
BECOMING WORLD CLASS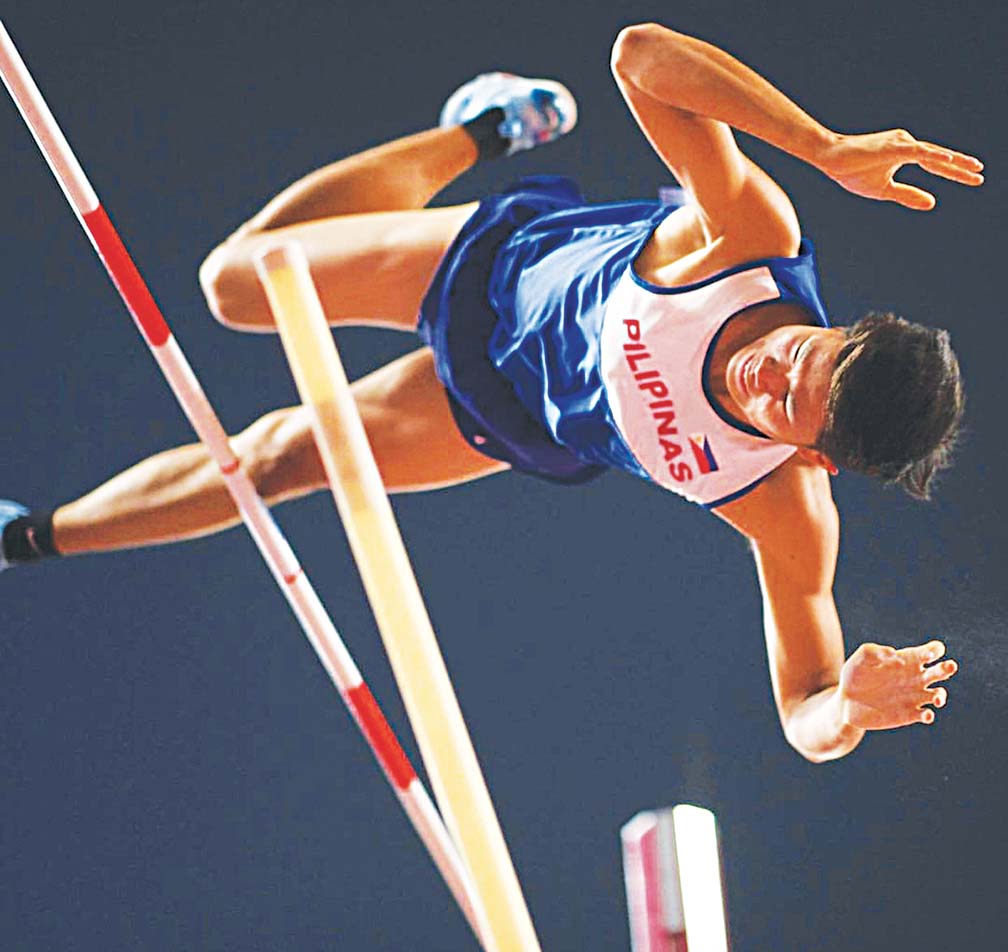 Pole vaulting is one of the most-watched athletics events not only in the Olympics after the centerpiece 100 meters and the bridesmaid 200 meters. EJ knows he would be sharing the spotlight but expectedly behind world record holder Armand Duplantis of Sweden.
Aware of the consequences of becoming a world-class athlete, EJ shut himself out, even from his family, to polish his skills to a luster.
"I'm not complaining [about going deep into training] because I am still blessed and I was able to train despite the [pandemic] situation. All I have to do is to improve my performance," said EJ, who wrapped up his pre-Olympic sorties in Stockholm only last July 4.
EJ averaged 5.80 meters in six of his seven competitions around Europe—highlighting his performance with a personal best 5.87m in Poland that earned him a silver medal last July 1.
Ironically, EJ's lone 5.70m mark in the Folksam Grand Prix also in Sweden last June 3 won him the gold medal over Rio 2016 Olympics gold medalist Thiago Braz da Silva (5.65m) of Brazil and Paul Haugen Lillefosse (5.60m) of Norway.
The incoming fourth year Electronics Engineering student at University of Santo Tomas, the same school he represented in the University Athletic Association of the Philippines, collected a total of five gold, four silver and three bronze medals in tune-up events in Europe since late last year.
Those stints did not only boost his confidence for Tokyo but upped his world ranking from No. 10 to No. 6 (World Athletics as of July 8).
COMPETITORS, FRIENDS
Despite being surrounded by giants in the sport led by world No. 1 Armand Duplantis and the US's No. 2 Sam Kendricks—bronze medalist at Rio 2016—EJ believes he would be on equal footing with the rest on the takeoff ramp and over the bar in Tokyo.
"I don't aim for a particular height—whether it's the Olympic or world record. I'm focusing more on each bar that is set for me to clear," the 2019 Southeast Asian Games gold winner said. "My goal is to perform my very best during the Olympics."
Armand Duplantis holds the world record of 6.18m, while EJ's training partner in Formia, Thiago Braz da Silva, owns the Olympic record of 6.03m he set at home five years ago.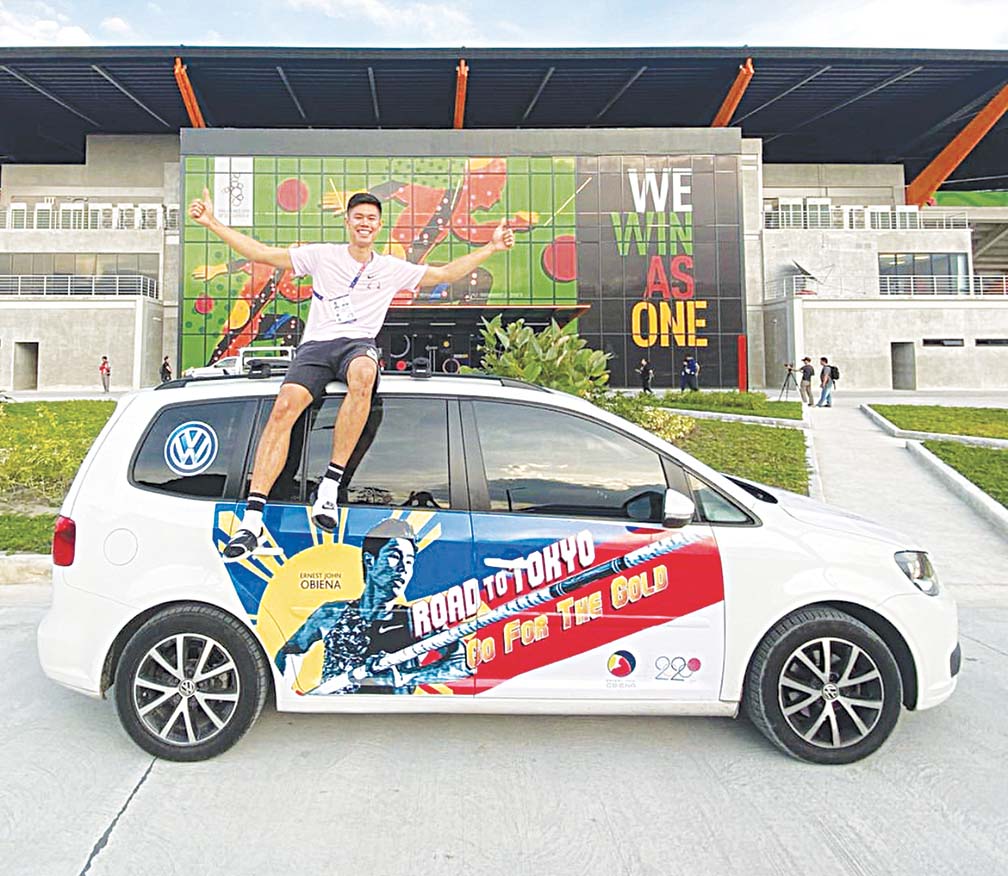 Also on the watch list in Tokyo are No. 3 and three-time world championship medalist Piotr Lisek of Poland, No. 4 and Rio 2016 silver medalist Renaud Lavillenie of France and No. 5 US national champion Chris Nilsen.
Obiena emphasized that on the field, they are competitors. Out of it and they're all friends.
"They are my buddies. I see them more than my family. May the best man win," he said.
LONG, NATURAL ROUTE
Born Nov. 17, 1995 in Tondo, Manila, EJ took the long but natural route to the Olympics.
Obiena ran the 100 and 400 hurdles at Chiang Kai Shek College in high school, but didn't fare well enough, prompting his dad to give him the pole instead. That same pole earned him a college scholarship playing for UST in the UAAP.
Then one thing led to another.
A Wikipedia account said that EJ sought an autograph from the legendary Sergey Bubka when he was in Manila in 2014. What he got instead was a scholarship in Formia, Italy and a chance to become a world-class pole vaulter.
In 2014, EJ was breaking his own records on a regular basis and in 2015, he got a shot at SEA Games stardom by sett-ling for a silver medal with a 5.25m leap.
His numbers kept improving that at the 2019 Summer Universiade in Naples, Italy, he won gold with a 5.76-m effort. Soon after, Tokyo 2020 beckoned.
EJ qualified for the Tokyo Olympics with a 5.81m jump—a new Philippine record—in a tournament in Chiara, Italy, in September 2019.
EJ has sacrificed a lot in training in the past two years by staying locked down at the world pole vault center in Formia and competing in various competitions in Europe late in 2020 and early this year in environment-controlled venues.
At Formia, EJ shared a room with Thaigo Braz and the watchful eyes of another pole vaulting legend, Ukrainian coach Vitaly Petrov, who started polishing the Filipino in September 2019.
NO CHRISTMAS WITH FAMILY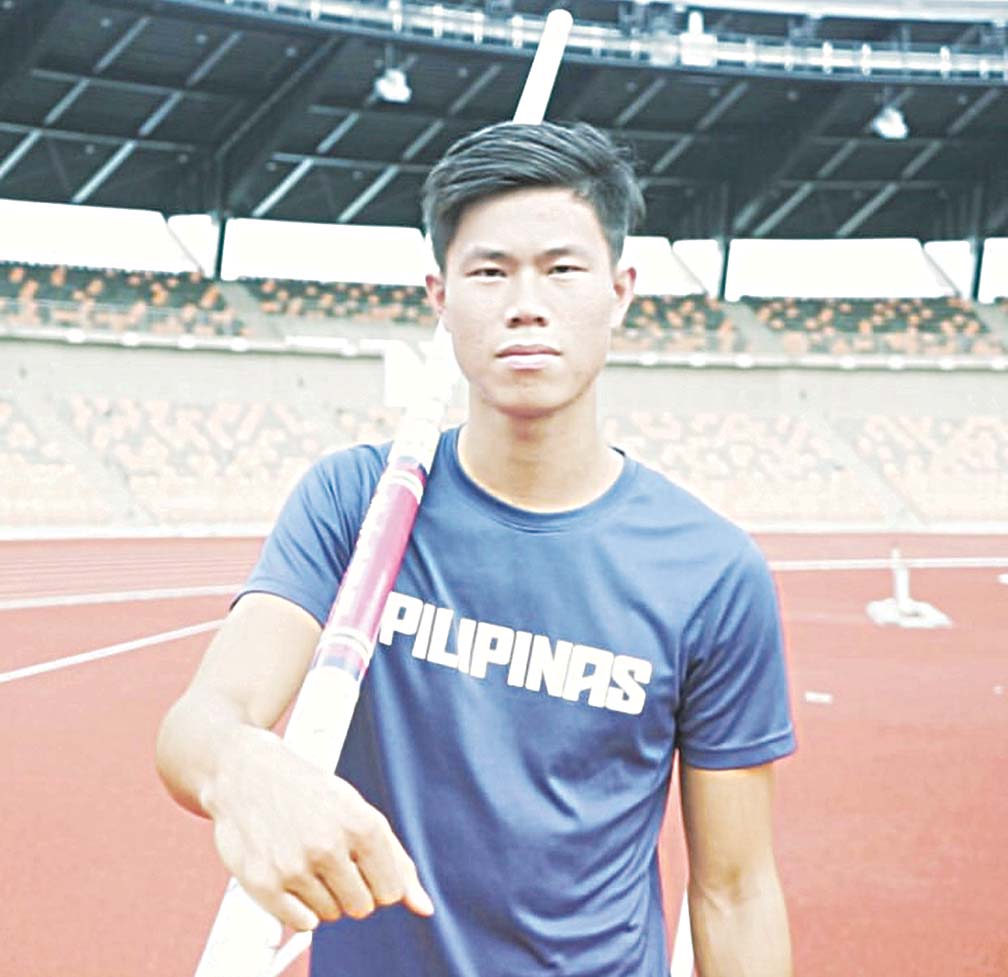 EJ made the New Clark City Athletics Stadium in Capas as his domain, winning gold in the Philippines 2019 SEA Games before a roaring local crowd.
That year, EJ missed Christmas with his family and friends, immediately flying to Italy to kick off training for Tokyo. And for the entire 2020, he couldn't come home either, no thanks to the pandemic.
No matter, EJ and his family are used to being apart on holidays and special occasions.
"EJ has been in Italy since December 2017. It has been four Christmas seasons already without him," Emerson said. "In the last SEA Games, he immediately returned to Formia to resume training for the Olympics."
Italy was struck hard by the pandemic but thankfully for Obiena, the pole vault center was shielded from the deadly virus.
"What motivates me? It's simple, it's the Tokyo Olympics. I have my shot, so I want to be the best one," he said. "I want to win. Basically that's the main driving force that pushes me each and every day and kills me in training." (Jun Lomibao, BusinessMirror sports editor)