The young and innocent wildcard four Olympics ago is now a jaded veteran in search of the ultimate—a gold medal.
It's a case of a "been there, done that, doing this" for the now 30-year-old, Summit brand ambassador Hidilyn Diaz, who was an unexpecting qualifier to the Beijing 2008 Olympics, having drawn as a wildcard in women's 58 kgs of weightlifting.
The lady from Barangay Mampang in Zamboanga City would later on build on more muscles and as much confidence to find herself on the weightlifting stage for the next two Olympics—London 2012 and Rio 2016.
But it was in Rio de Janeiro where Hidilyn came so very close to making Philippine history—she bagged bronze to end a five Olympic cycle (20 years) drought since Mansueto "Onyok" Velasco also clinched a silver in men's light flyweight of boxing.
In the Tokyo Olympics, Hidilyn has equipped herself not only with a prepared body but a conditioned and focused mind.
MENTAL TOUGHNESS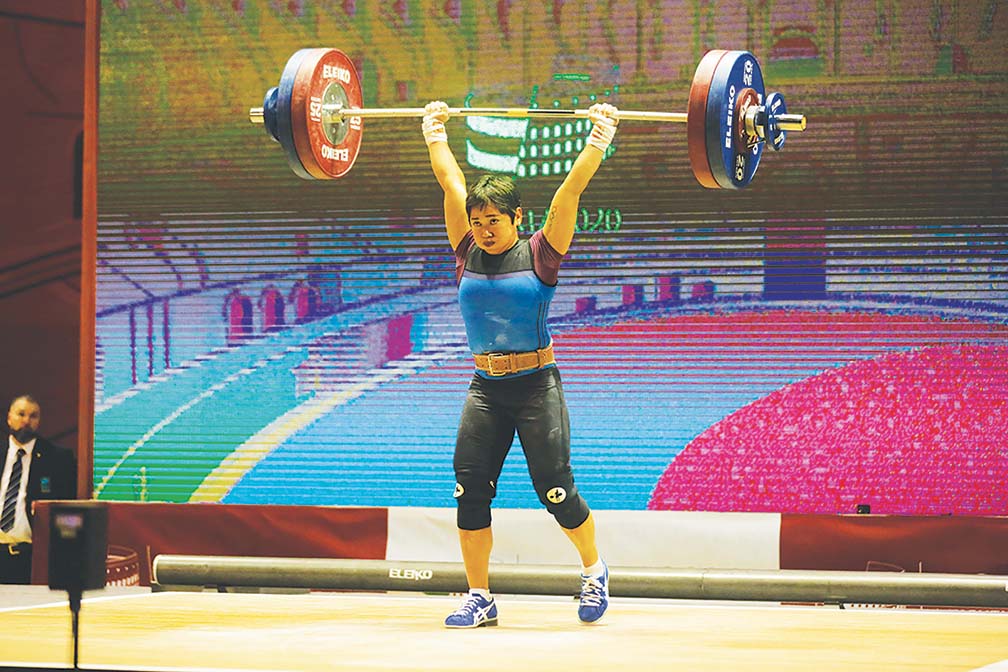 "Weightlifting is a mind game in as much as it is a contest of strength and power," Hidilyn told the Philippines Graphic. "It's all about maintaining the mental toughness—when the going gets tough, the tough gets going."
"I want to keep my focus and I don't want to be pressured," she said. "I am ready to compete. I just need to maintain and sustain my drive—and believe that I can do it."
Hidilyn maintained a training camp for more than a year and a half in Malacca, Malaysia, where she was holed out with Chinese coach Kaiwen Gao and strength and conditioning coach Julius Naranjo.
The trio couldn't go back home because of travel restrictions in pandemic 2020 and opted to stay put in Malaysia.
Hidilyn went down to the 55-kg women's category as she goes after the country's first Olympic gold medal, a division experts say suits the Zamboangena best.
But it won't be all about the power to lift a bar with heavy plates on both ends, but being composed all the time come D-day which for Hidilyn would be on July 26 at the Tokyo International Forum.
NEW NORMAL
Hidilyn has experienced how difficult it is to prepare and compete in the Olympics where the elite of the elite in the sport come running down from Mt. Olympus.
And Hidilyn may be an expert in the ins and outs of the Olympics, but in this COVID-19-stricken edition, the "new normal" makes Tokyo a unique arena.
"The postponement was very tough psychologically for us athletes because we have to make major adjustments with our programs," she said.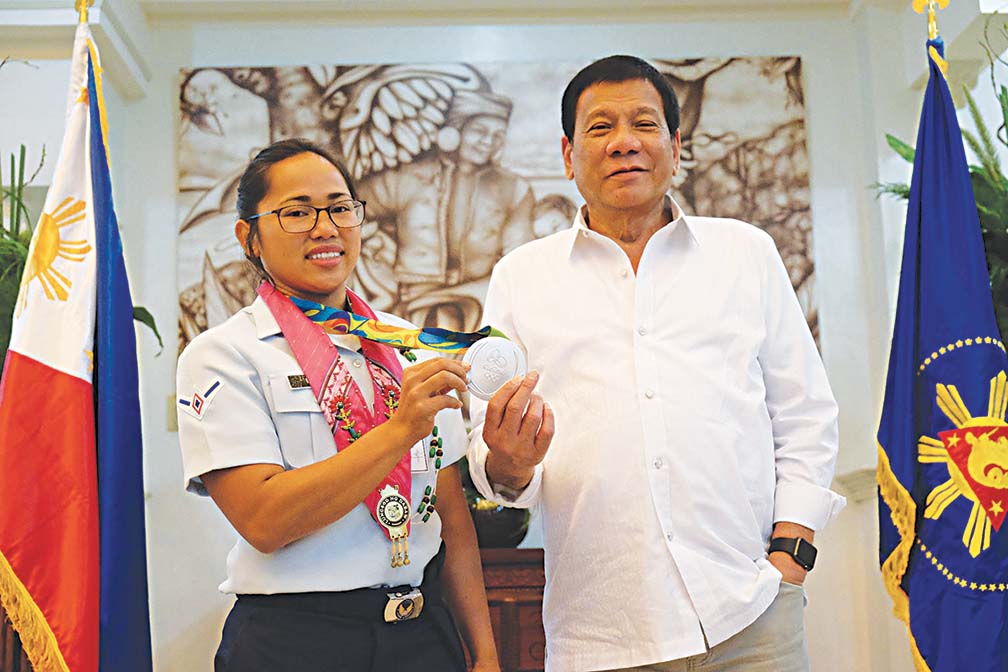 Interestingly, Hidilyn's Olympic silver medal came first before she made the podium of the Asian Games—staged every four years in between the Olympics—and the Southeast Asian Games—conducted every odd even years.
Hidilyn won gold at the Jakarta Asian Games in 2018 and a year later, before cheering Filipinos, hoisted to victory at the 30th SEA Games in Subic.
On winning gold in Tokyo, she said Team Hidilyn has concocted a brew for that objective.
"My coaches have already strategized and studied the several probabilities that may arise in the Olympics," Hidilyn said. "You can't predict the outcome as long as you don't touch and get the medal—it may be a gold, silver or bronze."
"Anything can happen in the Olympics and everybody is aiming to win there," she said. "I'll do whatever I can to win, but I don't want to make any assumption because I don't want to lose my focus. It's all about mental preparation."
Hidilyn is ranked No. 2 in her weight class that includes world No. 1 Liao Qiuyun of China, No. 3 Muattar Nabieva of Uzbekistan, Zulfiya Chinshanlo of Kazakhstan, Ana Lopez of Mexico, Kristina Sermetowa of Turkmenistan, Kamila Konotop of Ukraine and Ham Eun-ji of South Korea.
She formally qualified for an Olympic berth last April 18 when she participated in the 2021 Asian Championships in Tashkent, Uzbekistan. She was a Tokyo Games shoo-in but had to complete qualification produces in Tashkent, where she landed fourth place.
Hidilyn mixes training with her online Business Management course at College of Saint Benilde where she is one of the school's athletic scholars.
She maybe in Malaysia but her diet and nutrition program are monitored online by her long time nutritionist Jeneath Aro. Although lechon, sisig, kare-kare and curacha (lobster) are not available in Malaysia, Hidilyn said she duplicates them with corned beef, Spanish sardines and dried fish.
"There's no Filipino market here, we're far from the city," she said.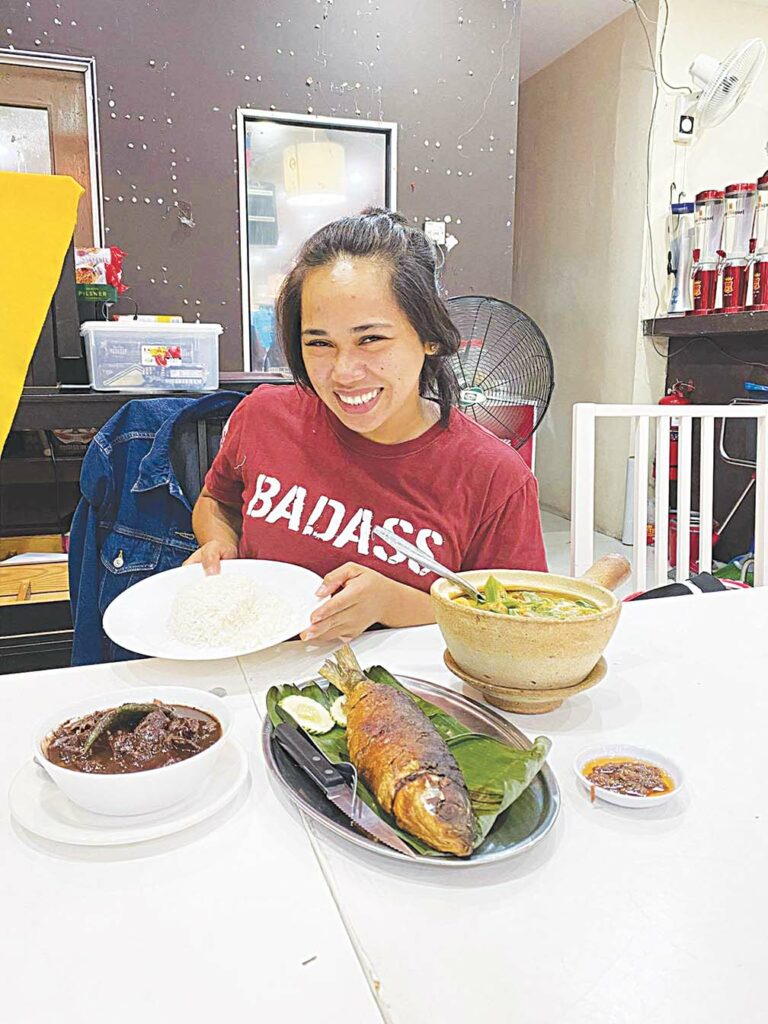 If she's not lifting steel, Hidilyn cooks Filipino dishes like adobo and tinolang manok. They learned to love Halal food but they manage to savor pork at least once a week.
"Once a week, we eat pork in a Chinese restaurant," said Hidilyn, who undergoes eight to nine training sessions a week and also attends online classes.
Hidilyn will not be the lone weightlifter in Tokyo. Erleen Ann Ando will join Hidilyn after she qualified under the continental quota for the women's 64-kg category.
Joining them in Tokyo are pole vaulter EJ Obiena; boxers Eumir Felix Marcial, Nesthy Petecio, Carlo Paalam and Irish Magno; gymnast Carlos Yulo; rower Cris Nievarez; taekwondo jin Kurt Barbosa; shooter Jayson Valdez; skateboarder Margielyn Didal; golfers Yuka Saso, Bianca Pagdanganan and Juvic Pagunsan; judoka Kiyomi Watanabe; and runner Kristina Knott.
EVERYDAY TESTING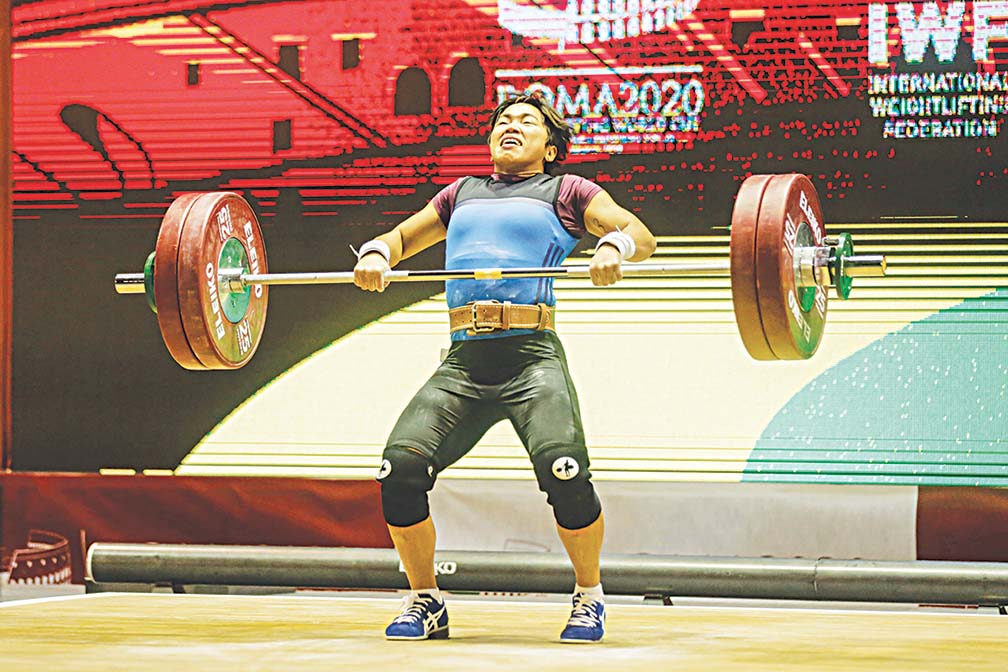 Hidilyn and his team flew to Tokyo from Kuala Lumpur. Health and safety protocols come aplenty in the Tokyo Games and Hidilyn said they are prepared to follow all of them.
"We'll be having a lot of [Covid-19] tests starting three days before we leave here, then it's going to be an everyday testing—also three times in Japan upon our arrival and before we enter the Athletes' Village," she said.
Hidilyn thanked the Malaysian government for its warm accommodation to her team. "The Malaysians accepted us like we were one of their own," she said.
Hidilyn got her first shot of the AstraZeneca anti-COVID-19 vaccine on May 7 in Malaysia, becoming the second Tokyo Olympics-bound Filipino after boxer Eumir Felix Marcial to get inoculated 10 weeks before the Games open.
She got her vaccine along with her Chinese coach Kaiwen Gao and conditioning coach Julius Naranjo at the University of Kebangsaan Malaysia Health Facility in Selangor. They are expecting their second dose before flying to Japan.
Hidilyn again thanked the Malaysian government for confirming their registration for vaccination.
The bronze medal Hidilyn clinched as a 17-year-old at the Nakhon Ratchasima 2007 SEA Games gave her the ticket to the Beijing 2008 Olympics. She transformed that ticket to a golden dream.
"I don't know what the Olympics were in 2008. I was a wildcard, but that gave me the opportunity to dream big," Hidilyn recalled.
A sergeant at the Philippine Air Force, Hidilyn considered London as forgettable—she didn't complete her routine in the 58-kg class.
"I was a flag bearer in 2012, but I didn't perform well and failed to get a total lift," she said. "I was able to bounce back four years after that and won silver in Rio."
AIR FORCE
Sometime in 2013, Hidilyn was recruited through the Air Force's Direct Enlistment program and was initially assigned to the Air Force Special Service Group. She was given an Air Force Specialty Code skill in recreation (weightlifting).
While training for the Rio Olympics 2016, Hidilyn, then an Air Force Women Second Class (AW2C), was temporary assigned to the Air Force Personnel Management Center. She was posted at the Headquarters of the 710th Special Operations Wing.
The Air Force's rigid and specialized military program developed, not just her weightlifting skills, but also her character that's worthy of emulation, according to a statement from the organization's Public Information Office (PIO).
"The PAF core values, particularly her excellence in Sixth Term Examination Paper, led to her achievements and successes," the PIO said.
As a dedicated soldier, she was conferred the Military Merit Medal for her contribution in the planning and execution of significant events, and a Presidential Citation Unit Badge for participating in numerous nation-building and development activities.
ROLE MODEL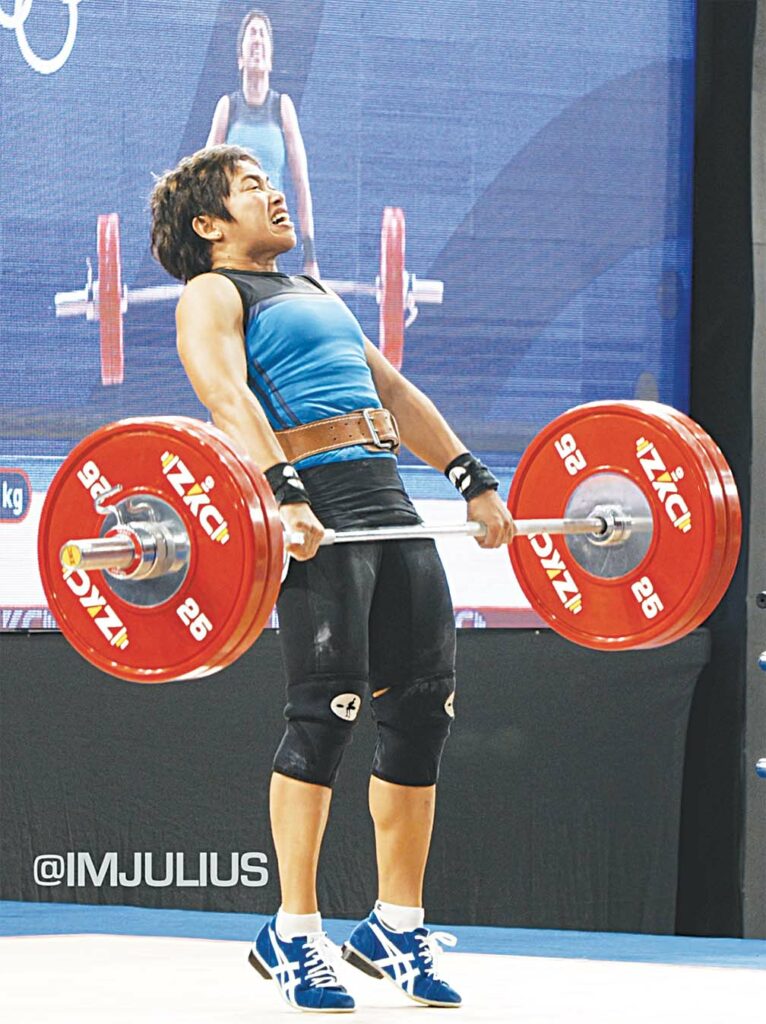 The Chavacano-speaking Hidilyn recalled that she started lifting barbells in 2002 at the age 11 in a makeshift gym inside a 700-hectare slum village in Zamboanga City.
At that age, Hidilyn, fondly called "Heidy" by family and friends,. used to carry containers of water from their village to her home. It was carrying water that got her started in weightlifting. Water continues to lift Hidilyn's career as brand ambassador of Summit Natural Drinking Water.
She was asked to join the national team after harvesting one medal after another in domestic tournaments and showing strong potential for international junior competitions.
The sport has been very good for Hidilyn, but she kept her feet planted on the ground.
"Rich? No," she said.
Hidilyn's mother Emelita, 58, was a plain house wife while his father Eduardo, 61, was a former tricycle driver turned farmer and fisherman. She has one sister, Pilar, and four brothers—Edwin, Jerwin, Michael and Eduardo Jr.
"Maybe, I improved to a 'middle class way of living,'" she said. "Right now, I am satisfied being a role model to upcoming athletes who want to pursue their dreams." (with reports from BusinessMirror's Recto Mercene and Josef Ramos)