In 1982, Dr. William P. Magee, Jr., an American plastic surgeon, and his wife Kathleen, a nurse and clinical social worker, traveled to Naga City with a group of medical volunteers to repair children's cleft lips and cleft palates. At that time, the team only managed to treat 40 children. As they prepared to leave, the Magees made a promise that they would return to help more children. With that promise, Operation Smile Philippines was born.
Since then, Operation Smile Philippines has made an impact on 88 cities and municipalities, conducted 33 surgical programs and successfully treated 32,925 patients around the country. This year, the institution has treated 33,000, so far.
According to MayoClinc.org, cleft lip and cleft palate are openings or splits in the upper lip, the roof of the mouth (palate) or both. Cleft lip and cleft palate result when facial structures that are developing in an unborn baby do not close completely.
BIRTH DEFECTS
Cleft lip and cleft palate are among the most common birth defects. They most commonly occur as isolated birth defects but are also associated with many inherited genetic conditions or syndromes.
"The current thinking and the evidence points to that the condition is genetic and at the same time caused by the environment, specifically nutrition. Right now, we are coming up with a program because we have identified certain B Complex vitamins are lacking during the organ formation period which is five to six weeks. At that time, the mother does not even know that she is pregnant. So if they do not have the right nutrition, and you have the genes, then the cleft would manifest," related Dr. James Joaquino, Operation Smile's chief medical officer.
He added that if the parents have the gene but the mother is properly nourished, it may not be severe. One of the things that Operation Smile does is to educate the patients in terms of the right food to eat.
"When I started doing this, the mothers were very guilty because they thought that it might have been caused by something they did or did not do during their pregnancy. But the gene may have come from the husband. So we started educating and telling them that this can be treated," he said.
UNTREATED CONDITIONS
According to Emiliano Romano, Operation Smile executive director, there are an estimated five million cases in low- and middle-income countries with untreated cleft conditions. In the Philippines, one in 500 births has a cleft lip/palate condition.
"Operation Smile Philippines aims to treat 800 to 1,000 children with cleft conditions in 2022. The problems we seek to solve go beyond treating cleft conditions. By doing so, we take steps towards achieving large-scale change in the way surgeries are delivered and made accessible across the country," he said.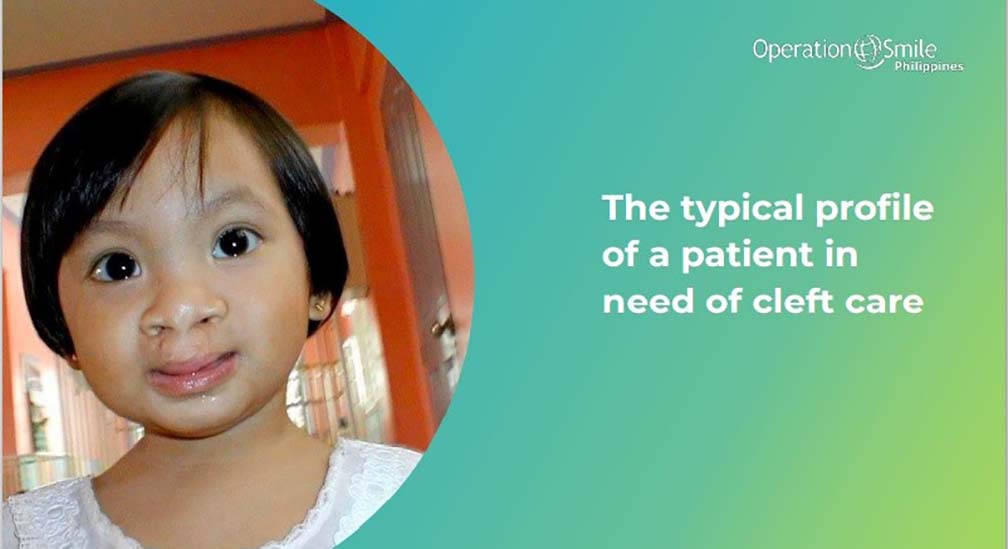 If cleft conditions are left untreated, these patients face feeding problems, speech problems and social isolation. Additionally, there is an urgent need to establish and improve standards of surgical care worldwide to provide children with the highest quality surgery possible. Operation Smile Philippines "envisions a future where health and dignity are improved through safe surgery."
"As Operation Smile enters a new era as a global network driving access to high quality healthcare, this milestone is the perfect time to reiterate our commitment to provide holistic care for children and their communities for the next 40 years and beyond," said Donald Lim, Operation Smile Philippines president.
HOLISTIC APPROACH
In treating patients with cleft conditions across the country, Operation Smile Philippines employs a holistic approach to delivering comprehensive cleft care—providing nutrition education, cleft surgery, speech therapy, and psychosocial care.
This approach has led to the development of comprehensive care centers in Manila, Pampanga and Davao. By establishing centers close to communities, Operation Smile is primed to deliver timely service and safe surgery where it is needed the most.
"We have undergone a big shift. Ten years ago, we were mission based. Right now, we are doing the hub and spokes model already so that people can come to us," Lim said.
To facilitate even greater access to quality care, Operation Smile Philippines is establishing a new comprehensive care center in Cebu. Approximately 2,000 square meters, this center will be the organization's largest and aims to cater to 10,000 patients within the next three to five years.
When this comprehensive care center opens in Cebu, Romano said it will also serve as a regional training hub as well. Doctors from the Philippines and other countries will have the opportunity to be trained to do the surgery.
"We are working now on the coming up with more spokes. Bacolod is one spoke we are looking into right now as well as Palawan and Naga. So, in five years, we are looking to having about four hubs and an additional six spokes. That's the goal," Romano said.
ENHANCED DELIVERY
Alongside the creation of comprehensive care centers across the country, Operation Smile Philippines has continued investments in local district hospitals to enhance the delivery of surgical care and positively impact public health.
Recent initiatives include the renovation of the surgical unit of Santa Ana Hospital with the goal of providing 1,000 new surgeries a year. In partnership with Dr. Jose Fabella General Hospital.
The institution also aims to develop the first registry to record cleft births for faster interventions, as well as training programs to educate both medical professionals and mothers on cleft conditions and life-saving skills to reduce maternal and new born mortality.
"These achievements and ongoing initiatives are the product of an expanded network of key partnerships forged under the common goal of increasing access to oral cares," Romano said.
PARTNERS AND DONORS
Alongside partner hospitals that aid in the creation of cleft care centers and the hosting of surgical programs, donors such as Watson's Philippines have been instrumental in making treatments possible. Beyond the provision of care, partners such as the Philippine National Police and AirAsia have greatly improved patient recruitment, including case-finding and transportation.
To improve the quality of cleft care, since 1997, Johnson & Johnson Philippines Inc. has funded the training and development of experts in plastic surgery, dentistry, speech therapy and other fields to drive wider access to quality treatment and patient support.
"Through our medical expertise, partnerships and stakeholder activations, we are taking steps towards a future to change not only how surgeries are delivered across the country, but also to empower local health systems to provide even better care for the communities they serve," Romano said.
Lim added that there was really a need to make more people know that there is an institution in the Philippines that will operate children with cleft conditions for free.
"I had a conversation once with Bill Magee and he reminded me that this is not just physical. It is more mental and emotional. You are really changing a life. That's why we are changing the lives of these kids one smile at a time, and that is the very essence of it," he said.
"We are changing one simple liability that these children have no control over. We can change a life in just one hour. The wish of a child is simple—to treat the condition and that is why it is really leveling the playing field. It is really ensuring that they have a future," he added.