Filipinos are known for their bayanihan spirit, where they have a sincere desire to help fellow Filipinos without expecting anything in return. However, there are certain Filipino values that can undermine successful outcomes, especially when it comes to performing CPR or cardiopulmonary resuscitation.
This was the observation made by Dr. Ma. Celine T. Aquino, a clinical professor at the Cebu Institute of Medicine, in her lecture titled, "Pinoy Culture, Religion and CPR: An Odd Mix" during a monthly webinar of the Philippine Heart Association (PHA).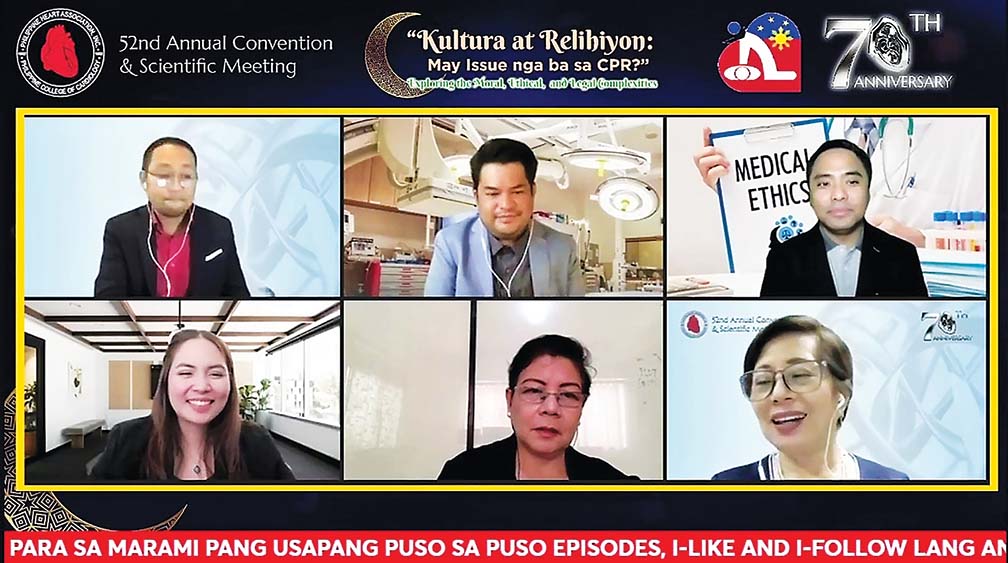 The "Usapan Puso sa Puso" webinar was conducted last May 24 and tackled, Kultura at Relihiyon: May issue nga ba sa CPR? It looked at the challenges brought about by religious and cultural beliefs, as well as practices on CPR.
To start off her talk, Aquino showed a picture of a man who was lying down unconscious on the sidewalk. The ideal response would be for someone to approach the unconscious man and see if he needed CPR. However, Aquino noted that the immediate reaction would be for a group of people to gather around the unconscious man and start documenting the scene on their cellphones or even go live on social media.
"Sadly, this response is very, very common in the Philippines. Hands-on CPR has been simplified into four important steps. So why then is there still a gap in the response?" Aquino asked as she proceeded to discuss the four steps and the Filipino values that hamper the application of CPR.
EARLY RECOGNITION
The first step in hands-on CPR is early recognition and to ensure that the rescuer, or the person who will be administering the CPR, is not in danger.
"In BLS (Basic Life Support), there is the constant reminder that a dead rescuer means a dead rescuee but we Filipinos have pakikisama, the quintessential attitude of agreeing with a popular trend and we have machismo, where the rescuer will seek attention and tell everyone that he is a hero," she said.
This attitude, Aquino explained, could cause the rescuer to ignore this first rule and cause harm to both he and the victim.
After ensuring that the rescuer and the victim are safe, the rescuer should proceed to check on the victim by mildly tapping him on the shoulder and asking if he is alright. If the victim answers, then CPR is not necessary. However, if the victim does not respond, the rescuer should consider whether he should push through with CPR.
"Sometimes, the Filipino paporma can overcome common sense and Filipinos tend to value porma over substance and this usually results in ridiculous images," Aquino said.
She reiterated the importance of making sure that the early recognition technique is correct and that the rescuer should not give in to another value called amor propio, meaning self-love or an intense desire to preserve self-esteem.
"Filipinos care about the opinion of other people and this can lead to a reluctance to ask for instructions. So, if you don't want to be taught the proper way to do step one, then a good rule of thumb is if the victim reacts to the tapping of the shoulder, CPR is probably not necessary," she said.
CALL FOR HELP
The second step is to call for help. This is because "no one can resuscitate indefinitely and trying to single-handedly do the CPR without expectation of relief is really a bad idea."
"However, amor propio and machismo are strong Filipino traits. They reflect an inherent resistance to admitting that one needs help. But just like no man is an island, in CPR, no man can do it alone," Aquino said.
The third step involves the use of an AED or Automated External Defibrillator—a medical device that can analyze the heart's rhythm and if necessary, deliver an electrical shock or defibrillation to help the heart re-establish an effective rhythm.
Said Aquino: The AED is one of the simplest life-saving equipment to use and it is largely feared in its use. There is the fear of looking foolish for one, but also the fear of getting shocked.
"The patient is not a car to be jumpstarted," she stressed, adding that a "dramatic electrical surge" does not mean that the patient will be saved.
QUALITY CPR
The last and most important hands-on CPR step is to give high quality CPR and the correct position to do CPR is to be on the patient's right side.
"The Filipino fear of making a fool of himself promotes the trait called hiya which is directly associated with self-love but also reflects the unwillingness to appear foolish," Aquino said.
"While hands only CPR is simple to do, it is still necessary to be properly trained. There is a reason it's called hands-on CPR and that is because we do not use our feet. Maintaining social distancing this way would kill the Filipino's initiative faster than the Filipino's unwillingness to ask for instructions or even the Philippine hiya," she added.
Aquino stressed further that it is important that the hands are placed on the chest correctly. "If you ask for instructions, this will ensure that you place your hands on the right position. Like real estate, proper CPR also values location, location, location."
TRAINING AS ANTIDOTE
While she agreed that Filipinos have "a lovely values system that is centered on the core values of respect and a sincere desire to help," Aquino said Filipinos have a tendency to either overdo or underdo things.
"In Cardiopulmonary Resuscitation or CPR, the values of pakikisama, maporma, hiya, amor propio, machismo, hubris ang magical thinking (bahala na) can all undermine success. The antidote to this is training. Learn CPR today," she added.
For his part, Dr. Domicias L. Abacite, Angeles University Foundation Medical Center Section assistant chair, said that while these Filipino values are treasured, it is these same values that might hinder the effective implementation of CPR.
"These values hinder us in having the belief that may be CPR may not be effective. These values are imbibed in a bad way so we are here to correct this by way of giving you the proper perspective on this subject matter," he said.
Dr. Don Robespierre C. Reyes, Philippine Heart Association CPR Council chair and webinar host, called on those in the entertainment industry to improve the accuracy and soundness of medical actions as those shown in popular media.
Defibrillating a patient that has already flatlined, has been proven false by practitioners, he said.
"The lesson here is if you want to save a life, do it right. What we see on television and the movies is sometimes wrong. It's not right to defibrillate a patient if he has already flatlined. So, we are calling on our showbiz friends to make sure that their medical actions are sound when making movies or a television series," he said.