FILIPINO CULTURE AND PRACTICES DICTATE that when our parents get old, it is our duty as their children to look after them. Hence, it has been a long-held notion that Filipinos will not be open to the idea of leaving their parents in nursing homes.
However, a 2009 study that targeted markets with Filipinos living abroad— in particular, the United States and Australia, showed otherwise. It found that these Filipinos are already open to the idea of "retiring in a nursing home, but in the Philippine setting and with Filipino care."
This growing change in attitude has augured well for retirement set-ups like the Camillus Medhaven Nursing Home. Nestled in Marikina Heights in Marikina City, the nursing home had 30 elderly residents in 2009. The following year, the home's capacity increased to 104.
"Camillus Medhaven Nursing Home was formerly the St. Camillus Home of Charity that was founded in 1992. it was originally established to respond to the needs of the abandoned quadriplegic and paraplegic patients discharged from the Philippine Orthopedic Center," said Father Rodel R. Enriquez MI, Chief Operating Officer of the Camillian health institutions.
These institutions are composed of three hospitals, two polyclinics, one nursing home, and one formation center.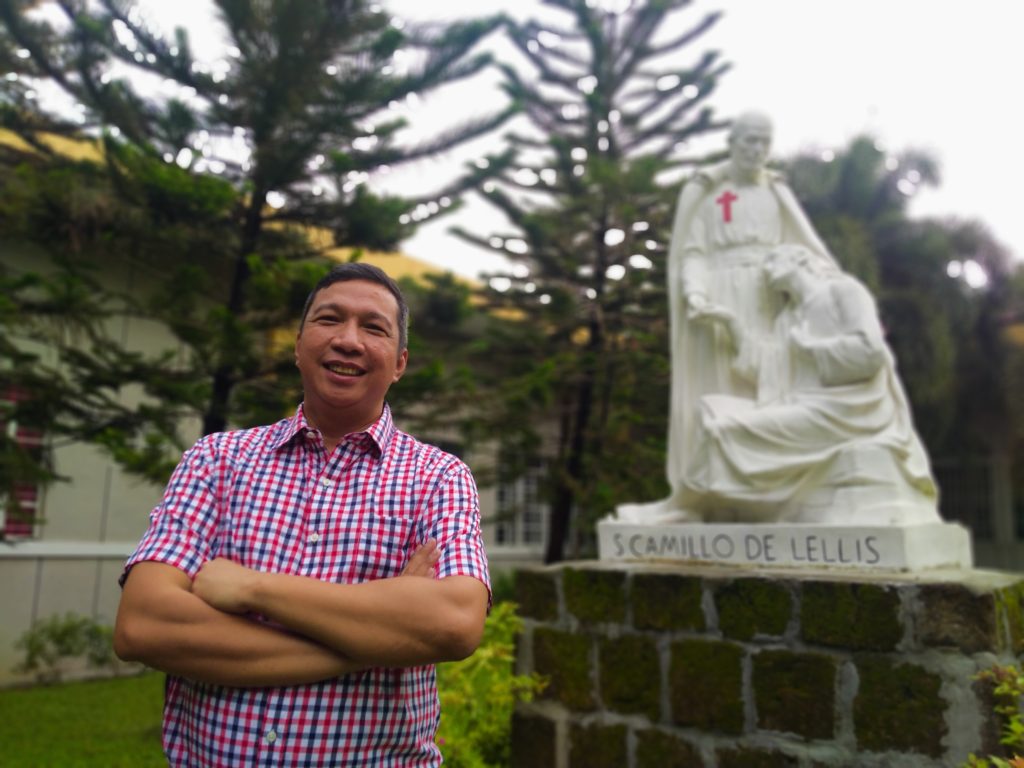 Fr. Rodel is from the Order of the Minsters of the Infirm (Camillians), a congregation founded in 1582 by St. Camillus de Lellis whose mission is into health care. As former Director of Medhaven, Fr. Rodel has had the highest exposure in attending to the infirmed and was trained in bioethics in italy.
On Feb. 2, 2006, the St. Camillus Home of Charity changed its direction from being a shelter and health care provider for abandoned persons with disabilities into a home for the elderly.
"It is not necessary for priests in our order to have a medical background but it is encouraged we have one specialization in the field of health and not necessarily in the clinical aspect of it," Fr. Rodel explained. "We adopt the holistic approach when it comes to caring for the elderly, especially those with dementia, at the nursing home."
Since the nursing home had reached its full capacity in 2018, the St. Camillus Medhaven Annex was added and opened. Located just across the main facility, the Annex—which houses Medhaven's Dementia Village— increased the nursing home's bed capacity to 185.
"We consider ourselves to be the biggest private nursing home in the Philippines. Our clients say we are the best in the country as per the facility and the programs," Fr. Rodel said. "There are around 20 nursing homes in Marikina alone but their services and their programs are not at par with us. That is the reason why when clients do visit our facility, they are the ones telling us that this is the best so far."
Fr. Rodel related that they refer to the seniors at Medhaven as residents because the nursing home is already their home. Of the total number of residents, 80% of them suffer from different forms of dementia. Medhaven also caters to seniors who are already bedridden or require hospice and palliative care.
"Our residents stay with us on the average for five to six years. The longest resident has been with us for 15 years. The original ones have been with us for around 18 years. But that probably is one of our bad reputation and our bad reputation is that our residents live long because of the good environment, our program of care," Fr. Rodel said jokingly.
He further expounded: "Sometimes our residents enjoy long and healthy lives and the relatives are complaining because they no longer have any resources to cover their expenses. That is our bad reputation. I am just kidding. That is our good reputation. When they are brought to us, they are assured that they are well taken cared of even during this time of the COViD-19 pandemic."
Medhaven has specialized units for dementia care and their staff are sent out of the country, specifically in the Camillilan-run nursing homes and hospitals in Taiwan, for dementia care training. In-house training for dementia is also available.
"We train in Taiwan and the nursing homes learn from the Japanese as they have one of the best aged care programs and facilities," Fr. Rodel said. "From there, we import some of the equipment, we implement the best practices and we combine them with Filipino best practices."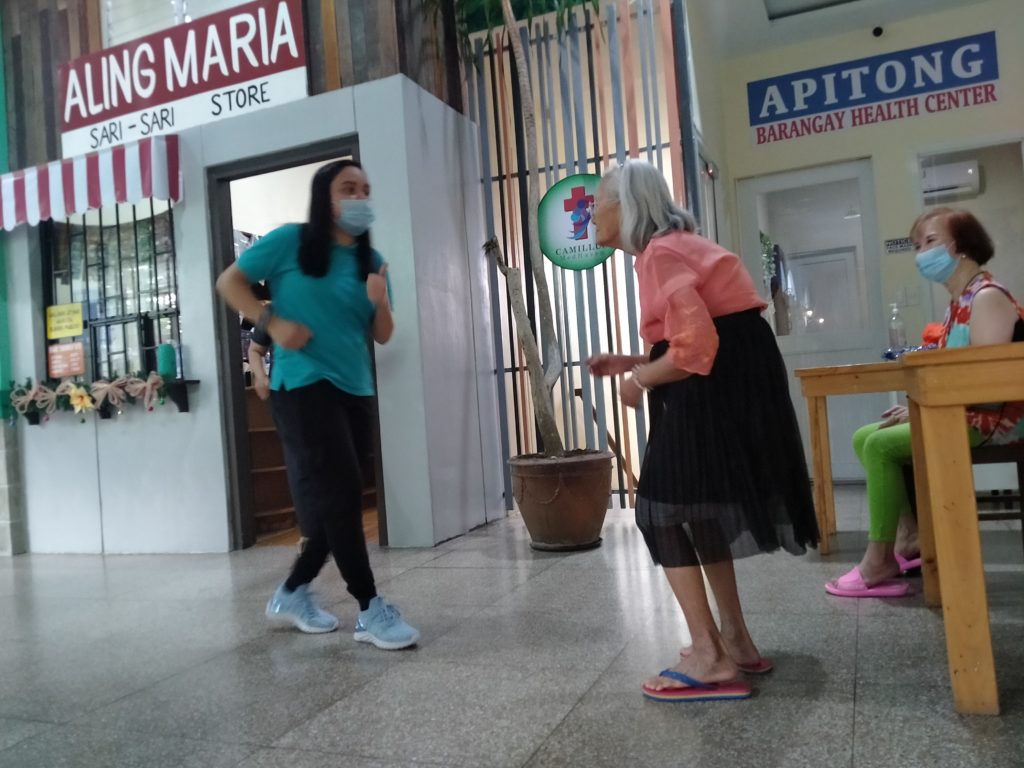 Medhaven offers three levels of care to its residents—low, intermediate and high care. Low care are those residents who are still able to carry out activities of daily living or ADL like taking a bath or eating meals without much assistance. They are retired and who just want to be in a facility where emergency health care and social activities are readily available.
"intermediate are for those who need some form of assistance to perform ADL. These may be persons with dementia. You may be mobile but because you have dementia, you need some form of assistance and there are also those who are wheelchair bound," he said.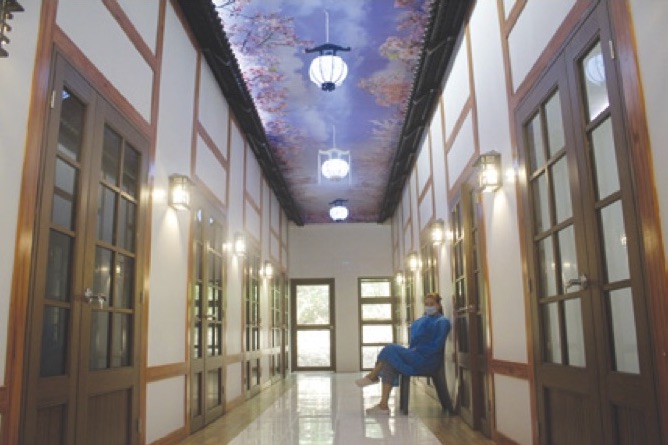 According to Fr. rodel, there are separate buildings for intermediate and low care. The last category is high care or also referred to as skilled nursing because these residents require high nursing and bedside care. These are residents who may need convalescent care, or those who are recovering post surgery or post stroke. There are also residents who have end stage Alzheimer's, end stage of ageing and those who need hospice and palliative care.
"i do not know of any other nursing home here that has a specific program for pal- liative care and we have tied with Dr. Luzviminda Kwong who does palliation combined with 24/7 nursing care, caregivers and our chaplain," Fr. Rodel said. "So we provide multidisciplinary care to those who are at the end of their life as well as hospice care."
Medhaven also goes the extra mile for residents who need to be hospitalized but their relatives are abroad. While this is not the usual practice for nursing homes, Fr. Rodel said they do assist residents who require hospitalization. The Camillians also manage and operate three hospitals and Medhaven residents can be admitted there with ex- penses charged to their Medhaven account.
"We have also had cases where we were the ones who attended to the remains of residents who died up to the time they are cremated or until the funeral parlor takes over," Fr. Rodel said. "Through video call, we ask the relatives what color urn they would like and after the cremation, we process the shipment of the ashes."
For seniors who intend to reside at Medhaven, the cost of their services range from P35,000 to P55,000 monthly. For those who wish to stay in suite or presidential suite rooms, the cost can go as high as P100,000 and it also depends on what other services the residents require. in addition to paying two months deposit and one month advance, residents also have to set aside an additional P25,000 medical emergency fund and P10,000 for petty cash.
"We can customize our packages as much as possible. We have certain standard inclusions but different clients have different preferences so this can always be arranged," Fr. Rodel said.
Prior to the lockdown, seniors who wanted to become a Medhaven resident had to undergo an application process. This usually starts with relatives visiting the facility for an orientation and tour. Once the relatives have decided to avail of Medhaven's services, Medhaven visits the incoming resident whether they are in the hospital or at home.
"From there, they will have to submit a medical abstract, undergo a chest X-ray and some laboratories and then we submit all this to our physician for the proper care plan," Fr. rodel said.
Medhaven has one full time physician who is an internal Medicine-Cardiology spe- cialist and about 200 employees made up of nurses, allied medical staff and administrative personnel. The facility also has a roster of doctors who are on call 24/7. The facility is made up of different departments with the clinical department under the geriatric department which is headed by a graduate with a Masters in Gerontology. Under her is a Head nurse, 16 registered nurses and five nursing aides.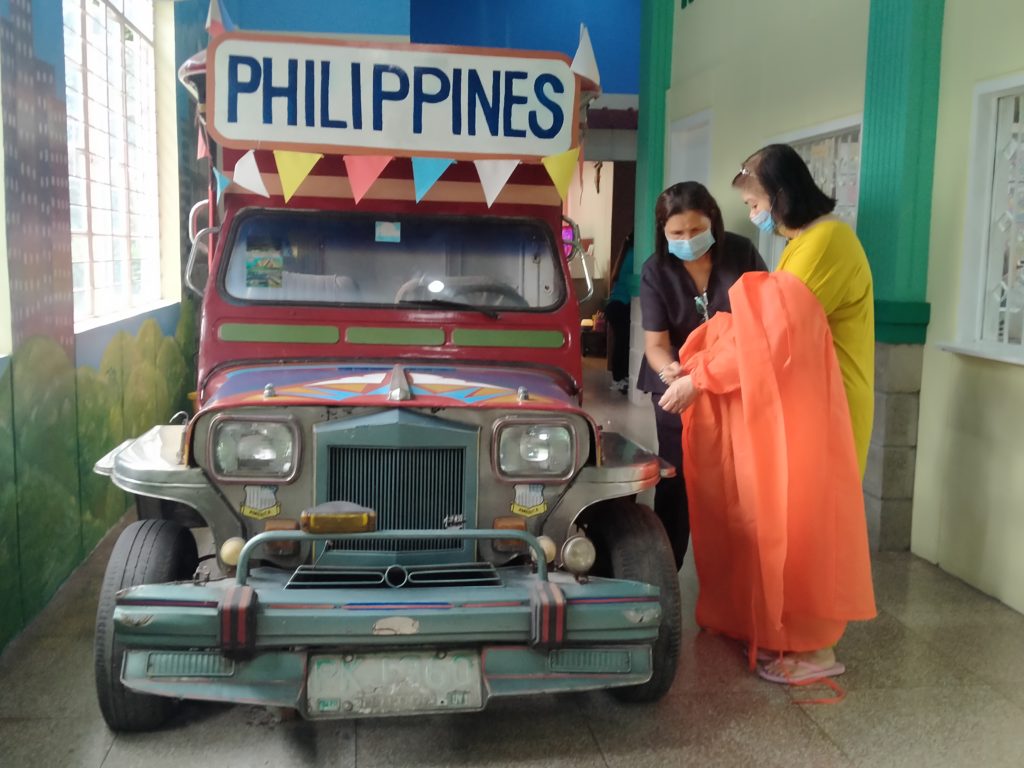 Fr. Rodel explained that the nursing aides they hire are nursing graduates who are under board. This is because they are entrusted to assist the nurses and they are tasked to accompany residents who need to go to the hospital for check ups or dialysis.
Prior to the implementation of the enhanced community quarantine in March, Fr. Rodel related that the facility was already put on lockdown since the residents were a high risk group. The infection prevention protocols that were implemented were based on the guidelines provided by the center for Disease control specifically for nursing homes and one of the things they did was to stock up on PPEs or personal protective equipment.
What was most challenging for Fr. Rodel and his team was how to change the mentality of the residents in order to adopt to the new normal. The challenge was how to strike a balance between isolation and the need for social activities.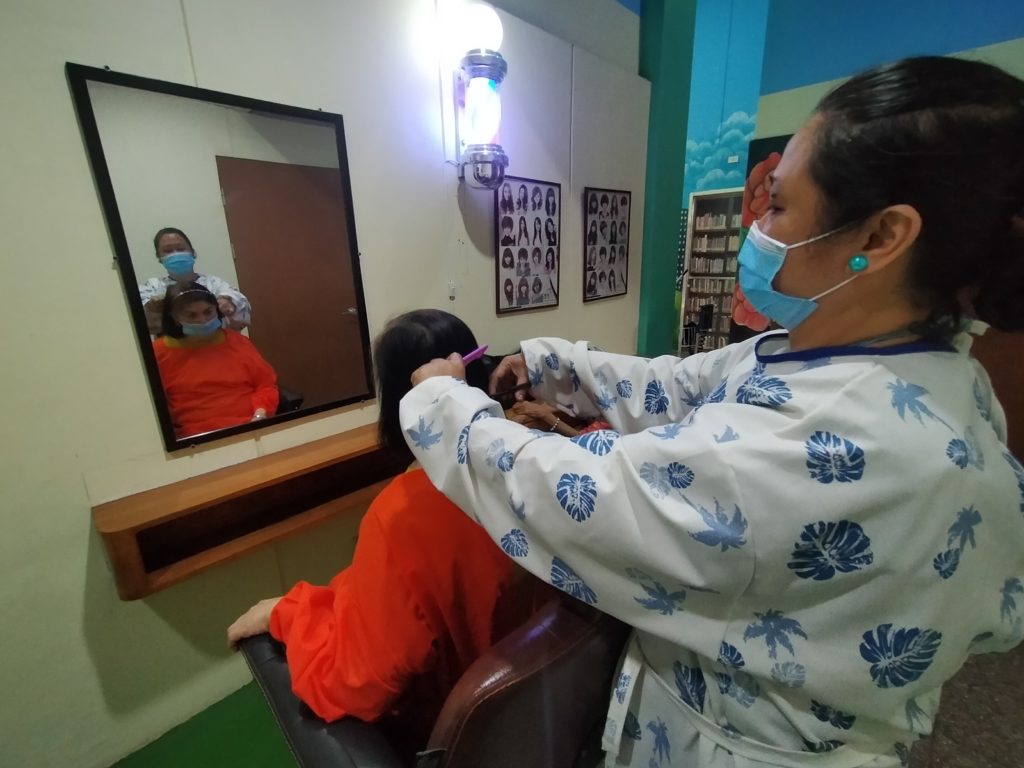 "Before COVID-19, we wanted our residents to socialize, join activities and have meals together so that they have someone to talk to," he said. "With the new normal, we provided them with individual tables, they had to eat in their rooms, wear face masks and it was more challenging for our residents with dementia."
The staff had to stay in. Those who had direct contact with patients like nurses, nursing aides, caregivers, care assistants, and physical therapists had to stay in for 17 days. instead of an eight-hour duty, they worked for 12 hours to comply with the number of hours to be rendered monthly. The staff had to stay in a dormitory and were categorized based on their place of assignment.
Before going home to their families and the community on the 17th day, the staff undergoes the rapid antigen test. Once they are cleared, they can go home on a 15-day break. On the 15th day, they have to report to the holding area and stay there for three days.
"We believe that if you were exposed, in the next three days, you would already have manifested the symptoms and the rapid antigen test, based on evidence, can actually already detect. On the 17th day, you will be tested. if you turn out positive, you will be quarantined and you will be treated and then tested again. This is the infection control protocol," Fr. Rodel said. "It is tedious and an additional operational cost but the staff has already sacrificed because they cannot go home. We have to explain to them to guarantee that our residents are safe."
However, no matter how the facility prepared for COViD-19 the virus eventually found its way into the facility. Out of 128 residents and 22 staff, the facility had 15 confirmed cases with only eight of them requiring hospitalization.
"In August when it was the peak of COViD 19 in Metro Manila, two asymptomatic staff were able to enter the facility and it took us 33 days to eliminate the whole virus. Elimination would mean all those who had it were treated, those who were hospitalized had to be under 14-day quarantine. All our staff also underwent a 14-day quarantine. So that was their task to undergo the process of eliminating the whole virus in the facility. I think that is credited to our operations as well," he related.
As for clients who wish to enter the facility, Fr. Rodel said the application process is now done virtually. They meet with the client online, given them a virtual tour of the facility and the admission officer explains the admission procedure and other necessary information.
"Since we have already opened up a bit, we can give clients a 15-minute ocular visit. We also require a COViD-19 negative test result for incoming residents. If that is not available, then we do it inside the facility upon arrival and then the resident undergoes a mandatory 14-day quarantine," Fr. Rodel said.
Since community quarantine restrictions have been lessened, Medhaven had to find a way to accommodate relatives who wanted to visit their loved ones.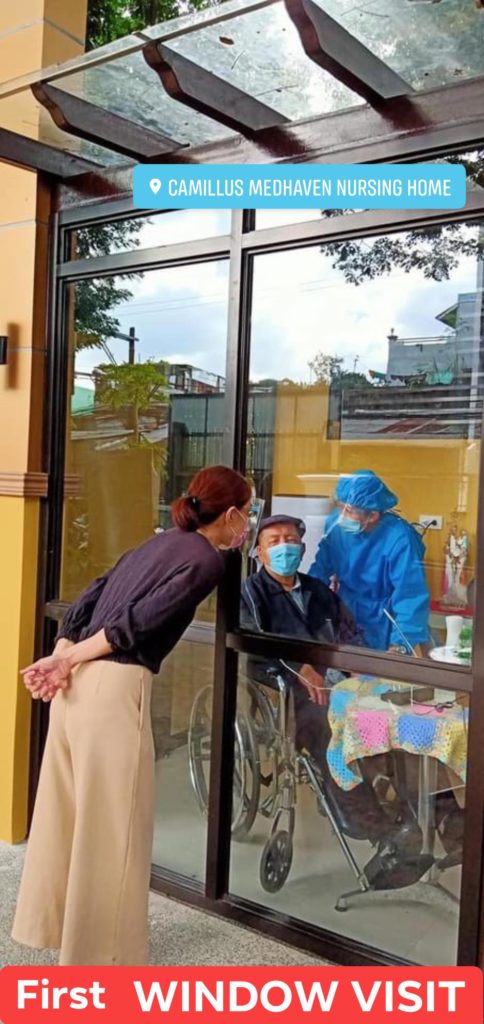 They constructed a visitor's kiosk which would be located near the facility's main gate. The relatives can just park their car, sanitize and the resident will be placed in an enclosed glass room where the air from the outside cannot enter the room and the infection control protocols can be followed.
"Since we opened the kiosk on Nov. 2, there have already been 12 visitors and we try to limit the number of visitors to two and they can visit their loved one for 15 minutes," he said. "It's all science and evidence-based because you cannot really get the virus if you do not have 15 minutes of close contact and that is the reason why it is so and we have received a lot of positive feedback because of this."
For their future plans, Fr. Rodel said they were planning to come up with a facility in Cogeo that would cater to a lower income bracket. The goal is to construct a 60-bed capacity, three story building with a polyclinic on the first floor. He added that they were also looking to expanding their services to Cebu and Davao. They are also looking into providing home health care services because not all families would want their relatives placed in a nursing home.
"We want to be the center of excellence when it comes to taking care of the elderly, convalescent and palliative care. That is why we do not benchmark here. There is nothing here to benchmark so we go to Taiwan. I went also to Australia to see the facilities there and my own experience and exposure in the US in the dementia care unit and we have a Center for Humanitarian and Health in Madrid. Spain. That is my inspiration for the palliative care. They have a wonderful palliative care program," Fr. Rodel said.
He added that there is already a gradual change in mentality from the time they started in 2004. Nowadays, they receive more inquiries from the local market.
"So there is a kind of shift in mentality in putting your elderly in the nursing home. They are not seeing it as abandonment but as taking responsibility. That's because they realize that certain conditions of the elderly are in need of specialized care and they could not actually provide at home even if they have much resources," he said.
He added that facilities like Medhaven had moved away from the old health care ambiance to a more community of village ambiance. "How can you say that we abandoned our parents if we place them in this facility? That is the shift in the philosophy of aged care in the Philippines," Fr. Rodel said