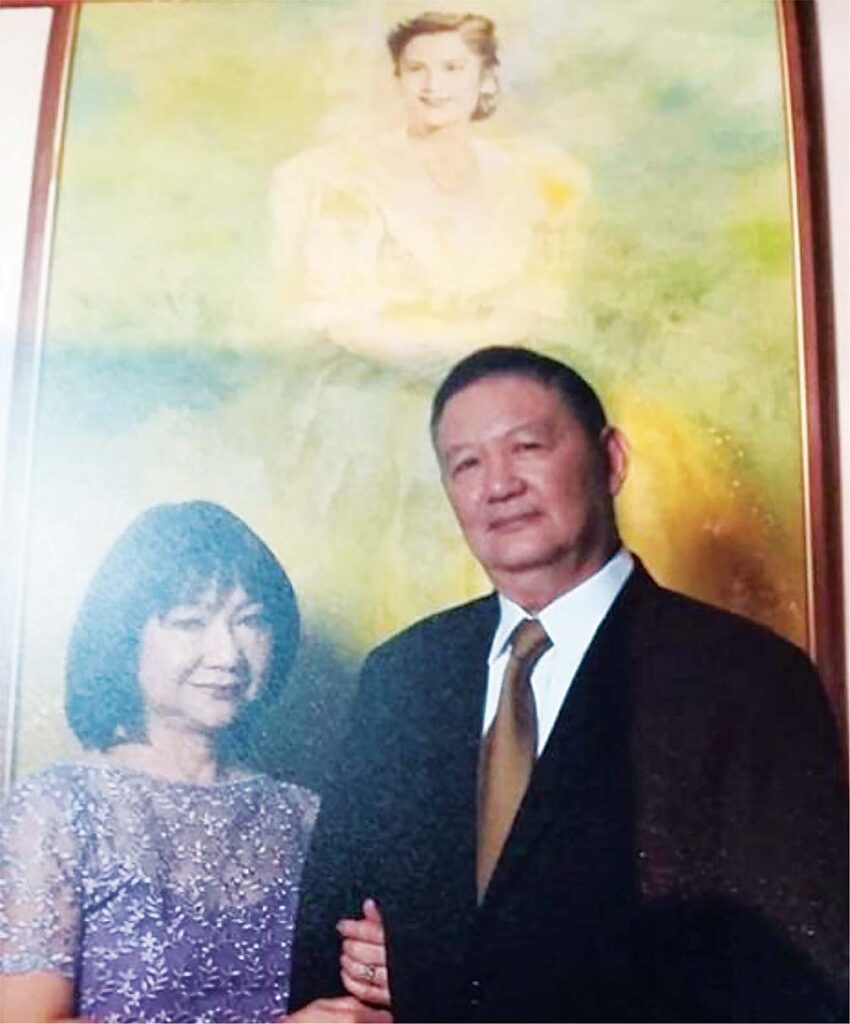 Our house in Provident Village, Marikina City, was first occupied by my son Kim, who was then studying Industrial Engineering at the Ateneo. He stayed there for four years while my husband Willie and I could not yet settle down there, but where we finally did in 2000.
We resided in Pedro Gil Street (formerly Herran St.), Ermita, Manila for close to 18 years until Aunt Consuelo, my husband Willie's elderly aunt, breathed her last. My husband and I made true our commitment to be at her side until the end. She had stayed in a suite in Manila Medical Center in Ermita, Manila, for almost seven years with full medical attention and special nurses.
It was Aunt Consuelo's and her sister Feliza's house, where we stayed, a concrete and wooden two-story ancestral house located just opposite Assumption College (the present site of Manila Midtown Hotel and Robinson's Manila) and the place where my husband Willie grew up.
How we acquired the property was a story of exciting beginnings. A couple, Marivic and Arnold, family friends and churchmates of me and my husband, offered to sell their big house to us since they were migrating to the U.S. We had heard some stories of the heavy flooding in the village once every ten years but were unperturbed by such accounts.
When we decided to purchase the property, it was a great cause of joy on the part of Marivic and myself so much so that we danced in the moonlit street waving our hands in the air as soon as we agreed on the sale. We were so happy knowing that both of us got a good deal. They were leaving the country within a week and needed the money from the sale and my husband, and I needed a house.
When we finally moved in, I was on fire, and I lost no time decorating and refurbishing the house. I settled for antique wooden furniture style for that nostalgia feel and counted among my precious investment pieces an antique Spanish buffet table, a carved wooden China cabinet, an antique narra butaka rocking chair, a long solihiya sillon, a garden karetela seat with steel-lined wheels, and an antique Carnival Queen mirror.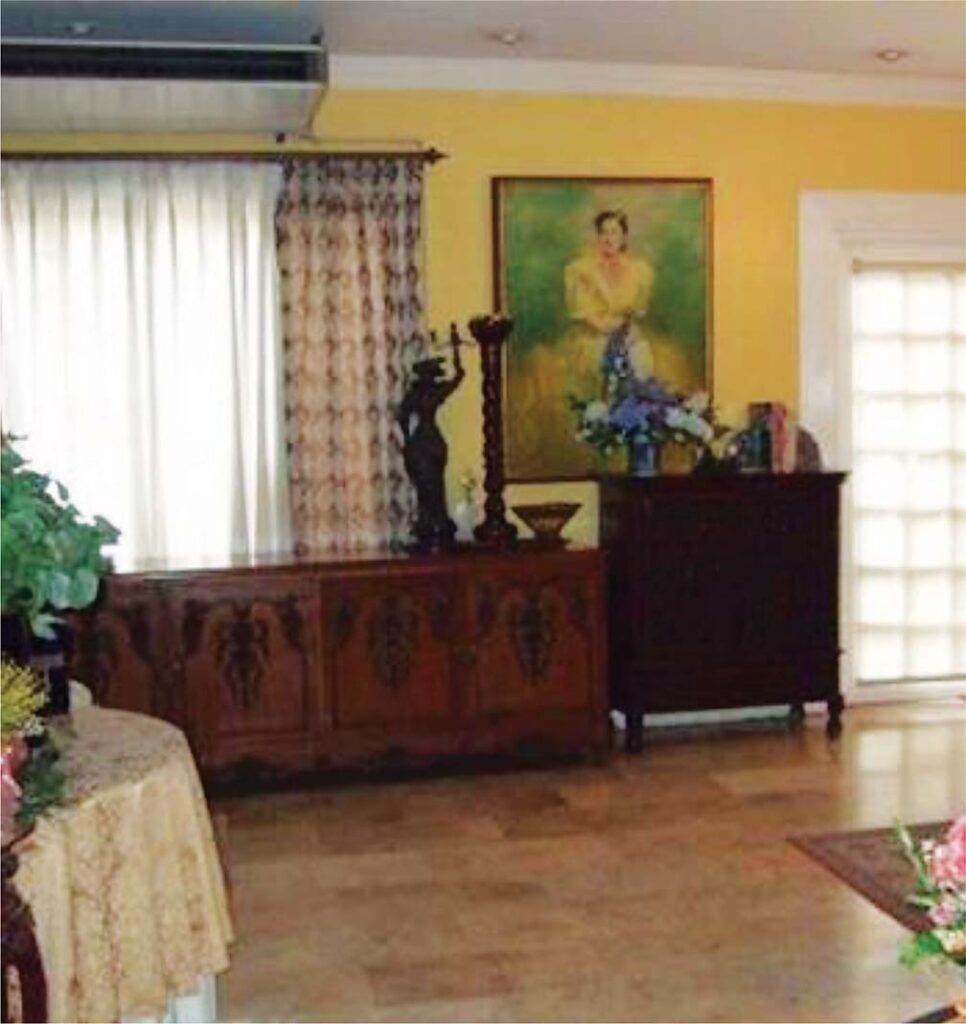 Then Tropical Storm "Ketsana," locally known as "Ondoy," struck.
It was quite a rainy morning, at 8 a.m. of September 26, 2009, when tragedy struck like a thief in the night. It had actually rained for four days straight but we did not have any foreboding of a catastrophe we will never forget.
The phone rang and it was an urgent call from a friend from a local church, where Willie and I are members, and his friend asked me if Willie was awake already as he should be well-advised to move our vehicles to higher ground because the waters of the Marikina River was at a critical level.
At that time, I was with my husband and an elderly helper. My daughter Kaye, a SPED (Special Education) teacher, had just left our house to go to work, and our two sons, Karlo (who was in Tahanan Village, Parañaque) and Kim (who was in his office in Makati City) were not with us.
"'Pa! Bilis! Bilis! Ilipat mo yung kotse mo!" I shouted to ask my husband to hurry down the stairs.
Willie rushed downstairs and started the engine of his MB S280 and transferred it quickly to the main street of the village. He walked back home and did the same to my Ford Escape. He saw the other residents getting their cars parked on the same street and they must have thought the same thing we did, that that street was a safe space and the last place to get flooded.
Suddenly, we heard a loud swoosh of a sheet of water coming through from nowhere and which drenched the sala carpet. Then water swooshed powerfully again, and it started to cover the floors of our living room and dining room.
"Oh, no! Manang, dali, akyat natin ang mga gamit!" I went into panic mode but did not fail to give instructions to our helper and asked her to put up the food tray (for lunch) for my husband.
In the meantime, my helper and I relocated all kinds of things to our second floor—vases, paintings, select antique jars, and practically anything that our hands could carry. After around five hours of back-and-forths, I surveyed the second floor now brimming with the moved items, including a pair of bronze lampstands and an expensive, antique woven Indian carpet.
We were all scampering about nonstop when, at 2 p.m., hell broke loose.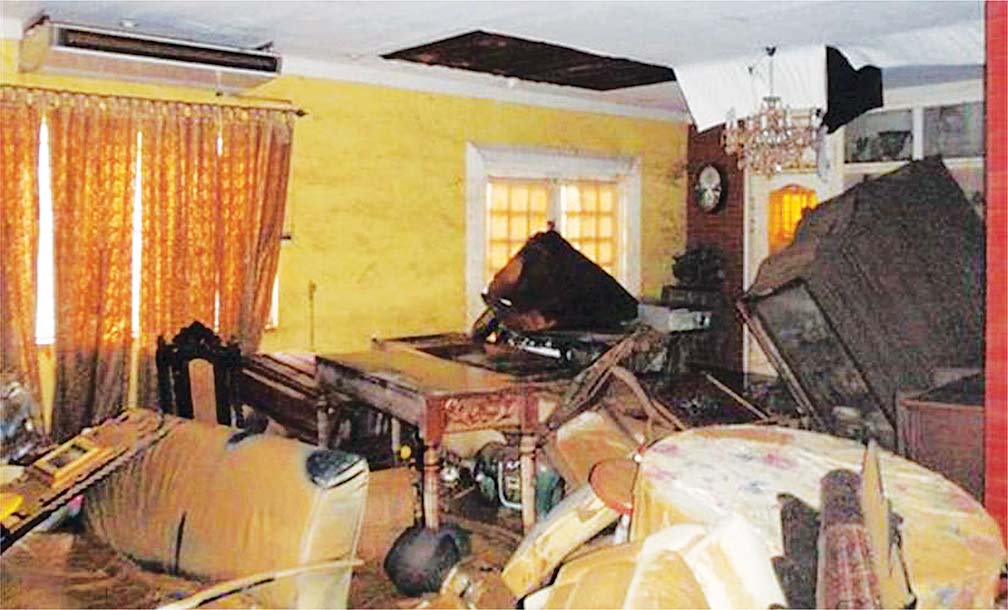 The flood waters suddenly rose and reached the landing of our staircase, and I heard the breaking of the sliding door in our lanai caused by the impact of rushing waters. Our butaka rocking chair, a coffee table, and some side tables were flung by the rushing waters across the first floor and some furniture hit the aquarium glass and broke it, sending a prized pair of piranha swimming in the brown waters. In minutes, the waters reached the second floor.
Yet, through all this, strangely, a part of me remained calm and at peace, and I could still crack a joke, telling my husband that I had enough presence of mind to order a good meal on a tray from our helper. "Ano'ng ulam diyan, Manang? Meron ka bang dessert?" I had asked the helper to keep the tension down.
By 2.a.m., the previously waist-high waters at the first floor have reached 4 feet deep at the second floor. The sea of murky water encircled us. It was a moment when we were not sure if we could get out alive. Thus, we did all the tricks we could under the situation. We made improvised rafts with plastic containers tied together so we could use them as floaters. We positioned ourselves on top of various furniture. At one point, I had to stand on my toes already since the waters have risen to my chin and I could almost swallow the dirty water in a gulp.
We sighted a cabinet made of light materials and which was not loaded with contents. Left with no better alternatives, my husband egged me on to step on the cabinet for safety.
Willie stepped on tables of different heights, all the while still trying to secure things like his golf set. But when his head was almost touching the ceiling, he had to lie down on top of the cabinet after pushing it against the wall to secure it better.
It was only at 3 a.m. that the water started to recede.
While waiting for the water level to go down further, in the wee hours of the morning, we felt a strong, eerie gust of wind (probably coming from Montalban, Rizal), and which caused us to feel really cold and uncomfortably chilly.
I had thought of our neighbor, Grace, whose mother was alone in the house with a maid, and I had gathered dry blankets and towels and put them in a plastic bag next to one of the cabinets thinking of giving them to the mother when the floods would eventually recede. Later, I learned that her mother had climbed onto the roof of her house to escape the rising waters.
In the wee hours of the morning, around 3 a.m., the waters have somewhat receded, and we tried to go back to our rooms. We saw that everything was wet and damaged, except, miraculously, for our bed with a boxed frame, the mattresses, and pillows, which were all dry and clean! The wooden bedframe floated in the water, thus protecting the mattress. Thanks to this "floating bed," we were able to use a bed and catch a few hours of sleep. We raised our hearts to God in gratitude.
The next morning, a van sent by our church came to our house to deliver us some sandwiches and hot coffee and to pick us up to go to safer grounds. We were brought to a small hotel in Quezon City where we stayed for one week.
I could go on but when my mind remembers, my heart shudders and I feel like a heavy weight has just landed on my shoulders and I feel crushed. The feeling of wading in thick mud and dirty water comes back to me in the most unexpected moments. I secretly shed copious tears whenever I see what has remained of our possessions, now filthy and ruined, part of useless debris.
On a lighter note, we felt an unexplainable sense of peace. Willie and I passed under our coromandel divider, which was half-toppled by the waters, and we kidded ourselves that we were like newlyweds passing under a canopy of swords. it was yet another tragedy which was as surreal to us as the others.
The horror of Ondoy in 2009, I would tell my friends, just comes back when the super typhoons come: Habagat 1, Habagat 2, Carding … the list goes on and on. Whenever the floods would rush in and wreak havoc to our house, we would reconstruct, rehabilitate, remodel, and refurnish. When Typhoon Ulysses swept our village on November 12, 2020, it was yet another tragedy which was as surreal to us as the others.
And each time, I would choke while trying to convince myself, "It is all right. I can understand the reasons for all these happenings later. I will be able to self-reflect and accept that suffering is not for nothing, and that good can come out of it."
The thought that there were many people who cared for us makes me smile, though, and also brings tears to my eyes.
It is the cause of happy tears for me that many people would often come to our house to help us one way or another, and once, I told them:
"Thank you for your kindness, friends and classmates (Holy Ghost College High School Class '69). You responded in various ways, calling for rescue agencies to send boats to get us out of our flooded house; sending so many supplies—a new generator, power hoses, and food when we were trapped inside our house without electricity; sending life-saving medicines and clean drinking water, lots of disinfectants, soaps, alcohol, masks, gloves, mops, etc."
The threat of the rains and floods continues to haunt me and my family. Whenever the alarms signaling us to evacuate sound, a sharp, chilly feeling goes through my body, and we leave our house quickly, with only our get-go bags in tow. The fear that one day, our house itself can crumble down or be overtaken by floods permanently, is formidable. What my husband and I have saved up and worked hard for can just literally be swept away.
Both of us turned 70 years old recently and the COVID-19 pandemic has limited our allowing hired help to assist us with house chores, which means we must do almost everything by ourselves. Also, we are not even able to walk around the village for much needed physical exercise and we noticed that this has diminished our energy and stamina somewhat.
What else is there for me to do?