Your father suffered a heart attack two weeks ago. He was rushed to the hospital and had to undergo an emergency coronary artery bypass graft (CABG) surgery. While recovering in his hospital room two days after surgery, he is visited by a nurse to see whether he can already undergo cardiac rehabilitation.
The nurse said your father was ready to undergo cardiac rehabilitation and he had his first session a day before his discharge. He is supposed to return to the hospital for a few more sessions so that his heart will be able to recover and regain its former strength.
However, reports indicate that only 10% to 15% of Filipino patients who had heart procedures move on to undergo cardiac rehab.
Dr. Ricky Tiongco made this revelation at the forum, "Usapang Puso sa Puso" by the Philippine Heart Association. Tiongco, together with Dr. Luigi Segundo hosted the forum with the theme, "My Ero Heart, My Enero Promise." It highlighted the importance of cardiac rehab.
The two cardiologists also announced the PHA's plan to push for the inclusion of cardiac rehab in Philhealth's Z Benefit Package.
LEADING CAUSE OF DEATH
According to Tiongco, heart disease was the top leading cause of death among Filipinos last year. Citing figures from the Philippine Statistics Authority, coronary heart disease was the leading cause of death with 91,152 cases or 18.5% of the total death toll from January to September 2021.
This was an increase of around 18.7% from the 76,783 deaths or 16.9% of the total deaths during the same period in 2020.
"The PHA's advocacy program for 2022 is to make cardiac rehab part of the Z Benefit Package. Heart disease is one of the country's top five diseases and one way of treating this condition is through cardiac rehab. This will enable them to have a longer and heathier life span," Dr. Tiongco said.
Mayoclinic.org defines cardiac rehabilitation or cardiac rehab as a customized outpatient program of exercise and education. It is designed to help patients improve their health and recover from a heart attack, other forms of heart disease or surgery to treat heart disease.
Cardiac rehab involves exercise training, emotional support and education about lifestyle changes to reduce heart disease risk, such as eating a heart healthy diet, maintaining a healthy weight and quitting smoking.
MEDICATION, EXERCISE
Dr. Benjamin Jose Quito, a cardiac rehab specialist, said that while conditions like heart failure could be treated through medication, this should be complemented with cardiac rehab so that the patient can slowly regain his quality of life.
"Before the patient can undergo rehab, we have to make sure that he is clinically stable during the exercise. He should have no cough or cold. While admitted, he can already start Phase 1 of rehab and then continue upon discharge. He has to do this three times a week," Quito said, stressing that the rehab plan is individualized and supervised.
There are three phases in cardiac rehabilitation. Phase 1 happens when the patient is still admitted at the hospital and is referred for rehab by his doctor. He then undergoes five cardiac rehab sessions.
Phase 2 involves the patient's initial outpatient assessment test to see how he fared after the initial phase. He then undergoes 16 rehab sessions. Phase 3 involves 24 outpatient sessions and the entire cardiac rehab program takes one month.
"Cardiac rehab is a structured and individualized program. It is also a gradual process because we do not want to put undue pressure on the heart," Quito said.
CARDIAC TELEREHAB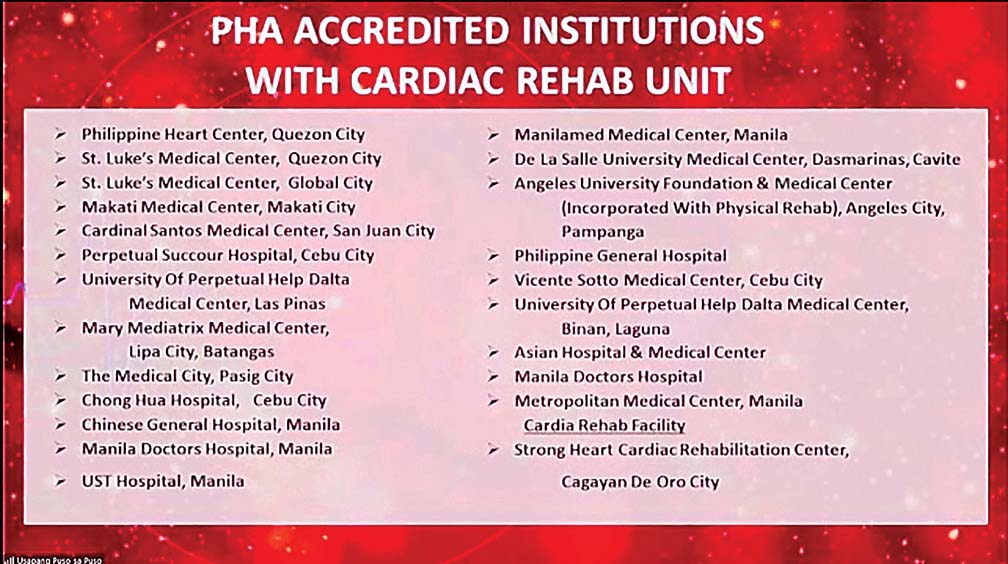 Due to the fear of contracting the COVID-19 virus, many heart surgery patients chose to stay at home. To ensure that recovering heart surgery patients would continue with their exercises, cardiac rehab centers introduced cardiac telerehab sessions for them.
"Cardiac telerehab, however, is not for everyone. Patients have to be screened and if they are deemed to be low risk, have a steady Internet connection at home, and have someone to attend to them while undergoing the sessions, (they) can avail of telerehab," Quito explained.
Another guest, Dr. Lucky Cuenza, a cardiac rehab and sports cardiology specialist, said it was important that patients should always remember to warm up and cool down when they do their cardiac rehab exercises to ensure that their heart is prepared.
"During warm up, it can already be determined if the patient will be able to undergo rehab. If he experiences shortness of breath, he should stop and not push through with the session," he said.
SEXY TIME
Another concern of patients who undergo heart procedures is when they will be able to resume their sexual activity, or sexy time as described by the doctors during the forum. Cuenza said patients should discuss this concern with their cardiologists.
"Cardiac rehab includes education on the recovery program on sexual activity. If the patient is doing well already during their rehab sessions, the doctor can already recommend that the patient can resume his sexual activities. Cardia rehab should be part of the full recovery of heart patients," he said.
While it is apparent that cardiac rehab has many benefits, there are many reasons why cardiac rehabilitation is underutilized. In fact, the situation is the same internationally. In the United States, the utilization rate of cardiac rehab is pegged at 20%.
"Patients shell out more than P500,000 when they undergo any cardiac procedures and they no longer have extra money to cover the cardiac rehab part of their treatment journey. They also find it a hassle to go back to the hospital just for their rehab sessions," Quito said.
LIMITED CENTERS
He added that there are only 20 hospitals in the entire country that offer cardiac rehabilitation and the bulk of these hospitals can be found in the National Capital Region.
"Heart surgery patients who live in the provinces cannot be expected to return to Metro Manila for them to undergo their rehab sessions. So there are plans to come up with regional heart centers so that heart patients can avail of this service," Quito said.
For now, the PHA will be partnering with other medical societies and groups to push for the inclusion of cardiac rehab in the Philhealth Z Benefit Package, as well as for coverage of HMOs, so that more heart patients will be able to avail of the service and complete their road to recovery.
"Philhealth only covers inpatient cardiac rehab and the cost is around P5,000. We have to make them realize that there is a need for Philhealth and HMOs to cover cardiac rehab because this will complete the heart patient's health journey," Quito said.