(Selected points on President Rodrigo Roa Duterte's Final Report to the People from 2016 to 2021 as prepared by the Office of the President-Presidential Management Staff/Visual Support from the Presidential Communications Operations Office)
In 2016, reforms toward the responsive delivery of services were instituted to meet the people's basic needs. By 2018, a significant milestone was attained. Poverty incidence declined from 23.3% in 2015 to 16.7% in 2018, lifting at least 5.9 Million Filipinos out of poverty.
The government improved availability and access to gainful employment, adequate and affordable food, as well as access to quality education and universal health care.
With these, the Duterte administration hopes to empower every Filipino family, enabling them to live comfortable lives and provide a better future for their children
FREE HIGHER EDUCATION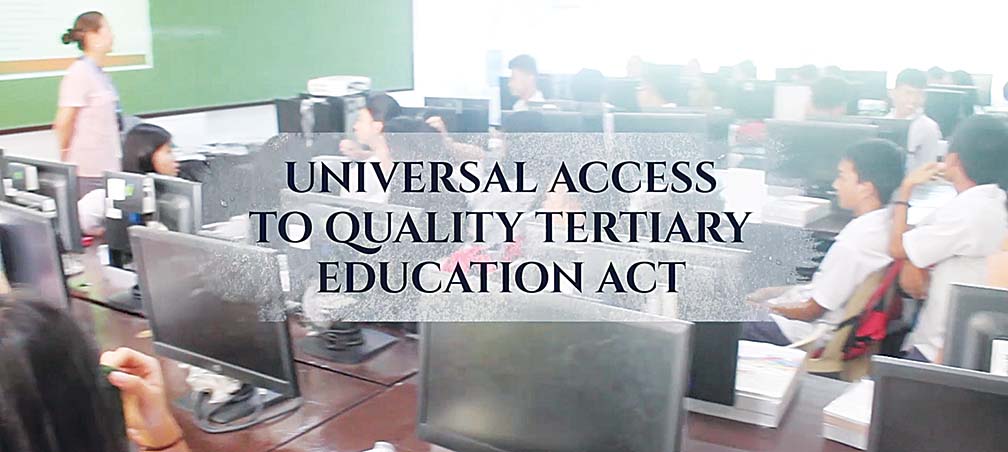 The Department of Education (DepEd) and its attached agencies—State Universities and Colleges (SUCs), Commission on Higher Education (CHED), and TESDA—have collectively and consistently received the largest budget allocation since 2017.
The DepEd launched an educational reform program called Sulong Edukalidad in 2019 to address challenges to basic education. The program prepared the education system and aligned the DepEd's objectives to the changes and demands brought by the COVID-19 pandemic.
Some 118,038 new classrooms and 12,786 technical and vocational laboratories and workshops were constructed. Government repaired and reconstructed 103,548 classrooms, and restored 588 Gabaldon Heritage Schools from 2016 to 2021.
Despite the pandemic, DepEd managed an enrollment of 26.23 million students for formal education for School Year (SY) 2020-2021, representing 97.04% of the pre-pandemic enrollment.
Some 205,850 teachers were hired or 96.31% of the 213,736 teaching positions created from 2016 to 2020.
For SY 2020-2021, some 1,052,926 students benefitted from the Education Service Contracting program, while 1,153,301 students benefitted from the SHS Voucher Program, a financial assistance provided to qualified Grade 10 completers who want to pursue their SHS education in private schools, SUCs, and Local Universities and Colleges (LUCs).
The number of grantees of the Joint Delivery Voucher Program (JDVP) for technical and vocational specialization increased by 3.49% from 88,933 in SY 2019-2020 to 92,033 in SY 2020-2021.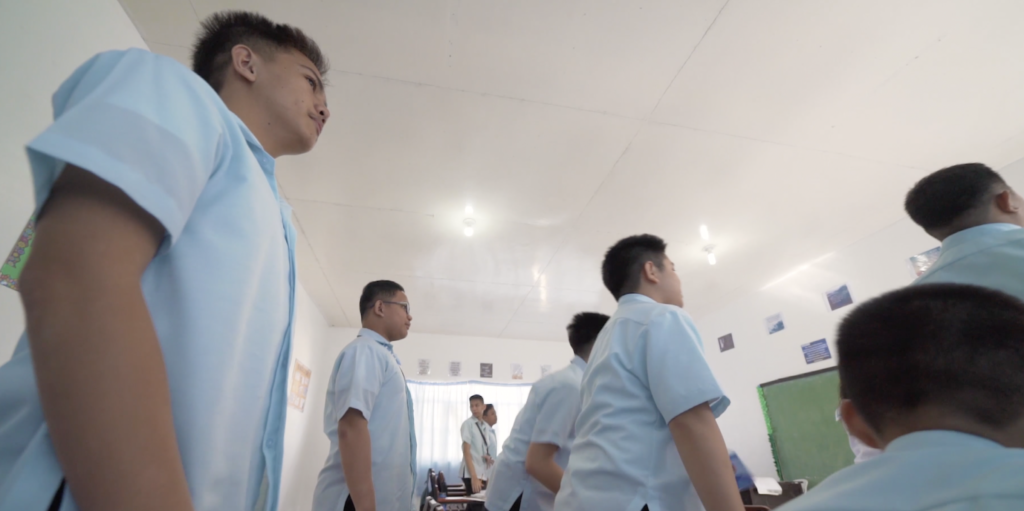 Access of Filipinos to quality and equitable tertiary Education was likewise expanded through RA no. 10931 or the Universal Access to Quality Tertiary Education Act that was signed on Aug. 3, 2017.
RA 10931 institutionalized the Free Higher Education (FHE), Tertiary Education Subsidy (TES), Student Loan Program, and Free Technical and Vocational Education and Training (TVET).
Medical education was made accessible to deserving students from SUCs and partner private Higher Education Institutions (HEIs) through the passage of RA no. 11509 or the Doktor Para sa Bayan Act, which was signed on Dec. 23, 2020.
Government provided 16,636 relevant skills training and scholarship programs in the fields of tourism, agriculture and fishery, electrical and electronics, construction, and social community development, among others. This resulted in the 46.88% increase of TVET Scholarship Program grantees from 2016 to 2019.
ADDRESSING THE COVID-19 PANDEMIC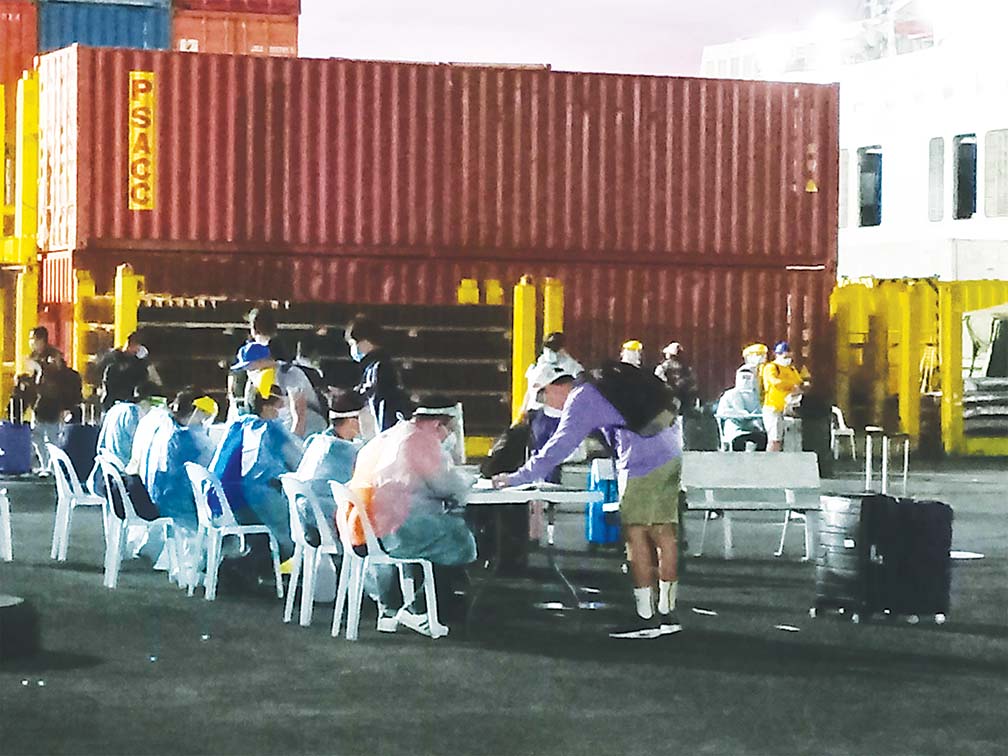 In March 2020, the National Action Plan on COVID-19 on the Prevent-Detect-Isolate-Treat-Reintegrate (PDITR) Strategy was implemented to help strike a fine balance between protecting people's health and slowing the virus transmission and gradually reopening our economy.
Preventive measures to contain the spread of the virus were enforced. These included the setting up of the community quarantine, stricter health and safety protocols, increased testing and bio-surveillance capacity, intensified contact tracing, establishment of isolation facilities for non-critical cases, and quality treatment for critical cases.
The government readily allocated P82.5 billion for the procurement of COVID-19 vaccines to cover each Filipino who is eligible to get vaccinated. For 2021, it targeted the delivery of 202 million doses of COVID-19 vaccines in the country. As of July 15, 2021, government received 22.03 million doses and distributed some 18.60 million across the country.
The Duterte administration officially started the COVID-19 vaccine rollout program on Mar. 1, 2021. As of July 15, 2021, government administered 14.47 million doses of COVID-19 vaccines. Of these, 10.18 million Filipinos have been vaccinated with the first dose and 4.29 million have been fully vaccinated.
As of May 31, 2021, the Department of Budget and Management (DBM) had released P660.51 billion to fund the COVID-19 management and response. Of this amount, PhP387.17 billion was released under Bayanihan 1 while P200.12 billion was released under Bayanihan 2. Meanwhile, P73.21 billion was sourced from regular funds.
With the imposition of community quarantines across the country, many entrepreneurs were forced to close or suspend their business operations, losing their means to earn money to feed their families.
As a response, government provided various support interventions through the Social Amelioration Program (SAP) and the COVID-19 Assistance to Restart Enterprises (CARES) Programs.
Loan assistance were provided by the Land Bank of the Philippines, Development Bank of the Philippines, and the United Coconut Planters Bank.
Assistance were likewise provided to the Transportation Sector through the distribution of cash subsidy to drivers and operators of PUVs and the PUV Service Contracting Program.
Some P1.73 billion were provided to 172,834 (1st tranche) and 72,415 (2nd tranche) PUV drivers under Bayanihan 1.Payment was transmitted to 93,379 PUV operators of 171,372 units amounting to PhP6,500 per fixed route unit and PhP4,500 per tourist transport service unit to the LANDBANK under Bayanihan 2.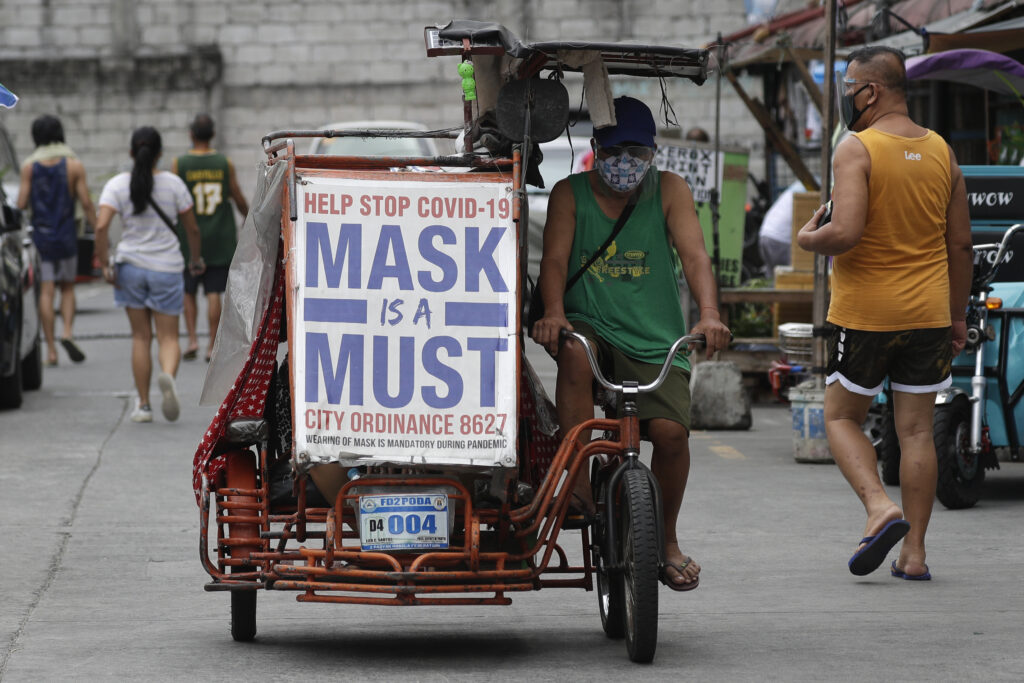 Under the PUV Service Contracting Program, P4,000 each were provided to some 22,158 PUV drivers, P20,000 to P25,000 onboarding incentive to 14,441 drivers, and weekly payouts to 18,864 drivers. Government provided P353.01 million worth of financial assistance to 48,164 ships and 74,912 seafarers.
Assistance was extended to Overseas Filipinos (OFs) and repatriated OFWs. Assisted were more than 1.20 million repatriated OFWs while food, transportation, financial, and accommodation assistance were extended to 612,000 repatriated OFWs as of July 12, 2021. Some 637,398 repatriated OFWs were brought home to their respective provinces.
When the COVID-19 pandemic struck, the Philippine Charity Sweepstakes Office (PCSO) processed the requests for financial assistance under its medical assistance program and utilized available technological advancements for the convenience of patients.
From April 22, 2020 to June 15, 2021, the PCSO acted on 41,322 requests amounting to PhP449.03 million worth of assistance for confinement, chemotherapy, dialysis, and medicines within 24 hours from receipt of complete documentary requirements.
QUALITY HEALTH CARE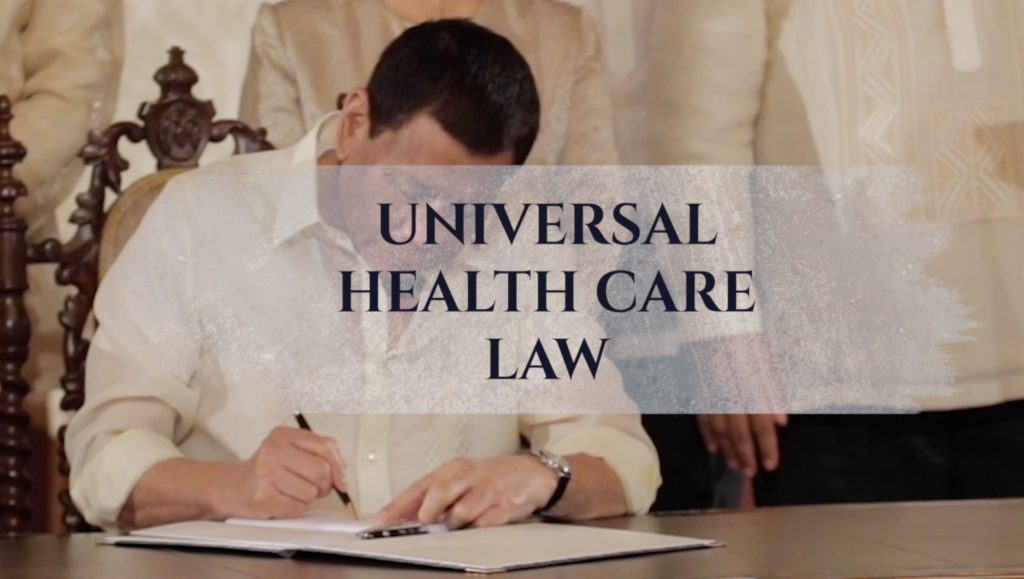 In 2019, the UHC Act or RA no. 11223 was enacted into law. Subsequently, government instituted guidelines to fully implement this law and ascertain that all Filipinos could fully benefit from it. Accountability measures were strengthened to ensure that public health funds will benefit the people down to the last centavo.
The UHC Act made it possible for every Filipino to become eligible to avail of primary health care services.
From only 90% in 2016, Philippine Health Insurance Corporation (PhilHealth) coverage reached 100% of the current population through the UHC Act. The guidelines issued immediate eligibility to all Filipinos, whether they contributed or not.
The number of public health workers was gradually increased, from 54,555 in 2016 to 60,142 in 2020, deploying many of them to areas of need. The National Human Resources for Health (HRH) Master Plan improved HRH management and development in the country.
Free medicines, medical supplies, prosthetics, medical and assistive devices, medical implants, laboratory tests, diagnostic procedures, chemotherapy, and dialysis assistance to indigent families and individuals in dire need were provided through the LinGap sa MaSa program.
As of Mar. 30, 2021, some 91,054 patients that availed of LinGap sa MaSa in 29 accredited government regional hospitals in five identified regions had been assisted. Of the P1 billion budget from the Office of the President, P910.03 million or 91% had been utilized for this purpose.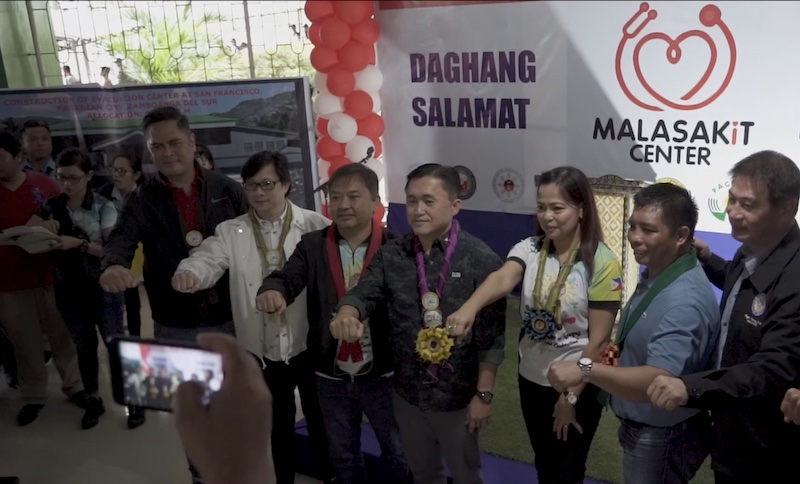 Through the Malasakit Centers Act or RA no. 11463, government established a one-stop-shop in designated hospitals where patients can seek medical and financial assistance from the DOH, Department of Social Welfare and Development (DSWD), PhilHealth, and Philippine Charity Sweepstakes Office, thereby simplifying the process of availing assistance. As of July 10, 2021, some 128 Malasakit Centers have been established across the country.
On May 1, 2019, the OFW Hospital was established. It provides free services to OFWs and their dependents when securing medical certificates covering laboratory exams and other requirements for their overseas deployment.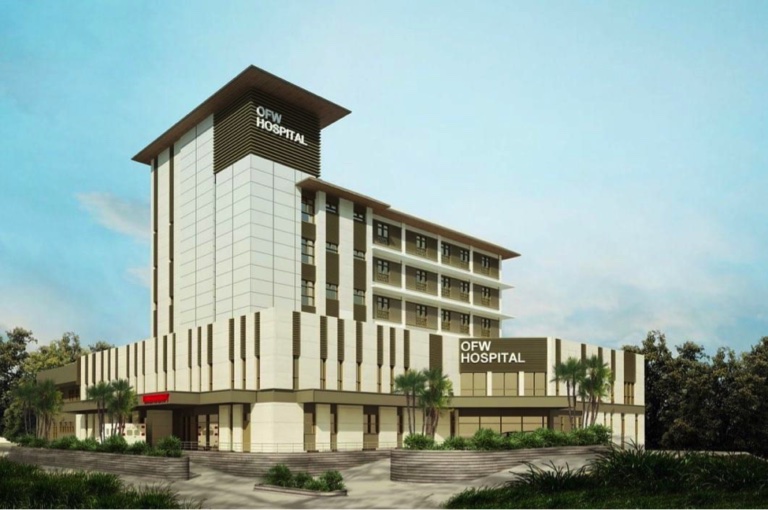 The establishment of the hospital and diagnostics center for workers were financed by donations and the Overseas Workers Welfare Administration (OWWA), with support from the DOH and the Philippine Amusement and Gaming Corporation (PAGCOR), and the Provincial Government of Pampanga, which donated the lot.
FOOD AFFORDABILITY AND SECURITY
The agriculture and fisheries sector managed to grow by an annual average of 1.6% from 2017 to 2020.
From 2016 to 2020, average local rice production was 12.3 million metric tons (MMT) per annum (18.8 MMT of palay). Despite increased rice production, there had been an annual average shortfall of 4.03 MMT to meet the country's demand for rice.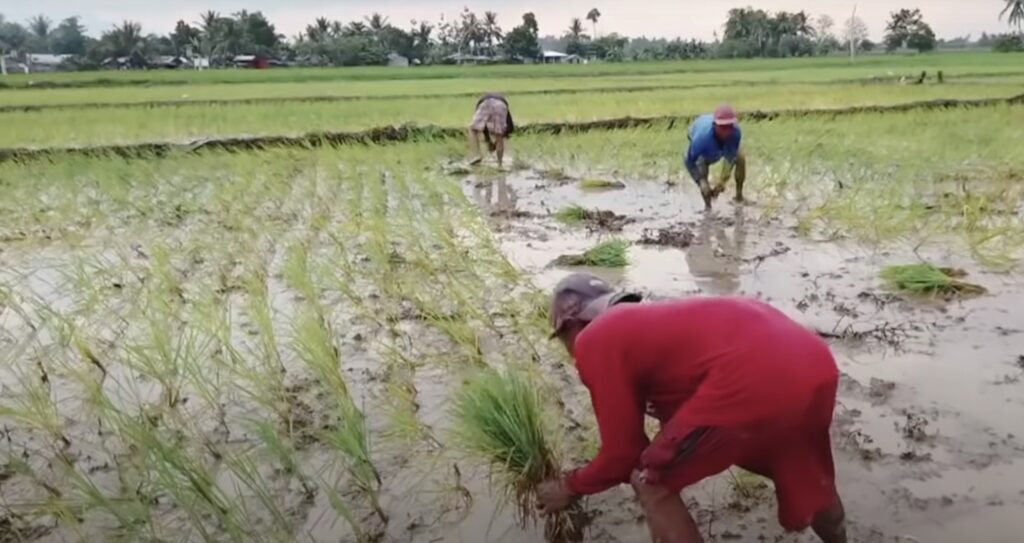 To reduce the rice deficit, assistance to local rice farmers was ramped up through programs aimed at increasing their yield per hectare from 3.87 metric tons (MT) (2016) to 4.09 MT (2020). This resulted in narrowing down the rice supply deficit from 3.8 MMT in 2016 to 2.72 MMT in 2020.
Government implemented safety nets, as provided by law, to mitigate the effects of the sudden surge of imported rice due to the Rice Tariffication Law. This included a funding drawdown from the PhP10 billion annual RCEF or Rice Fund.
From March 2019 to March 2021, government collected P31.9 billion in tariffs from the importation of 6,116 MT of rice. Out of the Rice Fund, some 3,555 Farmers Cooperatives and Associations in 57 provinces were afforded P860 million-worth of assistance.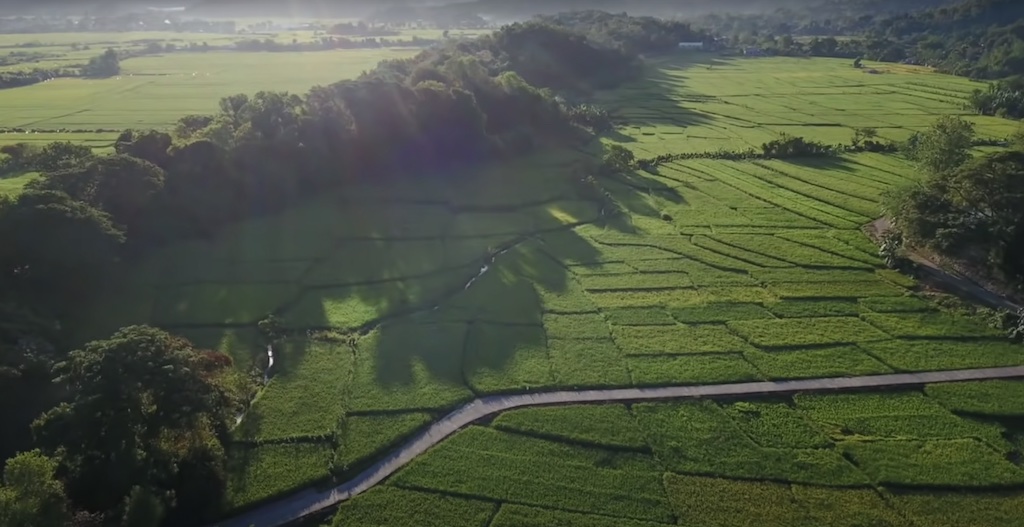 From 2016 to May 2021, the National Food Authority (NFA) procured 1.70 MMT of palay from local farmers. About 88% (1.49 MMT) of these were purchased during the RTL's implementation from February 2019 to May 2021 for use as buffer stock.
From 2016 to May 2021, the DA, in coordination with the Department of Public Works and Highways (DPWH), completed 5,096 FMR projects with an aggregate length of 2,884 km worth PhP29.88 billion.
In February 2021, the Coconut Farmers and Industry Trust Fund (CFITF) Act or RA no. 11542 was enacted. Under the law, the Bureau of Treasury (BTr) is mandated to transfer funds annually to the CFITF to help around 3.5 million coconut farmers, who own less than five hectares of coconut farms, in 68 coconut-producing provinces.
As of 2020, government irrigated more than two million hectares of farmlands from only 1.86 million hectares in 2016—equivalent to an average annual growth rate of 2%. This is 37% more than the past administration's output.
POVERTY ALLEVIATION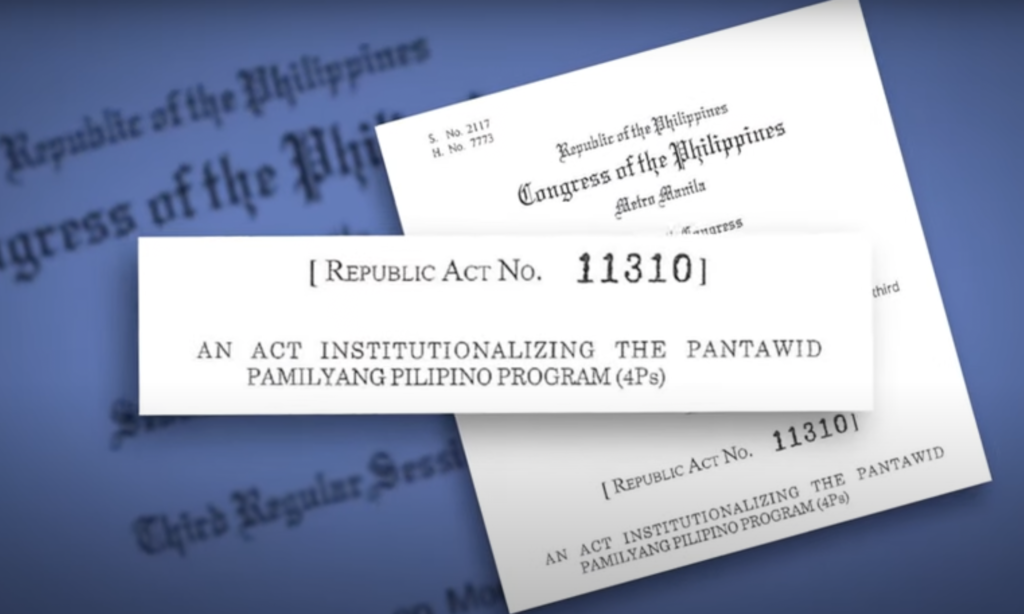 About 5.9 million Filipinos were brought out of poverty as a result of various socio-economic programs. There was a significant decline in poverty incidence, from 23.3% in 2015 to 16.7% in 2018.
The implementation of the Pantawid Pamilyang Pilipino Program (4Ps) was strengthened. From PhP62.67 billion in 2016, the 4P's budget has been consistently increased, reaching PhP106.80 billion in 2021. This included funds to cover the provision of monthly rice allowance of P600 for beneficiaries since 2017; additional monthly education cash grants worth P300, P500, and P700 for Elementary, Junior High School, and SHS beneficiaries, respectively; and P750 monthly health grants since 2020.
In 2017, the DOTr launched the Public Utility Vehicle Modernization Program (PUVMP). The DOTr and TESDA launched the Tsuper Iskolar Program on Apr. 4, 2019 as a corollary program to the PUVMP. Under the program, each scholar is entitled to free skills and entrepreneurship training. Some 20,866 individuals, which include 17,691 driver/operator scholars, have benefited and graduated from the program.
Assistance efforts from the DOTr, Land Transportation Franchising and Regulatory Board (LTFRB), and LANDBANK, provided targeted relief to public transport operators and drivers through the Pantawid Pasada Program. In 2019, an annual subsidy of P20,514.76 was allotted per recipient, an increase from the P5,000 subsidy in 2018.
The implementation of RA no. 11037 or the Masustansyang Pagkain para sa Batang Pilipino Act was hastened by the DSWD's Supplementary Feeding Program (SFP) for children aged two to five. As of July 2021, the DSWD served 91.04% of the target 1.88 million children for SY 2020-2021.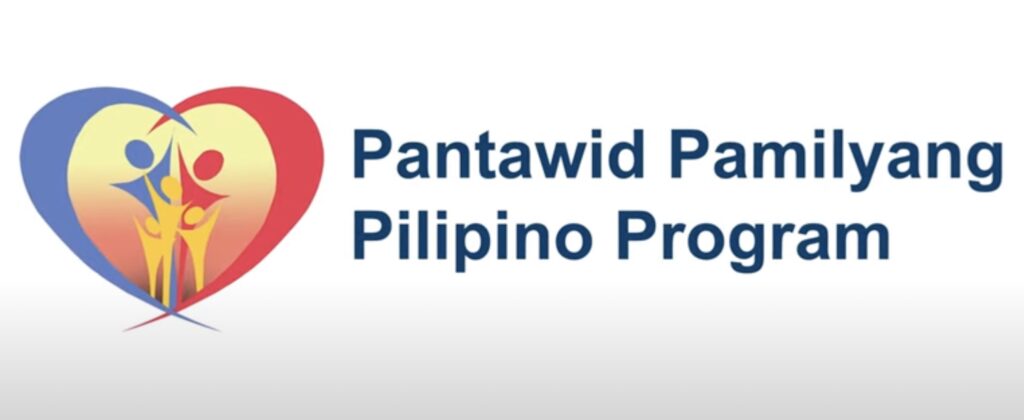 The DepEd, on the other hand, implemented the School-Based Feeding Program (SBFP) that provides nutritious food products (NFP) and pasteurized milk. As of May 2021, the SBFP served approximately 3.5 million NFP and 3.1 million milk packs for the targeted 3.2 million learners.
Despite the closure of schools and daycare centers due to the pandemic, government expanded the SFP and SBFP through the Bayanihan to Heal as One Act and continued the feeding programs.
Government also implemented the Social Pension for Indigent Senior Citizens (SPISC) for senior citizens that do not receive any pension or support from their families. As of June 2021, the program had assisted 49.44% or 1,895,951 elderlies.
Some 7,918 centenarians were awarded with a cash gift of P100,000 each since the implementation of the Centenarians Act in 2016.
SECURE & MEANINGFUL LIVELIHOOD
Both unemployment (5.1%) and underemployment (14%) rates in 2019 declined to their lowest in 14 years. This translates to 42.43 million Filipinos employed, higher than the 41.16 million Filipinos who held jobs in 2018. Meanwhile, underemployed Filipinos, or those who were employed but were looking for more work, decreased from 6.7 million in 2018 to 5.9 million in 2019.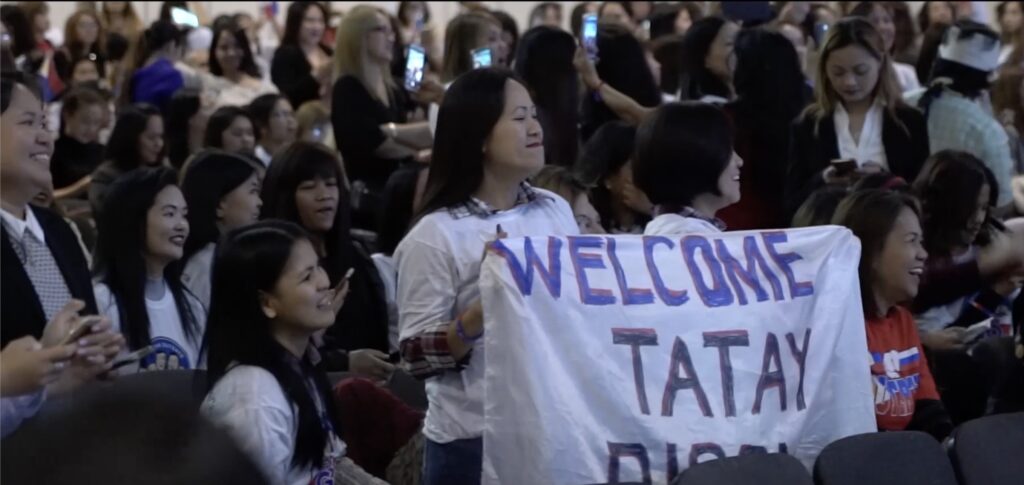 Government established measures and mechanisms to protect and promote the welfare and interest of OFWs. Protection of OFWs in host countries was strerngthened through the signing of bilateral agreements with the Kingdom of Saudi Arabia, United Arab Emirates, Israel, Jordan, Kuwait, China, Cambodia, Canada, Japan, South Korea, and Romania.
Government advocated the revisiting of the Kafala system in the Middle East, which is unjust and exploitative as it placed thousands of migrant workers, particularly household workers, in the most vulnerable situation—unseen, unheard, and unable to defend their dignity as human beings.
EASE OF DOING BUSINESS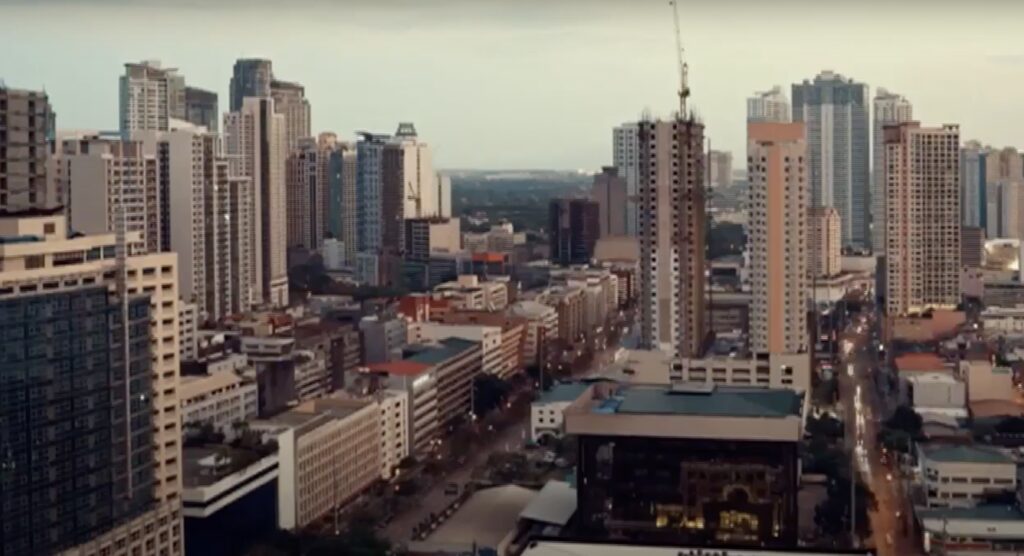 From ranking 124th in 2019, the Philippines climbed to the 95th spot in the World Bank's Doing Business Report, which annually compares business regulations in 190 economies and recognizes the important work that countries have put in to improve their regulatory environments.
Also, since it took effect in August 2016, the Revised Business Permit and Licensing System (BPLS) standards—a joint undertaking of the DILG, DTI, and Department of Information and Communications Technology (DICT)—has seen the LGUs' increasing compliance through the years. As a result, more than 7.50 million business establishments were registered from 2017 to June 2021.
To further make physical queuing a thing of the past, the Central Business Portal (CBP) (www.business.gov.ph) was launched on Jan. 28, 2021.
LGUs launched their respective Business One-Stop Shop (BOSS), which is a single window system for processing business permit applications. As of June 14, 2021, there were 1,474 existing BOSS nationwide. As of the end of June 2021, at least 611 LGUs had set up their eBOSS using the Integrated Business Permits and Licensing System (iBPLS), a software developed by the DICT.
From April 2018 to June 2021, the Land Transportation Office (LTO) produced 3.8 million pairs of vehicle license plates, covering all the backlog for the period September 2016 to April 2021. Instead of issuing paper receipts, the LTO now issues driver's license on plastic cards featuring a five-year validity along with 32 security features. From July 2016 to May 2021, some 27,942,201 driver's license cards and permits were issued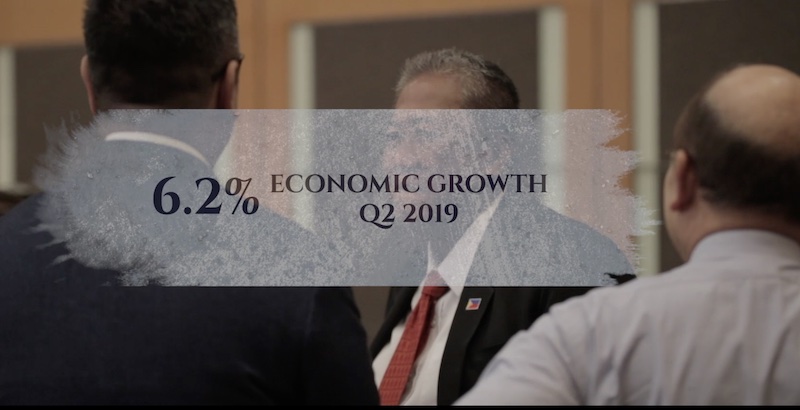 Recognizing that fostering innovation enables MSMEs and growing businesses to be part of the domestic and global supply chain, the following laws were signed— RA no. 11293 or the Philippine Innovation Act on April 17, 2019 and RA no. 11337 or the Innovative Startup Act on April 26, 2019.
The pandemic did not hinder the continued implementation of staple entrepreneurial capacity building programs, including the Kapatid Mentor ME (KMME). The KMME provides digitalized coaching and mentoring to micro and small entrepreneurs, wherein mentors are business owners and practitioners on different functional areas of entrepreneurship.
Other programs and services include the Livelihood Seeding Program (LSP), Negosyo Centers (NCs), Pondo sa Pagbabago at Pag-asenso (P3), and Shared Service Facilities (SSF).
The usage of electronic payment fund transfers (EFTs) was encouraged through the National Retail Payment System. EFTs (combined Philippine Electronic Fund Transfer System and Operations Network [PESONet] and Instapay) grew by 87% in volume from 17.7 million to 33.2 million and 42% in value from P432.6 billion to P614.1 billion before and during the enhanced community quarantine in March 2020.
In January 2018, the DFA stepped up its efforts to bring passport services closer to the public through the Passport-on-Wheels (POW) program. Since its launching, 284 POW services were established, leading to the approval of 216,058 ePassport applications. In 2019, 206 POW sites were able to release 127,510 ePassports. Despite the challenges brought by the COVID-19 pandemic, the DFA continued the POW services in 20 sites, which resulted in the release of 6,906 ePassports in 2020.
Virtual systems, like the DFA's Online Appointment System (OAS) and the Passport ePayment Portal, allowed citizens to apply for passports and pay fees at the touch of a button and subsequently receive their passports in the convenience of their homes. Since its establishment in 2018 up to June 2021, the OAS has accommodated 5,903,630 online passport applications.
The government took steps to make services more accessible through registration in the Philippine Identification System (PhilSys). As of July 9, 2021, some 397,564 PhilID cards have been successfully delivered to registrants.
ADDRESSING CORRUPTION
As of June 15, 2021, the Presidential Anti-Corruption Commission (PACC) acted upon 9,585 complaints related to the Social Amelioration Program (SAP). It endorsed 163 corruption-related concerns to the Office of the Ombudsman, 93 to the DOJ, and 3,554 to other government agencies. It likewise completed 114 investigations, with 266 cases ongoing investigation. As of May 31, 2021, the Commission had acted on all 4,201 concerns received via its text hotline.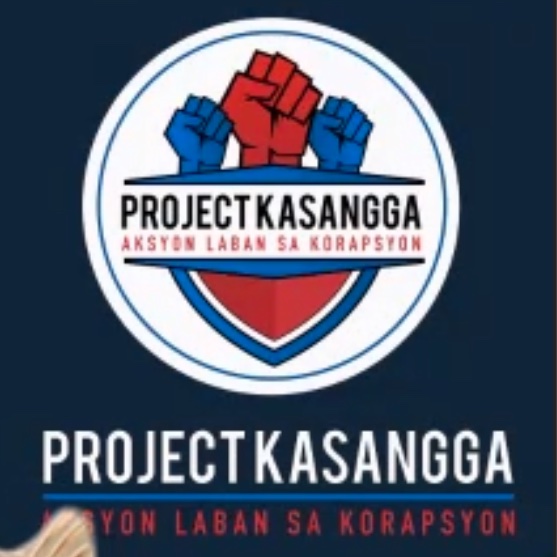 In March 2021, the PACC launched Project Kasangga: Aksyon Laban sa Korapsyon, a whole-of-government campaign against graft and corruption involving all agencies under the executive department. Since its launching, 22 government agencies have signed the Manifesto of Pledge of Cooperation and Oath of Honesty.
SECURING, SAFEGUARDING PEACE
The government safeguarded the welfare of its military troops with the following reforms—increasing Military and Uniformed Personnel (MUP) Salaries; implementing the Comprehensive Social Benefits Program (CSBP); providing hazard pay to AFP personnel; providing Pension Benefits and Differential Pay to Retired MUPs; upgrading military and police hospitals; and upgrading the quality of uniformed personnel.
A new era of peace and development in Mindanao has come with the passage and ratification of the Bangsamoro Organic Law (BOL).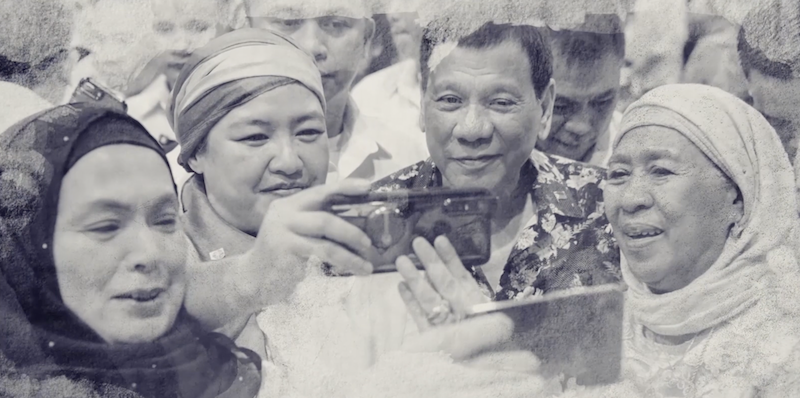 After almost two decades of negotiations with the Moro Islamic Liberation Front (MILF) and several attempts at legislation, a critical milestone was finally reached in the quest for peace in Mindanao, with the passage and ratification of the Organic Law for the Bangsamoro Autonomous Region in Muslim Mindanao (BARMM) or RA no. 11054 in 2018. Complementing the provisions of RA no. 11054, EO 79 was signed in April 2019.
On May 23, 2017, the government launched a military operation to neutralize atrocities committed in Marawi by the ISIS-inspired Maute Group that planned to establish an ISIS Wilayat (province) in Mindanao. By Oct. 17, 2017, Marawi City was liberated from the terrorist influence of the Maute-ISIS Group.
The Task Force Bangon Marawi (TFBM) spearheaded the city's rehabilitation, as well as that of the other areas affected by conflict. Despite the pandemic, the TFBM continued the implementation of projects, going full blast in the second half of 2020 for the construction of public infrastructure and other key facilities. The government also worked with partners on the delivery of social services to displaced residents.
In 2018, EO no. 70127 created the National Task Force to End Local Communist Armed Conflict (NTF-ELCAC).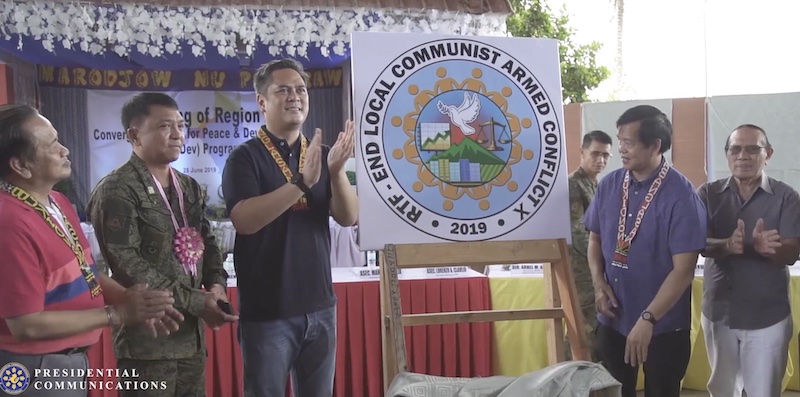 With the mobilization of the NTF-ELCAC, neutralization of lawless elements went on full throttle starting with the creation of synergy among interlinked government efforts.
Communities were empowered by providing the Support for the Barangay Development Program (SBDP) and the Community Support Program.
To promote inclusivity and reintegration of rebels into society, government programs were strengthened to provide them with opportunities and hope for a better future. These programs include the Enhanced Comprehensive Local Integration Program (E-CLIP) and Amnesty Program.
PROTECTING THE WPS
On March 17, 2016, the National Task Force for the West Philippine Sea (NTF-WPS) was created by virtue of Memorandum Circular no. 94 to orchestrate and synchronize the employment of national government agencies' capabilities to protect the WPS.
Government reaffirmed the country's sovereignty over the Benham Rise. EO no. 25 was issued on May 16, 2017, renaming the Benham Rise to Philippine Rise. In addition, ocean buoys were cast, and in May 2018, the Philippine Rise was declared as a Marine Protected Area.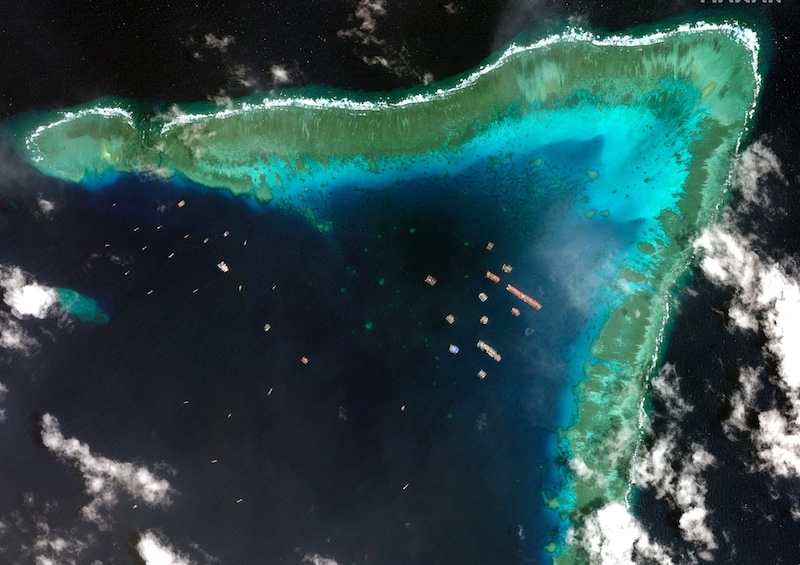 The Bilateral Consultation Mechanism with China enabled continuous discussions aimed at fostering mutual trust and confidence. Under this, the Philippines and China committed to exercise restraint in conducting activities in the WPS that may ignite further dispute and affect peace and stability in the region.
Still, the 107 diplomatic protests on China's activities in the WPS that are not in accordance with international law will attest to the government's commitment to sustain peaceful offensive action when our country's interests are being threatened.
CRIMINALITY, ILLEGAL DRUGS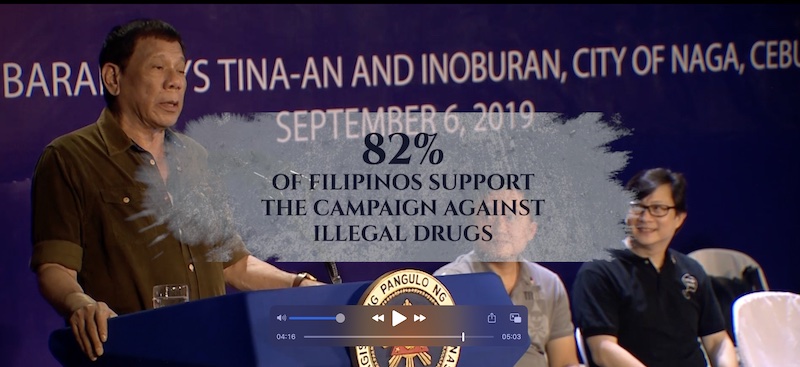 On the matter of corruption, crime, and illegal drugs, the Philippine National Police (PNP) removed and punished scalawags in uniform. As a result, 5,178 PNP personnel were dismissed, of which 653 were found involved in illegal drug activities.
Incidence of index crimes dropped by 70.34%, from 139,111 in 2016 to 41,260 in 2020. In addition, the PNP's efficiency in solving crimes also improved from 57.03% in 2016 to 83.71% in 2020.
Government's sustained efforts in combatting trafficking in persons (TIP) has resulted in maintaining the country's Tier 1 status, the highest classification for the elimination of trafficking based on the 2021 US Department of State TIP Report.

In 2017, some 203,715 anti-illegal drug operations were conducted. These led to the arrest of 293,841 drug personalities.
In 2018, EO no. 66 was signed. It institutionalized the Philippine Anti-Illegal Drugs Strategy that employed a harm-reduction intervention approach. These interventions include: Balay Silangan Reformation Program, a community-based initiative for surrendering drug offenders; Project Sagip Batang Solvent (PSBS), where children identified as solvent users were rescued and housed at the PSBS Center in Novaliches, Quezon City; Community-based Drug Rehabilitation m(CBDR) Program, with services that included detoxification, psychosocial interventions, and educational, employment, and moral recovery programs; Recovery and Wellness Program, Treatment and Rehabilitation Centers, and the Yakap Bayan Program, which assisted recovering PWUD and their families by providing financial and livelihood assistance, Cash-for-Work, and skills training, among others.
CONCLUSION
This report, comprehensive as it is, may not have entirely captured the full extent and depth of our accomplishments as a nation. Nevertheless, the meaningful change that is felt by every Juana and Juan dela Cruz is still the best affirmation of our accomplishments.
Looking back, my first wobbly steps in our journey towards a better Philippines only became powerful strides when many among you answered my call for malasakit at tunay na pagbabago.
Our landmark reforms and key accomplishments make our goal of a peaceful and prosperous Philippines within reach.
Not even the most difficult of challenges will throw us off course in our quest for a better quality of life for every single Filipino.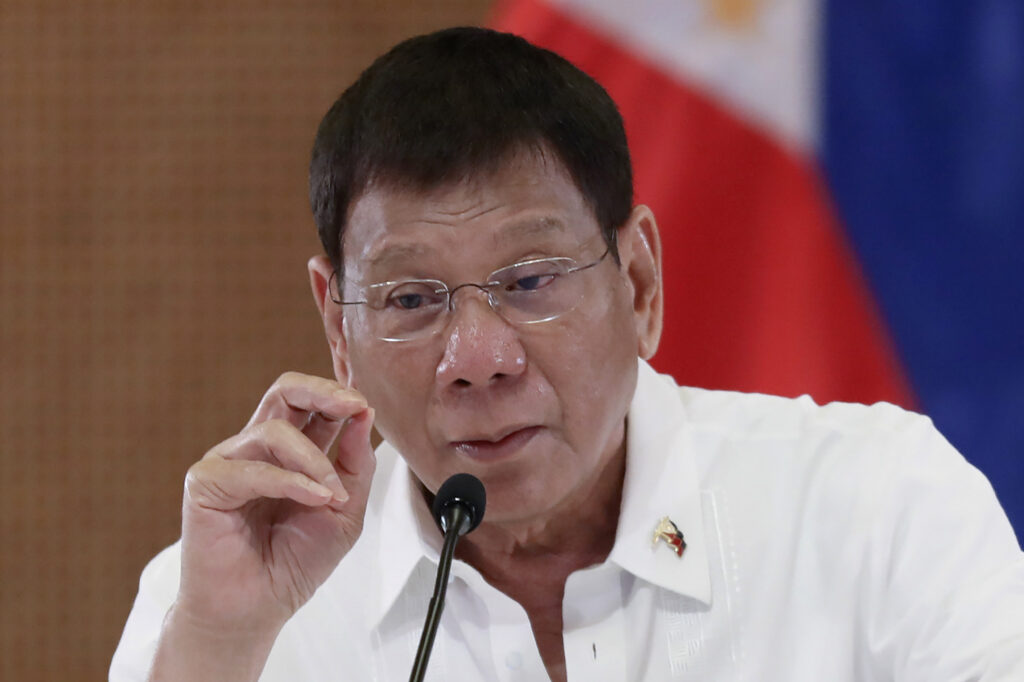 Soon, I will be handing over the mantle of responsibility to the next will of the people. My appeal to you remains fervent: let us work tirelessly until a better normal for Juana and Juan is attained; and until every Filipino is able to actively contribute towards the shaping of our Motherland's destiny. Together, we shall heal, build forward, and thrive as one towards a better tomorrow for all. Once again, in the language of the old: May God keep us forever sheltered in the hollow of His hand.