After years of enduring the pain of an enlarged herniated bulge on his left side Dr. Steve Costello—a dentist and the owner of Subic Superfood Inc. in Subic—was inspired and convinced by a number of friends to have himself checked back in 2017 at a "popular medical center in Makati." The bulge developed after spending hundreds of hours playing football with his son.
Since he was busy with managing the world's first production center of the pili nut, back in 2015, he decided to live with the pain. It reached a point, though, that he could no longer exercise, hence the need for him to consult a specialist. The doctor decided that he needed to undergo a conventional open surgery.
"What I can say is that my overall experience was okay but it was not exceptional. It was a massive disappointment, however, when by two weeks after the surgery, I realized that the surgery had failed and the bulge was fast returning," related Dr. Costello at a recent webicon or a combination of a webinar and a press conference.
"And, in fact, as all of us, who commit time, trust, discomfort and money on a procedure such as this, it is hugely disappointing if it does not work out," he added.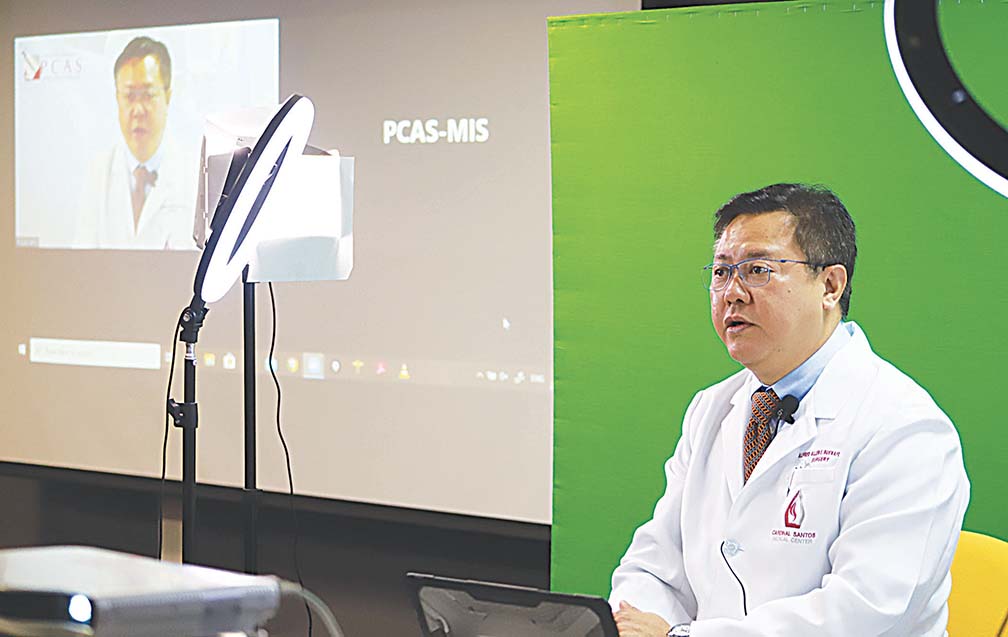 Dr. Costello returned to his surgeon two weeks later to discuss what could be done to reverse the effects of the failed surgery. According to Dr. Costello, the surgeon was very apologetic about what had happened and referred him to Dr. Alfred Allen E. Buenafe, Section Chief for Minimally Invasive Surgery and Executive Director of the Philippine Center for Advanced Surgery of the Cardinal Santos Medical Center (CSMC).
He immediately scheduled a consultation with Dr. Buenafe who, according to Dr. Costello, "was practicing a very streamlined, modern approach of laparoscopic surgery referred to as Minimally Invasive Surgery (MIS) at Cardinal Santos."
BENEFITS OF MIS
"When I met him, I was immediately relieved to see his confidence and professionalism, his total commitment to excellence, which is my greatest belief in life," Dr. Costello said. "He explained to me all the many benefits of MIS over conventional surgery and I could not wait to get started."
The second surgery went flawlessly and Dr. Buenafe even managed to find a second hernia during the procedure and proceeded to treat it. Dr. Costello related that he was not totally convinced that he would recover and return to his daily routine almost immediately.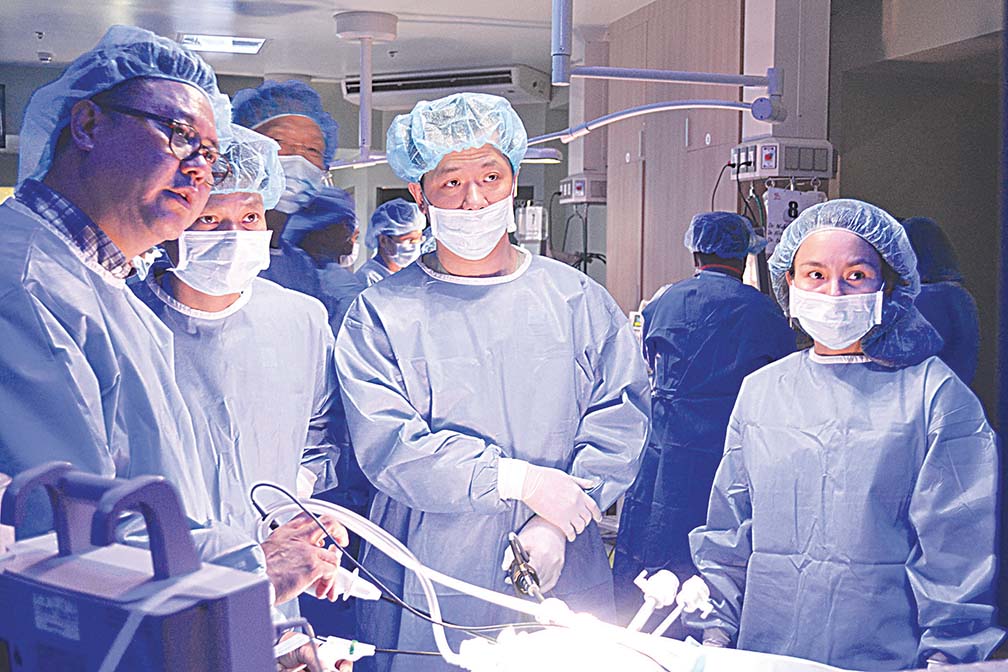 "The healing was as smooth as silk and I quickly returned to a life that I have not honestly enjoyed in years," he said. "My work, my play, my self–confidence returned. It was easy to be happy again."
It has been three years since the surgery and Dr. Costello said he feels "awesome to this day." He is back to his active lifestyle and has been doing a lot of yoga, walking and running. He added that he even went back to Dr. Buenafe last year to have a suspicious looking mole on his back removed.
"What is the takeaway? We all know that health is wealth and one of the most important things that I would like to share is that I took far too long to decide to get this procedure done. As a result, I lived with discomfort and pain for no good reason," Dr. Costello said.
"I would advise anyone who is trying to make the decision to proceed with MIS to just do it. Don't be angry with yourself later and risk further complications by delaying your treatment," he added.
Dr. Costello was one of the guests of a recent webicon organized by CSMC to highlight the ten things that everyone should know about MIS and the MIS training opportunities available for young surgeons at the Philippine Center for Advanced Surgery which Dr. Buenafe helped set up.
10 THINGS ABOUT MIS
"The Philippine Center for Advanced Surgery of Cardinal Santos Medical Center is the first of its kind in the Philippines and to my mind it is still the only center in the Philippines that offers such training," he explained. "It was established to provide access to world class training while promoting the benefits of minimally invasive surgery not only to young surgeons but to senior surgeons as well."
Through this advocacy, Dr. Buenafe said his and CSMC's ultimate goal "is to elevate the standard of healthcare for the Filipino people, for the Filipino patient."
"Knowing that we have more than 7,000 islands and a population numbering over 100 million, training our young surgeons and nurses from all over the country will allow our institution to do its part and our share in providing access to quality and innovative healthcare service to many Filipinos," he added.
Dr. Buenafe then proceeded to discuss the ten things that everyone should know about MIS.
What is Minimally Invasive Surgery?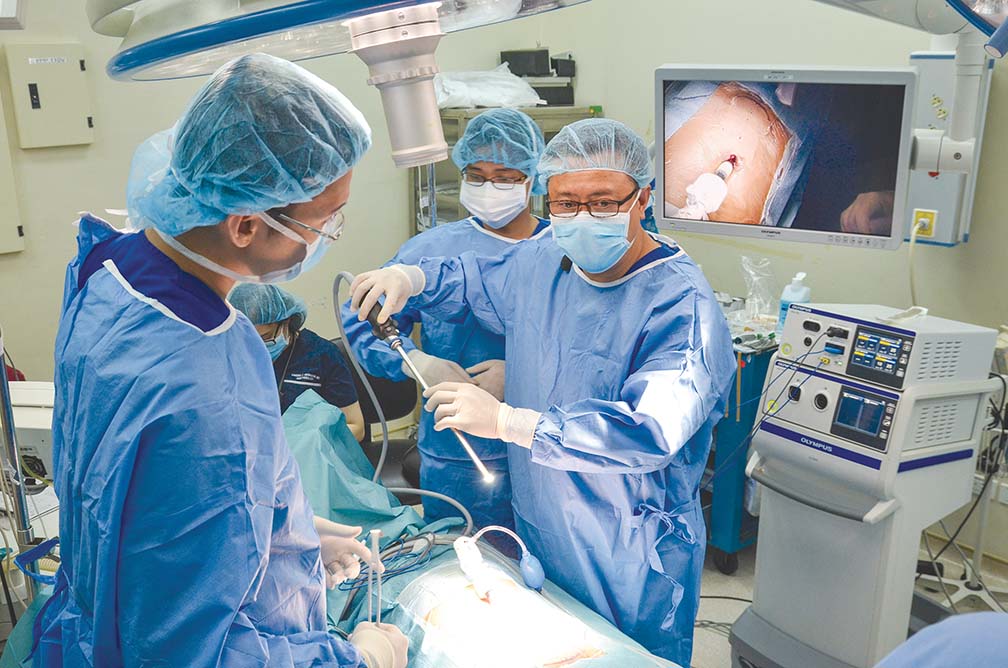 MIS is synonymous with laparoscopic surgery. It is sometimes called key–hole surgery because of the use of only very small incisions. It is through these small incisions where the laparoscope or the telescope can go inside and look inside the body. The laparoscope is a rigid video camera scope attached to a light source in a video processing unit which gives the surgeon a direct view inside the patient. This allows the surgeon to diagnose and fix the disease using fine, specialized instruments with skilled maneuvering.
How is it different from conventional open surgery?
There are more advantages brought about by laparoscopic surgery when compared to conventional open surgery. For example, a patient needs to undergo a cholecystectomy (a surgical procedure to remove the gallbladder). Instead of a large skin incision to open up the abdomen, laparoscopic surgery requires only a small skin incision, only about five to 10 millimeters. Since the operation is done with minimal damage to the body with less pain after surgery, the patient can return to work and his normal activities after only a short period of time.
Is it painful?
Laparoscopic surgery offers the patient the benefit of less pain than open conventional surgery. This is because laparoscopic surgery makes use of only one incision and because of this, there is markedly less pain. "Prior to this, before when we were training, they would say big surgeons, big incisions. But nowadays, big surgeons do small incisions," said Dr. Buenafe.
How long is the hospital stay and how soon can a patient get back to work after surgery?
One of the benefits of MIS over conventional open surgery is shorter hospital stay. Depending on the type of laparoscopic surgery, a patient's stay can be as short as one day or a few days. Dr. Buenafe noted that most of their patients would undergo a laparoscopic cholecystectomy or even laparoscopic hernia repair. On the same day of the procedure, patients would be standing and walking and are ready to go home the following day.
After being discharged from the hospital, patients have a significantly earlier return to work because of the use of fine instruments and careful movements. There is less tissue manipulation and the internal organs are able to return to normal function must faster than normal open surgery. Since this is still a surgery, the body still needs a few days to recover from physiological stress.
Is it more expensive than open surgery?
It is more expensive because of the additional charges that the patient would incur because of the use of the laparoscopic tower, laparoscopic instruments and staplers if it is an advanced surgery. However, Dr. Buenafe said that the loss of income for laparoscopic surgery is less, especially for patients who have an active lifestyle. Initially, it is a little bit expensive but in the long run, it comes out cheaper.
Is it safe to do laparoscopic surgery during the COVID–19 pandemic?
Laparoscopic surgery is operating on a confined space and the surgical plume or smoke that is produced during surgery and the aerosolized particles are, according to Dr. Buenafe, easier to contain compared to open surgery where the open abdominal contents are exposed.
With the use of a lot of mitigating measures like the mandatory RT–PCR swab testing prior to surgery, the use of smoke evacuators during surgery in negative pressure operating rooms which CSMC has and wearing the appropriate PPEs not only for doctors, nurses but the entire hospital staff, Dr. Buenafe said all these can further reduce the risk of presumed viral contamination. "Short to say, you are safe here at Cardinal Santos," he added.
What procedures can be done laparoscopically?
Most of the common operations done via laparoscopic surgery would include cholecystectomy for benign gallbladder diseases, appendectomy for appendicitis, hernia, reflux surgery, upper gastrointestinal surgery, colon surgery and even cancer surgeries. "You just need to ask your surgeon. Ask your doctor about your minimally invasive options."
Can all surgeons do it laparoscopically?
No. Patients will have to find a surgeon that does laparoscopic surgery. Dr. Buenafe noted that the majority of general surgeons right now can do laparoscopic. However, advanced surgeries like colon and cancer surgeries depend on the skills and experience of the surgeon and the right equipment that the hospital has. "It is your right. Ask your surgeon about it, ask for your options," he said. "If you come to Cardinal Santos, we assure you of the highest quality and technical proficiency in MIS. We have the whole Department of Surgery to answer for that."
Is robotic surgery better than laparoscopic surgery?
The latest innovation in MIS is robotic surgery and Dr. Buenafe believes that the future of general surgery and even surgery is MIS, whether it be laparoscopic or the robotic approach. The incorporation of artificial intelligence in robotics that will greatly help the surgeon in curing patients. However, there is no compelling evidence that would show that robotic surge ris better than laparoscopic surgery. The advantages of both of these surgeries far outweigh those of open surgery in terms of outcomes.
Robotic surgery is significantly more expensive than laparoscopic surgery. In the Philippines, Dr. Buenafe related that patients need to shell out at least P500,000 on top of everything if the surgery is done laparoscopically. He is confident though that costs will lower significantly in the next few years.
Is laparoscopic surgery covered by health insurance?
Laparoscopic surgery is still considered a surgery, hence, health insurance can be used for these procedures. "It is your right. You need to inquire with your health insurance company about your health insurance surgical benefits and it also depends on which program you are enrolled in," Dr. Buenafe said.
"We believe in Cardinal Santos that laparoscopic surgery is the best option for your surgical needs," Dr. Buenafe reiterated. "Just remember less pain, less hospital stay, less loss of income. We believe that that laparoscopic surgery is the future of surgical healthcare and with MIS, less is definitely better."