Thirty-six years ago, his late father and their family left the country in disgrace. Today, he is poised to win the 2022 national elections to become the 17th President of the Philippines. That is, if the surveys hold true.
Pre-election surveys conducted by the top polling firms in the country, including the much-vaunted Social Weather Stations (SWS)—the first public opinion polling body in the Philippines, founded in 1985—registered consistent impressive leads for Ferdinand "Bongbong" Marcos Jr. in terms of voter preference.
SWS
In 2021, from Oct. 20-23, the SWS conducted a poll commissioned by the Stratbase ADR Institute Inc. which showed 47% of the respondents saying they would vote for Marcos as President if the elections were held during the survey period. Vice-President Leni Robredo got 18% voter preference, followed by Mayor Isko Moreno with 13%, Sen. Manny Pacquiao with 9%, and Senator Panfilo Lacson with 5%.
An SWS poll conducted from Jan. 28-31, 2022 (the starting month of the election period) would increase this already considerable lead by three percentage points, with Marcos registering 50% support from respondents, as opposed to 19% for Robredo.
PULSE ASIA
Pulse Asia Research Inc., founded in 1999 by Professor Emeritus Felipe B. Miranda, would yield similar results.
    A Jan. 19-24, 2022 Pulse Asia survey showed a 60% voter preference for Marcos, while Robredo registered 16%. About a month later, the namesake of the late Pres. Ferdinand Marcos would retain his lead on voter preference at 60%, with Robredo at 15% in a Pulse Asia survey conducted from Feb. 18 to 23.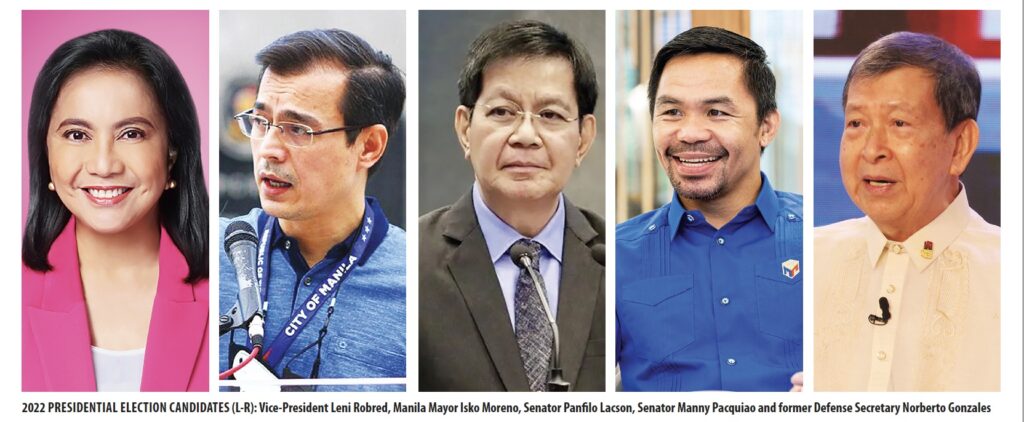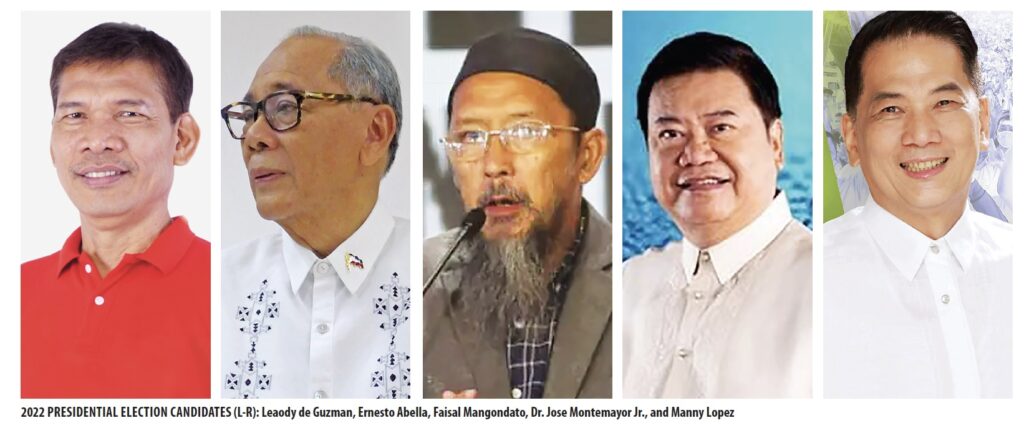 Come March, voter preference for Marcos came at 56%, a decrease of four percentage points, while Robredo's numbers rose to 24% in a Pulse Asia survey conducted from Mar. 17-22. Manila Mayor Isko Moreno, whose ratings went down from 10% to 8%, remained at the third spot. Senator Manny Pacquiao was favored by 6%, while Senator Panfilo Lacson got 2%.
Robredo spokesman Barry Gutierrez said in a statement: "The survey numbers are starting to reflect what we have been seeing on the ground all along: the massive crowds, the fierce passion, the untiring commitment of Filipinos from all walks of life, coming together to rally behind Leni Robredo's bid for the presidency."
Gutierrez added that Robredo had "the momentum, which we expect will only further intensify and accelerate all the way to May 9."
    Pulse Asia Research Director Ana Tabunda told CNN Philippines, however, that the decline in Marcos' numbers—specifically observed in Class D—was not significant. The Pulse Asia March survey still showed Marcos registering a 32% lead over Robredo.
Tabunda said that the 32% margin points, if converted to votes, would be around 19.5 million votes, which was higher than the 16 million votes obtained by Pres. Rodrigo during the 2016 presidential polls.
She added that for a Robredo win this close to Election Day, the Vice-President will have to achieve an increase of 16-percentage points while voter preference for Marcos will have to decline by as much as 16-percentage points also.
LAYLO RESEARCH STRATEGIES
The SWS and Pulse Asia survey results were similarly reflected in polls conducted from January to March by Laylo Research Strategies— a full-service polling and strategic research firm founded in 2010 that specializes in political governance, social, market, and corporate research.
Voter preference in the Laylo Research surveys showed a clear Marcos lead, despite a decline of one to two points for every succeeding survey: Jan. 10-26, 2022 (Marcos 64%, Robredo 16%), Feb. 14-21, 2022 (Marcos 63%, Robredo 17%), March 17-21, 2022 (Marcos 61%, Robredo 19%).
The Laylo Research March pre-election survey showed Marcos leading all presidential hopefuls with 61%, while Robredo is a distant second with 19% of 3,000 respondents from "likely voters' from all over the country." The poll had a ±2 percent margin error.
Marcos maintained dominance in nearly all regions with high 86% preferential votes in the Cordillera Administrative Region and 51% in Southern Luzon, yielding only in the Western Visayas and Bicol Region, two known bailiwicks of Robredo.
Marcos also was the choice of urban voters with his 61% preferability as compared to Robredo's 18%. Among rural voters, Marcos was ahead with 63% compared to Robredo's 16%.
In the economic class, Marcos dominated the ABC classes with 72% preference votes, versus Robredo's 12%.
Classes D and E registered 62% and 58% preference rates, respectively, for Marcos, while Robredo as usual is a far second with 15% and 16% percentage points, respectively.
Male voters are more likely to vote for Marcos with his 64% preference as compared to Robredo's 16%.
Female voters, on the other hand, chose Marcos as reflected by the 58% preference he received compared to Robredo's 21%.
In the age bracket, Marcos was the preferred choice by all voters ranging from 18 to 55 years old upwards, as compared to Robredo's 18.6%.
PUBLICUS, OCTA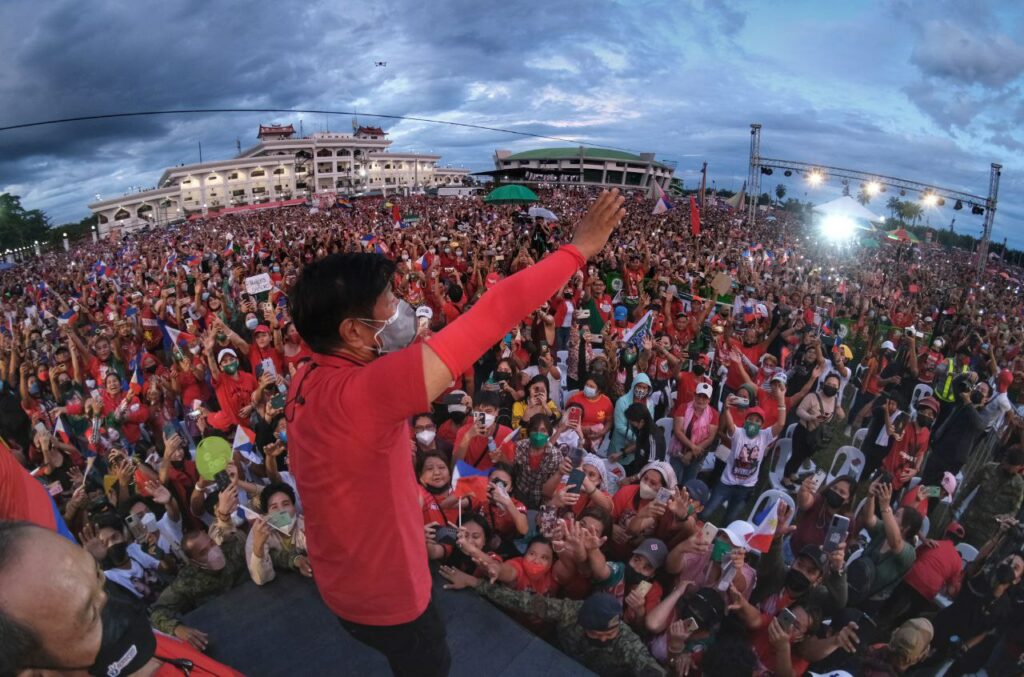 Publicus Asia's PAHAYAG 2022 First Quarter Survey conducted from March 30-April 6, 2022 showed Marcos posting a 56% voter preference.
Vice-President Leni Robredo was second at 23%, followed by Isko Moreno with 9%, Sen. Panfilo Lacson with 5%, and Sen. Manny Pacquiao with 2%.
The latest Publicus survey showed Marcos voter preference even improving from its 55.1% voter preference during the March 9-14, 2022 Pahayag Survey. Likewise, Robredo also improved by 2-percentage points.
As for the Tugon ng Masa survey of Octa Research, its April 2-6 poll saw Marcos with 57% preference votes, with Robredo at 22%, Isko Moreno (9%), Manny Pacquiao (7%) and Ping Lacson (4%).
Marcos went up by two percentage points compared to his 55% voter preference in a poll done by Octa last February.
BRICKBATS
Some presidential candidates are taking potshots at the results yielded by pre-election surveys.
At an Easter Sunday press conference, presidential candidate and Manila Mayor Isko Moreno even went to the extent of questioning the legitimacy of pre-election surveys, alleging that they have proof that "surveys are polluted."
Despite their consistently poor showing in pre-election surveys, Moreno, together with Senators Manny Pacquiao, Panfilo Lacson, and former Defense Secretary Norberto Gonzales, signed a joint statement saying they will finish the presidential race.
In an earlier media interview, Pulse Asia president Ronald Holmes called as "irrational" the act of candidates that dismiss surveys with results that do not favor them.
"I would caution them in terms of going to the extent of shooting the messenger because they would have to realize that the message is important and something to assist them in calibrating their strategies," Holmes said in an interview aired over ANC.—Psyche Roxas-Mendoza with reports from Jovee Marie De La Cruz and Rene Acosta of the BusinessMirror