Durham, North Carolina. Backbone Press. 2022, E-Chapbook Edition. 2018, First Print Edition. 25 pages.
Where Global Poetry prods diverse expression, the Anglo-American region has encouraged varied styles, letting inventive and dauntless energy prevail. On the one hand, language poetry continues to hold sway. Yet on the other, a successful formalistic revival thrives, dedicated to the renewed pursuit of form, crafting deeply poised poems out of the day's raging issues.
Of equal significance, a new generation of immigrants writes aggressively. Their command of English signals confidence, elegance, and engaging play. More importantly, language serves as their platform for reflecting on migrant reality, asserting invaluable contributions to the land's cultural economy and artistic production.
These relocated creatives include Filipino-American poets restlessly searching for a persuasive form of expression. No doubt, there is electric, delightful brio when they write in English. But their poems also bristle with pain and the cry for just cultural recognition. This catapults their concerns beyond language. They come to grips with an existential baggage compelling that uphill push, dealing with the burden of ethnicity, history, and identity politics.
In this fevered milieu, words are the poet's permutable materials, bound to fall short and entrance us, both. José Edmundo Ocampo Reyes puts this linguistic truism to the test in Present Values. In 2019, his collection received the Jean Pedrick Chapbook Prize from the New England Poetry Society. In 2022, Backbone Press in North Carolina extended possibilities for global readership by releasing a digital edition.
MIGRANT POETRY
Reyes was born and educated in the Philippines, eventually heading abroad for an MFA in Creative Writing at Columbia University. At present, he is Supervisor for Humanities education in the New England public-school system. He joins a defiant line of Filipinos sustaining their literary expression amid migrant placement in several destinations abroad: among others, Luisa Igloria and Eric Gamalinda in the United States, Merlinda Bobis in Australia, Miguel Syjuco in Abu Dhabi, Joel Vega in the Netherlands, L. Lacambra Ypil in Singapore, and Jim Pascual Agustin in South Africa.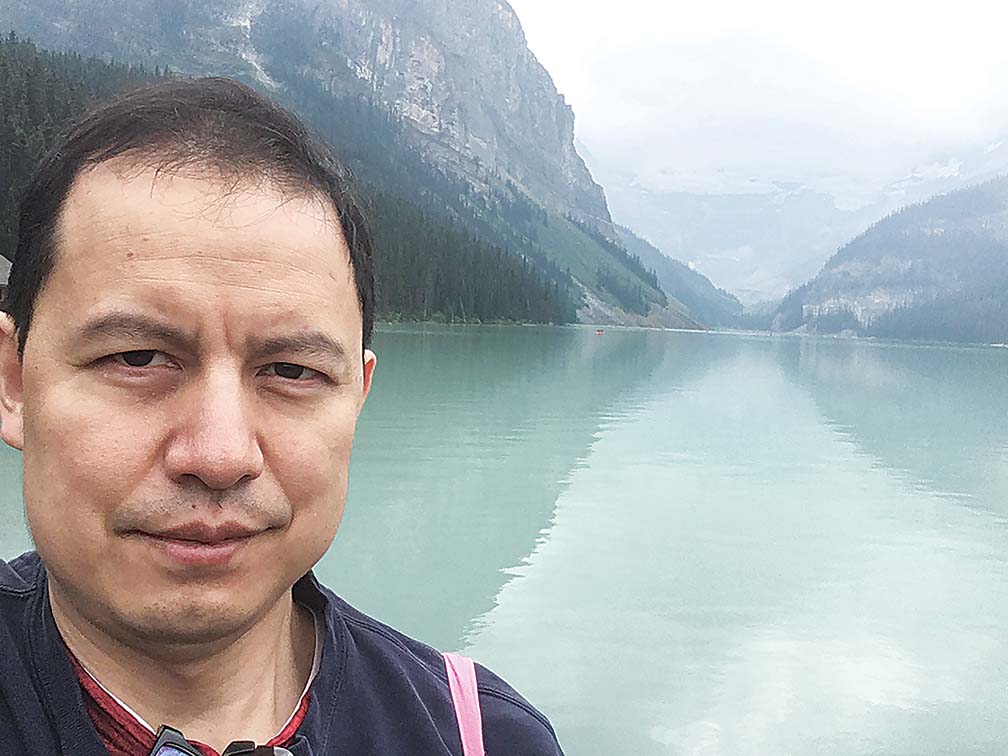 As someone negotiating the cross-cultural perspective, Reyes wields his own brand of migrant poetry, undertaking an audacious reclamation quest while revisiting various spaces of Philippine history. Yet what's in it for his readers?
History is a crucial organizing narrative in our minds, allowing us to relive the drama of shifting contentions, as we reckon with the vanishing points of shared experience. Likewise, its rhetoric helps us to reconstitute the past and to value memory, enabling us to negotiate present challenges. It may seem a benign verbal construct, yet history works persuasively, directing our perspectives and purposes.
In this collection, how does poetry yield a place for history? Here is vigorous verse tracing the aftermath of the American colonial experience, persisting through contemporary experience, retrospection, language, and the spoils of heritage and consciousness. Quite pointedly, the poet reflects on his migrant experience, the inevitable negotiation of identity and self-worth, in the instances when migrants find acceptance or are denied their humanity in the daily encounters.
HOMAGE TO VILLA
In a peculiar way, Reyes situates the migrant struggle within the linguistic arena. He pitches this in "Villa, nelle," returning to José Garcia Villa, the acknowledged patriarch of Philippine poetry in English. From the American vantage point, our poetic prowess gains global recognition through Villa and his comma poems.
But Reyes takes the master's style to greater verbal invention, reconfiguring poetic imitation and originality:
Few, men, are, fit, to, walk, this,
gallant, road,
But, think, of, rose, gates, you,
will, thus, unlock,
And, tigers, who'll, come,
knocking, at, your, door,
You, must, charm, seagulls, to,
accept, this, dare,
But, if, you, do, this, angels, all,
must, clap,
So, place, a, comma, after, every, word.
Recognizably, this is Reyes paying poetic homage to Villa. Whimsically, his lines recount Villa's gambit to secure a place within the space of Anglo-American poetic articulation. A modern expression wasn't enough; Villa had to be inventive, rehearsing exuberant experimentation.
Reyes celebrates the comma's figural worth as Villa's poetic ace. His tribute piece integrates it, including trademark images from "Poem 10" and "Inviting a Tiger for the Weekend". Ironically, he extends his homage through the villanelle's regulated form. The poet utters his own insight while projecting Villa's images through the villanelle's refrain. This yields an ars poetica of Filipinos writing in English, affirming Villa's way even as Reyes negotiates tensions between freedom and restraint as necessary counterpoints in the act of literary creation.
ENGLISH
As a next step, the poet takes apart the syntax of the English language, in search of more poetic possibilities, evident in "Farewell, Wallace, Farewell." Following the act of parsing making sense of the parts and their syntactic roles—this elegy to Wallace Stevens, one of Modern Poetry's premiere figures, signals a drawing of the lines. Rightly, the persona pays homage to a literary forefather. But the genealogical line breaks where that individual's context of imperialistic values despoils the world:
(If French and English are a
single language,
why aren't all tongues fungible?)
Even now my dump swells into a mountain,
garlands of wilting sampaguita
strewn
along its slopes. Paálam,
Wallace, paálam.
Somewhere on this planet is a sea
where thirteen gulls are drowning
in black gold.
In wielding the English language, the poet-persona affirms his ties with America, nourished by its intellectual and literary traditions. As for our artists writing in English, some of them regard certain American poets as their guiding star. Yet something shifts dramatically when the Filipino artist professes the poetic calling himself. He is propelled to give voice to his own honest concerns, qualifying a relationship not only with mentors but even with America itself—the imperial master, the colonizer. From a historical purview, this validates the anxiety of influence, a predicament that compels our poets to give voice to muted protest and resistance to imperialism's revolting habits, at the risk of severing ties with their vaunted idols.
BOONDOCKS
To sustain the syntactical curiosity, Reyes also undertakes a lexical inventory. This might reveal how our own subdued culture has made a dent on the English language. His compelling achievement is "Boondocks," highlighting the presence of one Filipino word in the English vocabulary: bundok. Some might dismiss it as a meager contribution. Yet in an immense pool of loan words, the poem exposes how a large-scale process of imperial extortion ends up amassing not only wealth but also words, further enriching a dubious heritage.

It may not slide as smoothly off
your tongue
as the French montagne, but we
hope nonetheless
your lexicon can accommodate
this term,
which has been blessed by the
goddess who scatters
ginger along Makiling's slopes. Keep it
as a souvenir of the times we
fought side by side
when the Japanese hunted us down
in the Cordilleras, and let your
poets repeat it
when they recount those still-
unnamed battles
The poetic conceit gives weight to the word bundok alongside of mythic consciousness. Its users bestow a sacred significance upon the word while naming and traversing the space it signifies. Yet this register is muted once the word is absorbed in a lexicon of global English. Beyond myth, the word also intimates valiant resistance.
PATRIOTISM
Reyes suggests that patriotism is both act and articulation—the verbal and mortal defense of geography, through features named, distinguished, and secured by word and deed. Through boondocks, the English language struggles to enact our record of encounters with other cultures, in exercises of alliance, collaboration, and enmity, played out amid war—in that turbulent social drama eliciting the discourse of multi-cultural interaction.
While several works demonstrate the poet's sure grip of form and reflective articulation, we must single out this poem's increasing popularity among local readers. For young scholars, it stands as the apt introduction to the writer's commitments, fittingly explored in courses on Postcolonial Literatures, Global Voices and Encounters, and Creative Writing at the poet's Ateneo de Manila alma mater. Meanwhile, Reyes secures a growing readership in the US mainland as his poems and translations continue to appear in important journals and anthologies, including two works featured in the Everyman Library Pocket Poets Series.
In "Muster," the poet ventures into tracing etymology—establishing origins and shifts in word usage. Yet where he tracks a sense of beginnings, verbal history also heralds the opening of old wounds. Here, the conflated image of craters and open wounds yields to the mortal toll during the 1906 Bud Dajo massacre in Sulu. Narrative detail boldly registers the cost of that ruthless hour of dissolution. While muster means to assemble, it also means to show: the speaker's daring exposé in approximating anunsettling collective loss.
In "Instruction to Travelers from the Third World" the speaker enumerates directions for citizens crossing over to First-World territory. Gradually, one feels reduced by imperatives tied up with one's ethnicity.
You dream of glimpsing snow,
cathedrals, fist-sized diamonds
plundered from
your land
First you must queue for hours
in the sun, wait for the consul to peruse
your passport.
As a prime travel document, the passport is merely a pamphlet of blank pages. But as Reyes values it figuratively, it stands as the definitive book eliciting the interpretation of Third-World identity and nationality. In whatever way the passport's pages are stamped, personal and collective definitions of mobility are rehearsed repeatedly. In a nerve-wracking game of power, the stipulations imposed often overshadow the privileges extended. As the poet asserts, these restrictions determine how far in life travelers and migrants may go. A bitter undertone rings a despondent warning. But the sobering reminder also exposes those tightly guarded realms that signify blighted fate and denied opportunities for voyagers with devalued status.
The poet gains structural direction and elegance through comfortable expression in a range of verse forms—deftly covering the villanelle, sonnet, and ghazal, among others. Matching his keen eye for forms is the confidence in tackling a variety of linguistic registers. For instance, "Allusion" is a highly refined work where names and famed evocations drawn from mainstream Philippine Literature summon bodies of both mythical and patriotic knowledge:
each footnote becomes a thread
leading into the labyrinth
instead of out,
and negotiating each dim
passageway
they may discover that the prince
who cuts his hand
seven times, squeezing a lime
over each wound
so the bird's seven songs won't
charm him to sleep,
and the filibuster, broken, who
ingests poison
before he leaves his jewels and
his secret
with the priest, are both really
a country
that yearns for its own borders,
that waits
for those who would echo
its words . . .
In this poem, Reyes reconsiders narratives of the Adarna bird and Rizal's anti-hero Simoun, both previously enjoying prominence in popular imagination. He unfolds how a thoughtful contemplation of these images (initially approached, perhaps, as footnotes to one's scholarship) can prod us to perceive a more social dimension to the act of reading, empowering us to apprehend historical reality. In turn, the writer values these familiar signifiers to span the nuanced field that is poetic consciousness. He asserts poetry's potential to perform an act that is socially symbolic. Images that persist in the collective imagination hint at a broader allegorical aspiration. His final output is an affectively profound piece, heralding a poetics of the nation.
LINGUISTIC POLYPHONY
"Present Values," the title poem, examines the implicit war of possession directing human interaction—a simultaneous act of enlargement and constriction, as perceived by the persona. Such a disposition seems to be the present milieu's operative spirit, goading both personal and cultural relations, the language of transaction occasioning gaps, through constant use of the possessive (and ultimately divisive) pronouns "mine" and "yours".
Across its limpid pages, this first chapbook resonates with linguistic polyphony. It fulfills the art of the dialogic—that zone of interplay where different registers interact with one another. Yet beyond the polished articulation, an undeniable controlling principle is the writer's political conviction, rising as frank political assertion. Here, his sense of rage is quite pronounced, reinforcing principled contention. But the collection also gives in to blunt tinges of nihilism.
Where reading also bears the burden of literary history, we cannot help but hear strains of Balagtas's Florante tied to the proverbial fig tree, singing his homeland's sorrow. In the manner of Orphic protest, despair and hope simultaneously herald this poet's future thematic quests. Should he pursue these concerns some more, to what extent will the writer detect comforting graces tugging at the despondent tone, in this verbal field of contentions?
Until then, here is charged migrant poetry—as a highly-conscientious artist evokes it unfolding its literary and historical insights. Without a doubt, Present Values is an accomplished way of poetic rendering.