The Metrobank Foundation, Inc. (MBFI) recognized this year's Metrobank Art & Design Excellence (MADE) awardees through a virtual Awarding Ceremony & Exhibit Opening held last Sept. 16.
MBFI president Aniceto Sobrepeña, together with MBFI officers, led the awarding ceremonies. Fourth District of Pangasinan Representative and House Committee on Creative Industry and Performing Arts Chairperson Cong. Christopher "Toff" de Venecia served as the guest of honor.
On its 37th year, MADE adopted the theme "Spectrum: The Art of Possibilities" inviting every Filipino artist to tap into the expansive realm of creativity and transpose their spectrum of ideas into works that mirror the human experience and reshape the world anew.
Amidst the current times, MADE continues to be a purveyor of visual arts, amplifying the reach and voice of local talents and visionaries.
This year, MADE received the highest number of entries in the last 10 years with a record-breaking 701 entries—564 entries for the Oil/ Acrylic on Canvas Category; 77 entries for the Water Media on Paper Category; and 60 entries for the Sculpture Recognition Program.
Out of these entries, eight Filipino painters and sculptors emerged as this year's batch of MADE awardees. Two Grand Awardees for the Painting Recognition Program and one Grand Awardee for the Sculpture Recognition Program received a prize of PhP 500,000. While another three artists for the Painting Recognition Program and two for Sculpture Recognition Program were conferred with the Special Citation, with each given a prize of PhP 100,000.
All awardees also received the "Mula" glass trophy designed by 2009 Metrobank Prize for Achievement in Sculpture (MPAS) awardee Noell El Farol. They were also welcomed as members of the MADE-Network of Winners, the alumni organization of past awardees, implementing pay-it-forward projects that cater to marginalized sectors.
"The hundreds of entries submitted across the country are a testament to our local artists' passion to create. They convey visually the heartbeat of a people facing a global disease, the fears, the anger, the sadness and loss, but also the hope, the courage and the tenacity to fight this enemy with kindness, generosity and compassion," MBFI president Aniceto Sobrepeña said in his welcome remarks.
The Final Board of Judges was chaired by well-known painter, installation artist, art educator, and sculptor Toym Imao. Members of the Board included Art Fair Philippines co-founder Dindin Araneta; product designer and metal sculptor Daniel de la Cruz; Cultural Center of the Philippines Visual Arts and Museum Division officer-in-charge Rica Estrada; intermedia artist Mark Salvatus; and interdisciplinary artist Josephine Turalba. The late visual artist Leo Abaya also served as a part of the board of jurors until his passing last May.
In his message, Imao said that "Our participants created awesome, honest, and powerful works that win or lose, have become an important part of history: of how this generation of artists imaged the spirit and the essence of these challenging times. Of how their narratives and stories can help all of us find the light again."
"This year's selection does not disappoint in the array of styles and themes depicted. We see paintings that show sophisticated use of color and works that require a high degree of technical skill. Figurative works still dominate much of the selection, as do works that present social plights and the harsh realities of daily life," shared juror Rica Estrada in her curator's note. "The paintings and sculptures speak of anxieties, loss of livelihood, worries about the future, depression, stress, difficult home situations, and the act of keeping afloat," she added.
More than just a pioneering corporate social responsibility (CSR) program for the arts, MADE has evolved to become a development program that facilitates the generation of ideas promoting social development, appreciation and preservation of our cultural heritage, as well as making art accessible to the many through its various art education activities and events.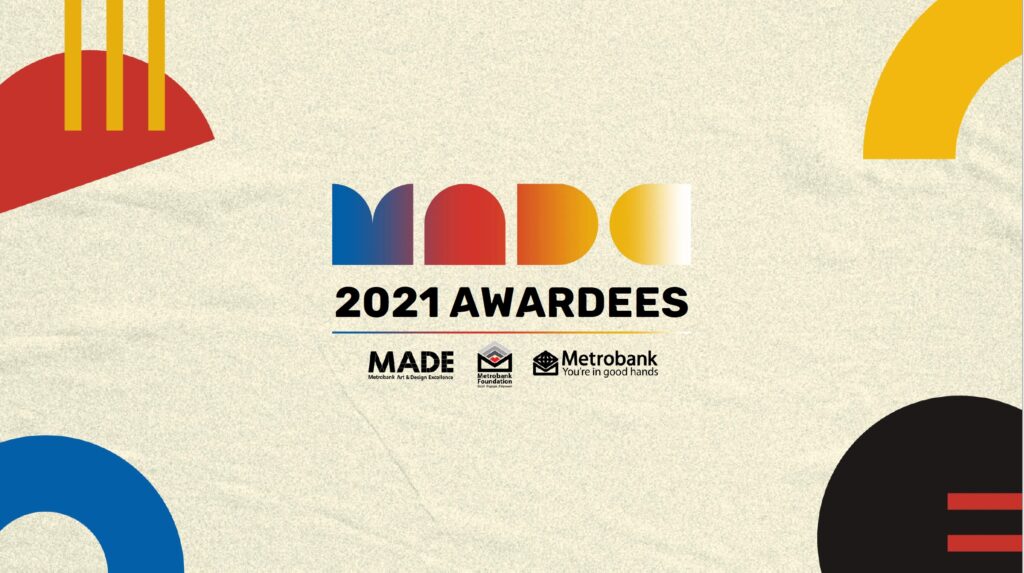 Through a year-long social media campaign dubbed as #SpectrumMADE2021, MADE has implemented a series of online activities to bring art experience and art education to its stakeholders amidst the pandemic. To culminate this year's campaign, a webinar series on "Art and Design in Crisis" and "The Creative Industries for Social Impact" will be held on September 18 and 25, respectively. For further details, please follow the official MADE Facebook and Instagram pages @metrobankartanddesign.
To affirm its commitment, MBFI remained a supporter of local visual artists who were constrained by the challenges of these unusual times. A cash assistance program dubbed as MADE-CARES (Community Aid and Relief for Emergency Situations) was implemented last 2020, benefitting over 200 artists from the PhP1 million financial aid.
"When our lives were suddenly disrupted by the pandemic, the competition was deferred last year. Now as we are learning to live with the reality of COVID-19, we continue our mission to nurture the potential of young artists and enable them to express their voices freely however restrictive this new normal," shared Sobrepeña.
Established in 1984 by the late Metrobank Group founder and chairman Dr. George Ty Siao Kian, MADE has served as a platform for discovery for the most passionate and persistent creative visionaries in the country.
To date, more than 400 visual artists and design professionals have been recognized. A majority of them are now carving significant names in the local and even international art and design scenes. Past awardees include Elmer Borlongan, Mark Justiniani, Jan Leeroy New, Alfredo Esquillo, Andres Barrioquinto, Yeo Kaa, and Cedrick dela Paz.