TOP PHOTO: TMC South Luzon Home Care Team
The Medical City South Luzon (TMC South Luzon) was recognized by Healthcare Asia for its pioneering program in remote healthcare in the Philippines and employee engagement initiatives for the year 2020 during a virtual awarding ceremony conducted last May 12.
The Medical City South Luzon's (TMC South Luzon) first Healthcare Asia award is the Service Delivery Innovation Initiative of the Year Award. It was given for its innovative solution and contribution to public health in providing for patients' continued access to safe and quality medical care during the pandemic.
As the COVID-19 scare and government-imposed lockdowns all but eliminated face-to-face consultations and treatments, TMC South Luzon initiated healthcare delivery innovations to provide patients with options to accessing services and medical expertise.
At the height of the nationwide lockdown period, TMC South Luzon introduced its Virtual Clinic enabling patients to consult through various telehealth platforms. This was complimented by a Call Center featuring a call concierge feature and a Telehealth Hub where doctors would have private sessions with their patients.
The Telehealth Hub facilitates easy and efficient doctor-patient interaction as well as access to other hospital services, such as laboratory tests. Another program under the Telehealth Hub is the TeleRehab Service, which enables patients to initiate and continue physical therapies at home.
In addition to virtual consultations, TMC South Luzon also realized the importance of adequately and accurately informing its patients of the facts regarding issues of concern and of new developments. Misinformation about the coronavirus perpetuated online fueled a lot of anxiety and fear. Through its Social Media Doctor (SMD), the hospital provided its social media followers with a licensed doctor to respond to medical queries and to refer them to specialty doctors upon request.
"It is important for organizations to be innovative, responsive, and agile in order to provide solutions to challenges like forced restrictions of movement and the fear of exposure brought about by a pandemic. We knew that we had to provide healthcare outside of the traditional hospital setting because of this. We also envisioned that the future, even after the pandemic, would be remote health. Interestingly, COVID-19 sped up innovation in the healthcare sector and shoved us into the future faster." said Dr. Cesar Ramon G. Espiritu, President & CEO of The Medical City South Luzon.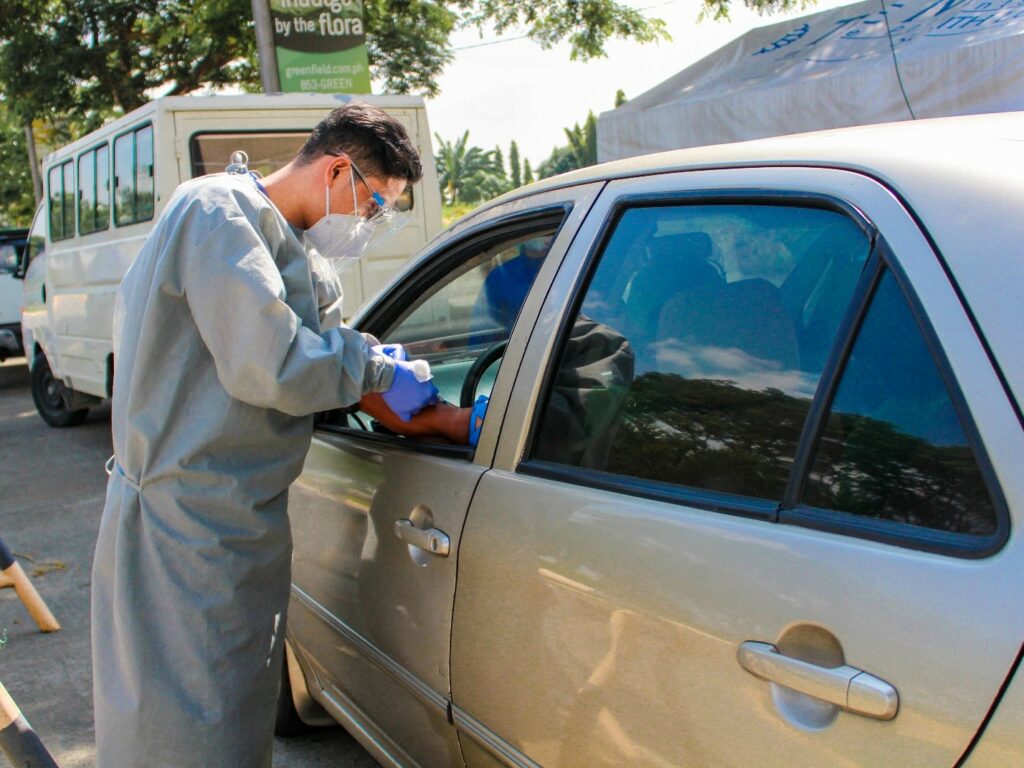 TMC South Luzon was also one of the first and few facilities in Metro Manila to provide a Drive-Thru service not only for COVID-19 tests, but also for other services such as laboratory blood work, electrocardiogram (ECG), X-ray, and pediatric vaccinations. The hospital also re-launched their Home Care services for patients who were either still reluctant or incapable to go to the hospital for their nursing, physical therapy, nutrition management, and diagnostic needs.
Raising the bar even higher in remote health service delivery, TMC South Luzon rolled out its Mobile Clinic in February 2021. Conceptualized, designed and constructed during the second half of 2020, the Mobile Clinic offers laboratory diagnostics, ECG, X-ray, eye clinic consultations, physical and medical consultations via teleconsultations, and vaccinations, all in the comfort of their clients' home or workplace.
As of December 2020, The Medical City South Luzon has served around 2,500 individuals using their new services.
"The Medical City South Luzon continuously strives to remain relevant and sensitive to the needs of our patient-partners. Innovativeness and accessibility are key priorities in our mission to serve." said President and CEO, Dr. Cesar Ramon G. Espiritu.
The Medical City South Luzon also received the 2021 Healthcare Asia Award for Employee Engagement Initiative of the Year. TMC South Luzon always encourages positive changes in the workplace by keeping the employees engaged if not inspired.
By providing the needed tools and opportunities for development, The Medical City South Luzon nourishes a culture of engagement as well as an incentivized environment where everyone's efforts are recognized and valued. Exposed to such a positive workplace condition, employees developes a sense of pride, purpose, and pleasure in what they do. This resulted in an over-all performance at the end of a tumultuous year that exceeded all expectations. The Medical City South Luzon believes that investing in its people is an investment for success.